Tickets go on sale July 18th for Widespread Panic's highly anticipated 2014 Fall Tour. Along with the Fall tour, Widespread Panic is providing a myriad of unique opportunities to experience their music, including performances at Gathering of The Vibes Music Festival, Lockn' Music Festival & Phases Of The Moon Music + Art Festival.
The 2014 Fall Tour kicks off in October with two dates in Charleston, SC. The tour will continue in the deep south with shows in Florida, Alabama, Georgia and Mississippi, before heading to Texas for a two night stand at the Moody Theatre in Austin. Halloween will be celebrated in the very popular First Bank Center in Broomfield, Colorado. Tickets go on sale for the three-day run on August 8th at 10:00 AM MT.
For the music fan who likes to plan ahead, the band's Annual Tunes For Tots benefit concert will take place on December 30th in Charlotte, NC at The Fillmore followed by a New Year's Eve celebration at the Time Warner Cable Arena. Founded in 2005, Tunes For Tunes has raised over $1,200,000 to purchase musical instruments for Georgia Public Schools.
For the fan seeking the ultimate destination concert and vacation experience, Widespread Panic will return to the Dominican Republic on January 24th-28th for Panic En La Playa Cuatro. The event is headquartered at the popular Hard Rock Hotel & Casino and includes four full Widespread Panic shows on the beach. Tickets for this coveted musical experience go on sale July 10th at 12:00 EST.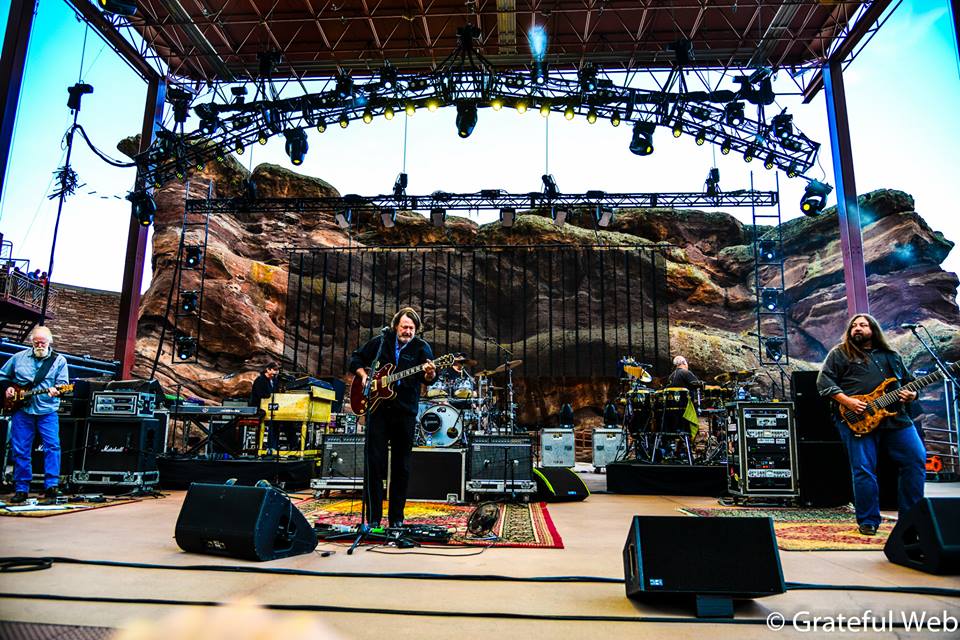 For the first time ever, Widespread Panic's first four albums will be available on vinyl. The album that started it all, Space Wrangler, drops on July 15th, the self titled Widespread Panic will be released on 7/29 with Ain't Life Grand and Everyday being released on August 26th. The albums will be available only at indie record stores throughout the country via ThinkIndie.com.
Widespread Panic is excited to announce two unique viewing opportunities. The band's epic acoustic performance shot 333-feet underground in McMinnville, TN's Cumberland Caverns will air as the debut episode of season four of the PBS series Bluegrass Underground. The air date is set for September 3rd and a list of PBS affiliates can be found here. The band also taped a special performance at Bob Weir's TRI Studios, a state of the art, world-class video streaming venue and recording facility, which will available July 22 at 5:00 & 8:00 PM & July 24th at 5:00 & 8:00 PM PDT. For updates for that performance please visit: www.tristudios.com/upcoming
WIDESPREAD PANIC 2014 SUMMER TOUR DATES




August 2nd – Gathering Of The Vibes Festival – Bridgeport, CT



September 6th – Lockn' Music Festival – Arrington, VA



September 7th – Lockn' Music Festival – Arrington, VA



September 13th – Phases Of The Moon Music & Art Festival – Danville, IL



September 14th - Phases Of The Moon Music & Arts Festival – Danville, IL



October 3rd - North Charleston Coliseum – North Charleston, SC


October 4th – North Charleston Coliseum – North Charleston, SC



October 5th – St. Augustine Amphitheatre – St. Augustine, FL



October 8th – Montgomery Performing Arts Center – Montgomery, AL



October 10th – Von Braun Center – Huntsville, AL


 
October 11th – Verizon Wireless Amphitheatre – Alpharetta, GA



October 12th – Mississippi Coast Coliseum – Biloxi, MS



October 14th – Austin City Limits Live @ Moody Theatre – Austin, TX



October 15th – Austin City Limits Live @ Moody Theatre – Austin, TX



October 17th – Verizon Theatre – Grand Prairie, TX



October 18th – The Orpheum Theatre – Memphis, TN

October 19th – The Orpheum Theatre – Memphis, TN

October 21st – Peabody Opera House – St. Louis, MO



October 22nd – Peabody Opera House – St. Louis, MO 


October 24th – The Riverside Theater – Milwaukee, WI 


October 25th – The Riverside Theater – Milwaukee, WI

October 26th – The Riverside Theater – Milwaukee, WI 


October 28th – Paramount Theatre Cedar Rapids – Cedar Rapids, IA



October 29th – Stephens Auditorium – Ames, IA



October 31st – 1st Bank Center – Broomfield, CO



November 1st – 1st Bank Center – Broomfield, CO



November 2nd – 1st Bank Center – Broomfield, CO

December 30th – Tunes For Tunes @ The Fillmore – Charlotte, NC

December 31st – Time Warner Cable Arena – Charlotte, NC



January 24th – 27th – Panic En La Playa Cuatro/Hard Rock - Dominican Republic
*ALL SHOWS ARE FOOD DRIVE EVENTS*