Born and raised in New York City, The brash quartet hailing from Queens that ignited the punk-rock movement in 1976. Their short, combustible songs drew from the worlds of comic books, horror films, girl groups and garage rock. The band mixed humor and horror in equal measure and gave their urbanized fans a way to purge all the pent-up energy that comes from living in a concrete jungle.
An upcoming auction—Marvels of Modern Music from
RR Auction
, a company based in Amherst, N.H. will feature
Marky Ramone's
owned and stage-worn jacket.
Instantly recognizable as 'mandatory' attire to legions of followers of the founding fathers of punk in the US—the black leather jacket; an iconic relic worn by
Marky
(Marc Steven Bell) from the time he took over as the
Ramones
drummer in 1978 until 1983, his leather jacket was an integral part of both his onstage and offstage persona.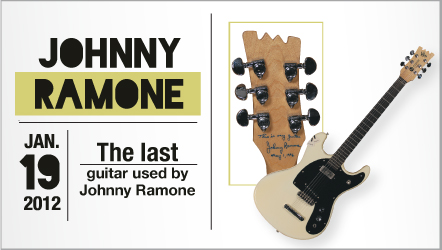 Coming on to replace
Tommy Ramone
in Spring 1978, he was in the studio within a matter of weeks recording
Road to Ruin
, the album from which 'I Wanna Be Sedated' is featured. The following year Marky was on board for the
Ramones
filmed cult classic, Rock 'n' Roll High School and the
Phil Spector
-produced album,
End Of The Century
. 
"The newest Ramone was on quite a roll until he was asked to leave the band in 1983, says Bobby Livingston, VP of Sales & Marketing for
RR Auction
, as his alcohol abuse was becoming increasingly disruptive.
Johnny Ramone
demanded the jacket back, citing that soldiers in the service had to return their uniforms when they were dishonorably discharged, and this situation was no different. Cast away,
Marky
returned the jacket that had become his second skin for five years.  Later reuniting with the group in 1987,
Marky
resumed his drumming duties until the band's demise in 1996."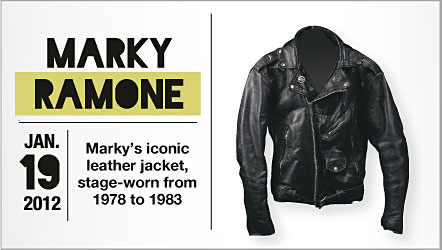 The black leather jacket made by Real Leather, New York–London, was used on stage between 1978–1983, features two US pins on the lapels, a single star pin to each shoulder, zip-up cuffs and a buckle at the waist. It is signed on the back in gold ink "Marky Ramone." In fine condition, with expected wear from stage use. Accompanied by a certificate of authenticity, dated August 8, 2001. 
The auction will feature more than 700 items; including signed material and memorabilia from some of the greatest rock and roll icons of our time.  Bidding is set to begin on Jan. 19 - Jan 26 and a preview is now available. For information, visit
www.rrauction.com
.
Among other items:
Johnny Ramone's
concert-played Mosrite guitar from the
Ramones
final show in 96.
Madame Tussaud wax bust of British actress
Diana Dors
—from the
Beatles
'
Sgt Pepper
album cover.
Extremely rare 1964
Beatles
Bobb'n Head prototypes.
Sid Vicious
, Bassist for the
Sex Pistols
—while out on bail in NYC for allegedly murdering Nancy, checks in with 16 times; these are undoubtedly his last signatures as he would die 24 hours later.
-
About RR Auctions:
RR Auction
, an Amherst, NH-based company, is proud to present a glimpse into the minds of some of the greatest rock and roll geniuses of our time, in its first music themed auction—Marvels of Modern Music, in January 2012. The auction will offer more than 700 one-of-a-kind items of the utmost personal value and significance of such icons as
Elvis Presley
,
The Beatles
,
Jimi Hendrix
,
Janis Joplin
,
The Doors
,
Madonna
,
The Ramones
, and
The Sex Pistols
. 
Such quintessential items continue to re-tell the stories of the legendary figures who wrote the book on modern music. These coveted items, along with a vast treasure trove of other desirable artifacts will be available for bidding starting on January 19- January 26.