The last day of this year's 2014 Rhythms on the Rio was a mix of rain and sun. Actually, for year's past, this was a dry festival for the most part.
The Kirk James Blues Band got everything cooking before noon on this Sunday while the sun was out. The three-piece group belted out originals and classic blues numbers. I've always felt that Sundays should be reserved for gospel or the blues. And these guys didn't disappoint. The vocals by Kirk James himself were strong and his lead electric guitar riffs were spot on. His fellow players on drums and bass kept the blues machine moving. Their final song, "Johnny Guitar," was a tribute to the late Johnny Winter and reminded us all of how much the musical world will miss that legend.  The Kirk James Blues Band was a great start to the final day of this festival.
The O's returned for another full set. They played many songs that we heard on Saturday but it was great hearing those encored. These guys are such great musicians somehow these tunes seemed so fresh.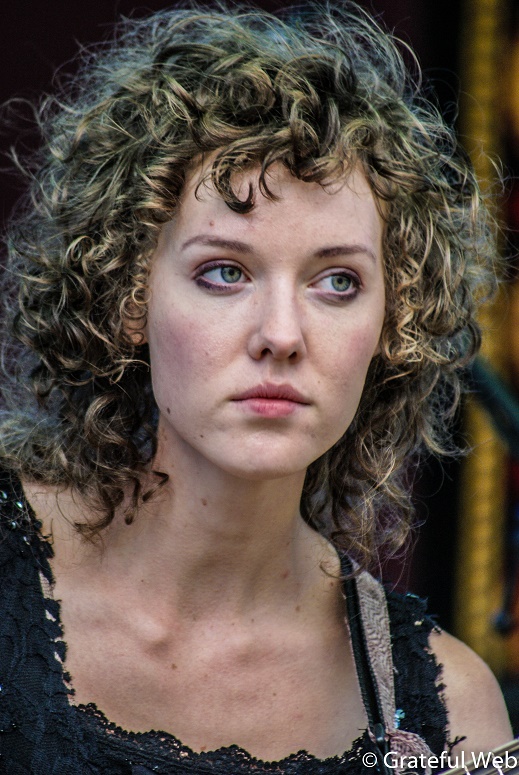 The last act of the day began as it was clouding over. The four-sister band, Shel, stunned us all as a storm moved in. Ranging in age from 21 to 26, Sarah, Eva, Hannah, and Liza Holbrook were outstanding and showed a long history of musical immersion.
Sarah admits that their exposure to music just about happened as soon as they could breath. They were homeschooled by their artist mother and their singer/songwriter father, Andrew Holbrook.
It was obvious from the stage that these musicians were classically trained, but had also learned about improvisation and jazz techniques along the way. They each play more than one instrument and also have exquisite voices. Hannah plays keyboards, concertina, and tambourine, Eva handles mandolin and electric guitar, Sarah takes on fiddle and electric bass, and Liza does drumkit, djembe, and oral percussion.
Their sound is a mix of Celtic (mainly fiddle) with those angelic voices that usually accompany that genre (Enya and Lorena McKinnett type). But they also do a number of pop/Americana tunes as well as some just plain unique arrangements. "The Man Who Is a Circus" has a music box quality along side of an odd carnival feel. "You Could Be My Baby" is a funky, down and dirty blues with a twist. The chorus is: You could be my baby; you seem just crazy enough." Then there was a song that had a drumbeat that was more of a native rhythm mixed with that Loren McKinnett delivery I mentioned above.
The highlight of their set was a smashing, unique rendering of Led Zeppelin's "Battle of Evermore." There was not a single electric guitar or drumkit in it! They used keyboards, mandolin, fiddle, and djembe. And they pulled it off with that signature Robert Plant delivery between three of the women.
All of the originals are complex songs with mature lyrics and some of the most interesting instrumental arrangements I've heard in a long time. This isn't just straight singer/songwriter fare or even the jazzy jam riffs you hear in festivals. This is mature music from very young women that I think will quickly outgrow the festival circuit and soon take on the concert stage and stadium venues. We witnessed something very special here today. Probably one of the last small shows these young women will ever do.
Thus, Rhythms on the Rio 2014 closed with sunshine as Shel delivered the last few songs on their set list. We all left the festival grounds smiling, looking forward to next year's shows.