Day Three of Austin City Limits brought limitless potential from the moment all walked through the gates. One last day to take the fun in before the circus packed up and left town for another year. With artists spanning across almost every genre from Hip Hop, to Jazz, to Rock, and even Latin Funk, there was something for everyone on this final day.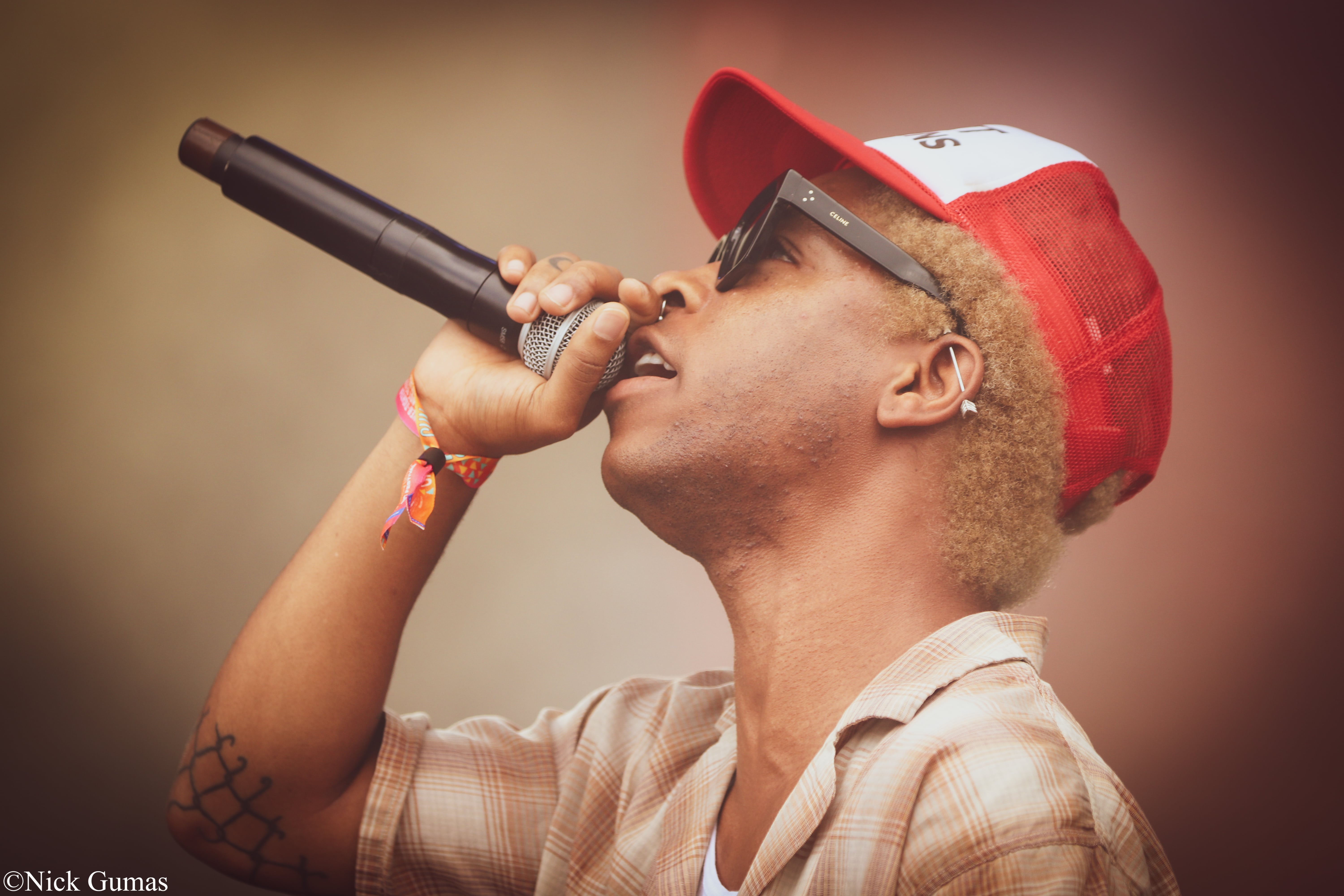 Pandemic-era breakout artist Kennyhoopla woke up alongside the audience Sunday morning. Slowly taking the stage, appropriately in dark sunglasses and a cap reading "Shit happens" he mumbled as he seemed to struggle through a lackluster cover of his song "silence is also an answer//" drawing mixed reactions from his fans. His demeanor quickly changed as he began his second song "sore loser//" and all fears the crowd might have had as to the energy of his set were quickly put to rest. The unmistakable sound of Travis Barker's unique and powerful style of drums accompanied him through the loudspeaker, paying homage to the artist he has worked with so closely as his career has taken off so prominently in the last few months. As Kennyhoopla's energy rose, so did his standard for putting on a truly incredible show. About a minute into performing "hollywood sucks//" he stopped the song to address the audience's shortcomings in matching his energy in singing along with him claiming "we can do better." Offering full transparency in the evolution in his set, he offered "I don't feel good today, but I'm here… so I'm going to give it my all '' before jumping into the audience. An odd move during a pandemic, but not a single fan seemed to mind. His finalé was as strong as any performance of the weekend, ending with a loud and animated performance of one of his breakthrough singles "estella//."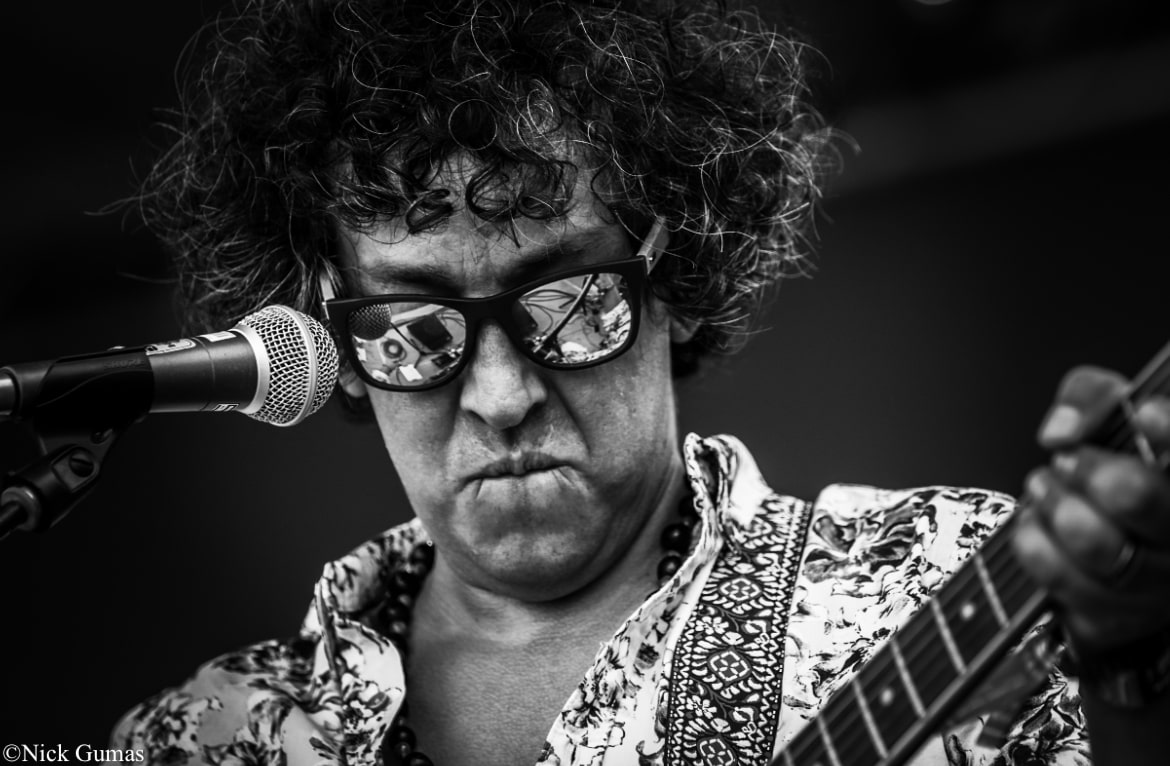 Latin Funk band Superfónicos brought a big energy to the little BMI stage. The eight members of the band might have looked a little cramped on the size-challenged BMI stage, but that did not stop the band from swaying along to their music, getting just as into their groove as the audience. Their Colombian style was unmistakable, bringing a distinct element of culture to the day's lineup. The audience took their cues from the band throughout the set, dancing throughout the entire performance, and was highlighted when the band played one of their clear fan favorites "Carroña." Their show ended what felt like far too soon. As the members put their instruments down and left the stage, singer Jaime Ospina left the audience with some final words fitting to the mood they had cultivated, "Spread the love."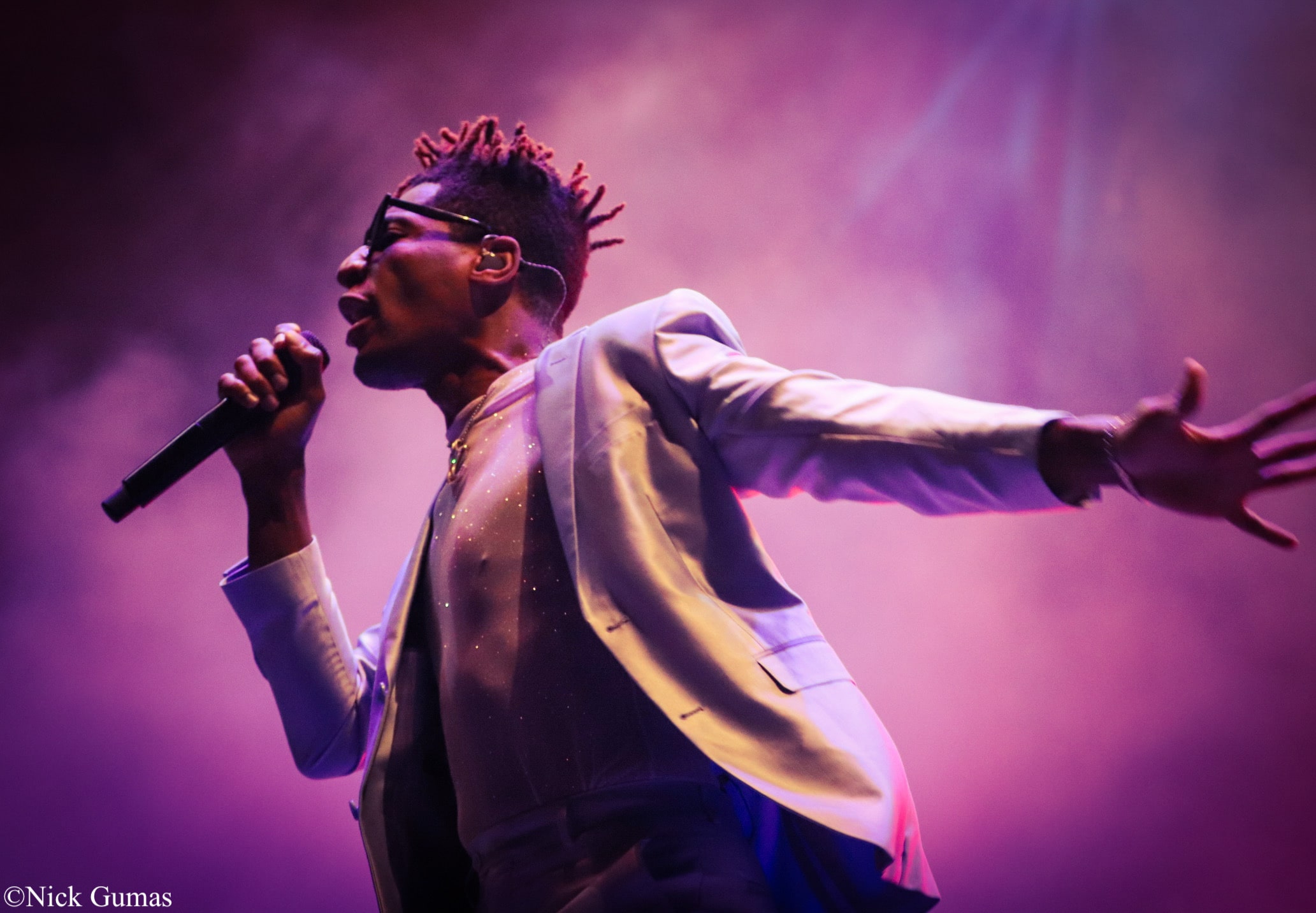 Jazz and soul phenomenon Jon Batiste gave arguably the most passionate and personal performance of the entire weekend. Known largely throughout the world for his role leading the band on Late Night with Stephen Colbert, his live show shattered expectations and delivered a show on a level only comparable to watching James Brown in his prime. Swaggering out on the stage in a glistening silver blazer, a luminous undershirt, and shorts that knew just when to quit, Batiste struck the right tone before he even sang his first note. A multi-instrumentalist, Batiste only needed a microphone in his hand to drop every jaw in the house as he opened with "WE ARE." The mood cultivated between the music and an almost romantic celestial backdrop was nothing short of psychotropic. The Juilliard-educated virtuoso took the tempo down a few beats for "CRY" accomplishing a rare feat of not only picking up a melodica, but actually playing it well, as his passion brought the entire room to their knees, in his case quite literally as he proved to be the embodiment of a physical performer. From "I NEED YOU" to "FREEDOM" there was not a hit of his not performed in a way that did not feel like more than just as a standard concert, after all, In Batiste's own words, "this is more than a concert, this is a spiritual practice."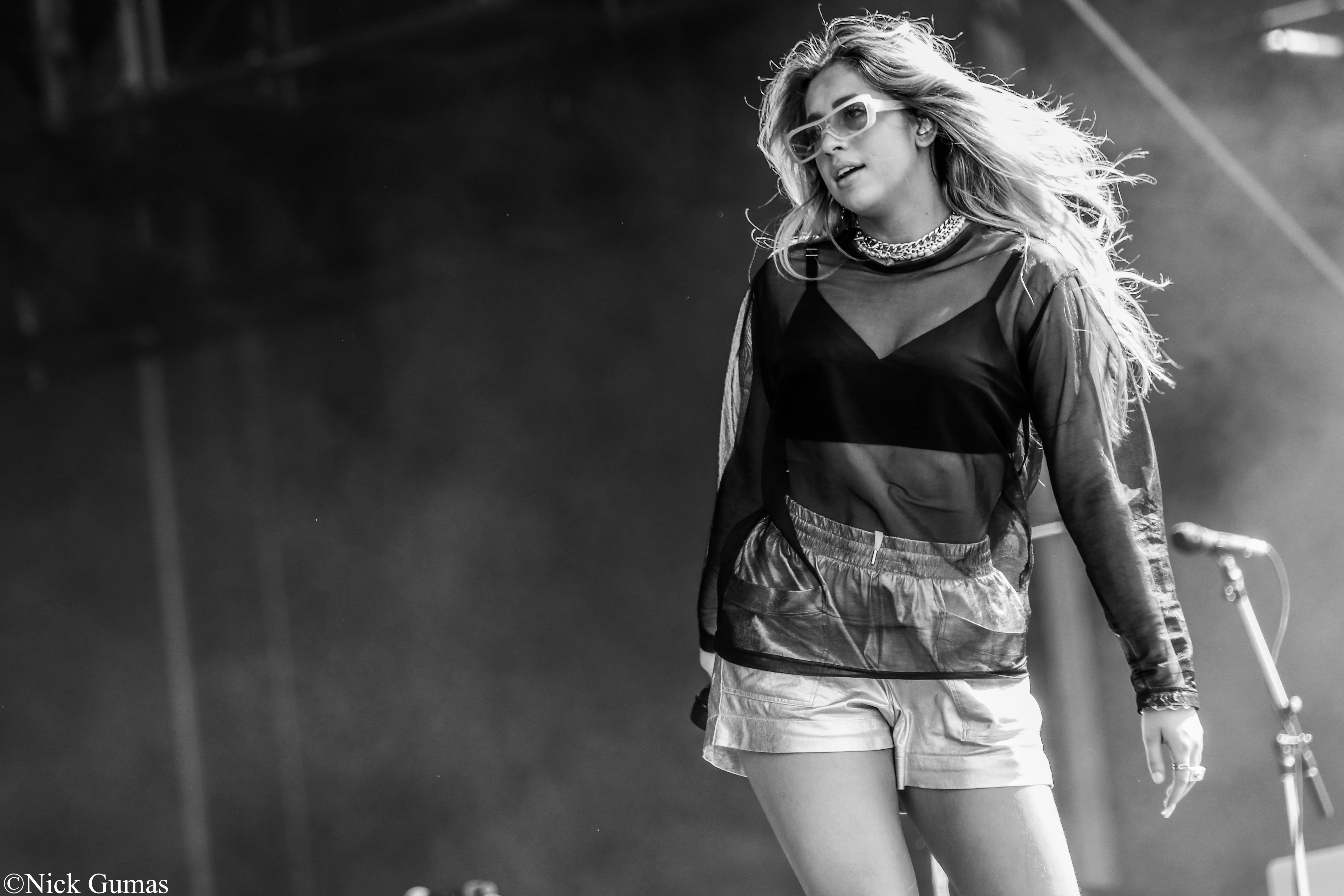 As the sun set, the cicadas hummed as if to announce a last call on the music, but not before two final headliners sent everyone home in style. The Legacy Act of the weekend, Duran Duran, proved to be more than a throwback as they showed Austin that they had aged like fine wine and capable of performing as well as they did four decades ago. The group started off with a classic, opening with "Hungry Like the Wolf" and got the audience invested early. From the get go, it was clear that the message of this show was to bring the masses together as one. Singer Simon Le Bon proudly proclaimed "We don't care about your political views, religion, gender views… music brings us together." This message rang true to a diverse audience that had come to see them perform that truly felt far from homogeneous with fans in attendance who had been following the band since their formative years, or ones who had not yet been born when they had already released most of their more defining albums. "Have you had enough of your 80's fix yet?" Le Bon asked the crowd before the band appropriately covered Calvin Harris' "Acceptable in the '80s." Going out with a bang in a set that already ran more than 10 minutes over, the band closed with one of the hits that brought them to the top of the charts almost 40 years ago, "Rio."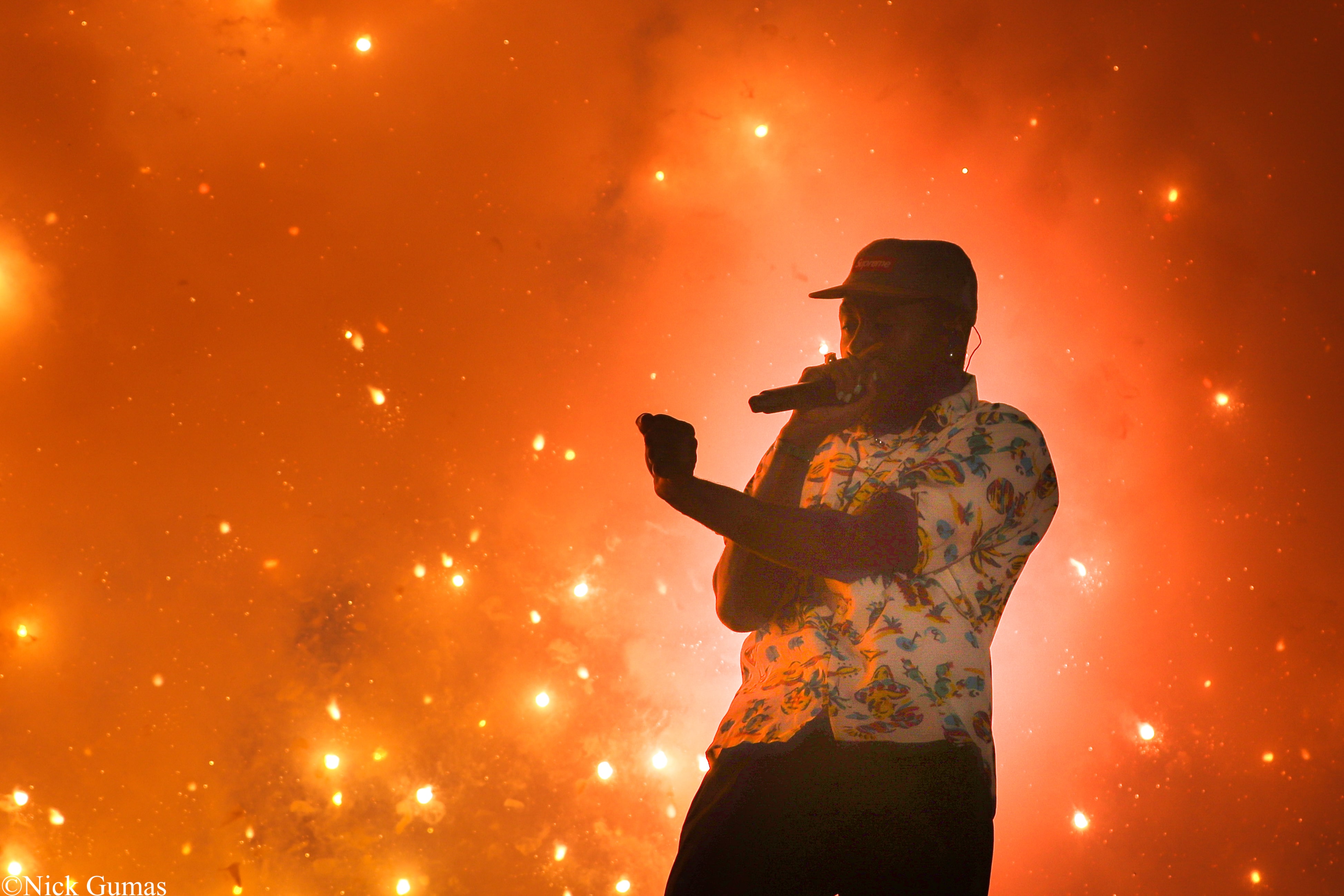 The final note of Austin City Limits 2021 came from Southern California rapper Tyler, the Creator. A late replacement for artist DaBaby after recent controversial comments prompted him to take a step back from his live performances, the change in performers did not seem to bother the audience at all as thousands crowded around the stage to take part in his show. In a change of pace from his typical over-the-top aesthetic, Tyler walked on stage wearing a simple outfit made up of a Hawaiian shirt, cargo pants, and a "Supreme" hat. Carrying two large suitcases, he walked onstage, looking around before he put his luggage down to pick up a microphone as he began his set with his recent hit "CORSO." Fireworks exploded behind him as if to remove any doubt that this could be a minimalistic and stationary performance. The elaborate stage setup before him gave him plenty of opportunity for artistic embellishment, at times performing behind the wheel of a speedboat placed onstage, exacerbating his vocal tone as it moved. It wasn't long before he vocalized a political reflection on the current climate of Texas and the oasis of the state that is Austin, remarking "Based on my skin color, I don't feel safe in most places in this state...but we're in my favorite city in Texas." Reminding all of the ways our world is changing, slowly but surely moving toward a better tomorrow. Taking a moment to catch his breath before one final push to end the set, the artist introduced himself. "My name is Tyler, the Creator. That's the stupid name I thought of when I was 15." The artist ended the festival on a calmer note, ending with another song from his newest album "RUNITUP."
 
Check out more photos from Day 3 at Austin City Limits.