Spring, 2009 JazzPrezzo proudly announces the release of The Blue Note Years: The Photography Of Francis Wolff and Jimmy Katz in celebration of the 70th Anniversary of Blue Note Records, the most important record label in the history of jazz.
This elegant coffee table book, including two CDs of music, spans an incredible seventy years of the label, from its beginnings to the present, through the eyes of two master photographers. The images, many of them never seen before, capture the major artists in modern jazz at historic recording sessions and other contexts. In recognition of this unique collection, the Jewish Museum of Berlin plans a special exhibition of photographs from the book for the fall of 2009.
Designed by award winning designer Ingo Wolff, the book features essays by producer Michael Cuscuna, Blue Note president Bruce Lundvall, recording engineer Rudy Van Gelder, and jazz historian Ashley Kahn.
Wolff's Rolleiflex caught each important development from traditional and swing-era styles of the 40's through bebop, hard bop, soul, avant-garde, and even the first sounds of fusion.
Photographs include jazz legends Sidney Bechet and Thelonious Monk, Art Blakey and Horace Silver, Miles Davis and Clifford Brown, and Sonny Rollins and John Coltrane, breadth staggering in its historical importance. The story continues with jazz greats Jackie McLean, Herbie Hancock, Dexter Gordon, Freddie Hubbard, Lee Morgan, Grant Green, Ornette Coleman, Cecil Taylor, Don Cherry, Andrew Hill, Cassandra Wilson and Joe Lovano.
Wolff's iconic black and white photographs, intimate, relaxed, and respectful of the musicians and their craft, raised jazz players to a heroic level. His point of view endures today: musicians intensely working on their instruments, peering at sheet music or talking among themselves, playing the music with eyes gazing off into space or closed in musical rapture.
I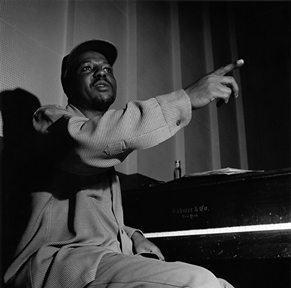 n the early nineties, Blue Note found Wolff's spiritual descendant in Jimmy Katz whose style has its own distinctive signature. Like Wolff, Katz can catch the right moment, frame it, light it and shoot it in a fraction of a second. Their careers have run along parallel lines: both picked up the camera early, fell under the spell of jazz, and established a mature, visual signature. Like a Wolff image, a Katz portrait is instantly recognizable.
Ashley Kahn writes, "Seeing, as the saying goes, is believing. In the photography of both Wolff and Katz there is a deep, shared reverence for the music, captured in a way that makes us all fortunate witnesses to some private and truly historic moments." Bruce Lundvall comments, "This book is the nicest 70th Anniversary gift that Blue Note could get."