Guitar player, bass player, virtuoso, jazz and blues legend, and magician are all titles that describe the sorcery that Charlie Hunter creates so effortlessly on stage. Taught originally by guitarist Joe Satriani with a $7 guitar in Berkeley, and since then collaborated with dozens of incredible musicians, Hunter has certainly made his mark at a young age as a guitar great. Philadelphia has been fortunate this month to have the opportunity to see this special jazz trio on a weekly basis.  The Charlie Hunter Trio has been amazing crowds every Sunday night at the World Café Live for the month of February.
I was fortunate enough to secure a front table to one of these events, and I haven't seen jazz and blues played so well since I saw Chick Corea in the front row of the Boulder Theatre. This was truly a treat! The venue was magnificent, and we started with a great meal and some drinks, while Charlie and company sound checked. Within a few minutes the band very casually crept onstage while the house music faded, shrugged their shoulders and started to play. So smoothly, they played a very mellow groovy couple of songs. Keyboardist Eric Deutsch, the D.C. native who studied with great teachers at the University of Colorado, mesmerized the crowd into an almost hypnotic stand still with the gentle aesthetic melody that closed the second song. The crowd then woke up when he stopped and they applauded for the first of many times of the night. Deutsch entered the trio last year along with current drummer Simon Lott, after a lot experience playing with groups like DeVotchKa, The Motet, and James Blood Ulmer to name a few.
The next song came with a sudden inspiration from Hunter when he said to Simon Lott, "Let's play that blues groove we were messin' with earlier. Why don't you start it (to Lott)?" The Louisiana drummer played a slow melodic intro in the blues turned funk song. Simon Lott was incredibly impressive to me and many others who were at the show. With his long curly hair, boyish face, and gigantic smile, one would not suspect the crazy scat drummer to have in him some of the most diverse and comprehensive drum beats that they have ever heard. In 2000, Lott produced his own album called, In the Parking Lott of Spring, but recently has been jamming with Skerik, Adam Levy, Robert Walter, members of Galactic, and renwicke, his new project.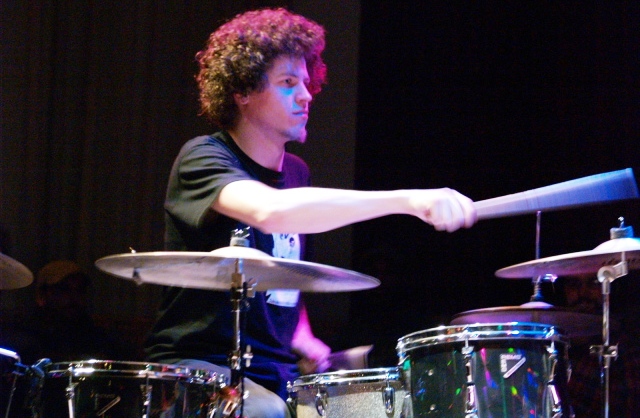 The perfect hard to soft, jazz to blues, indie to funk, original sound of this combination had heads bobbing and fans hollering all night long. Hunter's confident, but reserved demeanor guided the group and his audience with his grunts, scats, and incredible talent throughout the jam session. It is most impressive to see someone with one 8 string guitar play bass and guitar at the same time. He puts some bass players to shame while playing amazing licks on his Novax fanned fretboard guitar. Seeing the Charlie Hunter Trio is something special. And why wouldn't you? One of the biggest things that Hunter prides himself on is playing high quality music for a low price. He wants to always be able to play for the common folks. If you haven't been blessed with the opportunity to see this legend play, do so at your earliest convenience at the following locations.