Psychedelic-jam-rock-experimental group Circles Around The Sun have officially revealed the details of their fourth full-length studio album, Language, set to release this coming spring via Megaforce Records. The group – comprised of Adam MacDougall (keyboards & synths), Dan Horne (bass), Mark Levy (drums) and John Lee Shannon (guitar) – has released a new single alongside the announcement of the album. Listen to "Outer Boroughs" HERE.
As guitarist John Lee Shannon explains: "'Outer Boroughs' was initially composed when the track emerged from an impromptu jam in the studio around a four-chord sequence Adam was playing around with. Dan's bassline is one of my favorites, and is unusual in that he initially heard the '1' in a different place than intended, giving extra emphasis to the downbeat of the second measure." He continues, "It's a breezy groove that paints several landscapes in vivid color before departing into deep space for an extended middle jam. Originally titled 'Ouroboros' for its cyclical nature, it was later changed to "Outer Boroughs" for a bit of mondegreen and a nod to the greatest city in the world."
On Language, Circles Around The Sun will traverse even deeper into the annals of outer-spacial dance grooves that first surfaced on 2020's self-titled release. The new material finds them oscillating through hybrid strains of disco-funk, soul jazz and psychedelic rock, harnessing their stylistic lanes into a singular, intoxicating brew.
The four reconvened in the studio to lay down a record that offers a window into what and where Circles Around The Sun are today. Language is the sound of a rock band confidently writing the next chapter of their story. CATS is a unit brought closer and made stronger having persevered through unthinkable tragedy, weathering the stormy seas to continue onward and upward with humble grace and subtle swagger.
"There's a bit of a different arc to Language. The first couple songs are gonna put you in a certain headspace, and then the party happens later on." notes bassist Dan Horne.
Shop Language vinyl & other exclusive merchandise HERE.
TRACKLIST
1. Third Sunrise Over Gliese 667 (6:24)
2. The Singularity (5:13)
3. Outer Boroughs (7:28)
4. Away Team (6:36)
5. Wobble (6:04)
6. Language (Album Mix with Mikaela Davis) (7:54)
The band continues their Language Tour, revealing dates to close out this year and more in 2023.  Tickets go on sale this Friday, 11/11/22 at 10am Pacific / 1pm Eastern.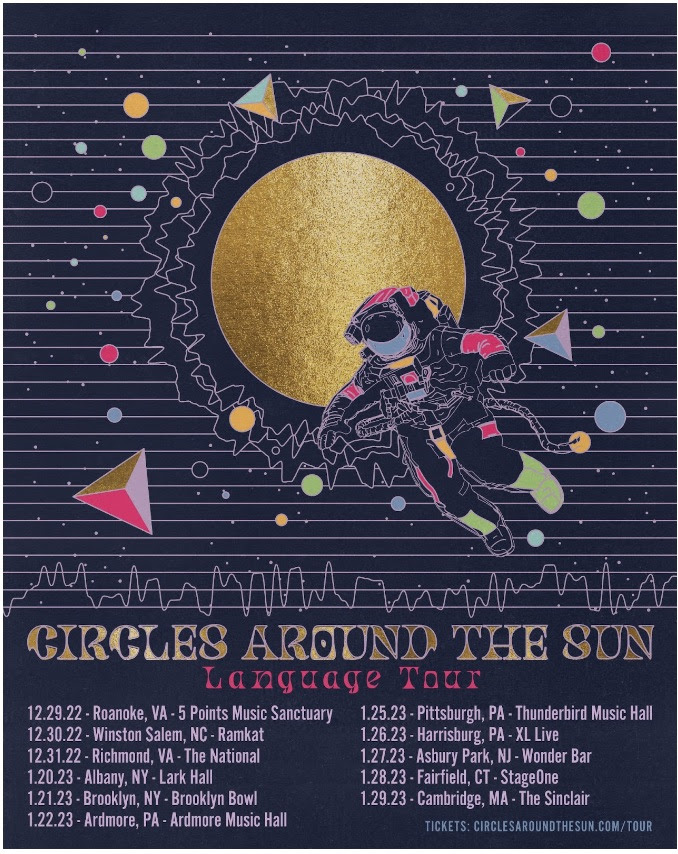 TOUR DATES
Dec 29, 2022 - Roanoke, VA - 5 Points Music Sanctuary
Dec 30, 2022 - Winston Salem, NC - The Ramkat
Dec 31, 2022 - Richmond, VA - The National *
Jan 20, 2023 - Albany, NY - Lark Hall
Jan 21, 2023 - Brooklyn, NY - Brooklyn Bowl
Jan 22, 2023 - Ardmore, PA - Ardmore Music Hall
Jan 25, 2023 - Pittsburgh, PA - Thunderbird Music Hall
Jan 26, 2023 - Harrisburg, PA - XL Live
Jan 27, 2023 - Asbury Park, NJ - Wonder Bar
Jan 28, 2023 - Fairfield, CT - StageOne
Jan 29, 2023 - Cambridge, MA - The Sinclair
* with The Infamous Stringdusters