DeLuna Fest has added 10 more acts to their September 21 – 23, 2012 lineup. The newest artist additions include Reggae legend Jimmy Cliff, Bob Mould plays COPPER BLUE, Trampled by Turtles, Blackberry Smoke, OFF! and Red Kross. Also added to the lineup are late night DJ sets from Diplo, 12th Planet, Paper Diamond and AC Slater. Last month, the third annual music festival hosted on Pensacola Beach announced headliners Pearl Jam and Foo Fighters with Florence and the Machine, Band of Horses, Dwight Yoakam, Ben Folds Five, Guided By Voices, DJ Jazzy Jeff and many more. A third headliner will be announced in mid-June. For a complete listing of artists announced so far, see below.
DeLuna Fest offers a diverse mix of genres for varying musical tastes. Rock and Roll Hall of Fame inductee Jimmy Cliff's career spans nearly 50 years and his set will only enhance the tropical Gulf Coast backdrop. Fans of '90s alternative rock band Sugar are in for a treat: Bob Mould and current bandmates Jason Narducy and Jon Wurster will perform Sugar's 1992 debut Copper Blue in its entirety. And DeLuna Fest veteran Diplo returns to headline the late night DJ sets for those who want to continue the dance party.
DeLuna Fest is heralded as the ultimate end-of-summer music festival experience. With four stages, two rising directly out of the sand, DeLuna Fest is located on the water's edge of the Gulf of Mexico. Accessible by car and boat, and located only 15 minutes from the Pensacola International Airport, DeLuna Fest is an easy-to-get to vacation destination with thousands of hotel rooms, condos and beach houses in close proximity.
A shuttle service is available for attendees traveling from downtown Pensacola or staying on either end of Pensacola Beach's Santa Rosa Island. Advance unlimited-ride shuttle passes are now available for $30 through delunafest.frontgatetickets.com. Other amenities on-site at DeLuna Fest include two open-air Florida restaurants, mini-golf, a sports lounge with big screen TVs, assorted vendors and more.
A limited quantity of advanced price festival weekend passes are available for $159.95 and can be purchased at www.delunafest.com. Once tickets at the advanced price level are sold-out, passes will then go on sale at the regular price of $199.95. VIP ticket packages are also available online for $849.95. VIP pass holders enjoy premier stage viewing, access to the VIP Beach Club Lounge and more.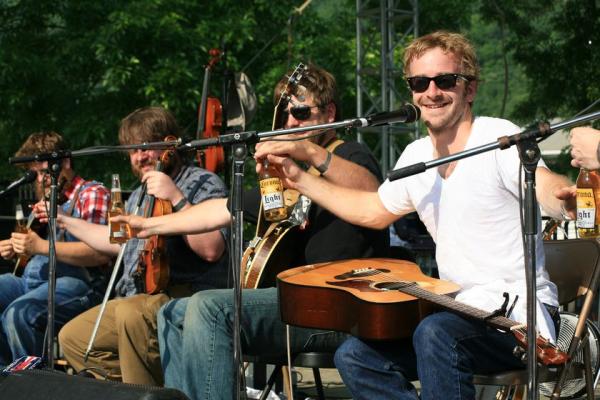 For information on DeLuna Fest including lodging, shuttle services and VIP packages, visit www.delunafest.com.

WHAT:                                          DELUNA FEST 2012
WHEN:                                          FRIDAY, SEPT 21 – SUNDAY, SEPT 23, 2012
WHERE:                                        CASINO BEACH BLVD., PENSACOLA BEACH, FL
TICKETS:                                      $159.95 ADV 3-DAY GA PASS / $849.95 VIP PASS
TICKETS AVAILABLE AT:           delunafest.frontgatetickets.com
FESTIVAL WEBSITE:                   http://www.delunafest.com

CONFIRMED ARTISTS INCLUDE: 
Pearl Jam
Foo Fighters
Florence And The Machine
Band Of Horses
Jimmy Cliff
Dwight Yoakam
Ben Folds Five
Diplo
Guided By Voices
DJ Jazzy Jeff
The Joy Formidable
The Gaslight Anthem
The Wallflowers
Superchunk
Bob Mould plays COPPER BLUE
Joan Jett And The Blackhearts
Bad Brains
City And Colour
Trampled By Turtles
Band Of Skulls
OFF!
The Wood Brothers
Walker Hayes
Redd Kross
Kermit Ruffins And The Barbecue Swingers
12th Planet
Blackberry Smoke
Mike Doughty
The Corin Tucker Band
Paper Diamond
Rebirth Brass Band
Fishbone
Ivan Neville's Dumpstaphunk
The Silos
Motopony
Anders Osborne
Twothirtyeight
AC Slater
Bonerama
The Parlotones
Ben Sollee
Washboard Chaz w/ Tin Men
Eric Lindell
Mishka
Charmaine Neville
Chris Thomas King
Lights Resolve
Antoine Knight
The Villains
Kitt Lough
Hip Kitty
Deadly Fists Of Kung-Fu
Paloma
DLP
Pioneers! O Pioneers!