For 150 years, Epiphone has been a leading innovator in instrument design. By leveraging its iconic past and leaning into the future, Epiphone has now set the stage for the next era of sound for present and future generations. Epiphone is proud to announce the new 1958 Korina Flying V and Explorer, a collaboration with Gibson Custom Shop which stunningly recreates two of the most valuable vintage guitars ever made. The Epiphone 1958 Explorer and Flying V are now available worldwide at authorized Epiphone dealers and on www.epiphone.com.
"We are extremely excited to offer these all-new Epiphone Inspired by Gibson Custom Shop Korina Flying V and Explorer models, which capture the legendary look and sound of the original 1958 Korina guitars," says Mat Koehler, Sr. Director of Product Development at Gibson Brands. "They also have USA-made electronics and solid Korina woods throughout, a first for Epiphone. The beautiful, vocal tonality of Korina wood is now more accessible than ever."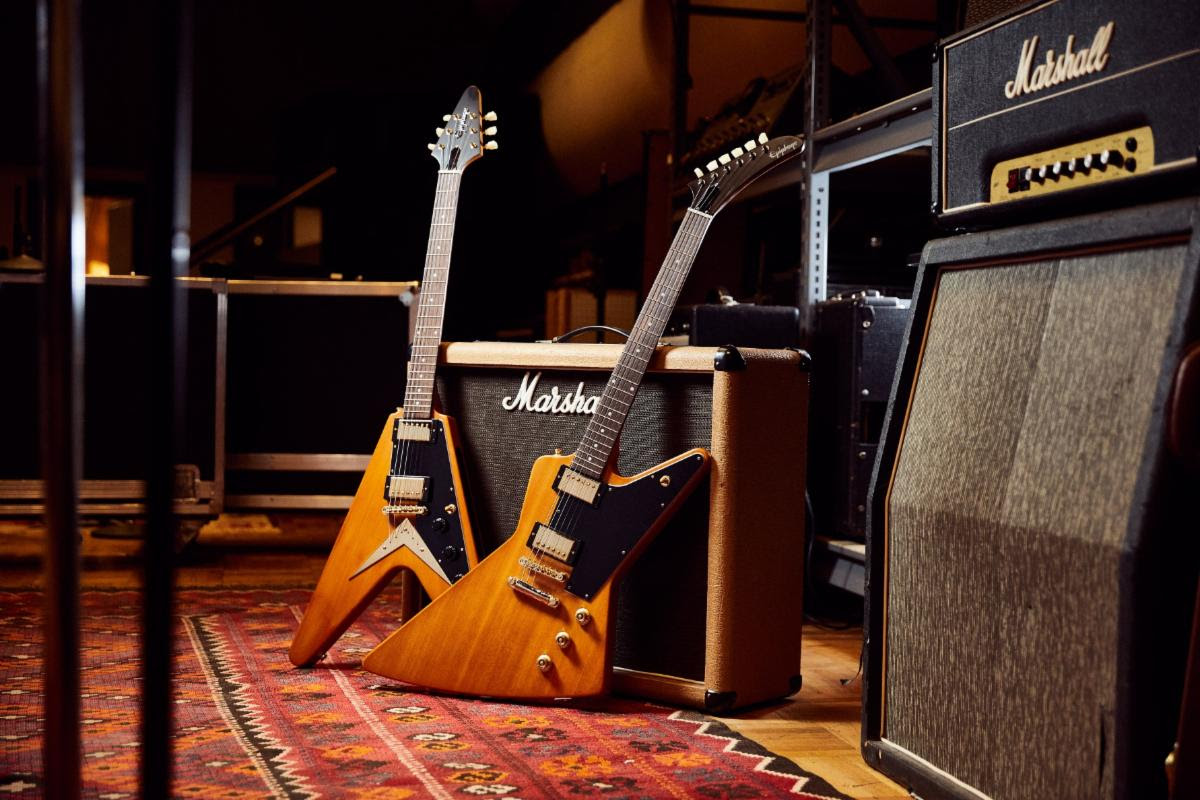 Made in partnership with the Gibson Custom Shop, the 1958 Flying V is Epiphone's impressive recreation of one of the most famous and valuable vintage guitars ever made. It brings authentic 1958 Flying V details to guitarists everywhere at a breakthrough price. For the first-time ever, these guitars are made from solid Korina woods. Like the ultra-rare original Gibson models from 1958, it features a Korina body and a Korina neck with a long neck tenon and a 1958 Flying V neck profile. It is also equipped with an Indian Laurel fretboard and gold hardware. The electronics are also top-notch, with Gibson Burstbucker 2 and Burstbucker 3 pickups wired to individual volume controls and a master tone control with CTS pots and a Mallory capacitor, along with a Switchcraft 3-way pickup selector switch and ¼" output jack. An Epiphone x Gibson Custom logo on the back of the headstock is also proudly displayed, and a hardshell case is also included. The Epiphone 1958 Korina Flying V arrives in at stunning Aged Natural finish with the choice of  White or Black pickguard. All Epiphone 1958 Korina Flying V's with the Black pickguard are exclusively available on www.epiphone.com.