Arlo Guthrie, whose enduring legacy as a folk artist, activist, and humorist spans seven decades, retired from the stage in 2020 for reasons of health and wellness. Wonderfully, Arlo recently withdrew his retirement announcement for a short "Arlo Guthrie - What's Left Of Me - A Conversation With Bob Santelli" tour, set for April in the Northeast. The events are slated as conversations with Santelli, a music historian, author, and executive, "to include rarely see video footage and audience Q&A." Grateful Web's Alan Sheckter caught up with Arlo to discuss the upcoming events, and several other topics.
GW: I see at this time four events scheduled (at www.gut3.me/tickets) – April 1 in Boston, April 21 in Albany, April 28 in W. Long Branch, N.J., and May 27 in Stowe, Vt. Can America expect more such events? Purty please?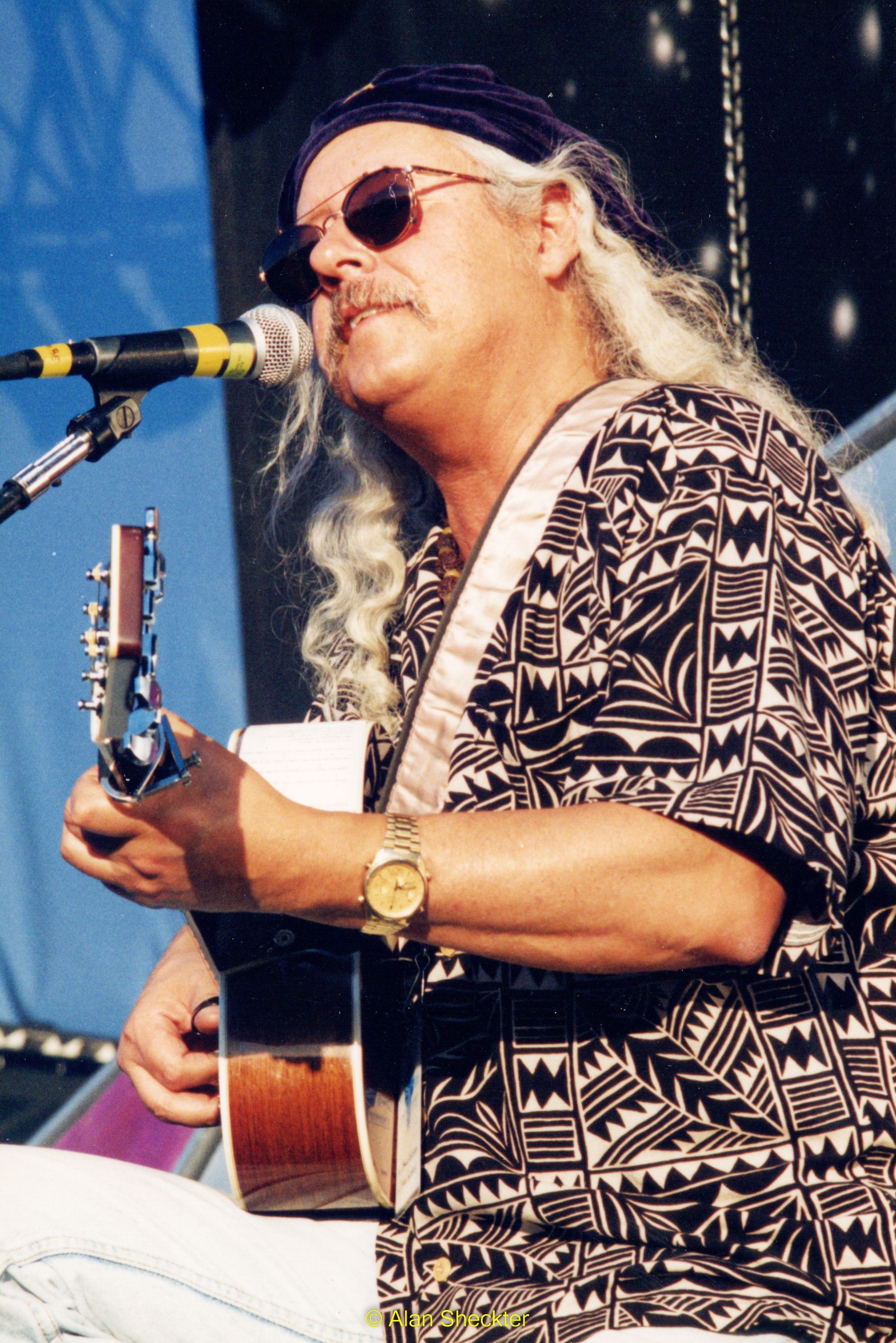 Arlo: We're doing the venues closest to home first. We'll see how it goes. I'd love to do more, but it really depends on what kind of reception the first ones get.G
GW: What can the audience expect at a "What's Left of Me" show? Stories, archived videos? A Q&A? That, in addition to a live conversation between you and Bob Santelli?
Arlo: All the above and more. Pete Seeger once told me "You never want to over-rehearse" So, I haven't made any plans except to be there on time.
GW: You and Marti Ladd met each other 20 years ago but were just married in December 2021. How did you meet? And was it a long friendship that eventually turned romantic, or were you a couple for many years and just eventually decided to wed?
Arlo: Marti and I met when Happy Traum invited Ramblin" Jack Elliott to participate in Happy's guitar videos which he was doing at the time. Happy thought Jack's appearance could be helped by my presence, so he invited me to be in Woodstock, NY where the video was to be made. He arranged for me and my family to stay at a local B&B called The Wild Rose Inn, which was owned and operated by Marti Ladd. I loved the place and stayed there frequently afterward.
My wife, Jackie, passed away in 2012, and in 2016 Marti sold the inn and moved in with me. Marti and I had both been married before, and had no intention to do so again, but things changed, and we were wed in 2021.
GW: And you and she formed Gut3.me (where fans can order merchandise)?
Arlo: In 2020 I retired, and while it was fun, it didn't last long. We started Gut3 Productions in 2022 as a vehicle to get back on stage, albeit in a limited capacity. In an effort to keep it simple, we decided to not do merch at the gigs but rather online.
GW: Marti created the set designs for the tour? Does she have a theater background?
Arlo: Yes. Marti formed a very successful company decades ago that had to do with creating costumes and stage design.
GW: How long have you known Mr. Santelli, and how was he picked as the interview guy?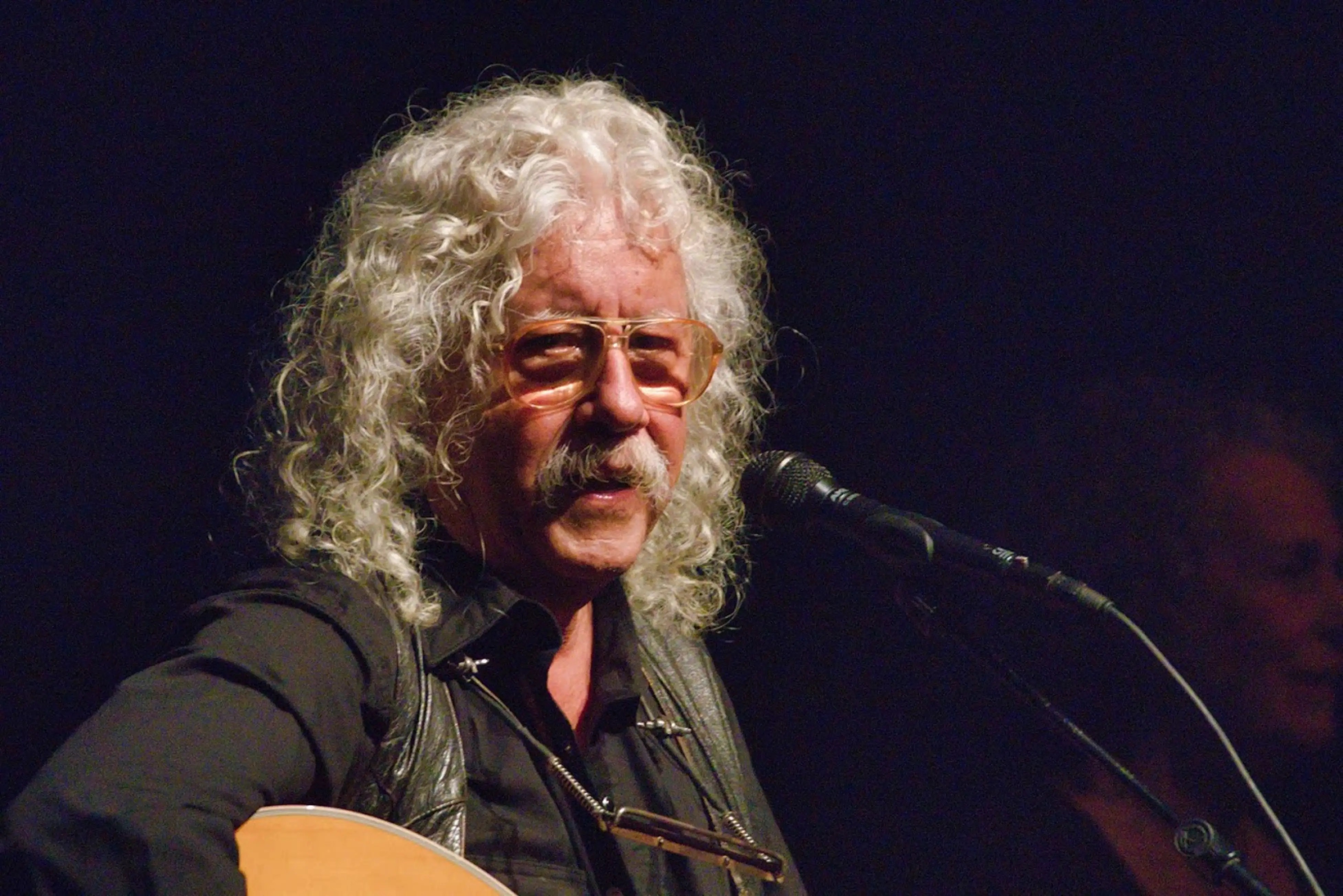 Arlo: I've worked with Bob Santelli many times in one capacity or another. When Marti and I decided on the format for the shows we ran through a number of possible candidates that I could easily converse with. Bob was the hands down favorite, and he was also available.
GW: Your last tour ended in the early days of March 2020, when the COVID-19 pandemic came upon us. Do you remember your thoughts as the pandemic pervaded the country (and world), and your decision at that time to stop touring?
Arlo: I remember it well. The gigs were first rescheduled, then postponed, then cancelled. It wasn't my decision to stop touring, it was the fact that the venues had all shut down. The pandemic took a huge toll, not just on me, but the whole entertainment industry. Band members and crew, bus drivers, mechanics, restaurants, hotels, agents, managers, stage hands - and that's just me. Multiply that by the thousands of artists of all genres and it's mind boggling. Hundreds of thousands of people who still had debt payments to make, vehicles to maintain were suddenly out of work with no income.
GW: How is your health, Arlo?
Arlo: I'm still here and feeling pretty good!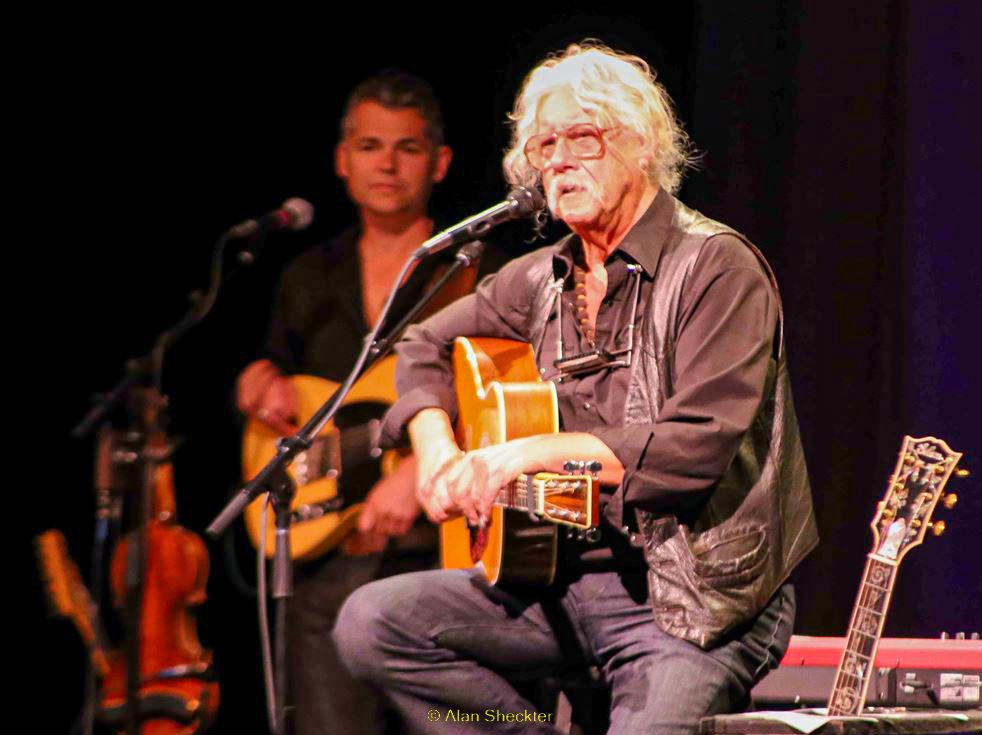 GW: Throughout your career, while covering topics both fun and serious, you've maintained a knack for being a humorist, even when it comes to addressing the evils of the day (politics, etc.). How do you keep a positive approach to life?
Arlo: Well I guess I could be more depressed. But, that's not a very good alternative. My dad said (more than once) "It's hard enuff just tryin' to get out of this life alive."
GW: When I last interviewed you, in 2014 for a preview story in advance of a show at Cal State, Chico, you were living in Florida but still had your big farm in the Berkshires of western Massachusetts. Still true? Do you spend more time in Florida?
Arlo: Yeah. We live in Florida most of the time, but I try to get back to the farm every summer or, like the shows coming-up, when it's easier to come and go from Massachusetts.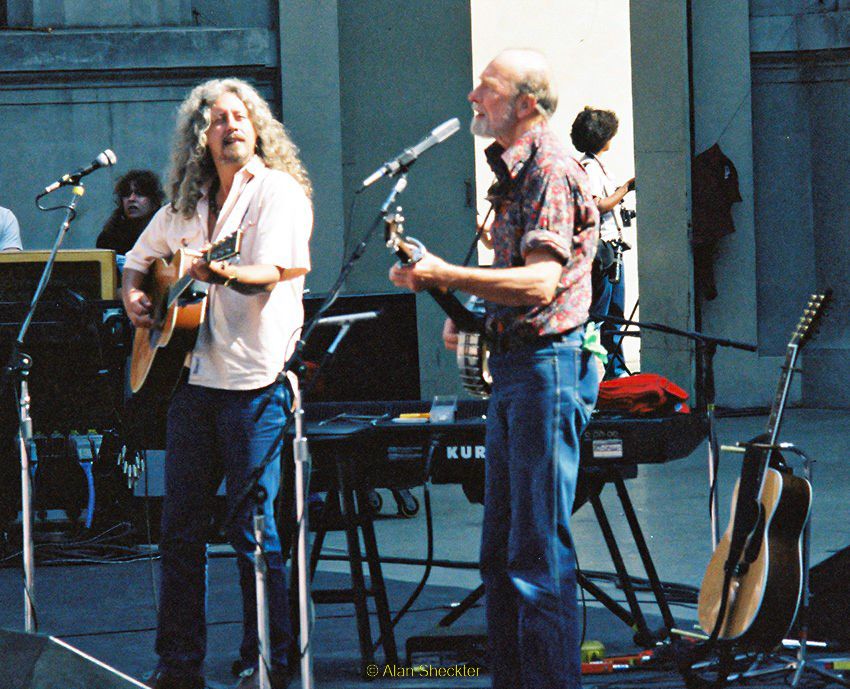 GW: I attended a book signing and became familiar with your illustrated children's book, "Mooses Come Walking" in the mid-'90s. Then there were a couple more "Moose" books as well as "Me and My Goose" and "Monsters" Why kids' books (love the idea) and why centered around animals?
Arlo: It just seemed like a good idea at the time especially as I thought kids could use a little humor too. The books aren't all humorous but who's counting?
GW: Is the Guthrie Center church still active? Are you still involved? What kind of activities/events are held there, and what is the importance of it for you?
Arlo: My daughter, Annie is the executive director of The Guthrie Center, and her son, Shivadas is the director. They're keeping the church alive and well. The iconic building will be around for a long time, trying to be of service to everyone.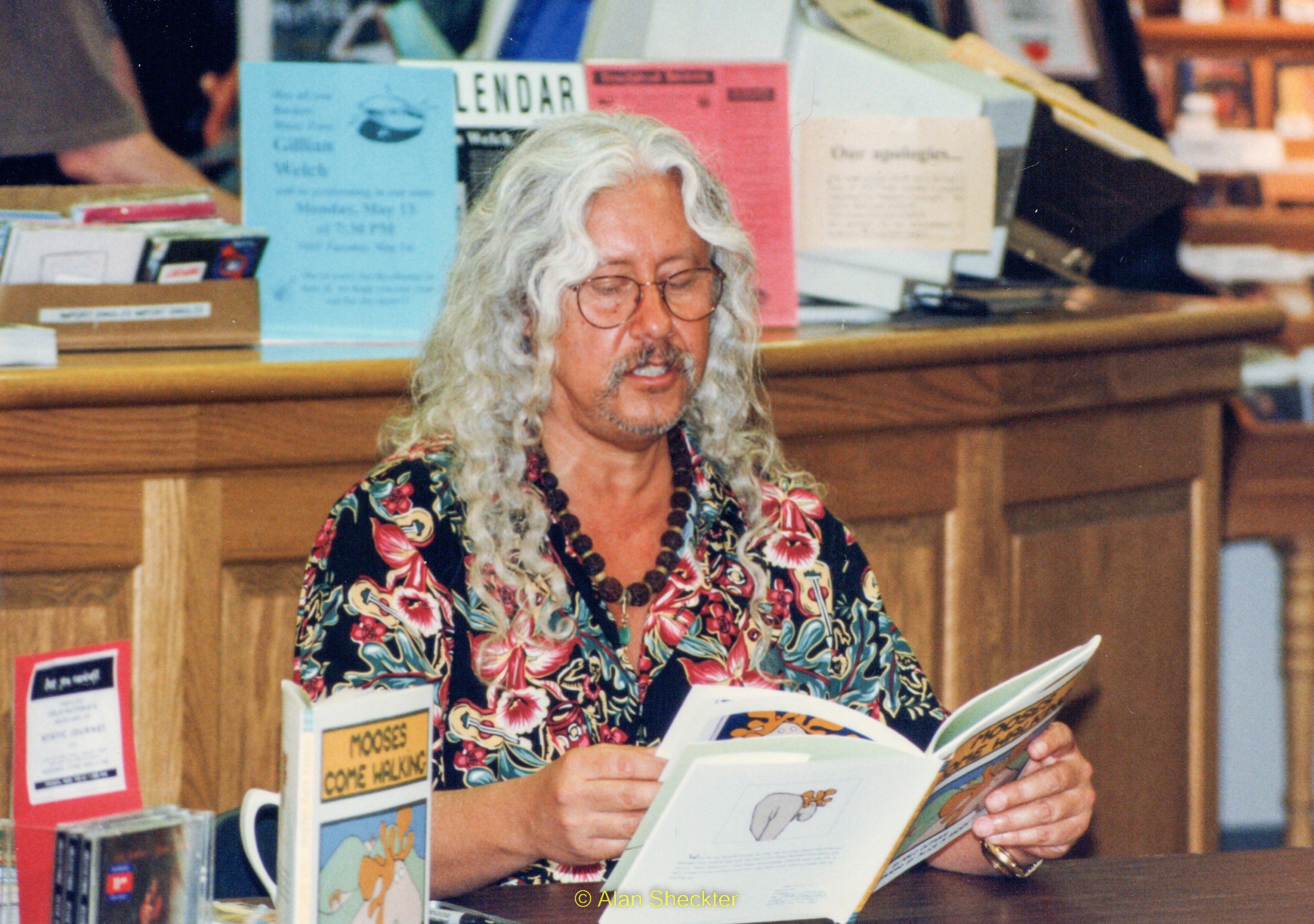 GW: The name Woody Guthrie remains one of the legends and heroes of American folk music. Can you share a memory that readers may've not before heard or read that helped shape who you became as an adult?
Arlo: Harold Leventhal, was my manager when Alice's Restaurant was recorded. He played the test pressings for my father Sept. 26, 1967. My dad passed away October 3, 1967. So you could say, my father heard Alice's Restaurant and died.
GW: Anything you'd like to share about Abe Guthrie, Annie Guthrie, and/or Nora Guthrie?
Arlo: I love them all, but they're family, which means whatever they want shared they can do so on their own.
GW: As we are "Grateful" Web, I'd like to ask the following: Back in spring/summer 1997, you were on Furthur Festival bill, along with Bob Weir's RatDog, Mickey Hart's Planet Drum, and many others. Did you have a good time touring and hanging out with those cats?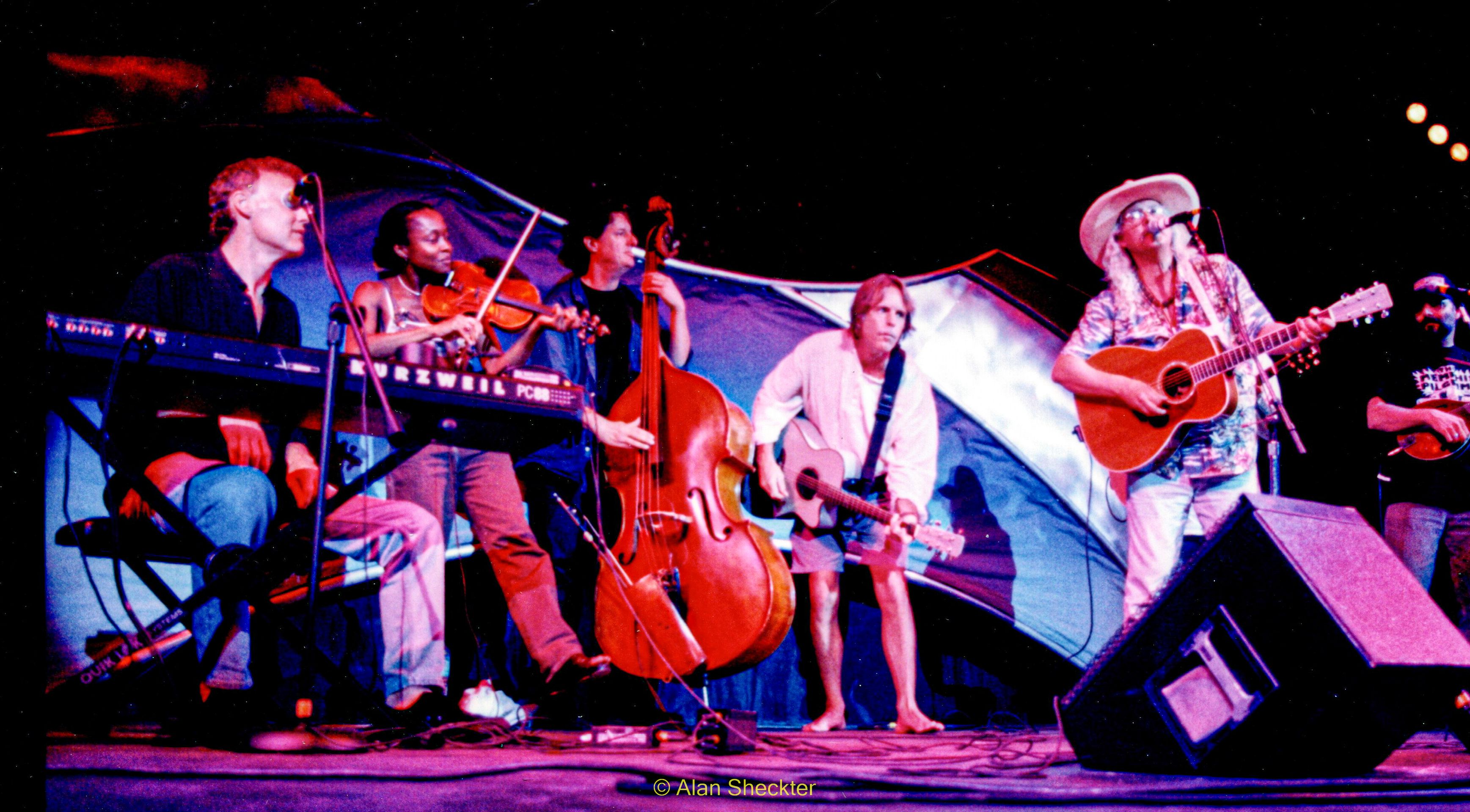 Arlo: I was hired to be the guy that kept the audience busy while the stage hands changed sets for the various bands. I had never done that kind of thing before, so I saw it as a challenge. I had a wonderful time with all those guys. I enjoyed sitting around back stage and goofing off with everyone.
GW: Did you have any experiences with Jerry Garcia or other Grateful Dead members during their tenure – mid-'60s to mid-'90s?
Arlo: Of course! I remember the guys sitting around with me back stage before a gig I had somewhere on Long Island. We had a lot of fun in those days. That's probably late 1960s. A lot of that decade is a blur for obvious reasons, but we did laugh a lot.
GW: Do you support President Biden to repeat as President in 2024? Would you like to see a different person at the helm?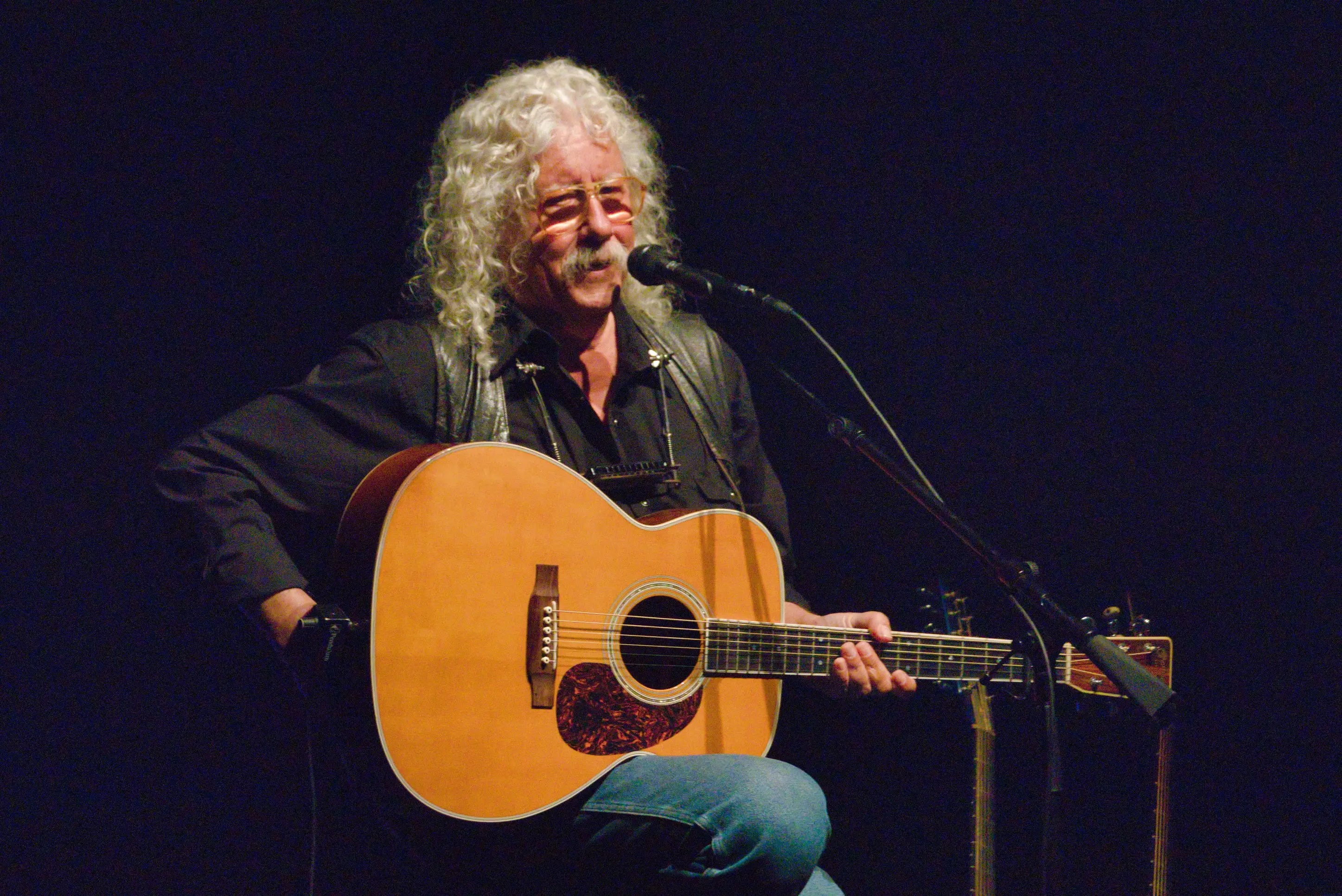 Arlo: I was a Bernie guy, so President Biden wasn't my first choice, but I thought he sure as hell was better than Trump. For me, it's all relative, so let's see what happens.
GW: Do you think Donald Trump will get the nod again as the Republican Presidential nominee? Why or why not?
Arlo: There's no 'once and for all' in politics. But, if they give Trump the nod again, as you say, I think a new political party will have to take the place of the Republicans in order to be relevant. The question will be, can the Democrats hold together and maintain a lead over a split GOP. That too is a question that won't be answered until the election gets closer. That's how I see it.
 "Arlo Guthrie - What's Left Of Me" tour 2023
    April 1: Boch Center, The Schubert Theater, Boston, MA
    April 21: The Egg, The Empire State Plaza, Albany, NY
    April 28: Pollak Theatre, Monmouth University, West Long Branch, NJ
    May 27: Spruce Peak Performing Arts Center, Stowe, VT