Front Country plays Bay Area Bluegrass, a cross-genre jaunt spanning indie, folk, Americana and traditional bluegrass. Their sound is accessible for everyone. Front Country is Adam Roszkiewicz (MANDOLIN), Jacob Groopman (GUITAR, VOCALS), Melody Walker (VOCALS, GUITAR), Jordan Klein (BANJO, VOCALS), Leif Karlstrom (Violin), and Zach Sharpe (BASS). With the 2014 release of Sake of the Sound, Front Country is currently on their second national tour.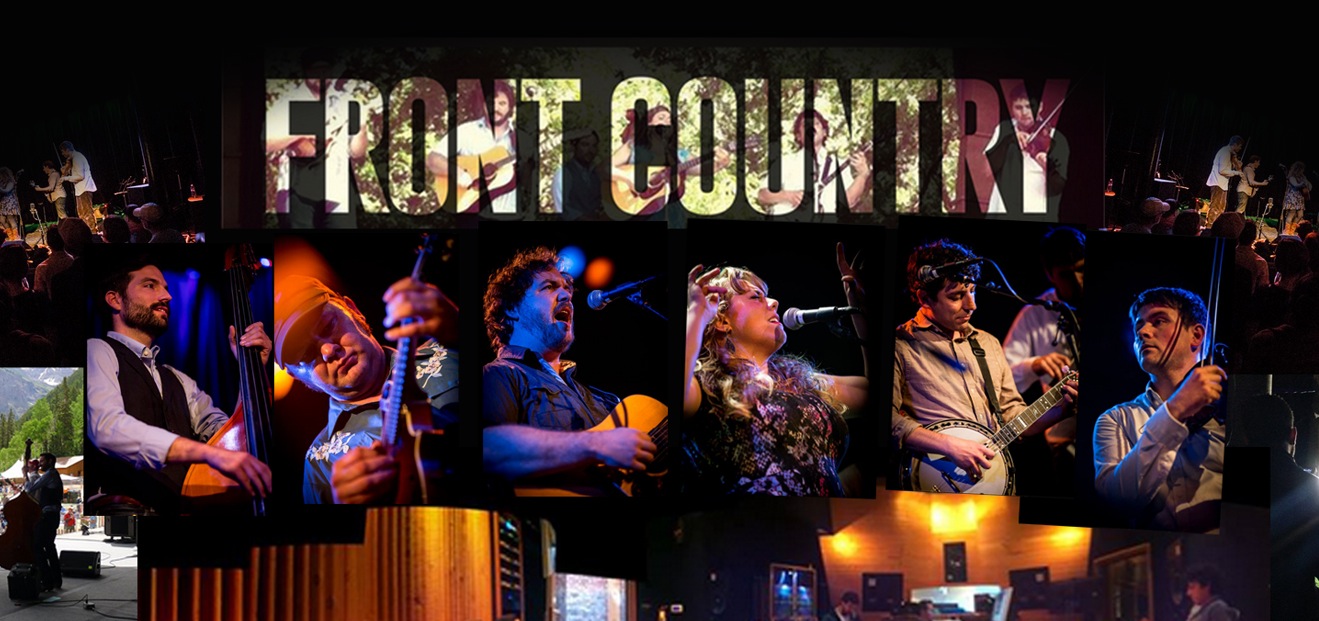 Front Country has quite the resume. They have won RockyGrass and Telluride bluegrass competitions, only the third band to win both, snagged a Merlefest writers win, and Mandolinist Roszkiewicz has been nominated for a Grammy. One album in, Front Country is winning over critics and fans coast to coast. Sake of the Sound has many original works including the "Undertaker," "Old Country" and the title track "Sake of the Sound". Additionally, Front Country has beautiful arrangements of traditionals, standards, and contemporary music. The album opens full steam with Gospel Train, an old-time spiritual many associate with Larry Sparks. Front Country covers the ubiquitous bluegrass of Utah Phillips' "Rock Salt and Nails," Bob Dylan's "Long Ago, Far Away" Sarah Siskind's "Lovin's For Fools" and California Folk heroine Kate Wolf's "Like a River". And for all the Colorado fans of The Honey Dewdrops ("One Kind Word"), they will be touring through Colorful Colorado this September!
Front Country comes to the Front Range
In route to Fort Collins, Colorado to play the 3rd Annual Avograss Bluegrass Festival at Avogadro's Number July 31 - August 2, Grateful Web had an opportunity to discuss Front County's 2015 Summer Tour with Melody Walker.
GW: This 2015 Summer Tour has a lot of mile markers. I don't just mean traveling  between festivals from Maine (Ossipee Valley Music Festival) to Oregon (Sisters Folk Fest). Front Country has been breaking new ground and reaching new fans. What are some of the highlights for all of you on this National Tour?
FC: Getting to play at Grey Fox for some of the Northeast's most hardcore modern roots music fans was a great opportunity. Those folks are so great, and many of them came out and saw us play the next week in Boston, NYC, and Maine. Also, getting to stop by the Relix  Magazine offices in midtown Manhattan and make a little live music video.
GW: Front Country is from the Bay Area in California, but Colorado appears to have become a second home. You even include a track title named Colorado in your 2104 release of Sake of the Sound. You've won Rockygrass and Telluride band competitions. How has Colorado and the artists you've met here influenced your approach to bluegrass?
FC: The Colorado bluegrass scene just seems to "get" us and the sound and vibe we are going for. The most important way Colorado has influenced the band has been by just accepting and embracing us with open arms. It's like we found our tribe and doing well in Colorado was kind of the first sign that we could leave California and tour nationally. Since we spend so much time here in CO, we end up absorbing a lot of the local bluegrass flavor, from spreading around the tunes that folks jam at RockyGrass (looking at you, "Salt Spring"), to incorporating the epic natural beauty of the mountains into our songwriting.
GW: Your first album has received wide acclaim from artists, such as Chris Pandolfi (Infamous Stringdusters), Woody Platt (Steep Canyon Rangers) and Tim Carbone (Railroad Earth). You've achieved so many accolades so early in your career. When you look back over the last 5 years or more, back when you were playing in San Francisco's Mission District, could you have dreamed you would already be on your second national tour promoting your first studio album?
FC: I actually feel like it took us way too long to make our first full-length record. We had been a band for over three years before we even started recording "Sake of the Sound", and we only did our first national tour last fall. But yes, we started in 2011 as a very casual pickup band playing a monthly gig, first at a cafe in the Mission, then at "Free Bluegrass Mondays" at Amnesia on Valencia St, and we certainly didn't get together at all with the intention of making records, entering contests and touring. It all has happened rather organically and keeps on surprising us all the time. We have now transitioned into being a full-time band with a team behind us, and none of us saw that coming at all, but we are sure glad to be doing it.
GW: Later this Fall, Front Country heads to the UK. Is this your first International Tour? Any time for doing the tourist thing or is it all business?
FC: Yes! We are about to be able to call ourselves "international touring artists" this fall! I think it's going to be a hectic schedule with very little tourist time, but we will for sure be making the most of any extra time we have there, even if it's just to go to a local pub or see a castle. A couple of us are thinking of tacking an extra day or two onto the end to hang in London, since we will be flying out of Heathrow.
GW: With so many talented musicians and songwriters in Front Country, what was the process for arranging your album? The Sake of the Sound tracklist is coherent and flows front to back. Do you all bring song ideas into the studio and let them build organically, or how does the collaboration work?
FC: We start with very long email threads tossing ideas back and forth, sending along demos of originals or covers or friend's tunes, and then we set a rehearsal schedule to start playing around with the songs we have on the table. Once we start arranging them, we tend to just "know" which ones are working or not, and which ones we are extra excited about. The arranging process can be intense at times since everyone in the band has really strong ideas and opinions, but it has always been our forte somehow, and what comes out on the other side is Front Country music. Dynamic, textured, heartfelt and ultimately quite musical, we hope.
GW: July 31st, Front Country returns to Fort Collins for another night of Traditional Bluegrass, Progressive Bluegrass, Newgrass, Americana, Folk-Pop…Ha ha, your music encompasses so many elements. How do you describe the music of Front Country?
FC: Oh boy, this is the toughest question! Musicians tend to be pretty bad at describing their own music, and we are no exception. Keeping in mind that genres are fluid, we hang out somewhere between bluegrass and rock. We have toyed with the tagline "indie-grass," but love to hear suggestions from fans. I think they know a lot more about what we do than we do sometimes.
GW: Thanks for your time, and thanks for sharing your talents with the Grateful Web community. Before you get back to your Summer Tour, is there any news or thoughts you'd like to share with our readers?
FC: Well, I don't mind sharing that we are hanging out on the front range this whole next week recording our next project at a studio in Denver. It's a covers EP featuring a mix of well known and little-known songs that we did not write. We love the process of taking an old song and making it new again, so that's what we are up to next. Not sure on a release date yet, but folks can stay hip to the website or social media to stay in the loop. People can also sign up for our mailing list and get access to a bunch of live Front Country tracks we call the "Secret Stash."
Front Country on Tour, visit http://www.frontcountryband.com/tour