Grateful Web had a few minutes to speak with The String Cheese Incident's Kyle Hollingsworth at this year's Electric Forest.  Kyle touched on the evolution of Electric Forest Festival, String Cheese getting well deserved air time on the radio, and working with Elephant Revival's Bonnie Paine.
GW: How was it to work with Bonnie Paine professionally? I know you guys are neighbors.
KH: Yes, she & I have had a relationship prior to String Cheese so she sang on my last solo disc (Speed of Life), she sang on a song called What's Happening Now and then she sang on another tune and I had brought those songs to her with her voice in mind. I was like "this would be great to work with her." So we had this previous relationship - so then My One and Only was conceived of in a dream actually, believe it or not - it was one of those moments when you wake up from the dream and actually remember.  I was like Quick! Run to the piano! So I played it.
GW: Ooooh! Good! Captured!
KH: Captured! And then I took it to String Cheese, and we flushed it out.  I was thinking man, we need a female voice on this for sure, and I don't want to write all the lyrics *whispers* I don't want to write my own lyrics, I'm tired of writing my own lyrics. So I said, "Bonnie! Whats going on!?!" and she said come on over.  So then we worked on the song together, and it made sense for it, not only lyrically was it helpful, but to have her voice on it was really unique - something different for String Cheese.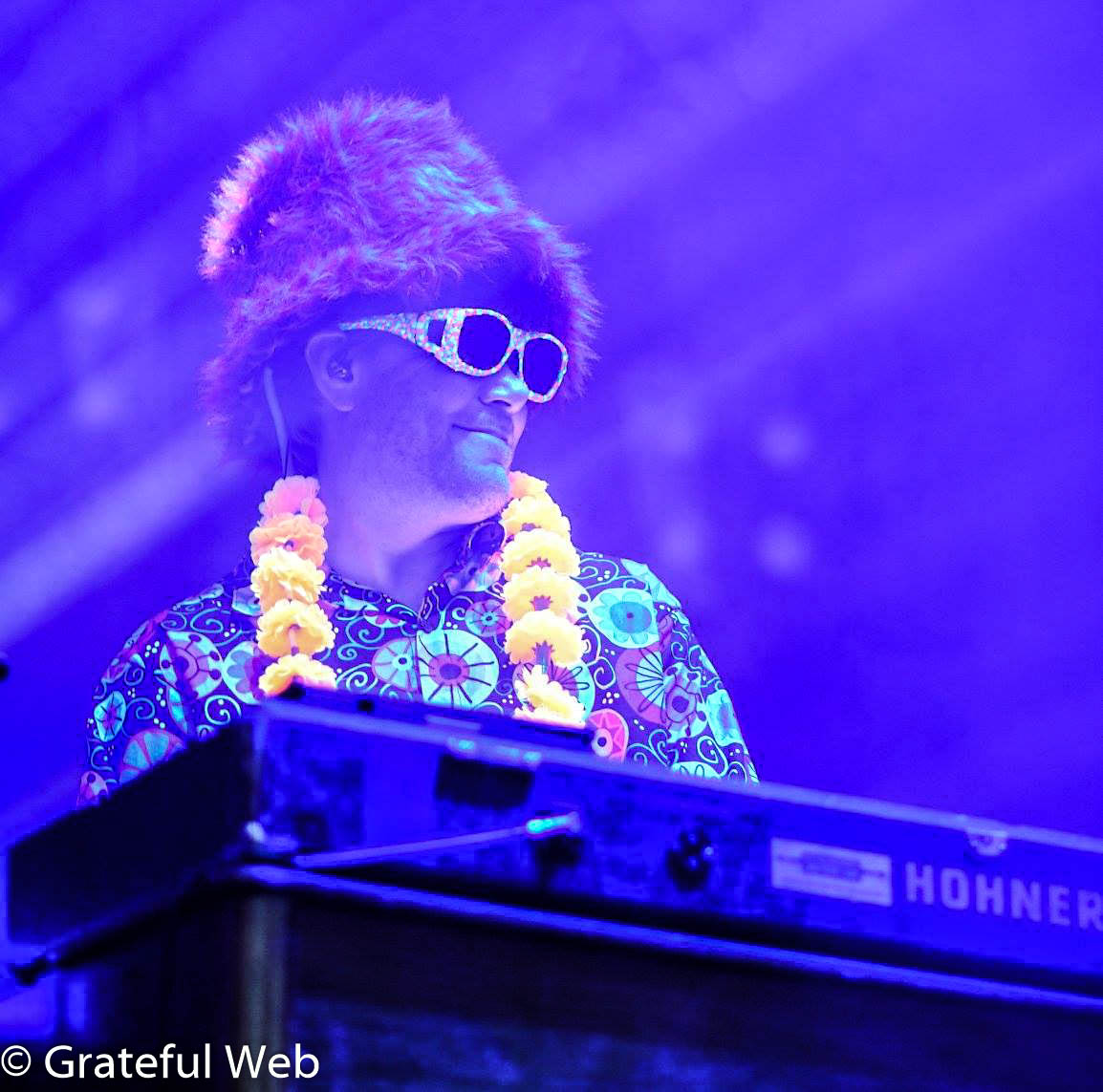 GW: While hearing you play My One and Only last night, I was trying to listen for what it would sound like with her voice because I know that voice, it's so unique
KH: Oh Yea!
GW: I can't wait to hear the album just for that song!
KH: Oh, you haven't heard it?
GW: No I haven't.
KH: Oh you should! It's all over the radio
GW: I have Sirius radio, it should be on the JamOn station…?
KH: It was actually getting heavy rotation when it first came out (April 2017) It'd be in less rotation now.  You probably heard it; I guarantee you heard it, and you didn't think it was us. A lot of people hear it and think it's like some Mumford or someone… It sounds different because she is prominent in the song.  So if you didn't know it was String Cheese, you wouldn't know.
GW: I would think I would hear her voice but then again what a creative collaboration… My next question - Did you ever want to play with Bonnie's voice and do some EDM tracks with it?
KH: That crossed my mind just last night actually! Driving, that, that was my 1st track I did with her was more electronic 80's pop song.
GW: Oh Wow!
KH: It was all synth, kind of Thomas Dolby song and then I had What's Happening Now.  She did all the background vocals.  I should have probably had her louder in the mix then I did, but um.
GW: Hindsight is 20/20
KH: it'sI'd like to do another EDM song too.  I'm sure other people are already thinking that...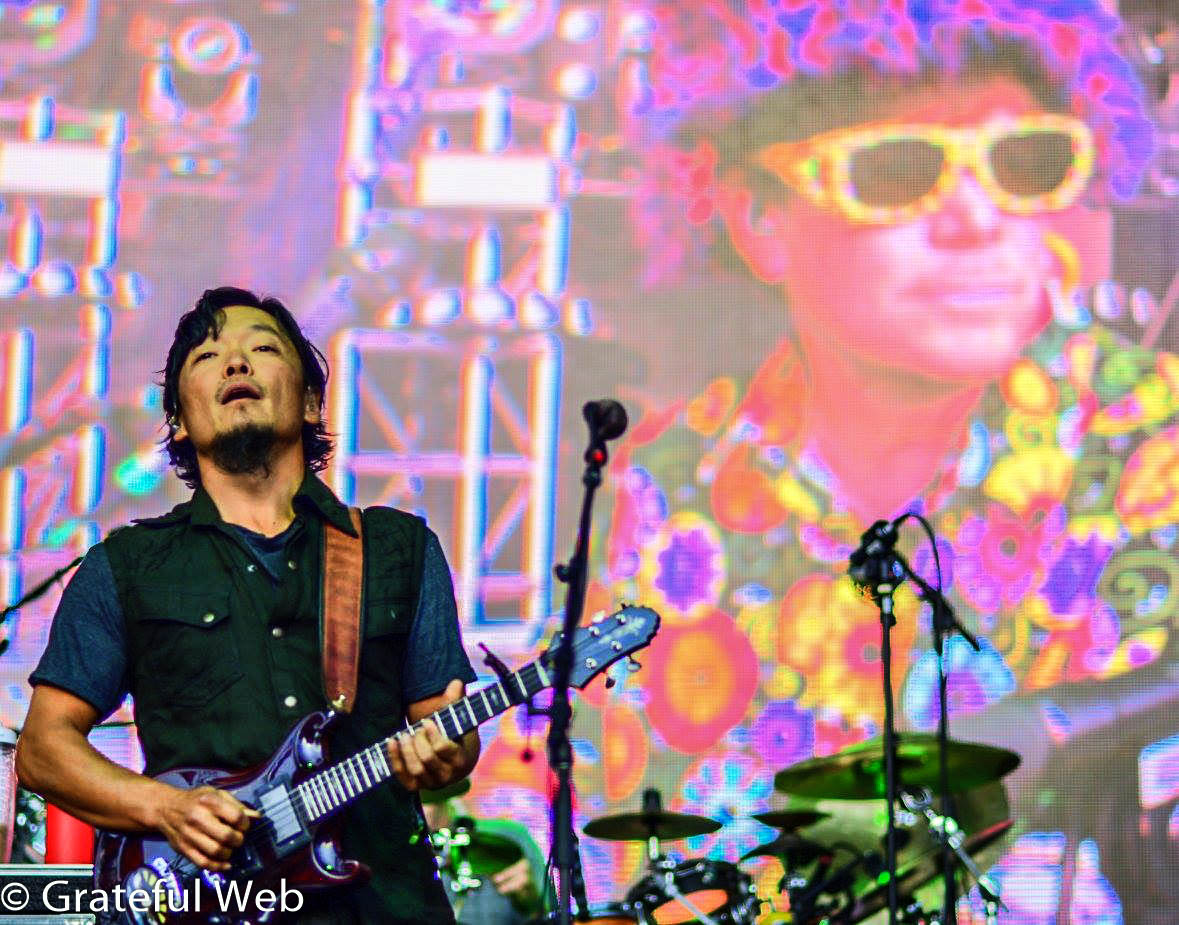 GW: With that being said… Electric Forest isits 7th year.  They say that the body or an organism regenerates new cells every seven years.  So every seven years you are like a whole new person.
KH: Wow
GW: As we go into the 8th year, what do you see as the next seven years progress? It's not going to slow down anytime soon.  How many people do you serve here?
KH: I know! Do you mean the festival or do you mean String Cheese or…?
GW: Electric Forest. You are always going to be the host, right?
KH: Yes, exactly.
GW: Clutch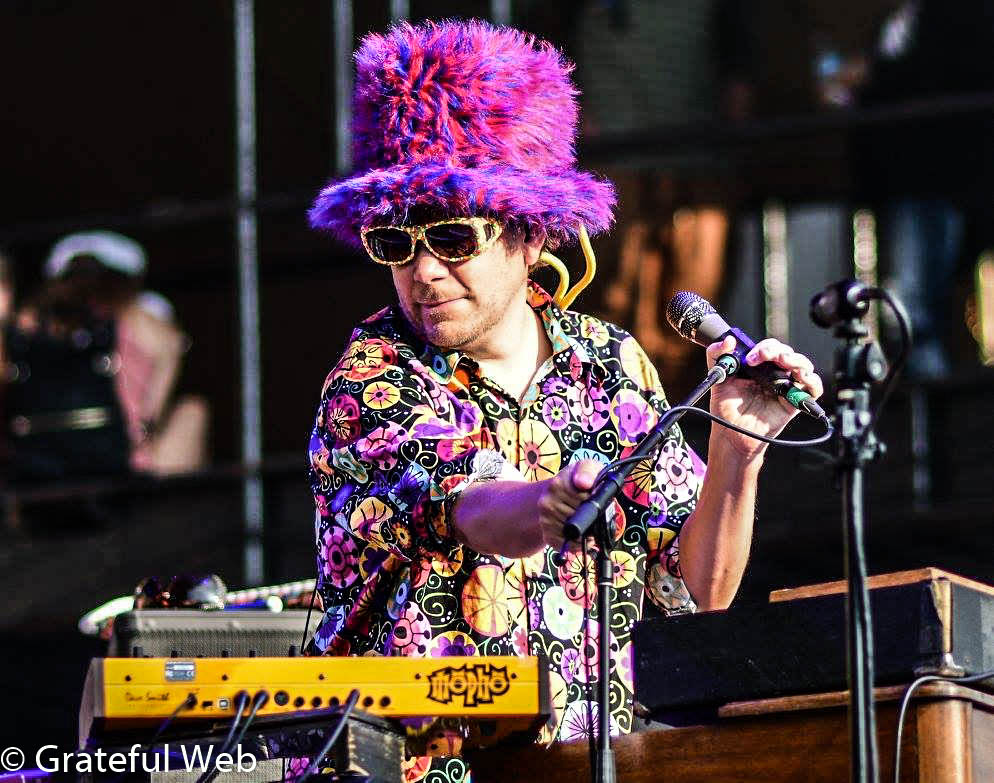 KH: One of the things we are clutching onto as well. I think, for me, Electric Forest is growing.  It's still finding its way, especially right now with the 2 weekends set-up. We'll see whether or not that is gonna work. I do think, music will then… 7 years?  Music will continue to change.  I think Electric Forest will have it's doors open for all new music that is coming in and so I think right now is EDM but I think we're also going to find other styles of music.
GW: Your set last night was like salsa to all over the place. I was trying to tally the number of genres that you covered.  You often don't think of how many that number will climb to in a given performance.
KH: Yes, one of the great things about String Cheese is that we are able to jump between styles.  I said to Jason; we are a jack of all trades, maybe ace of none? But *laughter* we're definitely moving around.
GW: I made the note last night, these guys are like Tom Selleck's mustache. They can do it all.  That was when the music went to the 80's vibe.  The stache came to mind.
GW: What is your favorite collaboration that you have done at Electric Forest?
KH: Numerous ones.  This year was pretty darn cool with Kamasi. Where you here for Kamasi last weekend?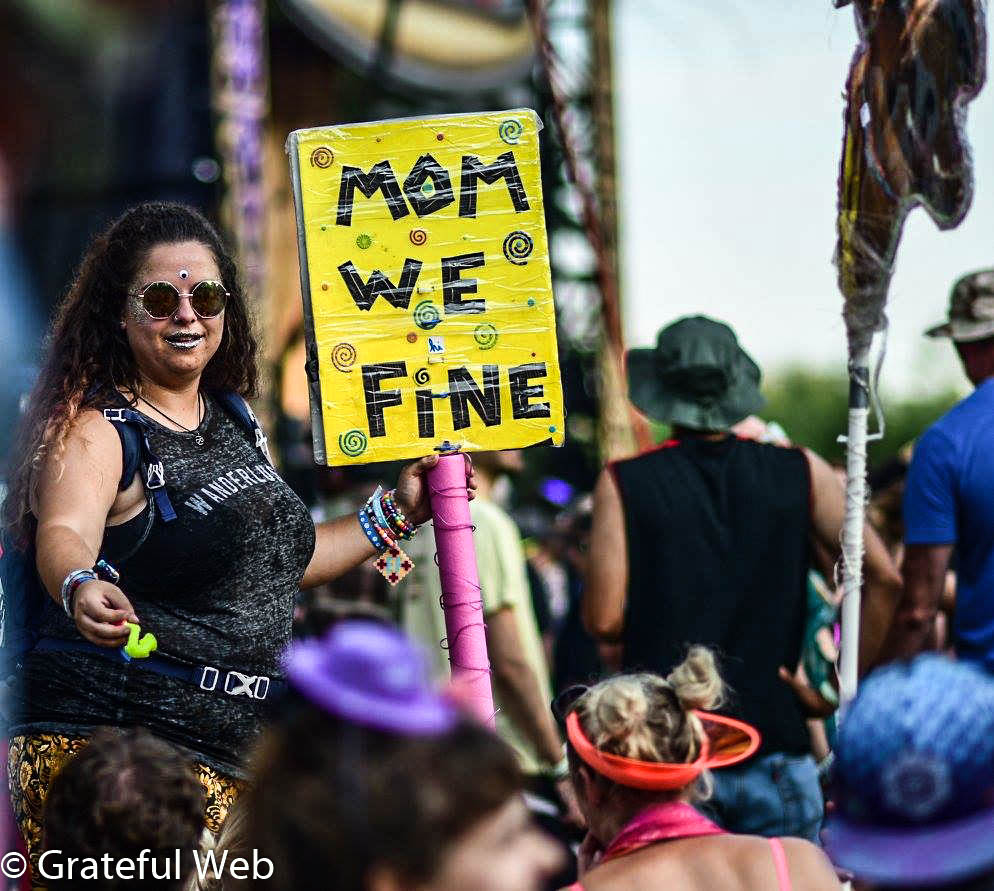 GW: (shamefully) nah uh
KH:  It was pretty epic.  We had a relationship with him before, so this wasn't the very first collaboration we had done with him, but I think that helped make this one even more special because we already had a vibe together.  He has such a great presence on stage and brings such a great energy.  So that was a great one, I need to think about what all the others one were even.
GW: I know!
KH: Lauryn Hill
GW: That's the one that sticks out in my mind.  Such a "Really?!?!" moment
KH: Exactly, right?! If you had a list of em, I could tell you more about them.  We did Skrillex one time.
GW: That's right we were here for that - Billy Nershi and Skrillex jamming to the Doors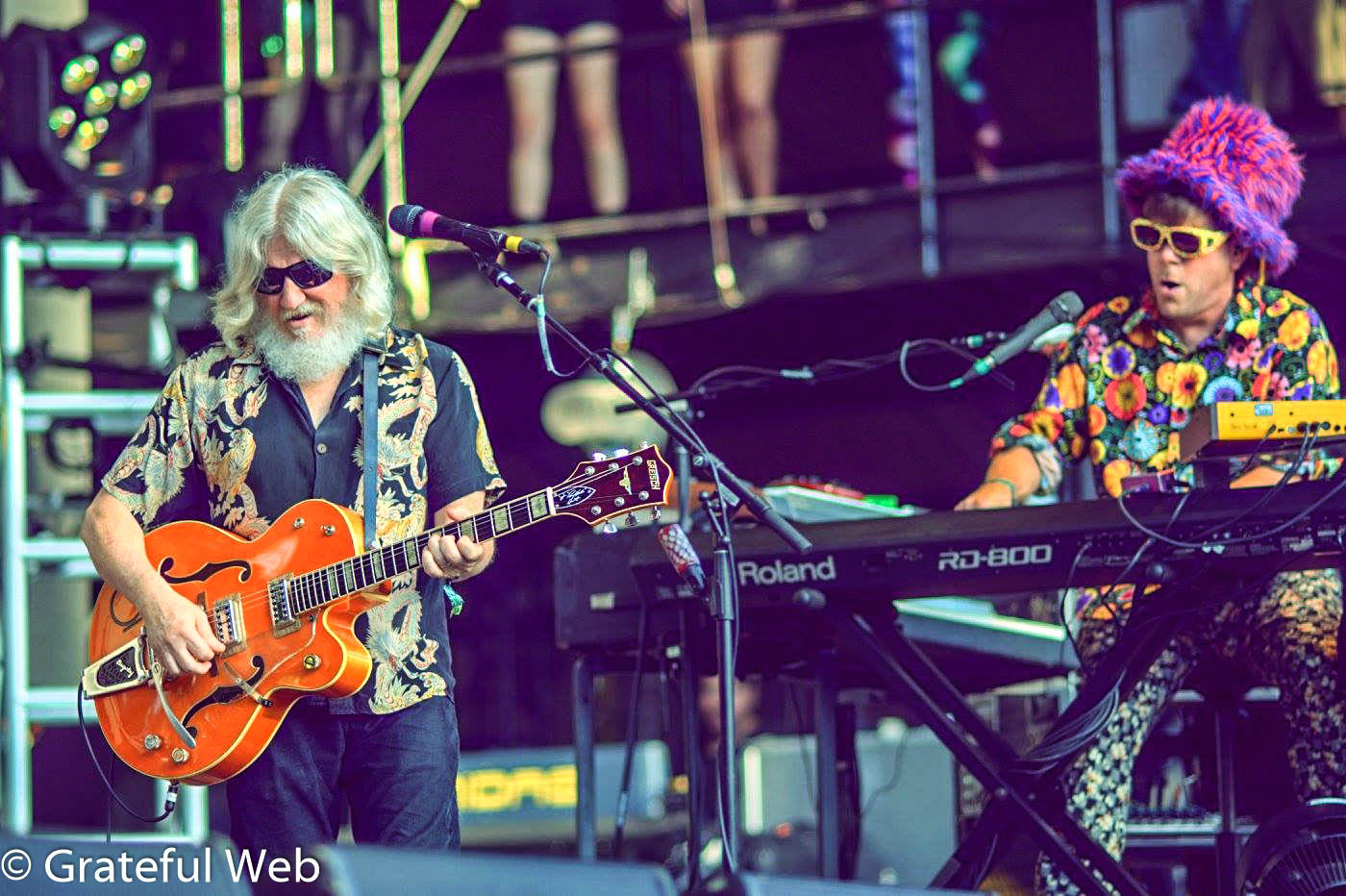 KH: Musically, it was cool but part of it was the What the Heck factor is what makes it exciting, not only for the fans but for us. I mean, even the Dominic (Lalli) set last night… A lot of people were like "Woah! I didn't know that you played together"
GW: You have had Dominic out before with you guys, just him
KH: We have had just him out before but we've never done the Gigantic Incident, whatever it would be called.  Until last night.  But, when you play other different festivals, Bonnie will probably sit in, Warren Haynes will sit in, other people of the same genre - the jam bands.  What I like about this festival is the fact that we can pull out the random Bassnectars or whoever is here and stretch us and stretch what the people's vision of us will be.  Expectations stretched
GW: Do you think that you will stick to the Bluegrass Sundays format at Electric Forest?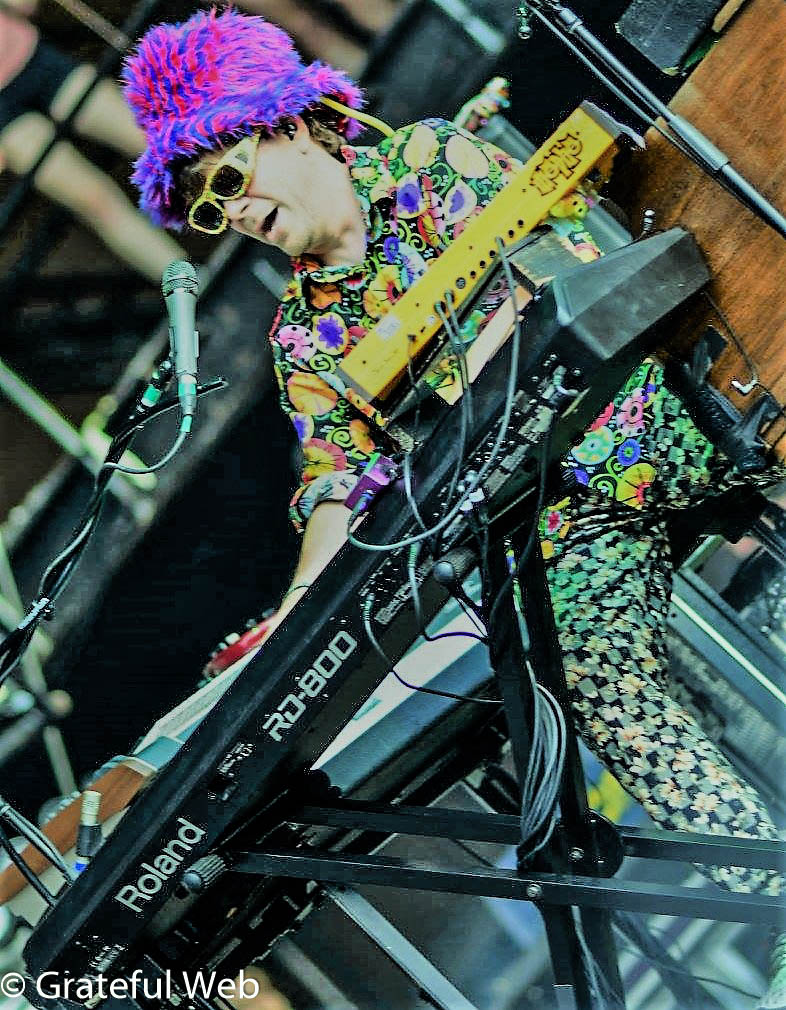 KH: Your bluegrass Sunday will occur with Billy Nershi and the Stringdusters.
GW: Tomorrow!
KH: Yes, but that is not us - we're gone. We only play one night - tonight. Tonight is more of a shebang.
GW: Awesome (and shebang it was!!) one last question, what are your thoughts on Vanilla Fudge?
KH: Is it a band?
GW: Yeah *laughter* it's from the 60's in the style of Tommy James and the Shondells, but they only do covers
KH: Nice! Awesome. Are they here?
GW: no. They're probably dead. No, they are still alive.  There is only three members that are original.  Their cover of the Supreme's You Don't Really Love Me (You Just Keep Me Hangin On) is something to be heard.  It's '69 heavy psychedelic, organ like you wouldn't believe.
KH: Oh so I should know that - I should check them out is what you're saying?
GW: You are Vanilla Fudge Kyle.
KH: I am making an ice cream, I'll put a little Vanilla Fudge in there.
GW: Hilarious! Yes! (Check out Kyle's Brew Fest) - So, we make durable festival art and this year's art is inspired by fidget spinners.
KH: Of course, that makes sense
GW: this fidget spinner has let us run around the festival and read people's fortunes.
KH: Do you want me to give it a spin, is that what you're saying
GW: Yes, but first you need to think of a question.
KH: What's a good question? What kind of question?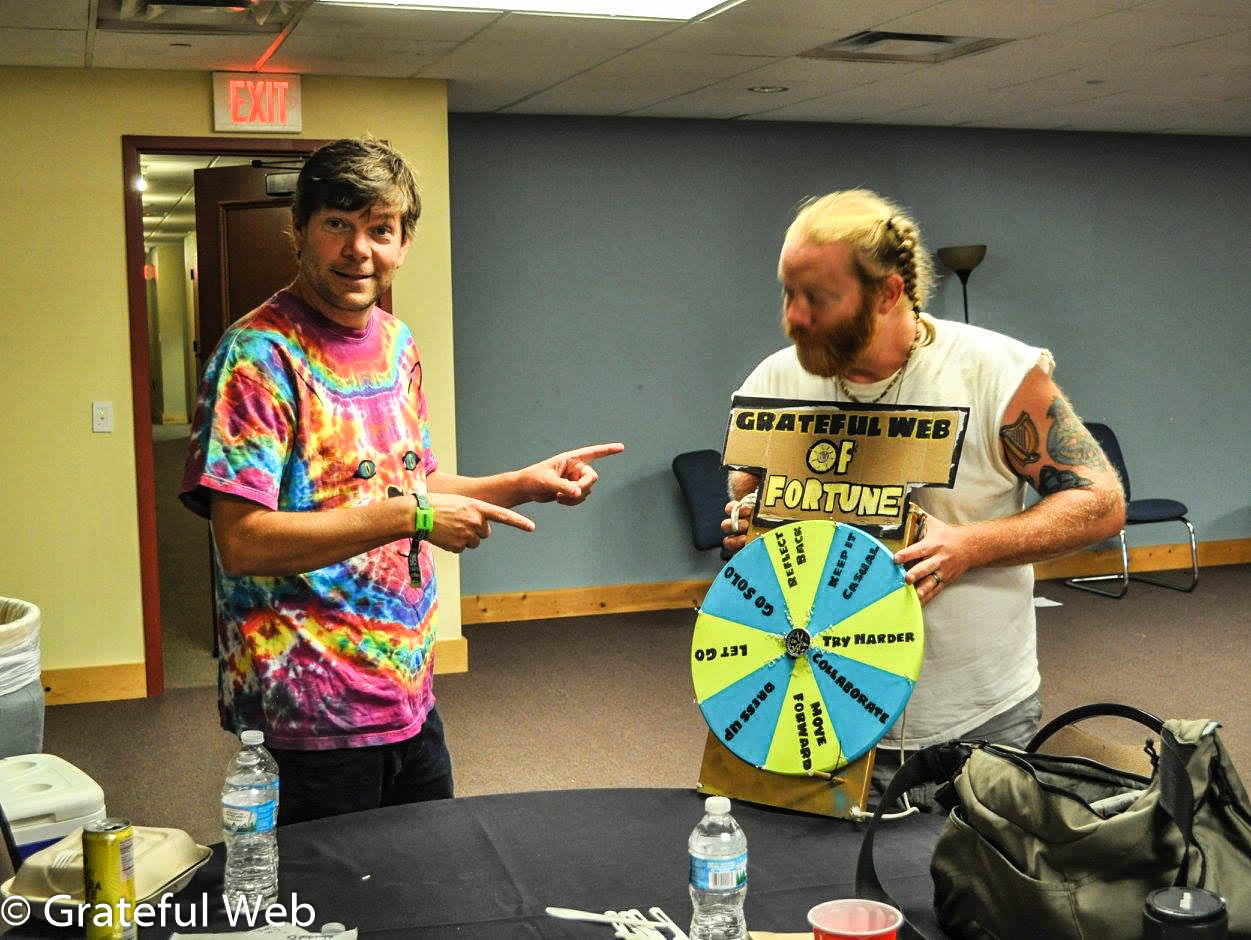 GW: One specific question, like "should I write that song, or… should I let my kid go out with that other kid… or should I leave String Cheese and just focus on myself? Hahahaha
KH: right, right OK… um… um… Here we go, Should we get Bonnie Paine up to play with us at Red Rocks? Survey Says! MOVE FORWARD Making the call right now…
GW: It is destiny. The Grateful Web of Fortune says to Move Forward and that Bonnie should play with you.It is out of your hands now, *laughter*
KH: It's fate. Alright! Thank you so much! We'll see you out there - hope for no rain!