What started as a small reggae project in Sydney, Australia, has turned into the amalgamation of genres now known as Ocean Alley. Formed in 2011, their love for performing their unmistakable brand of music has only grown as they have been gathering momentum. Releasing a deep and personal album (Chiaroscuro), embarking on a long tour half the world away from home, and drawing inspiration from every experience along the way, the band is aiming to truly make 2018 their breakout year.
Currently at the beginning of their long overdue first American tour, the band is quickly making their presence known across the west and describe this international adventure as a "pretty obvious" decision. With performances in California, New York, and everywhere in between, Ocean Alley is on a mission to make their presence known in a bigger context than ever before.
Recently, Grateful Web was able to exchange a few words with Ocean Alley's Rhythm Guitarist Mitch Galbraith after his set at this year's California Roots festival to hear his thoughts on his band's transformation and ambitions.
Grateful Web: What prompted your decision to go on tour across the world? How has it been so far?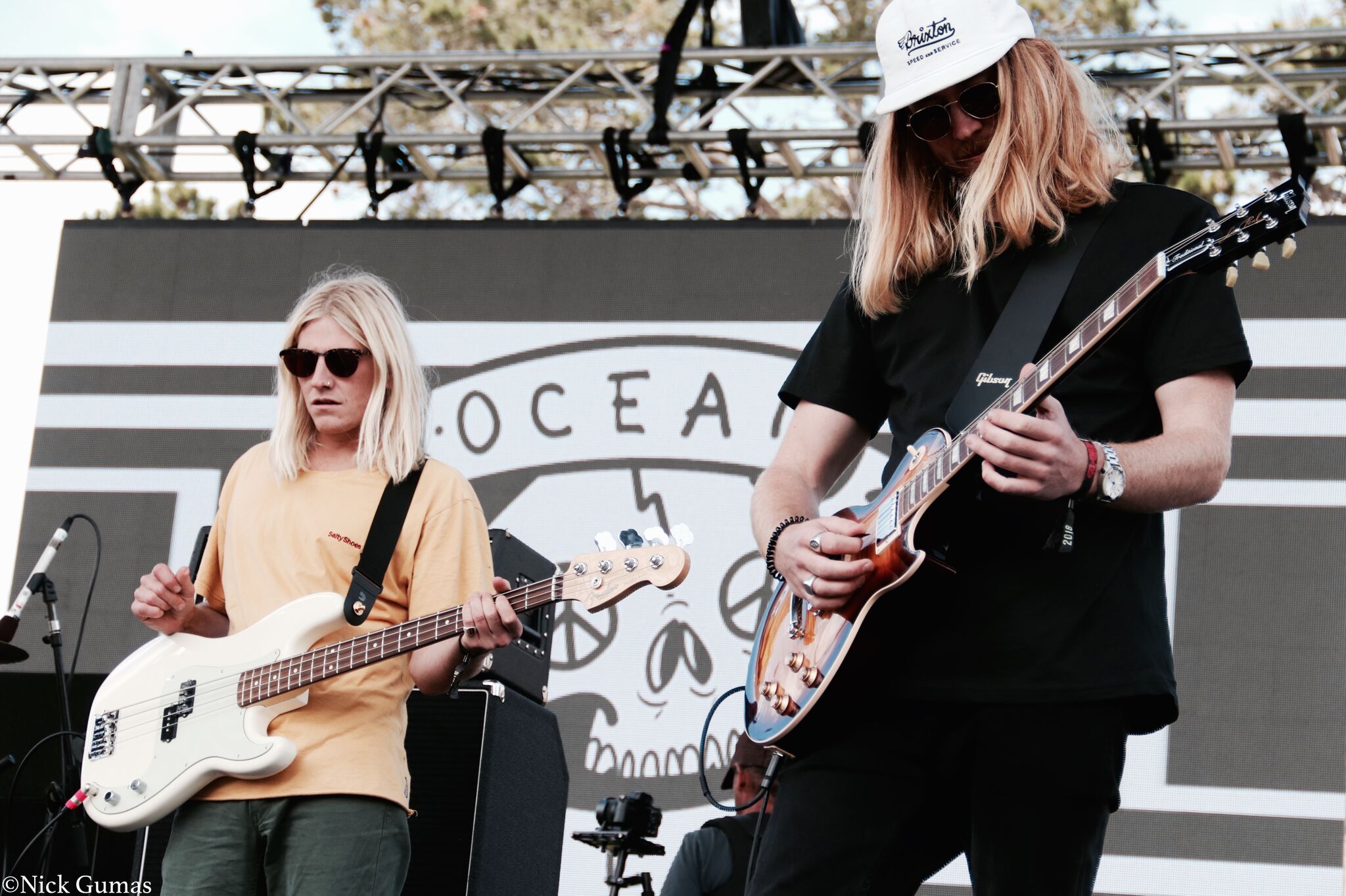 Mitch Galbraith: We have done a lot of touring around Australia since we formed as a band and it has been bloody awesome. It's kind of our bread and butter. It pays the bills and its always been a good time on the road, we can't get enough of it! It was pretty obvious that we needed to go explore overseas so in 2016 we went to Europe and now we're here in the States and Canada. It's very special for us to be able to share a live show with people that listen to our music but live so far away from our homes.
GW: What is the biggest difference between reggae in Australia and America, specifically California?
MG: The talent… We'll leave that one up to interpretation.
GW: I think I first really started to understand Ocean Alley as a band after first hearing "Happy Sad". What was the process of writing that song and what does it mean to you?
MG: Happy Sad was one of the first songs we wrote for the album and definitely helped shape the theme of the record. Being one of the first I think we felt like we needed to write something with a big feel, almost anthemic, to announce mostly to ourselves that we were here and ready to write another record. After almost a year, writing the rest (of the album) and listening to the final product its still one of our favorites.
GW: When listening to your discography chronologically, I can really see your transformation from a more traditional Roots-Reggae sound to something all of its own and clearly more personal. What prompted your stylistic metamorphosis?
MG: Our changing sound has emerged from us wanting to always keep exploring and doing something different. We have always tried to stay true to our organic style while also trying to never write two songs that sound the same. We are just impatient and get bored easily, so we can't stand still for long.
GW: How would you define your musical style now?
MG: We don't, (and) can't define it. There's not much point really. Have a listen. You'll either like it or not. If you like it come to a show and we'll play it for you live and have a party. If you don't like it hit the skip button or come to a show and throw something at us.
GW: What are your biggest goals? Musically and otherwise?
MG: We want to keep writing and performing music as long as we can. There's many ways to do that I guess. We love writing music and performing it together, so we hope that stays the same for a while.
GW: I love that the sun started to come out right as you started your set at Cali Roots. How do you feel your environment affects both your performance and its reception?
MG: Playing in lots of different places is an amazing experience. The people are different and so is the environment. The thing that stays the same is the people around you in the touring crew. So, while I think the environment has a lot to do with the show, the most important part for us is the team around us and also the new friends we meet on the road.
GW: Between acts like yourself, Sammy Johnson, Tash Sultana, and Xavier Rudd, Australia seems well represented at this year's Cali Roots, but who do you feel they're missing? Which bands from your local music scene do you want to acknowledge?
MG: There are so many great bands we've had the opportunity play with back home. Let's bring em' all over and put on an Aussie festival! Right now, we are digging Crocodylus and Maddy Jane from back home.
GW: What's next for Ocean Alley?
MG: Next we head back home to the southern hemi to play a festival in Australia called "Splendour In The Grass." We've never played so we are very excited. Then back to Europe for 4 weeks and some writing and studio time chucked in there too.
GW: What's one question you never get asked or one subject you never get to talk about that you want people to know about you?
MG: We never get asked about our love for country music. Someone hit us up please…