Still in her early twenties, there's a sophisticated elegance that radiates around singer, songwriter and brass connoisseur Natalie Cressman. This rare aura can be felt not only through her demanding stage presence, or incredibly complex and layered compositions, but also through her kind, gentle tone and easy-going demeanor. Daughter of Jeff Cressman, horn player for Santana, and trombonist of the Trey Anastasio Band, Natalie has made an prominent name for herself in an incredibly short amount of time. Growing up constantly surrounded by jazz and Afro-Cuban rhythms, she began writing and performing music at a very young age. While those early influences will forever be engrained within her style, Natalie continues to push the stylistic boundaries of modern music with her fourth studio release titled the Traces EP, challenging the worlds of jazz, electronic and soul to collide in a symphony of grace and beauty.
GW: What's going on guys, this is Elliot Engebretson with Grateful Web and today I'm here with singer, songwriter and trombonist extraordinaire, Mrs. Natalie Cressman, Natalie how are you doing this evening?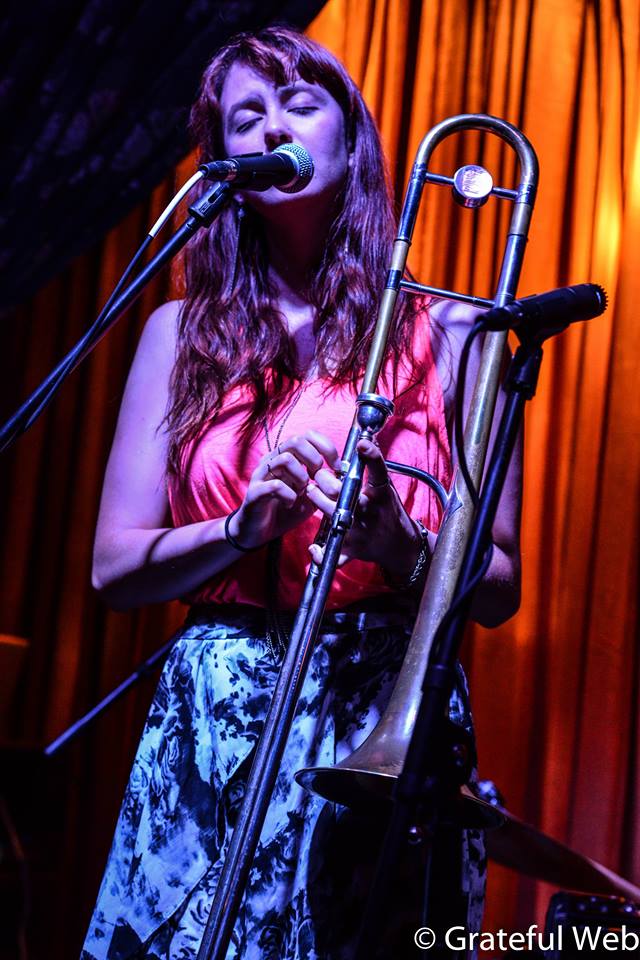 NC: I'm doing great, thanks so much for taking the time to chat.
GW: I wanted to start by talking about your newest project, The Traces EP, which comes out this March. The EP features five eclectic, soulful and really unique tracks that truly compliment your personal songwriting ability. Walk me through the recording process of this new EP and what your mindset was going into the new album.
NC: So this was a really different process than anything I've ever done before. I basically starting writing for this shortly after my last release, Turn the Sea, which was again a live band setting but already starting to veer a little bit away from the jazz world that I grew up in and into this more eclectic, funky singer-songwriter thrown into a blender style. I was really starting to get into working with the software program Ableton Live, and I began using that as a writing tool to build songs, whereas before I was just coming up with a melody, lyrics and then the chorus on the piano before bringing it to my band. With Ableton I was actually able to program my own beats, make my own synth sounds, and really build out the tune to a fuller extent before bringing it to my band. So that was one really fundamental difference in the process within this album.
The other thing about it, was kind of just trying to continue in the direction I was going, but veering away from just making a jazz record. Even though I love jazz and came up listening to a ton of jazz, most people of my generation don't really respond to jazz music and it doesn't really have to do with their experience in this modern day and age, so I was definitely trying to bring in some modern elements including electronic, hip-hop and some neo-soul references as well, and really create something that doesn't fit within the confines of one particular genre, but could maybe extend across a line of genres to inspire people from a lot of different walks of life. So that's really in theory, the idea, and part of that came from teaming up with an actual producer since this was my first real dive into production, and so it was really great to work with someone who was producing on a day-to-day basis.
GW: That producer was Ivan Jackson of the duo Brasstracks, correct?
NC: Exactly! So I teamed up with Ivan of Brasstracks who actually played trumpet on my last two albums and we've played a ton of music together. So he took these demos that I had, flushed some things out, and made some choices on arrangements and a couple different directions in the overall style of the song. Then we took what I already had come up with, and what he had tweaked, and replaced it with live instrumentation from my band, and they kind of layered in some live elements so you had this interesting mixture of both live instruments with electronic type production. The result is something I think that is kind of hard to pin down, which is exactly where I get excited about it.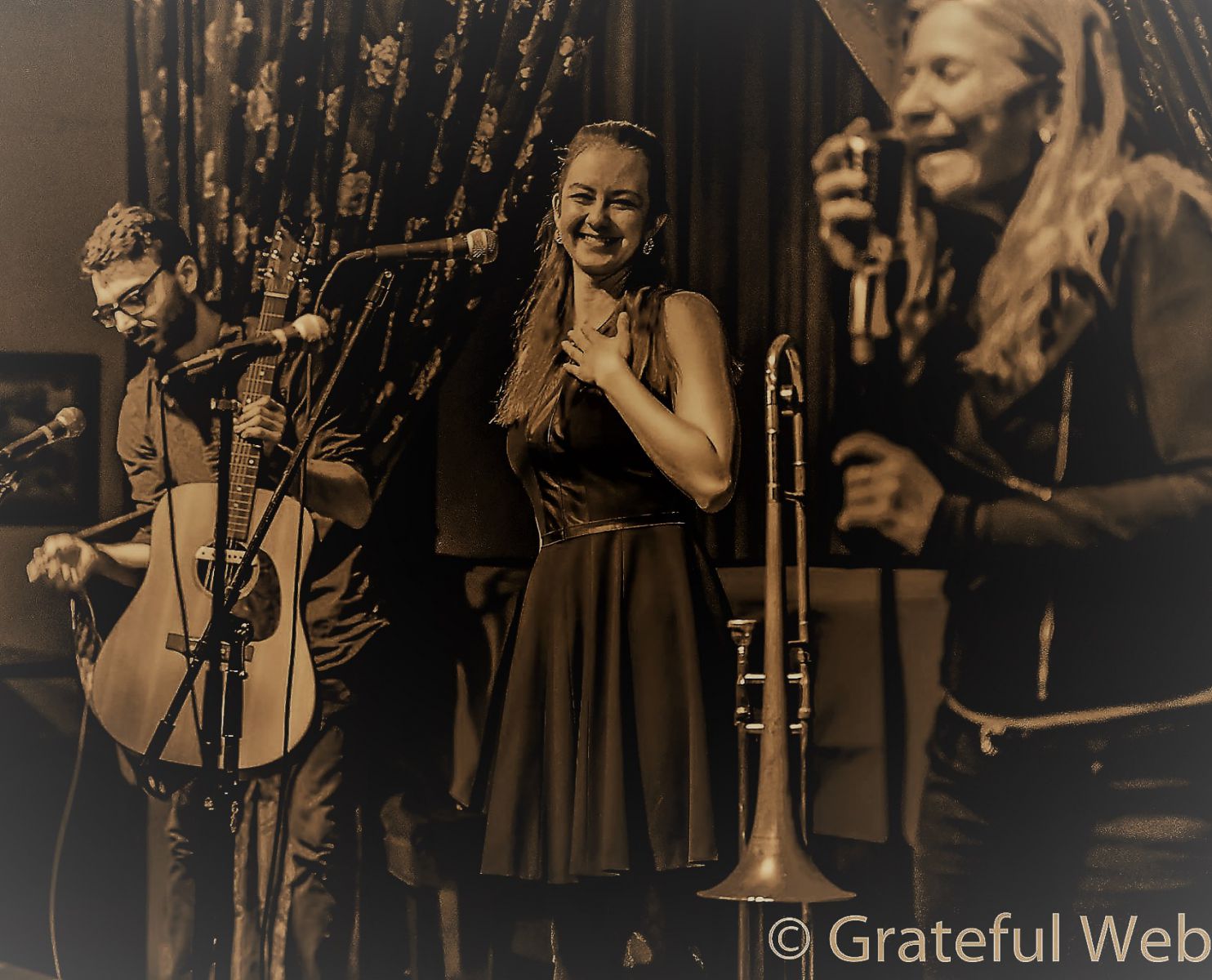 Even though we are trying to appeal to a wider audience, it's still very layered, there are still a lot of very complicated chords and harmonies that are sort of tucked in a way that you might not notice on the first or even the second time listening to the album. It's still very much about the songs and the mood, but it still gives music nerds a little bit more information and stuff they can dig into, but doesn't hit you right in the face like a jazz record might.
GW: The EP's first single and opening track "Radio Silence" is truly an awe-inspiring tune, which showcases you both as an incredible vocalist but also an incredible songwriter and story-teller. However there's also a message behind this tune, a message about being what it means to be a female musician growing up in this industry and the adversity that you've had to overcome along the way. Tell me the story behind "Radio Silence" and what you are saying within the track.
NC: Absolutely, so the tune "Radio Silence" came about as sort of a response to a couple different events that were going on in my professional life. I was a little just a little bit frustrated about constantly having to prove myself despite my gender, because i feel like in this day and age people act like to act like we are past that kind of sexism, but we really aren't. I didn't want to do in a way that was completely obvious, but I wanted it to be kind of a nuance commentary on what I was feeling, which was that people weren't really hearing me for what I was putting out there musically, more so people were getting caught up in their preconceptions about whether I could really play or not, or my appearance as a woman instead of what I actually have to say, whether that be through my instrument or my voice.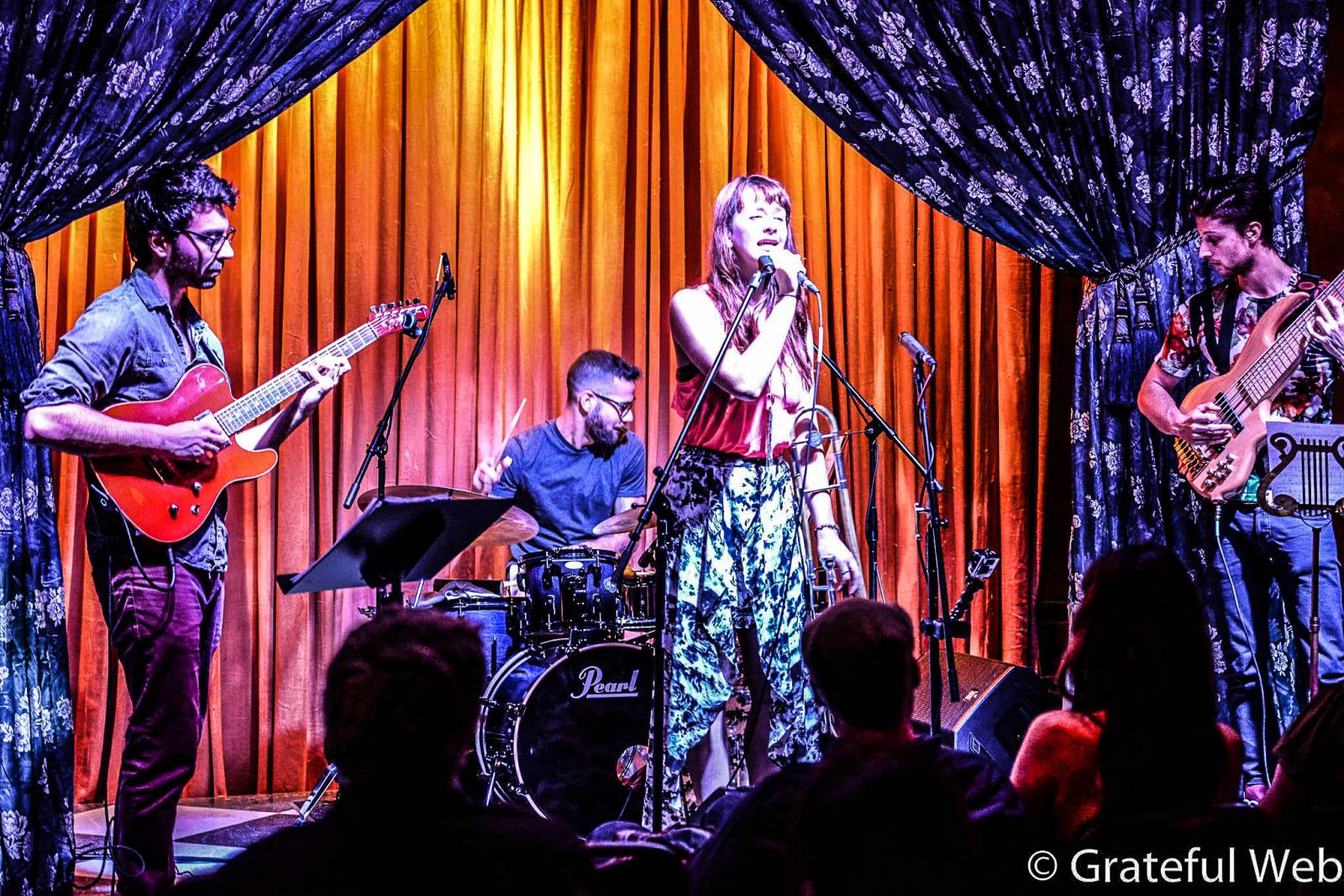 I was just kind of feeling under-appreciated and also this sense of duty to speak about it because i know that it's not just my personal experience, every female musician that i've met has multiple stories similar to mine. Even people on the street that I would meet would say, "Do you really play that instrument that you are carrying around on your back?" You just want to respond, no i'm just carrying it around for fun, what the hell do you think? It's kind of an insulting question, but it's also that people don't even realize that they're being sexist before it comes out of their mouth, it's just lack of forethought. So the song itself is about those experiences, but also about people within the industry treating me differently because I'm a woman and sometimes not getting called because i'm not one of "the dudes." So it's a bit of frustration and hoping that other people will speak out about situations that have effected all women and looking for a better future ahead.
GW: Very well spoken. Speaking of the message and story-telling, the lyrics on this album are absolutely gorgeous and your vocal ability really shines through in a tremendous way on this EP. When you were writing these tracks, what was inspiring you as you wrote? What's the overall driving focus behind the stories?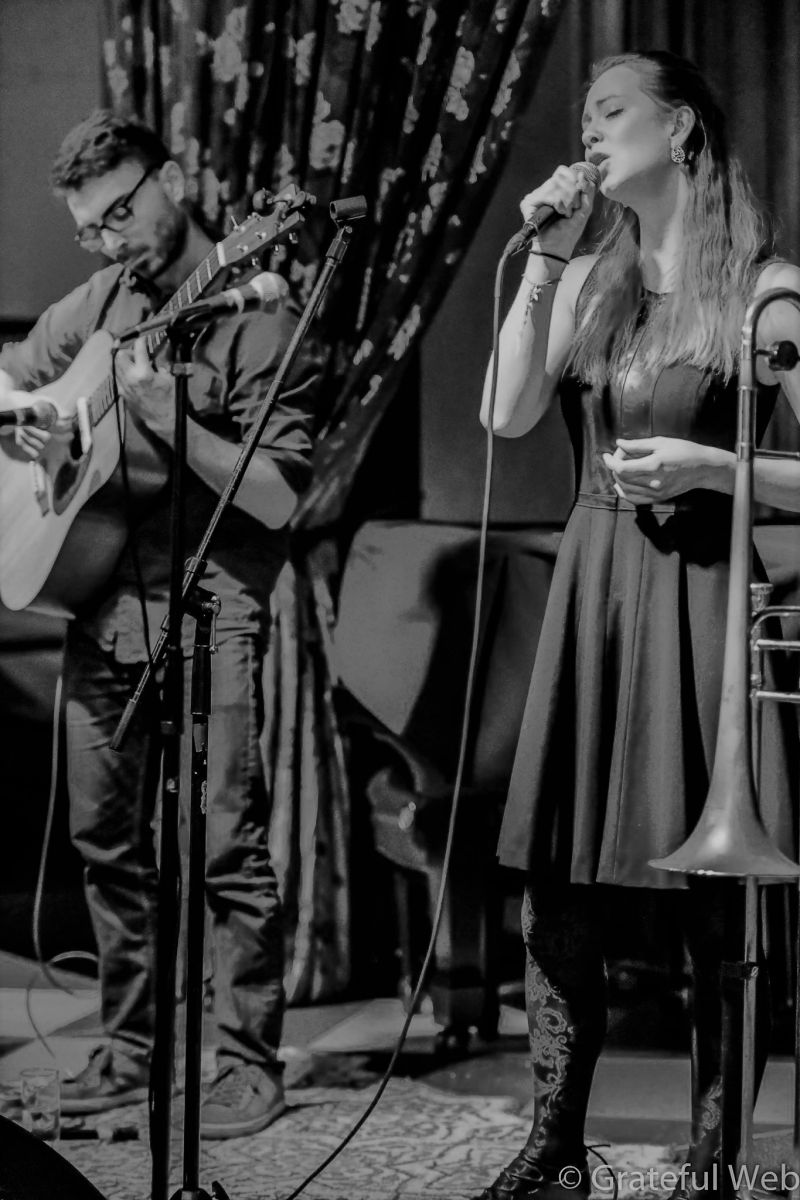 NC: I think the difference was really focusing on the song and not as much on the improvisation or jam element. Don't get me wrong I love making things up on the spot, i love jamming with musicians and that sense of freedom and spontaneity, but I feel with every single song on this record it was about coming from the lyrics and melody, and then building outwards from there and setting a certain mood. Things are a little more succinct and a little less open than my previous albums, which all had a ton of improvised solos and this one has none of them. So that was one of the differences that was inspiring me was to focus more on the storytelling element of singer/songwriter music. Also though it's hard for me to leave behind my jazz and funk roots, so those elements are definitely there, however they aren't in the forefront, more so in the background coloring it but not completely overtaking it.
GW: One thing that is always discussed within the jam band community is a band's ability to capture that high-energy live sound and trying to translate and replicate that in the studio. What's your take on performing live vs. in the studio and what do you enjoy about recording versus performing live in front of people? Or vise versa?
NC: I think what I love about being in the studio and the songwriting process is being able to take all the time and see what the music needs, like i'm just this service to almost an unknown entity coming out, I almost take myself out of it and am just coming up with things and there's just this flow with no time limit. There is no end of the set, you just get in tune with what you feel like the song needs and you have all the time in the world to make the edits the song needs. For instance, the second song of the new EP "Wind of Whims" was originally more of a ballad, and now it's almost got more of a trap beat over most of it, and that's just something that we never would have came up with live in the moment.
On the flip side however, I love the magic that can happen when you are on the same wavelength as someone, it has this special charge to it because it's not preconceived and because it's just a chance happening. There's a lot of excitement playing live because people can either synch up and become this magical being, or sometimes it can be an off night, it's really interesting how the same song can really sound different from night to night and I love that element of playing live, not being able to recreate something the exact same way. With the studio record you do look at things slightly differently and you try to finesse the moment until the song is done. But again, there's no time limit on how long it takes to finish a song which I think is absolutely beautiful, but at the same time can be a little frustrating.
GW: I think a lot of artists would agree with you on that, no doubt. Switching gears, tell me a little bit about your band, the Natalie Cressman Band, who are they and how did you start working with them? Friends of yours, or more hand-selected individuals who you thought would fit well?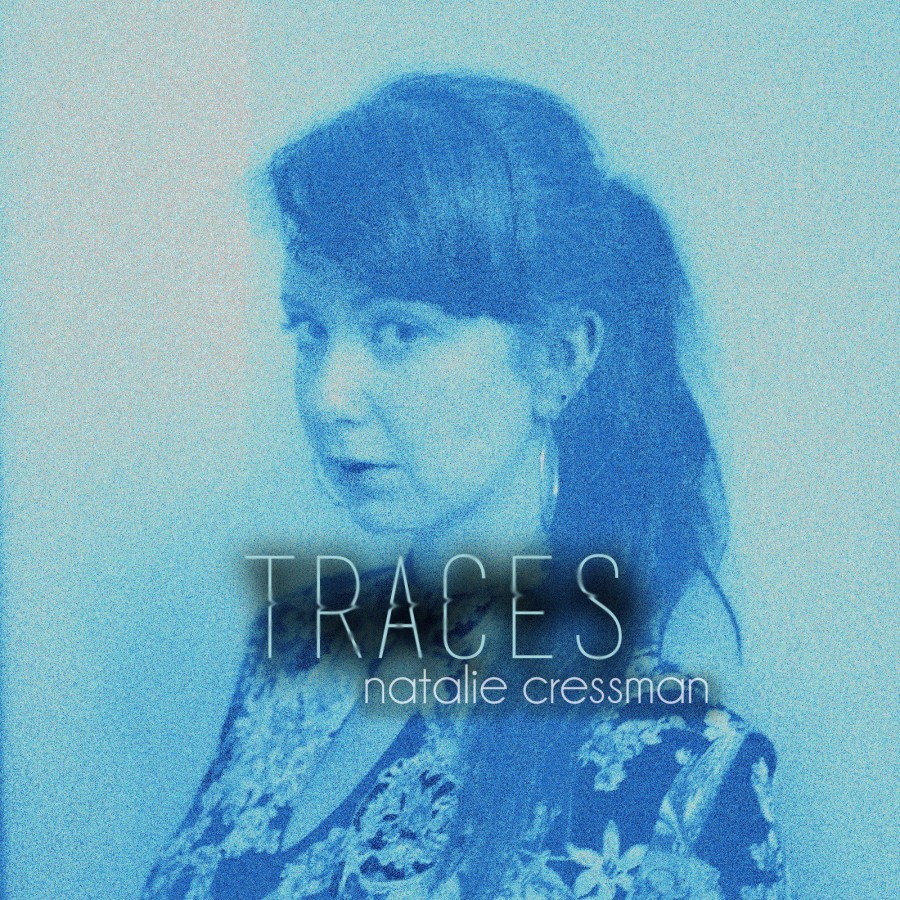 NC: Well it's a little bit of both, pretty much everyone on this record are some of my oldest musical friends. If I had to think about each perfect member to fit each role I would be sort of hand-picking at that point, so i'm incredibly lucky that I have such great friends. For instance, the keyboardist Samora Pinderhughes, i've been playing music with him since I was nine years old and we both moved out to New York and have been doing different things but he's always been a part of my projects playing live and on the previous record as well. A lot of these relationships are people that I've known from the Bay Area or that i've met in New York through the college I went through Manhattan School of Music. We were always kind of the odd ones out, you know like not just only interested in playing Jazz but also invested in other styles of music so we kind of stuck together and inspired each other. I've got Ivan Jackson from Brasstracks who I went to MSM with, and Jonathan Stein who's a bass player and also a producer in his own right and did a little bit on the production of "Radio Silence," as well as some of the engineering work on the EP. We also have Mike Bono on guitar, who I actually just released a duo record with, and he's this incredible New York guitarist who studied at Berkley School of Music, and we linked up once he moved back to New York after graduating. Can't forget the drummers as well, Mark Whitfield Jr. who I met at school and was my roommate for a time, and Conor Rayne who is the other half of Brasstracks and also went to MSM. I remember meeting him and he was one of those people like, we had a whole conversation about Bob Marley and I remember being like okay, you're cool, we've got to stick together because a lot of people there were only studying bebop and only really interested in who was who in the jazz world, so I think it made an impression on me, the people who were interested in more than that.
GW: Right on - Now I understand you performed at the Knicks game a couple nights ago, tell me about that experience. I'm sure performing at MSG during a Knicks game vastly different than performing at MSG in front of a bunch of Phish fans.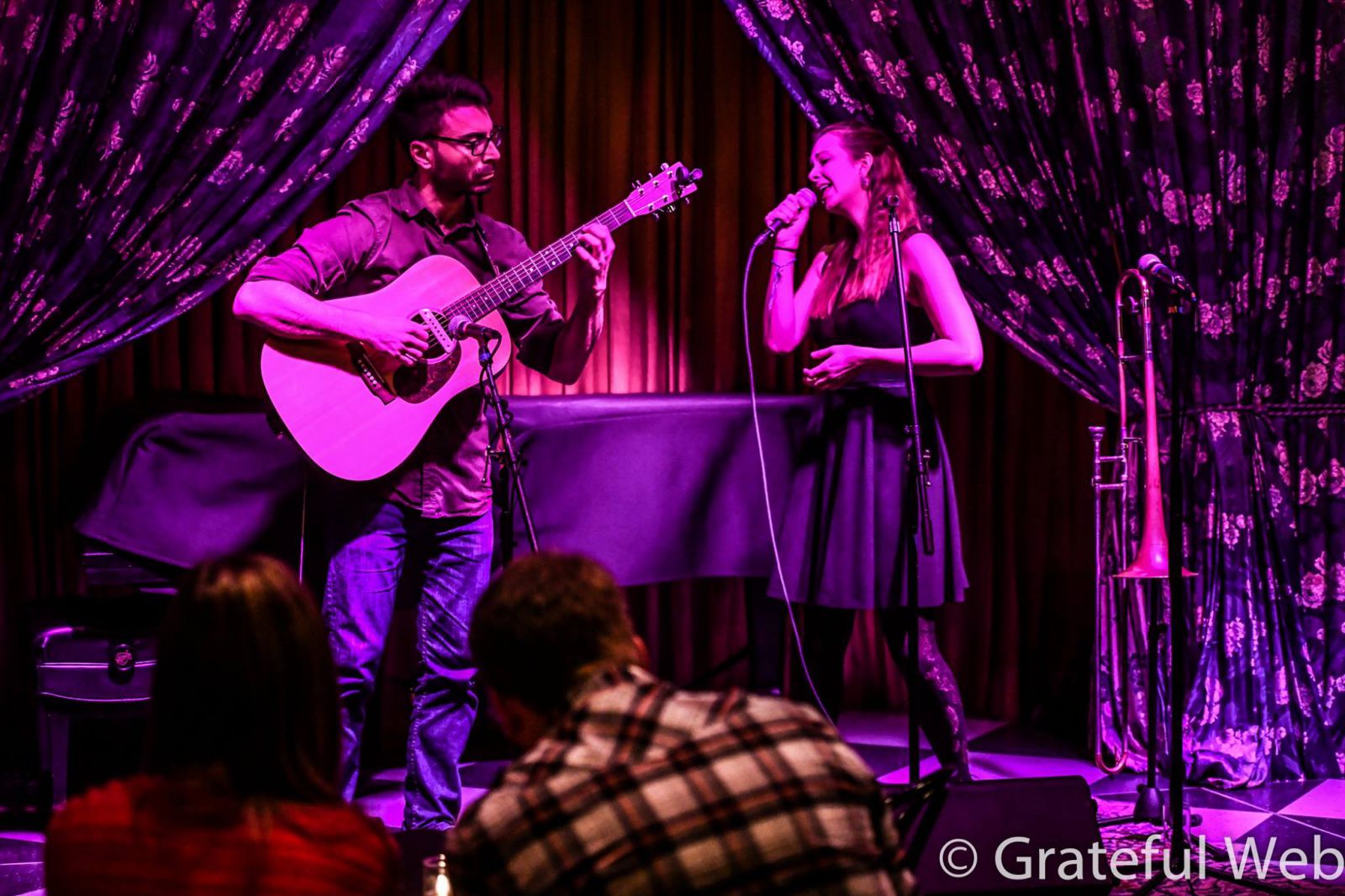 NC: Oh man, it was so much fun! I never really thought that my music would fit in a setting like that, but they've been programming with amazing people like Cassandra Wilson, Chick Corea and Victor Wooten and all these different members of the jazz and jam band community and I remember thinking like oh wow, they are eclectic so I can just be myself. So we did "Radio Silence" and a song called "Stolen Away" from my last record, then you kind of get on the general vibe of sports fans so we did a little teaser of Drake's "Once Dance" that I have a little version of that on my SoundCloud, so we did something based on that to appeal to more of the popular music. So a lot people stuck around for our little mini-halftime set, and we had a really great time doing that. It was a trip though, to go from Phish MSG where everyone is super dialed in and it's a concert setting, to just like this very quick stop-and-go appeal. Also the slap back when you are in a sports arena is just super intense, and to do the anthem was just a really different experience than anything I had done previously, but so much fun! It was cool to feel accepted by such a different crowed than we are used to.
GW: Speaking of MSG, I've got to briefly touch on the incredible performance this past New Years at Madison Square Garden, and specifically the Petrichor gag which featured choreographed dancers, raindrops, and umbrellas. Tell me briefly about that experience and what went into making that incredible production.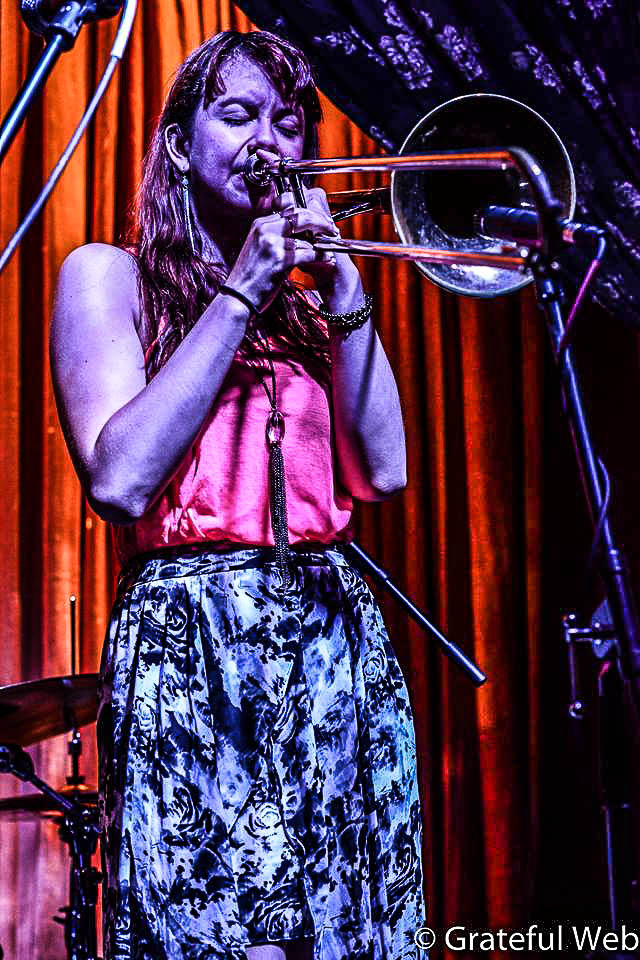 NC: I had been briefed before the show, but there was nothing that could have prepared me for what was going to happen before my eyes. I was really blown away, it was hard for me to keep my jaw from hitting the floor while still playing music. Every single detail was so well thought out, there was so much detail and precision that was put into the whole performance and the gag, matching everything with the music. I was just in awe, and really grateful to be a part of the whole thing. To have that be the start of my year, and be on stage with some of my best friends, you really just felt the love. I made a point to really look in the audience and try to lock eyes with individual people, and I felt this oneness and group joy that was just so special. Especially just because of the climate we are in globally it was just a really special moment that I don't think i'll be able to recreate in my life.
GW: It was definitely a special moment, and one that none of us will ever forget. Switching gears back to you for a moment, how would you say your sound has evolved from your debut album "Unfolding" back in 2011 leading up to this new EP? Do you try to stick to the same formula or are you constantly evolving and taking new approaches to things?
NC: It's almost hard to put myself in my own shoes, looking back then when I was writing for that first album because it was the very beginning of me being a composer. To be completely honest, it was some of the first material that I had done outside of school assignments and performances, so I think being in the professional sphere entirely from that point on I've picked up on some of the people I've worked around on how to be a better band leader, how to be a better writer, and how to be a better performer. I do think I change my my songwriting format quite a bit, for instance using Ableton as a songwriting tool really changed up the way the songs came about. Some of them are more loop based than anything I would have written on piano. For me, changing up the songwriting process keeps things fresh and helps me keep pushing forward with more creative ideas. When I get too comfortable with any one thing I feel a bit stagnant, so I like to keep pushing myself out of my comfort zone and I think this EP is a really good example of that.
GW: Other than playing with Trey Anastasio Band, who are some of your favorite musicians to play with in the scene today?
NC: I love playing with Oteil Burbridge, I kind of idolized him from afar with his work in the Allman Brothers Band and the Aquarium Rescue Unit, as well as Tedeschi Trucks Band. This past year or two I've been able to play with him quite a bit, and he's just such a joy of a person and incredibly insane musician, so I've had such great fun playing with him for sure. I've also crossed paths with Snarky Puppy quite a bit, I play a lot of local gigs in New York with some of the horn players, so I'm just so happy to see their success and because I am also coming from a jazz background, yet also interested in the way it can be used in today's modern soundscape, I have nothing but respect for them anytime we cross paths.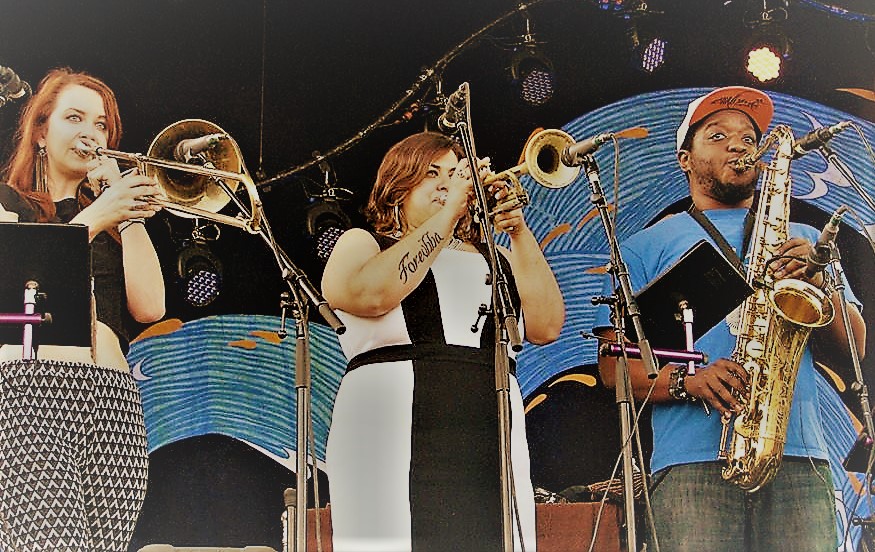 GW: Everyone you've mentioned are just incredibly talented musicians. Speaking of, you've known Trey Anastasio for quite some time now, what's it like working with him and what has he taught you, or rather what have you learned from him in terms of musicianship over the years?
NC: Trey has had an incredible influence on my life, just from the second I met him over the phone when I was a freshman in college he opened up my world to this whole other side of music. A lot of things i've taken from him are his very earnest work ethic, honestly he's probably the hardest working person i've ever met. He never stops, he just works around the clock. Even songs that he's completed and that bring down the house every night, he's still constantly trying to make them even better. He's got this saying, "It's so good it should be even better," I mean he's just constantly tweaking the classics. It would be easy for him to be complacent and have it just be the same way, but he's always reaching for the next height, and I think that's had a huge influence on me. Also just his eclectic taste in music, he's not afraid to be himself or be un-categorizable within music. That has been really reassuring, because I've found it difficult sometimes to market my music over the years, so seeing how Phish has created their own scene for themselves by just being so true to themselves and their music is really appealing. Not loosing sight of who you are is really important and is becoming harder and harder to do in the music age that we are in, because there is a lot of pressure to follow trends and go pop in order to be successful, so Phish has found a way to always have musical integrity throughout all of their success, and that has been another really profound lesson that I've learned from Trey.
Also though, just his genuine kindness because It's a rare quality that I think is special about him, he's so joyous. Every time we get off stage, he's talking or texting a mile a minute telling how great each and every one of us are, and i don't know any band leader in that level of their career that does that. I'm so grateful to have happened to cross paths and be playing in his band, and he definitely changed my life for sure.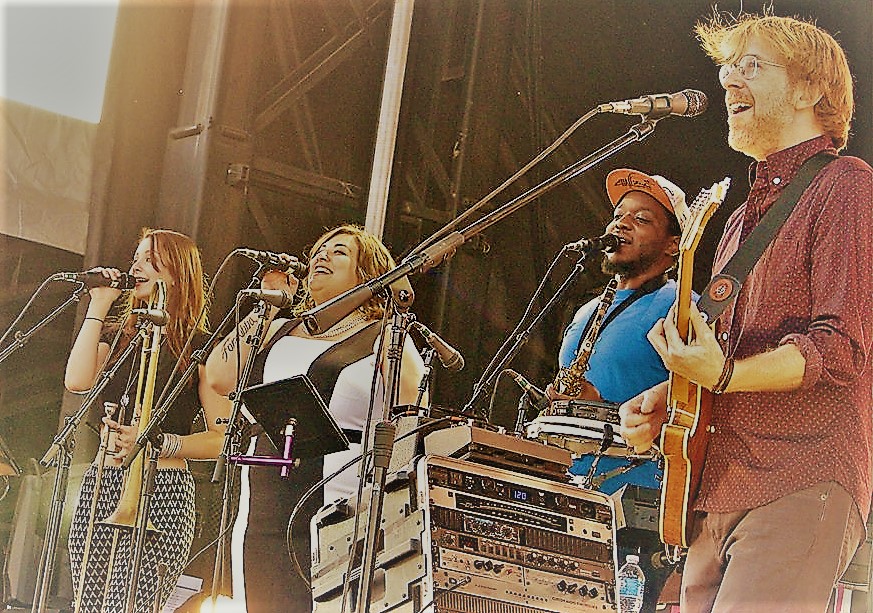 GW: Well you seem to radiate that same kindness. Final question here for you, it's been amazing journey in a short amount of time and we all cannot what to see what you do next, what does the future hold for Natalie Cressman and what direction do you see yourself going?
NC: That is such a good question and something I've been asking myself since we recorded the last track on the EP, I think I can see it going in a bunch of different directions honestly. I put out two records in the last year, Traces EP and my duo album, so right now i'm giving myself some time to absorb instead of worry about the output just yet. This summer I went to this Brazilian music camp and met this really amazing musician from Brazil and I'm going to go down and sit in with his band and learn about this style of music called Frevo, so i'm back in student mode a little bit. So i'm really getting into Brazilian music and I've also continued writing music with Mike Bono, my other half of the duo project, and I also really want to keep making artsy dance music because I think that's a place where I feel at home where I've found people intersect with my music from different parts of the music world. I like that, so i'm going to try and continue exploring that sound with more produced singer/songwriter music.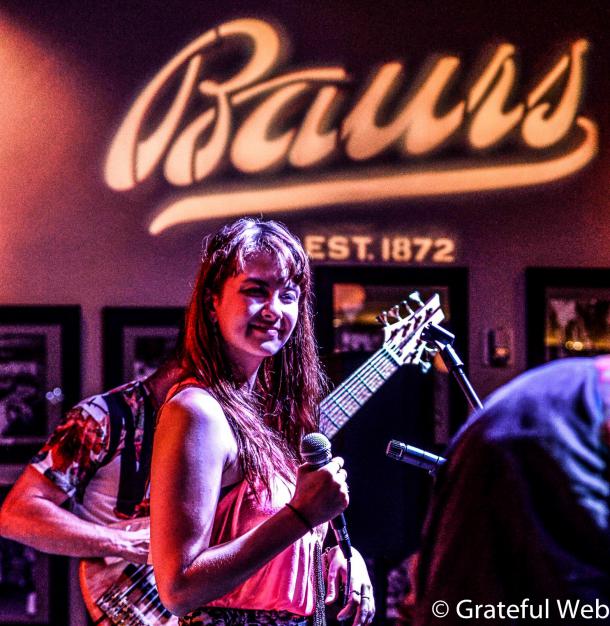 GW: Wonderful, well we cannot wait see what you have in store for us in the future. Thanks again Natalie for sitting down with us this evening, and we will catch you on the road across the country and beyond.
NC: Thanks again for having me, looking forward to playing some music for you guys and we will catch up soon!