The Shootouts were pleasantly surprised to find themselves back in the studio shortly after their Americana album Bullseye achieved Top 10 status. The reason for their return was the involvement of Ray Benson, the renowned frontman and founder of Asleep at the Wheel, who agreed to produce their next record after being introduced to the band by a mutual friend. Stampede, the album that resulted from this collaboration with Benson and co-producer Sam Seifert, came together quickly, but is the Shootouts' most impressive work to date, blending Americana, honky tonk, and Western swing to create a sound that appeals to fans of country music and beyond.
The band's Northeast Ohio roots, which reflect the region's Rust Belt history, are evident in their sound, which incorporates influences from both country music greats and Akron-based acts like the Pretenders, the Black Keys, and Devo. Stampede was mainly recorded at Son of Moondog Studios in Northeast Ohio, allowing Benson and Asleep at the Wheel to work with the Shootouts on their home turf.
The album features collaborations with several notable Americana musicians, including Marty Stuart on the bluegrass-tinged "Better Things to Do," Raul Malo of The Mavericks on "I'll Never Need Anyone More," and Jim Lauderdale on "Tomorrow's Knockin'." Buddy Miller lends his voice to the California-country-rock track "Anywhere But Here," while "One Step Forward" showcases Benson and members of Asleep at the Wheel in a western swing-rooted number. Other standout tracks include the Dave Edmunds-inspired "Run for Cover" and the instrumental title track, which highlights the talents of the Shootouts' lead guitarist Brian Poston and Asleep at the Wheel's Dennis Ludiker.
Despite the challenges of the pandemic, the Shootouts have remained productive, with Stampede being their third album in five years. They have also toured extensively, performing with a variety of artists and receiving critical acclaim for their music. Bullseye, produced by Chuck Mead, spent over 18 weeks on the Americana Music Association Top 30 album chart, reaching No. 6, and also achieved several other accolades.
The Shootouts consist of lead singer and guitarist Ryan Humbert, vocalist Emily Bates, lead guitarist Brian Poston, and bassist Kevin McManus. For Stampede, they also worked with "Shootouts extended family members" Dylan Gomez on drums, Ryan McDermott on bass, and Al Moss on guitar. The album was released on February 24, 2023 through Soundly Music.
Grateful Web had the pleasure of sitting down with lead singer and guitarist Ryan Humbert to discuss the making of the album, their roots in the Rustbelt, and the exciting collaborations featured on Stampede. Read on to learn more about the Shootouts and their journey to becoming one of the most exciting acts in modern country music.
GW: Thanks for chatting with me today. How are you?
RH: We've been swamped, you know, promoting this new record. So it's been good, and we're getting ready to get much busier here soon.
GW: Well, I appreciate your time. I do understand how valuable time is.So, you just released a new album. That's exciting! Where did you record those songs? And what was that process like?
RH: We recorded the album here in Kent, Ohio. It was kind of a fluke in the sense that we weren't planning on making a record so soon after the last record, Bull's Eye, but a mutual friend connected us with Ray Benson, lead singer of Asleep at the Wheel, and Ray is a country music legend, I mean you're talking, I think 30 grammy nominations and 11 Grammys? He's worked with the best of the best. Dolly, Willie, and members of Bob Wills' band. So, getting to make a record with Ray was really special. We were actually going to go to Austin to record, but after  looking at our schedule, they figured out that we were from Ohio, and they said, "well, where?" And I told them, and they said, "we have some shows that will put us right in that neck of the woods right around a period of 5 days off." And so it was just a fluke. And so he said, "do you have a good studio there in town?" I said, "yeah, we do. I know a guy that has a private studio that is nicer than most of the ones in Nashville." And so we went in there and Asleep at the Wheel came to us, which was incredible to even say that. They came to us and we set up in this beautiful studio. My friend Dave, who owns the studio, has a real knack for finding vintage gear. So we recorded the whole thing through a vintage MCI console. I think it came out of a studio in Florida back in the seventies, and he's got that, and he has a sister board to that, and then just mountains of great gear and amps.  So no plugins were used during the recording of this record at all. It was all real gear. Real sounds.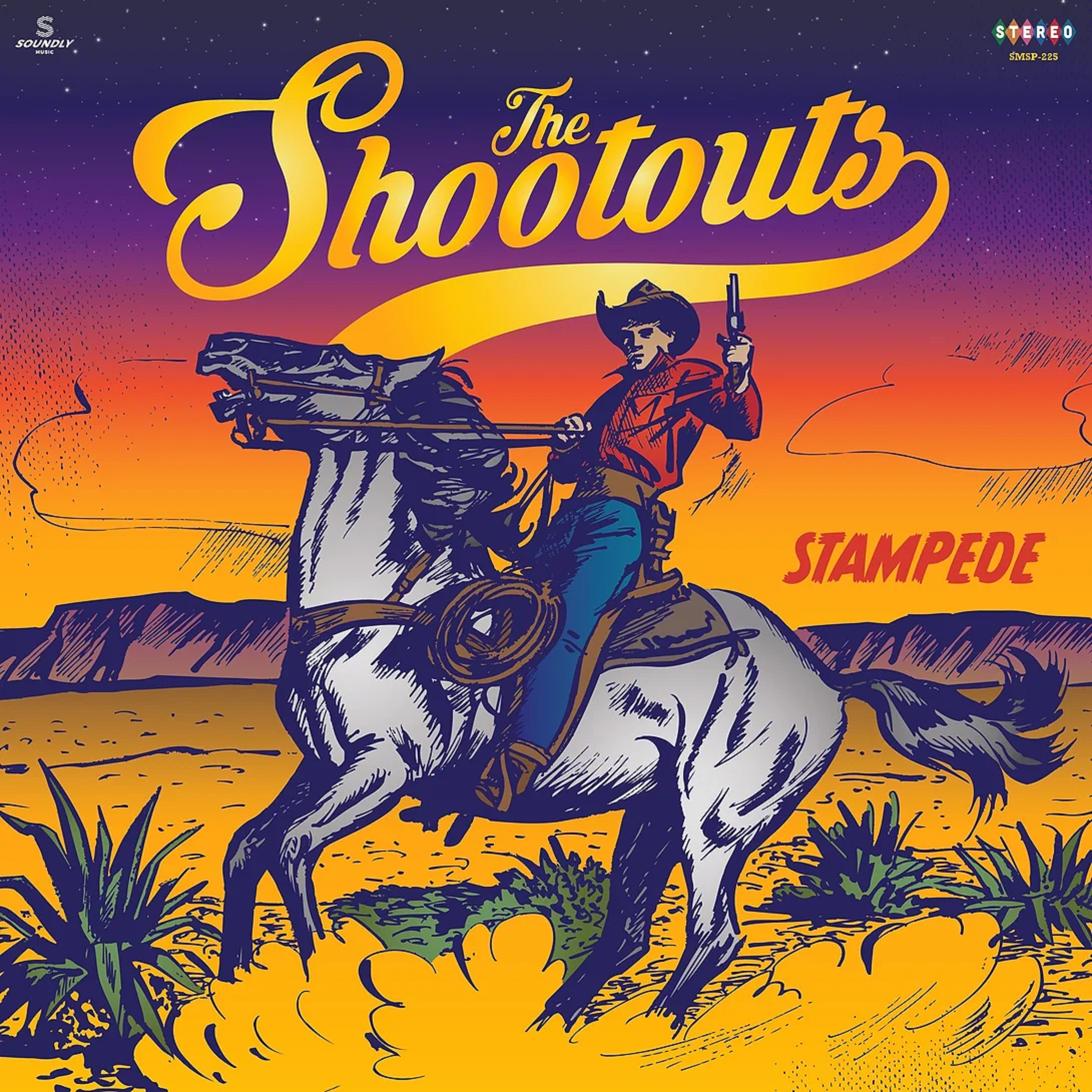 RH: I love a good old school feel. How did that contribute to the sound?
JD: The record still has a little bit of a warmth to it, which I think you could attribute to all of that. We did a lot of live tracking. All the basic tracks were done live, together as a band. Of course we would do some overdubs after the fact, and especially to get all the special guests on the record.
GW: Tell me about what it's like to work with the other group members.
RH: The 4 of us [Ryan, Emily, Brian, and Kevin] are pretty much the core Shootouts, and we are just like a big family, you know? So it's a really collaborative process, working with this group. We have a drummer as well, but we've had a couple of different drummers, so basically the four of us handle all the press and marketing. We are sort of the face of the band, but it's very collaborative. We like to make sure that we are all contributing and having a say in the sound. We arrange all the songs as a group to make sure that all ideas are getting thrown out there, and I think that's helped us develop our sound a little bit. Everybody's got a little bit of input there.
GW: Nice. So how did you guys get together then?
RH: Brian Poston and myself started the band. We met and he was playing guitar in a project with me, and we bonded over the fact that we both loved real country music, like traditional country music. And we were kind of lamenting that you don't hear it much anymore in a lot of places. You have to know where to look. You have to know where to go to be able to find that type of music. So we decided that we were gonna do it. We were like, "let's just go out and play. We'll have fun. We don't care if anybody shows up." You know, it was meant to be a side project. That's it.
GW: And what was your first show like?
RH: It was like a bolt of lightning, and everything all of a sudden clicked into place and made sense, and I knew that this was what I was meant to be doing musically. So it very quickly turned from a side project into the main project. And here we are now, 3 records in, getting ready to make our Grand Ole Opry debut, and our South by Southwest debut, and working with some of our idols, and country music and Americana legends. Sometimes you just have to follow your heart instead of your head.
STAMPEDE TRACKLIST
Better Things to Do (Feat. Marty Stuart)
Anywhere But Here (Feat. Buddy Miller)
One Step Forward (Feat. Ray Benson & Asleep at The Wheel)
I'll Never Need Anyone More (Feat. Raul Malo)
Run For Cover
Coming Home by Going Away
Stampede
Tomorrow's Knockin' (Feat. Jim Lauderdale)
Feelin' Kind of Lonely Tonight
Must Be a Broken Heart
Better Things to Do (Acoustic Version Feat. Marty Stuart)