Many of the world's visionaries started small, whether it be a simple idea in the basement of their childhood home, or in their local community kicking around ideas with friends and family. The truth is, creating something truly ground-breaking usually begins organically, with the creator not intending to create what it becomes. Particle is just that, a small band based out of Los Angeles, California in 2000, simply experimenting with classic electronic loops from iconic groups like Kraftwerk and applying live instrumentals that inspired them. What they created, however, is the base of what we now know as jamtronica, livetronica or put quite simply, electronic rock n' roll. Along with bands like the New Deal, STS9 and the Disco Biscuits, Particle paved the way for a new sound, one that incorporated the producer/DJ world and applied it with real live instruments to create a genre that is still thriving today. Steve Molitz, the founder of Particle, was at the forefront of this monumental shift, and was kind enough to sit down with Grateful Web to discuss the history of the electronic jam sound, as well as the release of Particle's newest release Accelerator, nearly 14 years after the debut of their iconic album Launchpad.
What's happening guys, this is Elliot with the Grateful Web, and today I'm here with jamtronica juggernaut, synth lord and pioneer of live electro-funk, Mr. Steve Molitz. Steve, how are you doing this afternoon?
SM: Doing great man, thank you so much for having me.
GW: Now it's been a huge last couple of weeks for you and Particle with the release of your first studio album in 14 years - Accelerator, the follow-up album to the legendary Launchpad, hit shelves just a few weeks ago, not to mention a huge tour to promote the new album, but before we talk tour let's start with Accelerator. Walk me through the recording process of the new record, who you worked with, and what your mindset was stepping back into the studio after all these years.  
SM: We had the opportunity to work with some amazing people in some amazing studios. The bulk of the album was recorded at Applehead Recordings in Woodstock, NY, I had recorded a couple albums there with Rich Robinson (The Black Crowes), so I had been there years before recording with Particle. It was somewhere I had always wanted to record, and it turned out to be the perfect environment to do the album. It's this old barn up in this 20-acre farm with animals roaming around and streams running through the property; it's just a very beautiful setting to record an album, just a peaceful, inspiring place. The room itself was also great because we got all the natural warmth of the 30-foot walls and all the vintage analog gear they had to offer.
We also bounced around and recorded in a couple different studios in New Jersey, and I did some remote sessions mixing with John Avila, the bass player of Oingo Boingo, in a great studio out in LA, so it was really a collective effort. That was by design, I wanted to make sure we had contributions from everybody, so all four band members really had to do with shaping of the sound and songs, Clay wrote two of the songs, Mike wrote four, and I wrote three, so we had a nice spread across the album.
GW: What I felt was so great about Accelerator was it takes the basic, organic roots of what made Launchpad so incredible and monumental, and applies to modern day electronic & EDM-based sounds.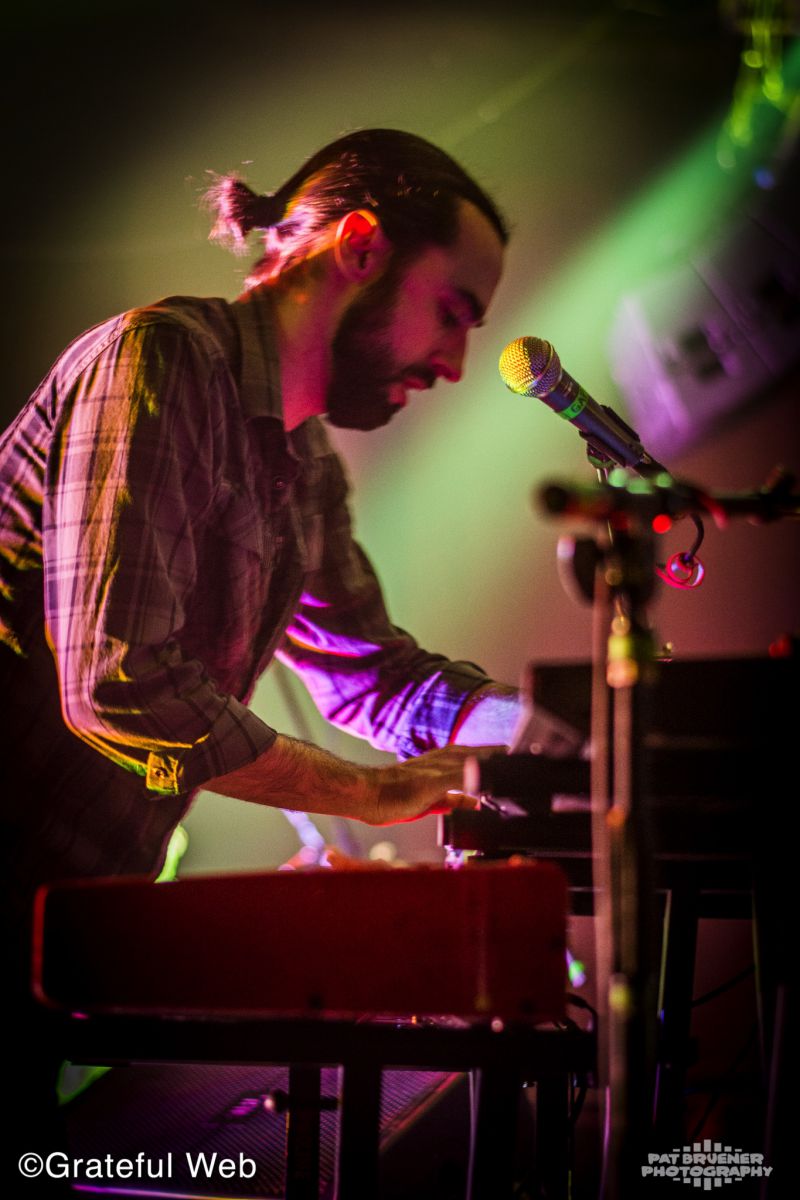 SM: You totally nailed it, you're absolutely spot on. That's exactly what we were trying to do was take the best parts of thee Launchpad-era and keep that classic sound, but build on it and modernize it. So I think you're absolutely spot on.
GW: I think we all noticed a lot more synthed-out, almost Daft Punk type vocals, what was the decision behind that, because up until this point Particle was mostly an instrumental band.
SM: Yeah definitely a lot more vocals, I forget what the ratio is, but about half the songs have vocals on them. We don't always start writing a song and say, this is going to be an instrumental or this one is going to have vocals, we just follow the creative process and feel out the song, and if it feels like it's calling for lyrics than we will go in that direction. When we were preparing for this tour, we were all sending songs around to each other, and we were already starting to prep for the next album, so we won't make you wait another 14 years (laughs).
Clay and Mike both sent ideas around, and as soon as I heard them I had all these vocal ideas and melodies flowing through my head, so it's cool to know that we can go in that direction if it calls for it, but we still definitely have that classic Particle mentality that every now and then we like to just let the music tell the story.
GW: Now this is a lot different than the Particle of early years, you're sill leading the way, but you've got Clay Parnell on bass from Brother's Past, Kito Bonvenschulte of FikUs and Michael Daum of Roster McCabe. Tell me about your relationship with these guys, how you met them, and how you ultimately decided to rebuild and almost re-launch Particle with these members.
SM: I've known all these guys through the jam music scene for years, and I actually recorded on a couple tracks with Roster McCabe on their Through Space and Time album, on the tracks "Stargazer" and "Soar," so I've known them for a long time. We've crossed paths a lot, and it's a really small world in this scene, everybody knows each other, and we all hang out backstage at the festivals and in different settings. So when the time came to re-launch the band, these guys were such obvious choices, because I had always loved them both on and off stage. Great musicians, but also just great guys, and I feel very fortunate to have the first people I called be down for the ride, it all just came together so quickly and so naturally. Clay and I had teamed up before that, and again that was just an organic fit, we had played together recording the BadPuss album with Barber of the Disco Biscuits for the soundtrack of this film, almost like a rendition of Spinal Tap. We also did Otter Presents Skydeck All-Stars out in Chicago, and that was such a great gig, with Allen from the Disco Biscuits drumming for that one, so Clay and I just really hit it off and actually ended up staying up all night in the hotel room after the gig which later become some Particle songs. When I felt the passion calling to jump back on the Particle train and really hit the gas, sorry for the Accelerator puns, Clay was just by far the absolute choice and first call.
I'm just very fortunate that this amazing group of people and musicians was able to come together, and you can't really force something like this. It can be challenging to find the right group of musicians when it comes to personalities, musical tastes, motivation, lifestyles and overall willingness to tour; it can be tricky to line all those factors up. We are really in such a great place right now and firing on all cylinders, just having such an amazing time out here on tour together. We're having a lot of laughs both on and off stage, and when you come see the band, I think you can tell we're having such a good time up there. It keeps us all in the moment, especially when playing improvisational music, it's really cool to see that both on stage and off.
GW: Let's talk about the mid-2000's, Particle had seen some movement with its members and you were jamming with Phil Lesh and Friends, Robby Krieger of the Doors and really breaking ground with some HUGE names in the jam scene. Was there ever a moment where you might be done with Particle and it was time to move onto other projects, or have you always felt that Particle was your main project and it was due for a comeback.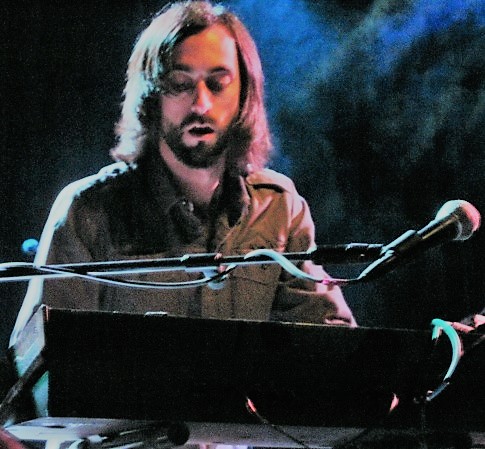 SM: I always knew that that music would live on, I was playing a lot with some amazing people, Phil Lesh, Rich Robinson, Robby Krieger, all these guys, but I never stopped carrying the Particle torch or this music, we just went from playing maybe 150 shows a year to maybe 50 shows a year or so. The Particle music is really in my soul, it's sort of an extension of my creative voice, my purist form of artistic expression, so when I play Particle music, I feel that is my creativity at its purist.
I actually just got back last weekend from playing some shows with Robby Krieger, and it's an absolute honor to play the music of the Doors, Ray Manzarek is one of my earliest influences, so it's such a thrill to play these iconic songs like "Riders on the Storm" and "Light My Fire." Now that I'm on Particle tour, however, it just feels so natural to be playing this in front of the fans and also to be breaking new ground with all the new material. It's been amazing to watch how people receive them because they are getting down and dancing like they are their favorite songs that they have heard for years. Already now that the new record is out, you can see people singing along to the lyrics which is just amazing. We tried to put a lot in there, a lot of ear candy so you can listen to in any setting, so if you're at a summer festival and you've got your Bluetooth speaker, you can just blast it, or a late-night drive you can put it on that voyage and just jam out, or with headphones there is just a ton of stuff in there with the production and the mix to make sure there is a little something for everyone.
GW: We actually discovered Launchpad in college, and we just put on while playing video games because the sound meshed so incredibly well. A few more for you here and I will let you go -  Tell me about the early days of Jamtronica. It was obviously Particle, the New Deal, STS9 and the Disco Biscuits leading the way. Tell me about those early years of the genre, obviously much more drum n' bass and break beat influenced - Did you know what you were creating at the time? How did you decide to create Particle and did know you know you were creating an entire sub-genre of music that would thrive for years to come?
SM: I think we were aware that we were creating a sub-genre, but we didn't really think of it like that. We just knew that we were doing something that nobody else was doing, at least you could count on one hand the number of bands that were doing it. It's not that we were trying to creating a sub-genre, I had been playing music like that since college, we would have these jam sessions where I would have all these analog synths, and we were playing 20-minute songs that weren't so different from the songs you hear on the Particle stage even now.
So this type of music was always in my heart, and we were listening to a lot of electronic music that was more part of the DJ culture, and there really weren't a lot of bands using instruments to play electronic dance music, unless you went all the way back to some of the godfathers like Kraftwerk and those types of bands. Even they relied more on the electronic production rather than the live instruments, so too I guess we were aware that we were creating something only because nobody else was doing it.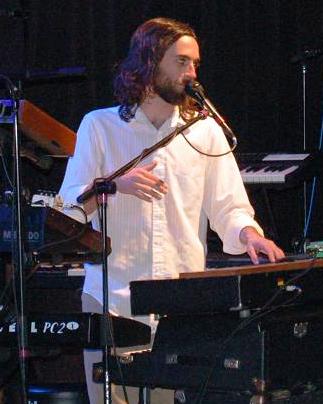 GW: I'll leave you with one more here, it's been a huge year for Particle, congratulations on the new album and tour, what's next for Particle? You mentioned earlier you have enough material for another album, what's ahead for 2019 and beyond?
SM: Another album, another tour, rinse and repeat! We just had such a good time in the studio and like you mentioned we already have enough material to populate a new album, so we're going just keep writing, keep touring, and sharing this sound with the Particle People. There's nothing I'd rather be doing right now, things come in waves, and it sounds like a cliché but the stars have aligned, and we are just riding this wave right now.
GW: Thank you for your time Steve, and we will see you on Particle tour!