Ian Anderson, once and always front man of the legendary Jethro Tull is embarking on two major projects: a new album in which he and a British string quartet created of reworked Tull classics, as well as some major U.S. touring of a program dubbed, "Jethro Tull, performed by Ian Anderson." Anderson took time recently to speak to Grateful Web via telephone.
GW: To help set the scene, from where are you speaking to me today? 
IA: My office in Southwest England.
GW: Can you tell me more about the upcoming album, "Jethro Tull: The String Quartets," due out on March 24?  How did the idea come about and how did the collaboration with John O'Hara and the Carducci Quartet come about?
IA: A year ago I was looking at various projects for the future and one of those was to do a classical album, just a string quartet stripped down, add a judicious addition of myself to remind people where it comes from.  I thought I should try to make it an interesting. After first developing melodies we worked on arrangements at the Worcester Cathedral in the outlying country side,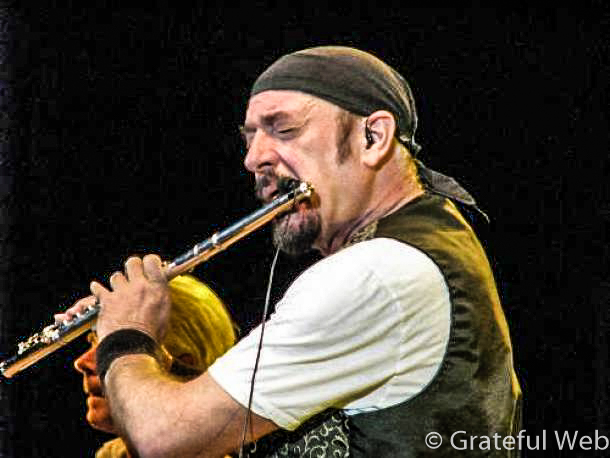 GW: Did you write the arrangements of these songs?
IA: They were written down by John O'Hara, a keyboard player who's a classically trained orchestral arranger. He worked on these for a few months on and off and we met a few times to run through things and then we had a day's rehearsal with the string quartet just to get them ready for the recording – but they had already done quite a bit of prep.
GW: You have been working with John O'Hara for a number of years with Jethro Tull and forward.
IA: That's true. He's been playing keyboards <with me> for about 10, 12 years now.
GW: Was the project within the comfort zone of the quartet or did they have to change their music mindset a little?
IA: Well, I picked them because I went to see them perform in London; they were introduced to me via the brother of one of the musicians who recommended them.  They had a very good tight, intuitive, rhythmic feel and performed a lot of difficult string quartet pieces, but more contemporary than traditional/classic so I knew they could cope with the rhythmic feel and energy that I felt the music deserved. So they were well prepared by the time they came in for rehearsal. They were in good shape, not having to make too many changes to the way they play, because they already had their bowings worked out and they worked out their little signs and nuances. They were following each other without the need for any conducting or bow-keeping or whatever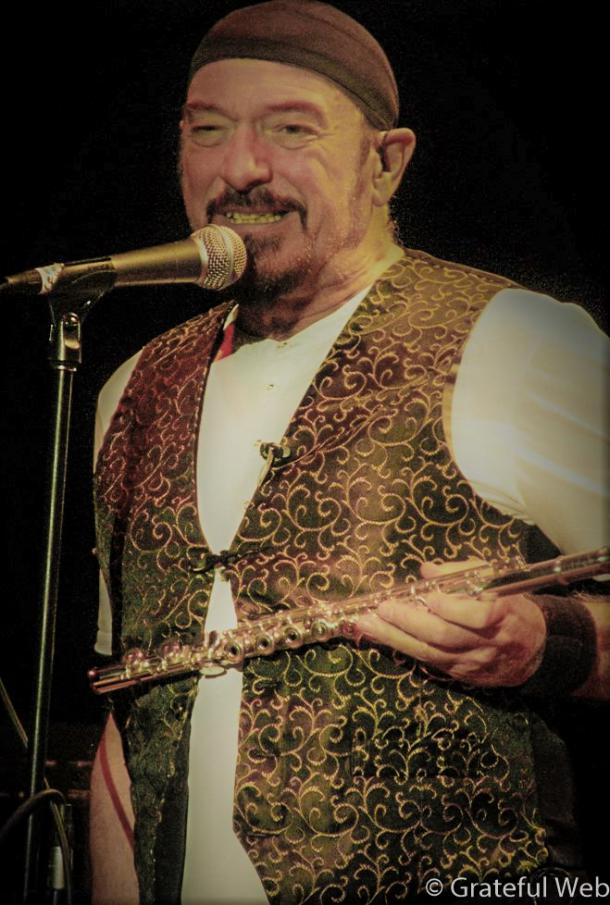 GW: Do you have a fitness regimen or secret to staying fit and performance-ready?
IA: It's what I'm doing at the moment. I travel off to Budapest on Thursday for a week of concert touring and I have to spend maybe three or four days before a tour just warming up and rehearsing every day and running through songs and generally getting my fitness level back to where it should be. Because if you've been off the road for two weeks everything tends to sag a bit. You know, the embouchure of playing the flute to the flexibility of the fingers. As you get older it's the case, I believe, that you've actually got to spend more time rehearsing, not less. Even though you may know the music intrinsically, you have to train the body and mind – all that muscle memory that's involved in fingering, performing and even singing too.
GW: Let's turn our attention please to your upcoming live tours in the United States. It is completely separate from the quartet efforts, yes?
IA: The string quartet album is a standalone project. We're not going out on tour to perform with a string quartet. We have three tours planned this year in the United States. One is with the Colorado Symphony (May 26 at Red Rocks Amphitheatre), which is a one-off concert with a full orchestra – a different kettle of fish altogether – and the rest of the concerts are I suppose what you'd call best of Jethro Tull, but with a lot of video production stuff so they're quite entertaining and visual and mainly, pretty much kind of "up" material. It's a rock concert so that's what much of the time I do, although from tradition a certain amount of the music is acoustic that we play too. You know there's probably three, or four, or five pieces that you would describe as "acoustic"; most of it's fully rock music.
GW: And tickets are available for all of the U.S shows?
IA: Venues and promoters don't usually want to put tickets on sale until they've programmed their on-sale periods, because from a competition point of view they usually plan very carefully when they want to release tickets to the general public. Which is much later than I would choose to do because we go to sale much earlier in Europe with tickets. But in America it tends to be three or four months before a tour, which in my view doesn't allow people enough time to really plan ahead – for those people who really do have to make arrangements to see the concert.
But it's not up to us. It's not even up to the promoter. It's the venues that don't wants tickets being announced until they are in a position to take orders and quite often you'll find that they don't want to put tickets on sale for a show that's going to happen in September because they've got  artists playing in May and June and they want to sell those tickets first. We don't really work that way in Europe. We tend to put tickets on sale as soon as box offices and venues and ticket agencies are able to cope with the orders, because people like to plan ahead as I said. Also, for promoters, they'd like to have some money coming in via the ticket agencies to offset some of the advance costs. In America it's a slow turn.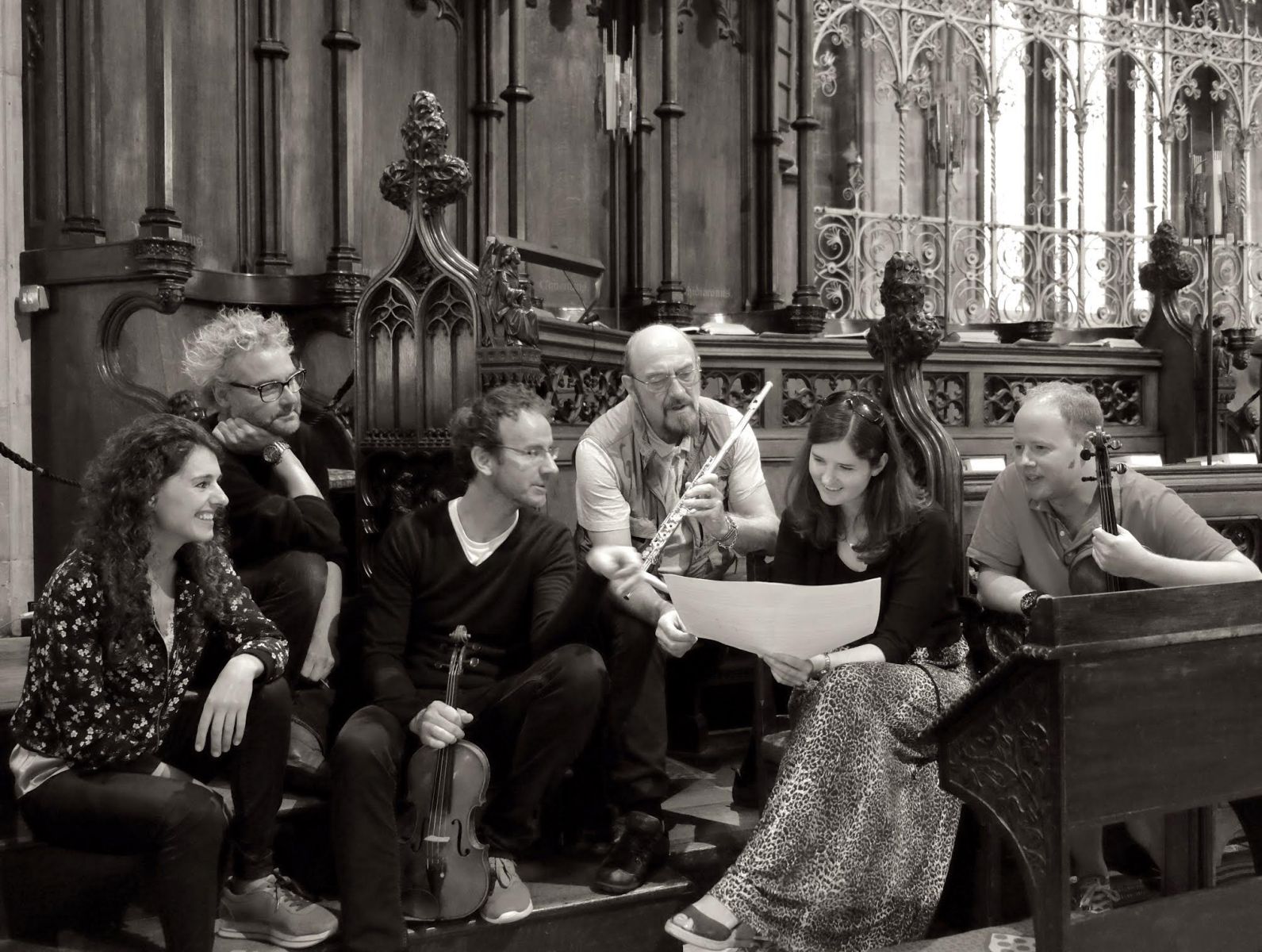 GW: Will folks on the East Coast and West Coast have a chance to see you?
IA: We did play the West Coast last November, or October was it? So no, this time it's the mountain states and to Texas and in august we do a bunch of dates kind of east coast-ish, but winding our way up through various spots of the more, not exactly, the Midwest, though we are playing Chicago, we play Detroit, Michigan, and various places and upstate New York and then we come back in November. We'll be playing in New York, and on with it.  I'm sure other places on the East Coast and two or three shows in Florida.
GW: Live shows will include big classic Jethro Tull songs – crowd pleasures so to speak?
IA: I don't really play songs in order to please the crowd. I'm an Ian-pleaser. These are my songs. I play what I like because I love to play and if the coincidence exists that the audience likes those songs too that's great. The minute you go out just to satisfy the demands of the audience I think you're kind of in danger of selling yourself out. I play the songs that for me are kind of landmark songs, kind of crucial songs. When I sit down and make up a set list I think yeh, y'know, they'll like that and they'll like that and then maybe one or two songs that I'll slip in that are not maybe so well known to the audience. But 80% I would think will have a high level of  conformity between my choice and probably what most the audience would pick. You want to do songs that I know the audience in America, for example, might choose and that I tend not to play. They are pieces that I don't particularly enjoy and they're also not particularly popular except in America. Wherever you go in the world there are certain songs that are biggies in different countries.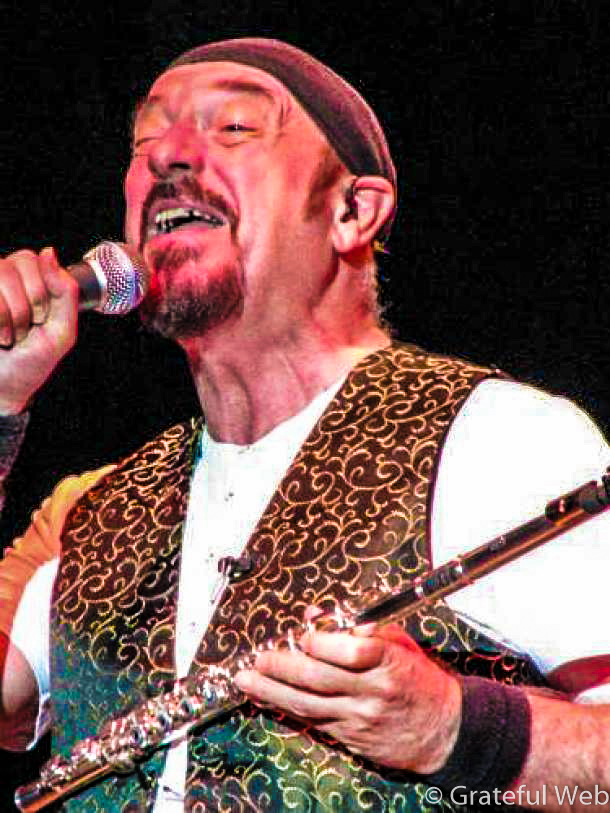 GW: Interesting. Can you name one that is big over in America here but not necessarily in Great Britain or the rest of Europe?
IA: Yes. The song "Bungle in the Jungle," they quite like that one in America but doesn't mean much anywhere else.
GW: That was what we used to call a "hit single."
IA: Right, and I feel self-conscious about it because I wrote it for radio play; it just feels a little too deliberate.
GW: Are you still in touch with Martin Barre? Do you still talk and do you keep up with his musical projects. (Note: Barre was a core member of Jethro Tull from 1969 to 2014.)
IA: I keep up with his musical projects, absolutely. I'm checking out where he's going, what he's doing. Happily, after all these years he's finally taken my advice about having his own career and life before it's too late. I encouraged him many years ago, to start developing his own career outside the band and it took him a long time to do that, but I think he's having a great time now and playing in his own right and being confident enough and sure enough of his repertoire and his place in the scheme of things.
GW: Do you have any feelings about our new American president and how he's behaving? What do you think of this guy?
IA: I'm not an American citizen, I'm not an American voter. But my views, as you can imagine, is that America is very polarized in the context of a very populist president and indeed populism across the planet seems to be the name of the game these days. It divides sharply and the nations, not just in America but in Europe you see nationals sharply divided in a way that I don't think they have been in a long, long time. In America specifically with two-party politics. Mostly in Europe we have more than two parties vying for the role of government and in American it is a very left and right thing, the liberal Democrat vs. a traditional conservative Republican.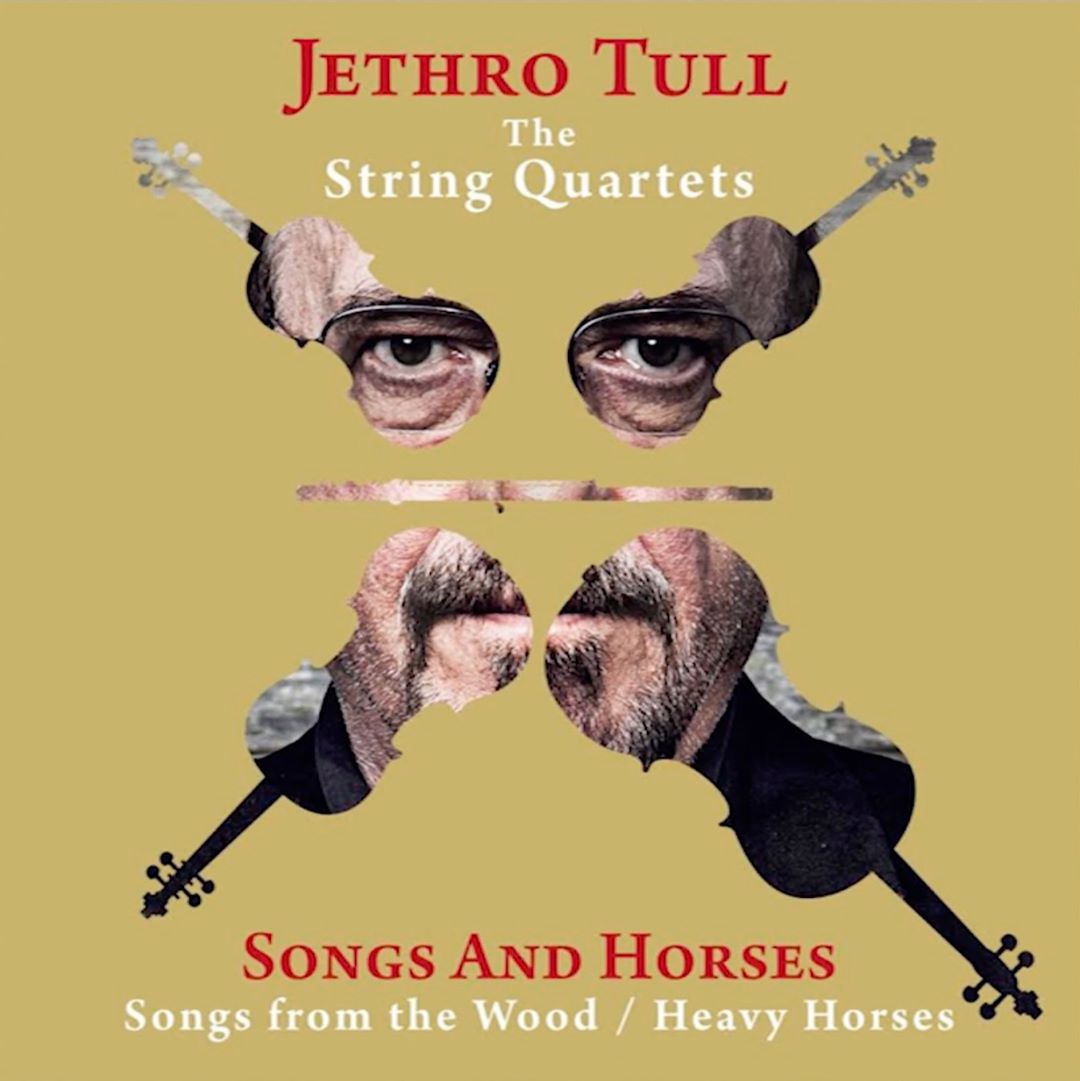 However, Mr. Trump doesn't really fit the role of being a conservative Republican. He's no more of a Republican than I am. He's just  a man out there to exercise I'm sure his beliefs and exercise his fantasies  of being a powerful American president. He's not only dividing the nation he's dividing the Republican Party. But he's the result of a democratic vote and at this point there's nothing you can do except wait and see if he does manage to develop the skills, the diplomacy, and the tact that he will need to be a good president, not just for America but for Planet Earth. And that's I guess why many people are frightened of Mr. Trump because he doesn't seem to be rational, he doesn't seem to have tact and political awareness. He's a loose cannon attempting to govern by Twitter, which scares the shit out of people all over the world, not just half of America.
You know, the other half of American may not be entirely approving of everything he does but that's who they voted for. So people like me shouldn't be coming along and telling folks how they should vote. My only word at any time is to say, vote. Don't be a stay-at-home, be part of the process even when you think you're voting between lesser of evils. It's still your right, something your forefathers fought and died for and may well again in the future. Like it or lump it when you cast your vote and you end up with a Mr. Trump, Or in other cases, other prime ministers and presidents of other countries, That's what you get and have to ultimately accept it and hope and pray and exercise what forces can be brought to bear to tame the leaders who don't turn out to have the stuff that leaders should be made of.
GW: Thank you very much!
IA: Thank you very much indeed. Take care.