In most cases, being called dense is not something to be taken lightly and is certainly a far cry from what most would like to hear about themselves. When it comes to music though, and in particular that crafted by Here We Go Magic, being called dense may very well be one of the best comments the quintet could receive.
What started as a solo project out of New York, Here We Go Magic has within just over a year's time evolved into a cohesive group with a unique sound and idea that all began with guitarist and vocalist Luke Temple.
Prior to the release of the first record under this name, Temple released several self-titled EPs, was then picked up by Mill Pond Records and released two albums on this label. In 2009 Temple signed with Western Vinyl and in February of that year released the self-titled Here We Go Magic record.
As it grew in favor Temple formed a band and, in September of last year, what would become Here We Go Magic as they are known today--Luke Temple, Michael Bloch, Kristina Lieberson, Peter Hale and Jen Turner--signed with Secretly Canadian, with whom they will be releasing their sophomore album "Pigeons" this June.
An unusually small audience got a taste of the band's brilliantly chaotic sound Wednesday night at the Fox Theatre as Here We Go Magic opened for another New York band, White Rabbits.
Feeding off of each other and the atmosphere around them, the guys and gals of Here We Go Magic built up each song with some variation from the album, extending them out and pounding out each with intense layers of five part vocals, driving bass and heavy drums.
Allowing their songs to unfold organically, improvising off of one another with eye contact and subtle gestures, Here We Go Magic's set pulled tracks from their self-titled album and turned them into a grounds for experimentation, playing out every song to its fullest extent with raw power and climatic tempos.
Mixing it up is what the band likes to make their live performances about, said bassist and vocalist Jen Turner in a phone interview last month. Their sets are not about trying to recreate anything in particular, she said, but being involved with everyone's process in that moment.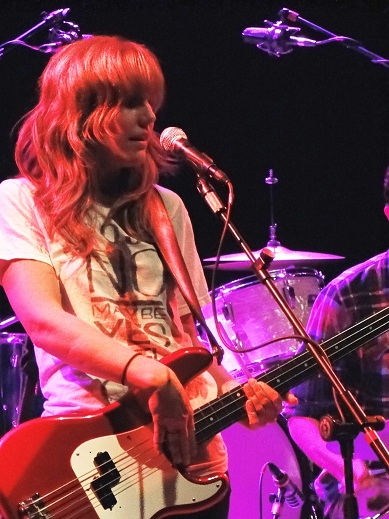 "It's not about doing something, it's about just doing," Turner said. "Allowing yourself to be whatever, whatever the song calls for."
Vocals from each wove in and out of the music, overlaid on a resonating bass drum and strong electric bass lines. Clear, cohesive songs crescendoed into a whirlwind of separate, distinct voices wrapped up in synth drones and both lead and rhythm guitar.
As sound piled atop itself, bass over drums, synths over bass, Here We Go Magic worked up a thick wall of sound, an aspect that Turner said she likes about performing in smaller venues.
"There's a certain heat that can be harnessed," Turner said. It allows for a personal experience with the audience and building up a dense sound, she said, making for the likes of an almost sexual experience.
Capturing this "hypnosis of the moment," as Turner called it, is not an easy thing to do. "It's hard to discover it," Turner said. "The fear inside of it is not knowing if you'll find it."
Advancing this idea into the recording studio, it becomes even more difficult. Taking the band from a solo "joy" that Temple had--rather than a vision, Turner said--to a full band process, Here We Go Magic has been recording as a crew, Turner said. It starts with a loose concept of a song, then put together as a band and recorded as soon as possible.
"What you're actually trying to record is feeling, and that's a lot tricker," Turner said. There's an integrity missing when trying to reflect that emotion from a live performance on tape, Turner said, such that the music is a coincidence and reflection of the moment.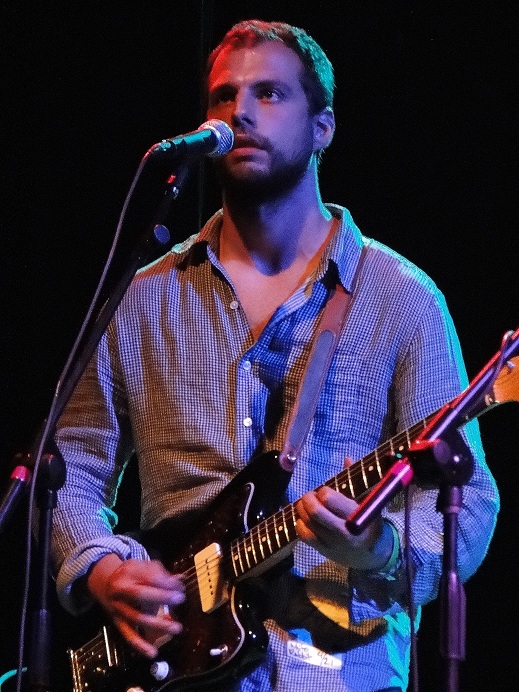 Generating this excitement, playfulness and fusion among a band in this regard often requires much practice, repetition of trial and error, learning and experience. In the year and half that Here We Go Magic has been together however, already such cohesiveness is evident.
Coupled with their full, rich sound, decorated with subtle vocal and instrumental nuances and packaged together with a sense of grounded chaos, Here We Go Magic's set invigorated the senses and displayed the awareness they have for each other on stage.
"It's so effortless the way we play together," Turner said. As they continue to learn and feed upon each other they come to anticipate each other's rhythms, and as a result, said Turner, "I suppose we have no choice but to get better."