This year's Magnolia Festival was characterized by the usual wonderful blend of bluegrass, reggae and families and by unusually cold night- time temperatures.  Hovering above freezing at night, the mountain music sounded just right in the cool mountain air of the Florida "hills".  As I sit in tank top and shorts in eighty degrees of Florida sunshine to write this, frozen fingers, frozen breath, the warmth of the fire and being bundled up from head to toe here last weekend seems surreal.  Though it was "crisp" to say the least, nothing slowed the pickn, jammn n dancn.  Artists such as Railroad Earth, Steel Pulse, Cornmeal, Donna the Buffalo, moe., Lucinda Williams, Bela Fleck and Jim Lauderdale kept the Suwannee forest warm and alive with their music.
Walkn in the tall trees, goin where the wind blows, romance was in the air at MagFest during Railroad Earth's when bassist, Andrew Altman announced his close friends Jess and Ryan just got engaged during their show.  The audience cheered for his friends (she said yes) who were stage left in the audience.
Reggae giant, Steel Pulse played to a packed meadow, starting right as Railroad Earth was wrapping up their set.  Steel Pulse played more of their newer songs than their greatest hits.  Later, Keller Williams played an energetic show with the Traveln McCourys. The McCourys said this was their first show with Keller and they were all looking forward to many more. As the first time I've seen Keller play with an actual band, I was pleased. He probably was happy too, not having to play every instrument on his own.
Lucinda initially brought the crowd down a bit.  After the upbeat Railroad Earth and Steel Pulse, the audience wasn't expecting her more down tempo, country blues.  It wasn't an easy transition. In the words of one fan, "she's making (me) want to find the nearest bridge and jump".  However she and her band had everyone joyfully dancing before their show was over. Her grand finale song, a cover of Buffalo Springfield's "Stop, hey what's that sound" was particularly fitting for our times. I couldn't help but the copy some of the lyrics here that really seemed to speak to the crowd:
there's battle lines being drawn
nobody's right if everybody's wrong
young people speakin there minds
getting so much resistance far behinda thousand people in the street
singin songs that they carry inside
mostly say hurray for our side
it's time we stop,
hey what's that sound
everybody look what's goin down
Even though moe. hails from upstate New York, they were unprepared to get their Florida freeze on during their after midnight sets on Friday and Saturday. Bundled up in hoodies and beanies with smokey clouds of their frozen breath catching the light, I was feeling sympathy for their ungloved hands when after about twenty minutes, moe. guitarist Al Schnier told the audience he couldn't get blood into his fingers.  He had to take a quick break to get his frozen fingers working again.  Trying to hold down cold steel strings with frozen fingers is painful!  The audience appreciated his sacrifice as the self proclaimed moe.rons danced until two o'clock in the morning.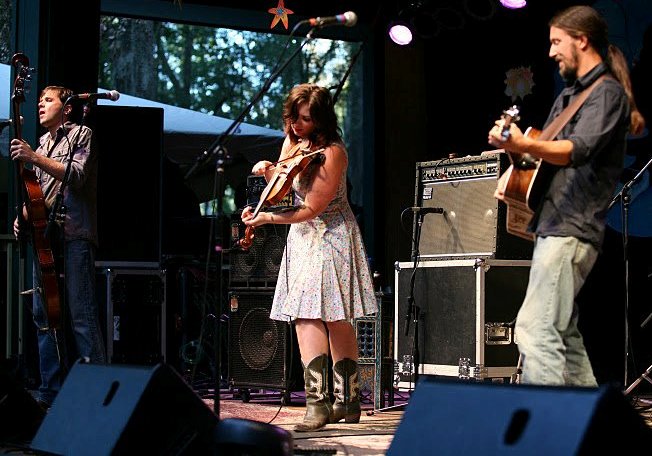 On Saturday night, Cornmeal fiddled, strummed and stomped to an enthusiastic, enamored crowd. Fans were pleased and those previously unfamiliar became new fans.  Cornmeal played two sets at Magnolia Fest, happy to end their long summer tour at the beautiful Spirit of the Suwannee Music Park.  They played their last song of their tour Sunday night with extreme gusto.  The world's got you down is actually an optimistic jaunt of a bluegrass jam. 
Jim Lauderdale also played two sets.  He played with the Stringdusters on Saturday and was joined onstage by members of Donna the Buffalo during his last set on Sunday afternoon. The herd happily stomped around to the fiddle and guitar bluegrass, zydeco rythyms.  Jim, Tara and Jeb played a song called "except that one time" that Jim and Jeb apparently wrote at the SOSMP several years ago. Jim said the song isn't recorded except by perhaps fans who have heard them play it.  "I never get my heart broken, except that one time…"  These humorous yet hard hitting lyrics reminded me somehow of a hilarious quote from a festival goer trying to maneuver a high speed golf cart between trees, cars and hammocks next to my camp. As he was being loudly encouraged to plow through the maze he yelled back, "I'm gonna pull out my didgeridoo and didgeridon't ever do that again!"  The Herd was psyched for MagFest as Donna the Buffalo also played multiple sets.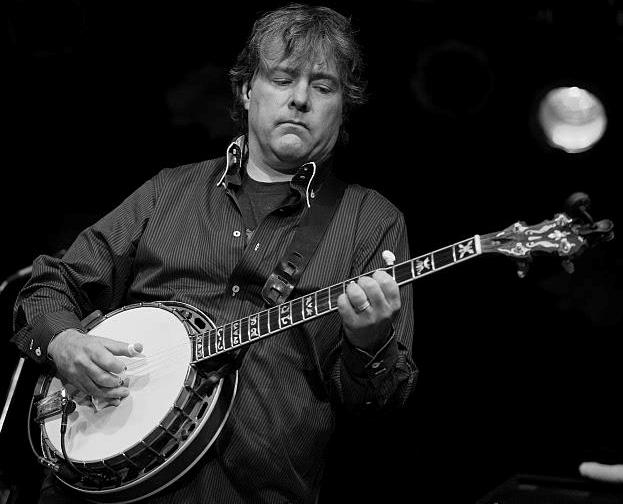 Roosevelt joined the New Orleans Suspects and Col. Bruce Hampton with his pedal steel guitar prior to playing with his own group, the Lee Boys on Saturday afternoon. Sunday, he joined the Mosier Brothers for a body moving set on the amphitheater stage.  As always, their jam sessions inspired.
Bela Fleck was a sweet treat from Sweet Pomegranates to their classic Sinister Minister.  Their groovy jazzgrass was welcomed with smiles and sways from an overflowing amphitheatre.  The master bassist, Victor Wooten introduced Bela, as not only the artist who has been nominated for more different categories of Grammies than anybody else AND just earned an honorary doctorate. Now we really have to call him Dr. Fleck.
Magnolia Festival 2011 upheld its reputation as being very family friendly.  Several thirty- forty somethings dancing with their little ones told me this is the only festival they attend because it is so family friendly.  There were definitely more children and bicycles than hoola hoopers and psychedic laser lights.  It was an eclectic crowd.  I met Sam and Michelle from Gainesville, Fl with their adorable children. Sam took the time to make enormous bubble clouds for kids to run through and pop while Tara Nevins and Jim Lauderdale crooned in the background and the Herd stomped around.  I also met Nick and Paula Collard from Tampa who were celebrating both their recent status as empty nesters and their thirty-first anniversary.
The feeling of family extended to the artists entertaining at MagFest as well.  Some groups were themselves families, such as the Lee Boys. The family feeling permeated the event by many artists shared the stage and jammed together for a unique experience and some artists such as moe. bassist, Rob Derhak, were in attendance with their own families.
Check out lots more photos from the 2011 Magnolia Festival.