In today's flashy, tech-y, trend-addicted, junk-the-old/jack-in-the-new pop music culture, it is ever-so-fashionable to throw dirt on the coffins of guitar-based rock 'n'roll bands and not even toss a funeral rose. Whether you stumble into them in online music reviews and blogs, People magazine, or even Rolling Stone, you can read the dismissals practically every day. But, thankfully, not here at Gratefulweb.com!
The woeful 'death of rock' mantra arose more than 60 years ago, when the urgent question of whether rock 'n' roll was "just a fad" was answered head-on in the classic, 1958 Danny & The Juniors' song 'Rock and Roll Is Here to Stay' (lovingly revived by Sha Na Na at Woodstock, in 1969, and later featured in the mid-'70s movie Grease.). And the 'Rock is dead' theme later found immortality in The Who's 1974 B-side 'Long Live Rock', a defiant musical screed against the doomsayers of the day. And now, today, it seems to have taken permanent root, stubborn as the crab grass in your front lawn.  (Whether or not you even have a lawn . . . .)
Apparently, the evergreen roots-to-riches rock guitar slinger and songwriter Mike Campbell — known best for his enduring, 50-plus-year role as Tom Petty's fearless, six-string partner in assorted musical adventures — has never let any of those doubts take up residence in his head. With no second thoughts, he has just kept his hands on his guitars, pouring out bottomless buckets of steaming licks and classic, FM-radio-type rock anthems through the years.
And good news, if you didn't already know: Dude's still at it.
The next chapter of the veteran guitarist/songwriter's rockin' life story has continued with his four-piece, fountain-of-musical-youth band The Dirty Knobs. (Think of the lo-fi crackles and pops from crusty, corroded guitar volume knobs, says founder Campbell.) The band, which he formed back in 2005 with guitarist Jason Sinay, drummer Matt Laug and bassist Lance Morrison while still in his 'day job' with Tom Petty & The Heartbreakers, has already had one album to their name, 2020's Wreckless Abandon.
As you might expect, that was quite a fine collection of gritty, garage-y rockers and ballads laced with the heady tang of perennial rock 'n' roll mythology. (Anyone for the Stones-y 'Pistol Packin' Mama'?) But then, in early 2022, came the band's newest release, External Combustion. After one listen to this dynamic, flowing, 11-song album, it's crystal clear that Abandon was just The Knobs' big West Coast warm-up move!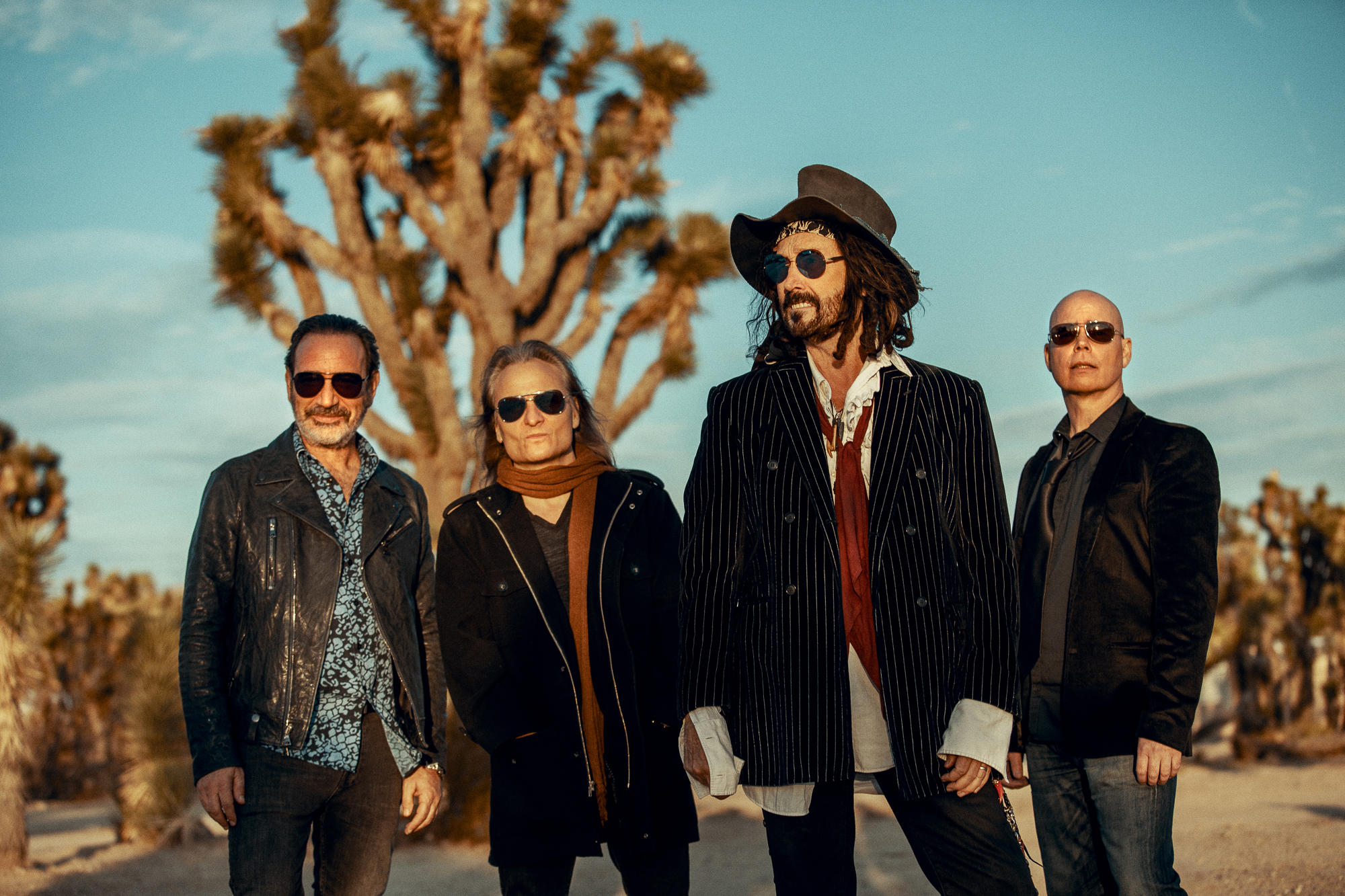 There's no prologue, no mood setting or "establishing scene" with Combustion. The title tells you everything you need to know, and the opening track, 'Wicked Mind', is a blazing, two-guitar and rhythm-section assault that sets the tone for all that's to come. There's a hefty dose of well-weathered rock 'n' roll mythos straight off: Envy, jealousy, broken hearts, revenge . . . y'know, the usual stuff, but delivered with a delicious enthusiasm and a sense of mission that ignores the passage of time and leaves you wanting more. Indeed, the Campbell and The Knobs have seemingly appointed themselves as Keepers of the Inner Flame of Rock. (Wait! — isn't that the Foo Fighters' job?)
With more riff-heavy and dark-and-sticky songs, such as 'Cheap Talk' and 'Dirty Job' (featuring a guest vocal from Mott the Hoople front man Ian Hunter) and, of course, the title track rolling up soon after, the temperature and template on Combustion seem to lock in early.
More time-honored tropes of classic rock, which in other hands might seem long-in-the-tooth or even cringe-inducing, bring only smiles with Campbell's entertainingly snarky lyrics and delivery. For instance, you can just picture the shit-eating grin on his face as he spits out lines like, "I ain't your shrink/but I know how you think. . ." and "It's a dirty job/but someone's gotta do it. . ./It might as well be me."
Admittedly, Campbell — who penned all 11 tracks, a combination of brand-new writings and long-buried demos — does dance on a razor edge with some of that male-hormone r 'n' r melodrama. But his knowing, semi-unreliable-narrator demeanor makes all the difference between 'dance' and 'fall'. Even on the more gripe-y or dazed-and-confused songs, his wise-guy persona makes it all seem so forgivable, whereas others treading these same topical waters at this latter-day stage of their careers would risk simply coming off as hopelessly adolescent re-treads.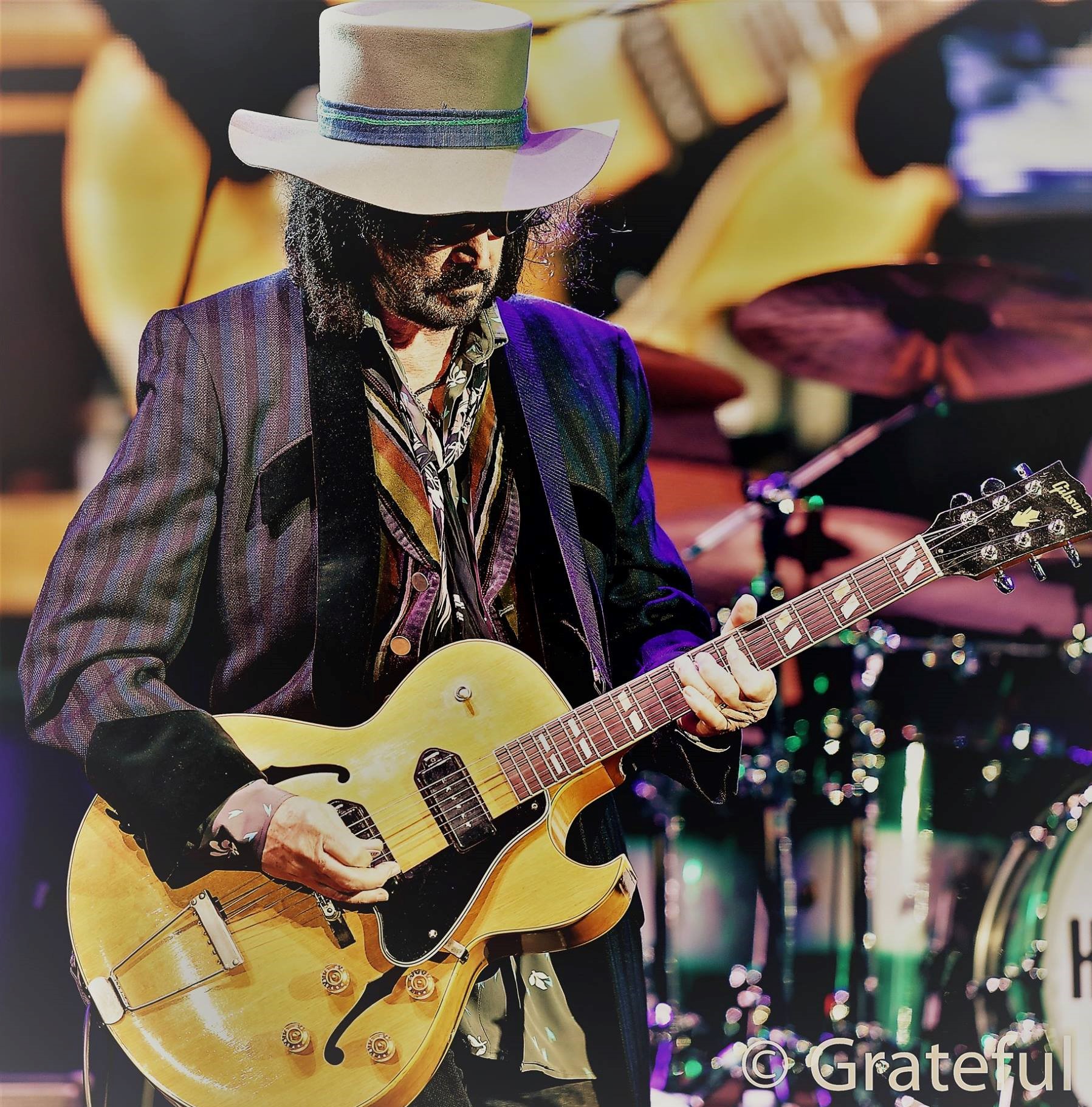 One such track, which on its own you might consider a likely throwaway, is Chuck Berry-type goof called 'Brigitte Bardot'. As rock 'n' roll goes, it's a kind of lightweight 'guilty pleasure' with trite lyrics that keeps the album flowing if you're listening to it in full. But to these ears, it fails to register as a 'go-to' track that you'd press 'repeat' for or stick in a playlist. Your mileage may vary, obviously.
And speaking of Mr. Berry, we must mention that Campbell and Co. are not shy about flaunting their well-marinated influences, which transparently include American roots and pop, the British Invasion, the Stones, Peter Green, Southern rock and, of course, his own Hall-of-Fame band, Tom Petty & The Heartbreakers.
At various points throughout the album, you could imagine other singers, say Mick Jagger or Steven Tyler, swaggering their way through these bluesy, battle-of -the-sexes war stories and other misunderstandings.
Also, since Campbell was a co-architect of the classic Heartbreakers' sound, there are many points — from start to finish — where his sense of power-chord drama and aw-shucks/just-kidding vocals evoke the more slap-happy moments of TP & TH, yet never with the sense of being a pale echo of those glory days. You might even find yourself thinking at various times that Petty's voice would have fit these songs perfectly, and you wouldn't be wrong. And there'd be no judgment if you do!
For all the straight-ahead rockers and slinkier blues dirges, such as 'Lightning Boogie', 'Rat City', 'Electric Gypsy' and the title track, there's also a dash of choice country- and folk-flavored intervals that help in catching one's breath from all the fast-flying projectiles. For example, the lilting ballad 'State of Mind', which features a guest vocal by the emergent country-music star Margo Price, sports a lovely, harmonized duet between Campbell and his special guest. It does sound like a forgotten track off the TP & TH mid-'80s Southern Accents album, complete with his sweet slide guitar, evocative Gospel piano and a regal horn chart. In short, it's a real soul cleanser.
The song that sounds as if it should have been the closing track but still works damned well in the second-to-last position is a jaunty, Byrds- and Woody Guthrie-like folk-rocker titled 'It Is Written'. Although one of its messages is a plea for personal acceptance and making peace with all of one's past sins, the overall shiny tone is life-affirming and forward-looking. Clearly, it's meant as encouragement for us all to keep on reaching for the stars.
Looking past the few lyrical warts of Combustion, you can't deny this album's earnest, fun-loving vibe that arrives on time with the opening notes. Admirably, the band radiates the seasoned confidence of shared dedication to their mission, which apparently is to bring guitar rock back from Code Blue status, alive and kicking. And they deliver on that promise, straight through.
Give Combustion a chance and you'll hear that it features not only great ensemble chemistry but also heroic solos and guitar interplay, rubbery bass lines and sneaky hooks that worm into your ears and head so well that you may find yourself auto-playing some of the tracks under your breath by your third or fourth listen. Or sooner. Falling even farther in, you'll come to appreciate the arrangements, production and stealth guest appearances by Price, Hunter and Heartbreakers' keyboardist Benmont Tench even more. The pleasures are all tucked in, just waiting to be found.
If you haven't already heard The Knobs' 2020 debut album, Wreckless Abandon, you'll find that — as suggested earlier — it stands up nicely next to Combustion. But on the off chance you haven't, don't postpone joy any longer just to explore their albums in chronological order. You'll be glad you started here with Combustion. It's a great, sprawling album perfect for summertime, full of light and heat, and meant to be played damned loud. And summer's not over yet.
Editor's Note: The Dirty Knobs have booked a 30-date fall tour to promote External Combustion, from August 28 to November 1. This leg of their 2022 tour will include seven dates as the opening act for The Who, from October 14, in St. Louis, to the November 1 tour closer in Los Angeles, at the Hollywood Bowl.
Link to the Official Dirty Knobs Website:
Link to the Official Mike Campbell Youtube Channel (Plenty of TDK content here):