As they continue their fall tour across the US, moe. has announced that they will ring in the New Year with a special 2-night run at the renowned Kodak Center in Rochester, NY. With deep roots in nearby Buffalo and an enduring connection to Rochester, these special performances are not just another set of gigs — they're a testament to the band's resilience, especially in light of guitarist Chuck Garvey's recent health challenges and triumphant return to the road. A special artist pre-sale kicks off on Wednesday, October 4th @ 10am ET [PW: GOUDA], and the general public begins on Friday, October 6th @ 10am ET. For more information visit https://moe.org
 
The announcement of moe.'s NYE run comes as the band, along with several other musical acts and venues, lends strong support to The American Cancer Society (ACS) through its inaugural "Rock The Pink" campaign. This initiative aims to harness the influence of the music community to combat breast cancer. To date, the band has already raised more than $4,500, and efforts are ongoing. Having collaborated with the ACS's breast cancer initiatives for the past two years, this year moe. has combined efforts with Umphrey's McGee, Goose, the Disco Biscuits, Andy Frasco & the U.N., Pigeons Playing Ping Pong, Kitchen Dwellers, and Doom Flamingo, as well as venues like The Capitol Theatre & Garcia's. Each participant is contributing in their own unique way, from selling limited-edition merchandise to flaunting pink instruments on stage and wearing pink-themed outfits, all to generate funds and awareness. 100% of the proceeds go directly to ACS, the nation's premier nonprofit for cancer research funding. For more information and various donation options, fans and supporters can visit https://moe.org.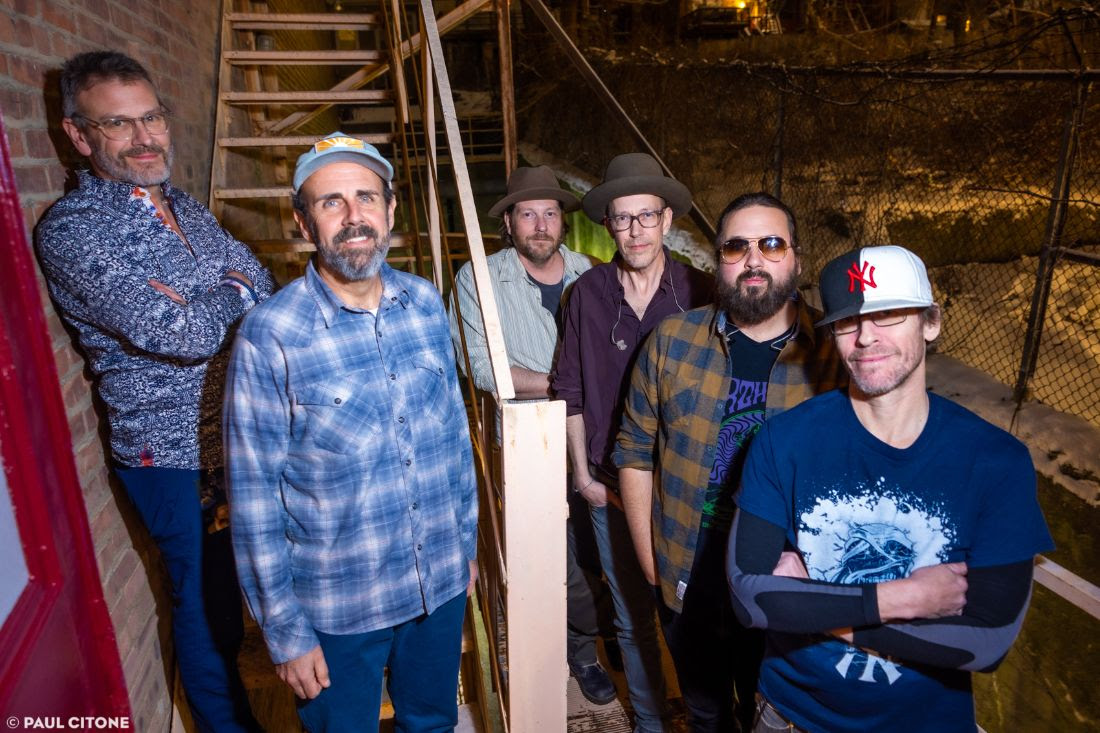 As moe. progresses through their fall tour, they are set to perform in a series of iconic venues across the US. The lineup includes The Pageant in St. Louis, MO on Wednesday, October 4th; the Bourbon Theatre in Lincoln, NE on Thursday, October 5th; and a notable performance at the Hillberry Fest in Eureka Springs, AR on Friday, October 6th. The upcoming schedule features a two-night engagement at Denver's Ogden Theatre on October 20th and 21st, a series at the Capitol Theatre in Port Chester, NY on December 8th and 9th, culminating in their grand year-end celebration at the Kodak Center in Rochester, NY on December 30th-31st. With reviews highlighting Chuck's inspiring recovery and Nate Wilson joining on keys, moe.'s return to the road has been nothing short of phenomenal.
In addition to their live performances, moe. recently celebrated the 25th anniversary of Tin Cans and Car Tires with a special 2x Sky Blue vinyl reissue. This collector's item features not just the original album tracks, but also live renditions of beloved songs including "Stranger Than Fiction," "Nebraska," and "Letter Home." This album holds an indelible place in the legacy of their music and the hearts of their fan community. The reissue, along with exclusive merchandise, is available now at https://moe.org.
moe. is a one-of-a-kind band that has never been easily categorized. Their sonic adventurousness and tongue-in-cheek humor are distinctly and undeniably their own. Praised by American Songwriter for their "mind-bending musicality," moe. is treasured for their mesmerizing musical synergy, unfettered showmanship, and smart, resonant songcraft.
moe.'s longevity is no doubt due to the family spirit shared between its members and its engaged fanbase, the Famoe.ly, a bond that has been fortified through decades on the road. moe. has performed innumerable headline tours, international festival sets, music-themed cruises, and sold-out shows alongside countless household-name artists. They've also promoted and headlined multiple festivals of their own, including snoe.down and moe.down. The band's vibrant blend of inventive musicality and genre-blurring is on full display on two recent releases, their 12th studio album, 'This Is Not, We Are,' and the 'Not Normal' EP.
moe. is Al Schnier (guitar, vocals) * Chuck Garvey (guitar, vocals) * Rob Derhak (bass, vocals) * Jim Loughlin (percussion, vibes) * Vinnie Amico (drums) * Nate Wilson (keys)
moe. US Tour Dates
Wednesday, October 4th - The Pageant - St. Louis, MO
Thursday, October 5th - Bourbon Theatre - Lincoln, NE
Friday, October 6th - Hillberry Fest - Eureka Springs, AR
Saturday, October 7th - Liberty Hall - Lawrence, KS
Friday, October 20th – Ogden Theatre – Denver, CO
Saturday, October 21st – Ogden Theatre – Denver, CO
Friday, December 8th – Capitol Theatre – Port Chester, NY
Saturday, December 9th – Capitol Theatre – Port Chester, NY
Saturday, December 30th – Kodak Center – Rochester, NY
Sunday, December 31st – Kodak Center – Rochester, NY