On the heels of a monumental weekend in Albany, NY, moe. has announced that they will be returning to their home state for another 2-night run at Saranac Brewery in Utica, NY on June 9-10, just after they return from the Summer Camp Music Festival. A special artist pre-sale begins at 10amET tomorrow (3/1) using the password HOPPYHOUR, and 2-day passes will be available for purchase here. A limited number of VIP Experience tickets will also be available via the artist pre-sale, to include a pre-show party at 1888 Tavern, early concert entry, a private bar & viewing area, and more. Tickets go on sale to the general public this Friday, March 3rd at 10amET. For ticketing and show info, please visit https://moe.org/tour
moe. celebrated the fifth annual moe.day in Albany this weekend with a stellar 2-night run at the Palace Theatre. Featuring new official member Nate Wilson on keys and an opening set by guitarist Karina Rykman - who joined the band for a performance of "Meat" – set highlights included an extended "Billy Goat," a rare appearance of "Again and Again," and a four-song, hour-long second set on Saturday night. The weekend also saw a special appearance by guitarist Suke Cerulo, who toured with the band during guitarist Chuck Garvey's recovery from a stroke last year.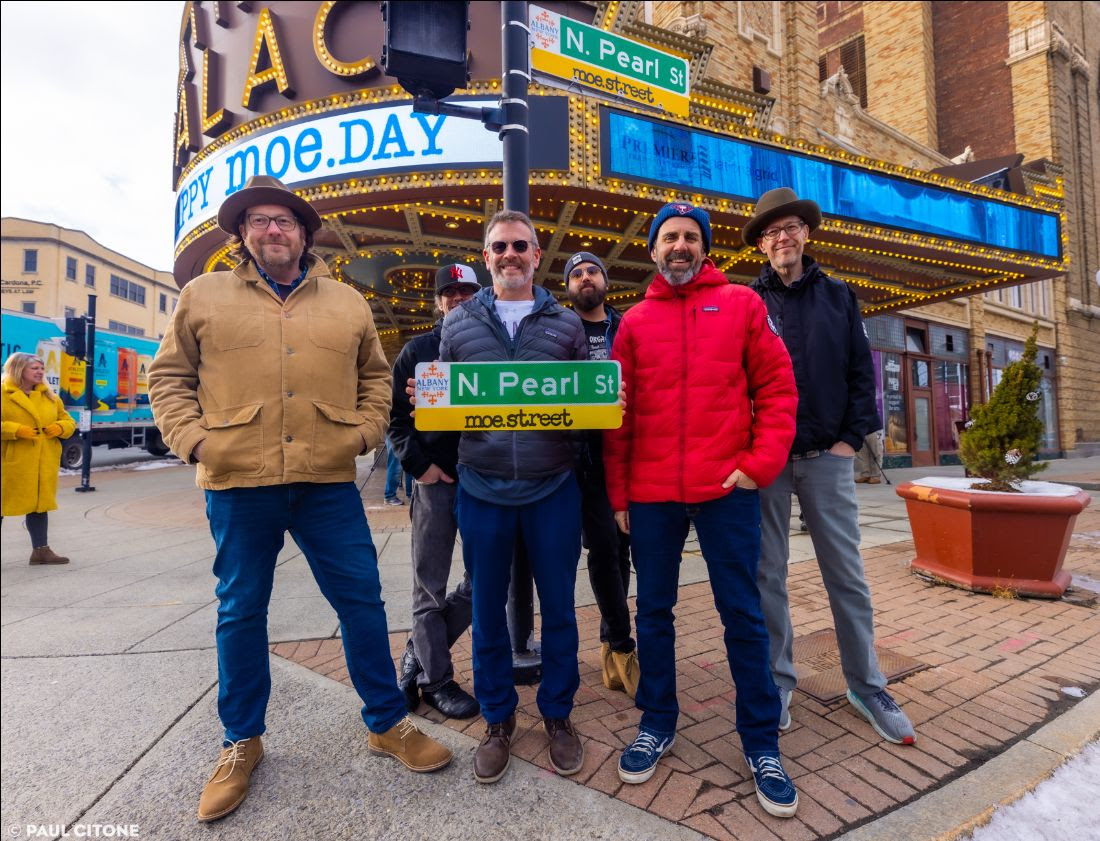 On Friday, to mark the fifth anniversary of moe.day, Albany Mayor Kathy Sheehan declared moe.day "alive and well" and temporarily renamed N. Pearl, the street on which the Palace Theatre stands, to moe.street. The proclamation honored the deep ties between moe. and the City of Albany, which began with the band's early days living together on Central Avenue in the '90s. moe.day was established in February 2018, to celebrate the band's first appearance in the city following bassist Rob Derhak's treatment for oropharyngeal cancer.
"We are overwhelmed with the love the City Of Albany has given our band over the years," commented guitarist Al Schnier. "From declaring Feb 24th as 'moe.day' to this, the dedication of 'moe.street in front of The Palace Theatre, we are humbled and deeply honored."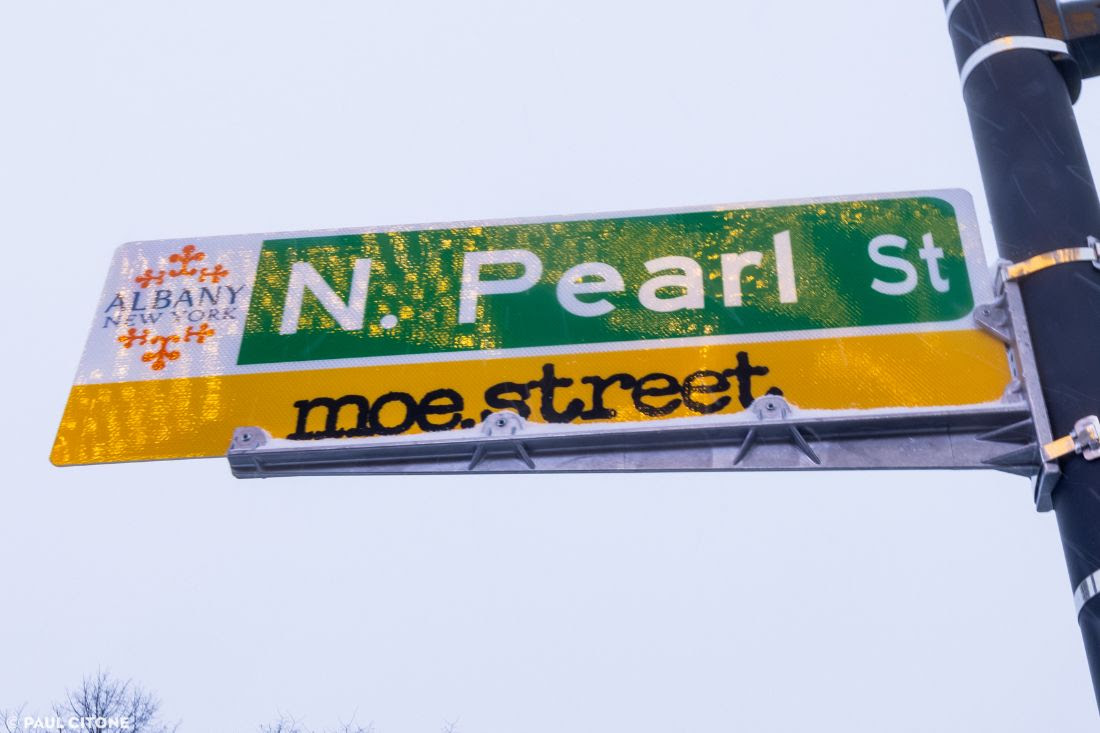 The next leg of the band's tour will center around the southeast, with a number of dates in Florida, followed by a 2-night run at Variety Playhouse in Atlanta on March 23-24. For more information and to purchase tickets visit https://moe.org/tour.
moe. is a one-of-a-kind band that has never been easily categorized. Their sonic adventurousness and tongue-in-cheek humor are distinctly and undeniably their own. Praised by American Songwriter for their "mind-bending musicality," moe. is treasured for their mesmerizing musical synergy, unfettered showmanship, and smart, resonant songcraft.
moe.'s longevity is no doubt due to the family spirit shared between its members and its engaged fanbase, the Famoe.ly, a bond that has been fortified through decades on the road. moe. has performed innumerable headline tours, international festival sets, music-themed cruises, and sold-out shows alongside countless household-name artists. They've also promoted and headlined multiple festivals of their own, including snoe.down and moe.down. The band's vibrant blend of inventive musicality and genre-blurring is on full display on two recent releases, their 12th studio album, 'This Is Not, We Are,' and the 'Not Normal' EP.
 
moe. is Al Schnier (guitar, vocals) * Chuck Garvey (guitar, vocals) * Rob Derhak (bass, vocals) * Jim Loughlin (percussion, vibes) * Vinnie Amico (drums) * Nate Wilson (keys)
Setlist - Palace Theatre, Albany – Friday February 24
Set 1: Billy Goat -> Bearsong, Crushing, Blue Jeans Pizza, ATL, Don't Wanna Be -> McBain*
Set 2: Again and Again^, Faker -> The Road, Water#, Downward Facing Dog -> The Pit
Encore: Letter Home, Captain America
* with Suke Cerulo of Schleigho on guitar
^ LTP 12/30/2018
# Not played since before Chuck's break
 
Setlist – Palace Theatre, Albany – Saturday, February 25
Set 1: Lazarus, Seat Of My Pants > Sensory Deprivation Bank, Jazz Cigarette, Happy Hour Hero*, Meat^
Set 2: Waiting for the Punchline, Kyle's Song -> Puebla -> Rebubula
Encore: Plane Crash
 
* with Shannon Lynch of Conehead Buddha on saxophone
^ with Karina Rykman joining on bass. Karina and Rob traded licks during the jam.
 
moe. US Tour Dates
Thursday, March 9th – Brooklyn Bowl – Nashville, TN
Friday, March 10th – Mars Music Hall – Huntsville, AL
Saturday, March 11th – Minglewood Hall – Memphis, TN
Sunday, March 12th – Vinyl Music Hall – Pensacola, FL
Wednesday, March 15th – Music Hall – Charleston, SC
Thursday, March 16th – The Plaza Live – Orlando, FL
Friday, March 17th – Culture Room – Ft. Lauderdale, FL
Saturday, March 18th – Jannus Live – St. Petersburg, FL
Sunday, March 19th – PV Concert Hall – Ponte Vedra Beach, FL
Tuesday, March 21st – Lincoln Theatre – Raleigh, NC
Wednesday, March 22nd – Jefferson Theatre – Charlottesville, VA
Thursday, March 23rd – The Orange Peel – Asheville, NC
Friday, March 24th – Variety Playhouse – Atlanta, GA
Saturday, March 25th – Variety Playhouse – Atlanta, GA
Friday, April 14th – Higher Ground – Burlington, VT
Saturday, April 15th - Higher Ground – Burlington, VT
Wednesday, April 26th – Cain's Ballroom – Tulsa, OK
Thursday, April 27th – The Echo Lounge – Dallas, TX
Friday, April 28th – Paramount Theatre – Austin, TX
Saturday, April 29th – Tipitina's – New Orleans, LA
Sunday, April 30th – Tipitina's – New Orleans, LA
Tuesday, May 2nd – JJ's Live – Fayetteville, AR
Wednesday, May 3rd – The Truman – Kansas City, MO
Thursday, May 18th – Brooklyn Bowl – Brooklyn, NY
Friday, May 19th – Brooklyn Bowl – Brooklyn, NY
Saturday, May 20th – Brooklyn Bowl – Brooklyn, NY
Thursday, May 25th-Sunday, May 28th – Summer Camp Music Festival – Chillicothe, IL
Friday, June 9th – Saranac Brewery – Utica, NY
Saturday, June 10th – Saranac Brewery – Utica, NY
Friday, June 16th – Red Rock Amphitheatre – Morrison, CO^
Saturday, June 17th – Red Rock Amphitheatre – Morrison, CO^
Thursday, July 13th - Saturday, July 15th – 4848 Festival – Snowshoe, WV