Well, it wouldn't be NedFest without a little rain and a lotta Vince Herman. As the first hopeful few sauntered on to the grounds last Friday, we dared the sky to open up wider and keep pouring down on us. It hadn't stopped us Nedestrians before (we're no fair-weather fans) and it certainly was not going to now that Whitewater Ramble, leaving tradition behind, plugged in and opened up the weekend with some lively tunes. The self-proclaimed 'Dancegrass' band was a befitting choice to launch the weekend off right; with over 800 performances these Rocky Mountain boys have proven their dedication and made a name for themselves as workhorses in our ever-flowering field of newgrass music. From an eccentric rendition of 'Althea' to call upon the double rainbow that had reached, brimming across the Reservoir, to an alarmingly electronic number featuring a Kaoss Pad, they certainly got creative. When the Caribou Mountain Collective meandered on to the stage, I felt a swell of gratitude for the four of them so gracefully fulfilling Nederland's legacy of opulent and abundant acoustics.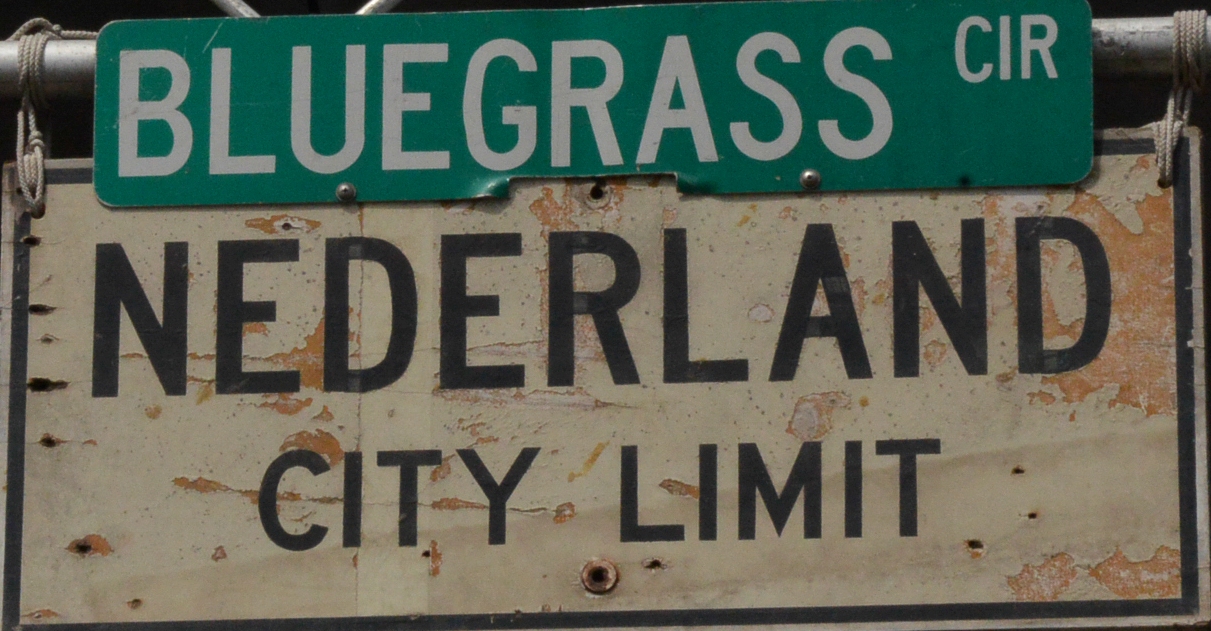 NedFest is first and foremost a bluegrass festival, and this quartet showed some serious ol' time mountain soul. When the sky dappled purple with dusk and the crowd started to fill out, I got to dance front and center in front of the band that first showed me what it meant to live and dance and be in Nederland. Mountain Standard Time (MST), sounding vibrant as ever. They welcomed their old friend Curly Collins (bass, Caribou Mountain Collective, formerly in MST) on to the stage and suddenly I was flooded with memories of watching them play in any crowded bar I could squeeze myself into- where I learned what it meant to truly enjoy a whisky neat and how to let bluegrass lure you into blurred nights and how it feels to love Colorado something fierce.  To me, there was nobody more deserving to close the first night of NedFest, 2013.
Day 2 and everyone was feelin' fine. A touch of The Congress in the late afternoon made me wants to drink a Budweiser in some cut off jean shorts, they were pleasantly Americana and rock and all things family fun. Ladies hauling hula-hoops on their sunkissed shoulders and boys in tee-shirts with varied Dead lyrics scattered across the backs, a whimsical elderly couple swinging across the wet grass to The Congress' rendition of "Shining Star"…. Artists, staff, and vendors and the shining hometown folk all sharing heartfelt smiles, eyes crinkling up with the known fact that this was a weekend dreamed up by us, sculpted by us, made for us. Enjoyed thoroughly by all. When the Euforquestra gang (that's really the perfect word to describe them) gathered on stage, so fun and full, it quickly became one of my favorite sets of the entire weekend. Adam Grosso (bass) chiseled a consistently sexy bass line and Scott Mast's (percussion) luminous energy was, as always, so engaging it got everybody off their camping chairs, tossing their Boulder Beers aside and romping around the lawn. I stood in the middle of it all, mouth agape, and watched as Scramble Campbell, his broad hands in a swift dash, brought three saxophonists alive on his canvas. That's right- there were three of them up on stage blowing away, stacked one on top of another so that the stage actually looked as colorful and crowded with talent as the painting. However unusual, it seemed that the beautiful chaos Scramble ignited in his work was equally matched by the magical mayhem, the funky pandemonium that Euforquestra had goin' on. Everything about that set was ART!
Before the funky METERS came on that night they gave me a little backstage lesson on barbeque sauce- namely, that I was spicy enough without it! But even more entertaining than southern sauce talk was watching these legends unfold on stage. Art Neville (keys) who helped form the band in 1967 stepped on stage looking fragile, with some help he cautiously made his way to the keys. But when he sat down and they began to play I swear I saw forty+ years melt right off of his bones- decades slid out from under him and all of a sudden he was twenty again, banging away with ferver. These guys are the OGs of New Orleans Jazz and the funk was mean as hell! (Plus extra points for the Iko Iko cover, a Mardi Gras legend).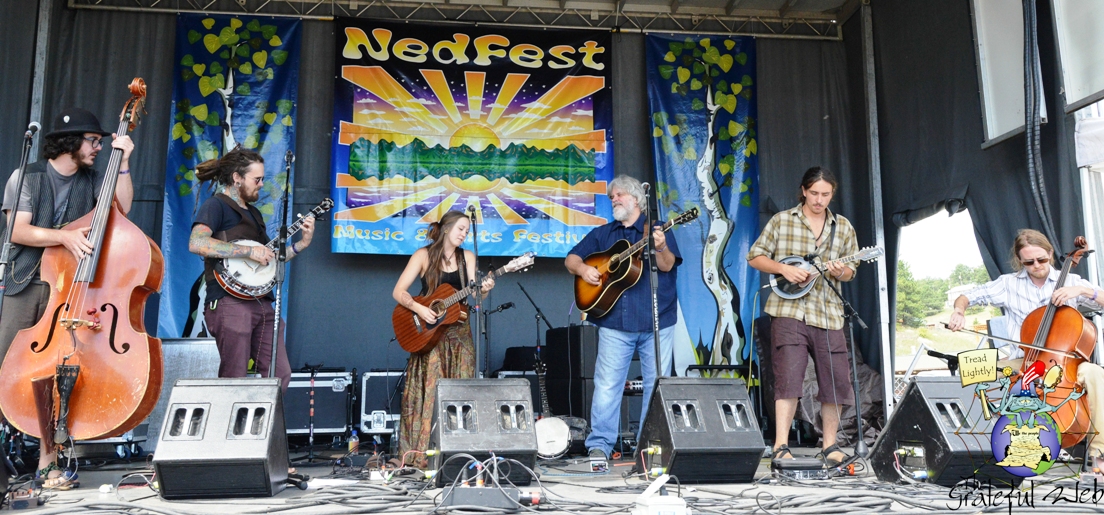 Gipsy Moon with a side of Vince Herman (guitar) was better than breakfast in bed that Sunday morning. When Vince comes back to town little ol' Ned feels a bit like Hollywod. Everyone is buzzin. He adds a necessary touch of lightheartedness to an otherwise romantically somber and smoky ensemble. Vince and son Silas (mandolin) along with newcomer Andrew Conley (cello), who adds a devastatingly beautiful fullness, did a beautiful job of fostering community…which is really what NedFest is all about.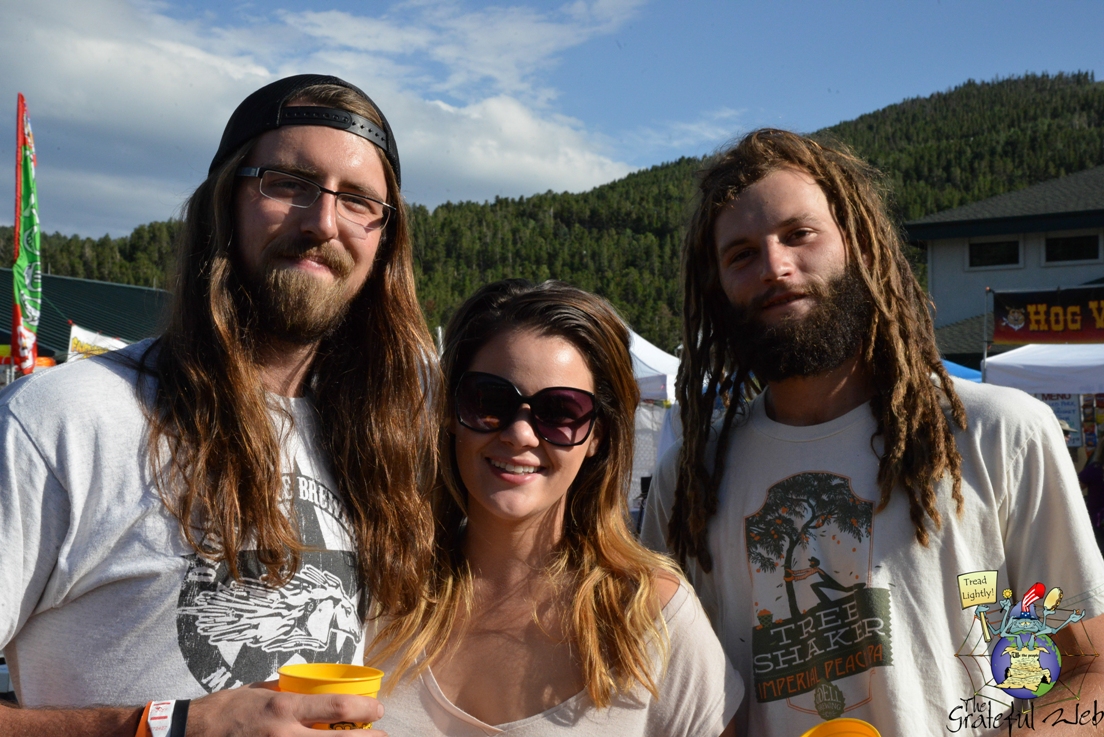 Being a part of this festival also means paying homage to 'Michigan Mike' (late founder of NedFest) and Vince, a long-time friend of Mikes, took time out of the set to commemorate his spirit. His presence was felt everywhere: when we huddled together against the slanted rain, when we passed pipes to strangers, when Vince yelled "FESTIVAAAAL". We'll be forever thankful for his legacy.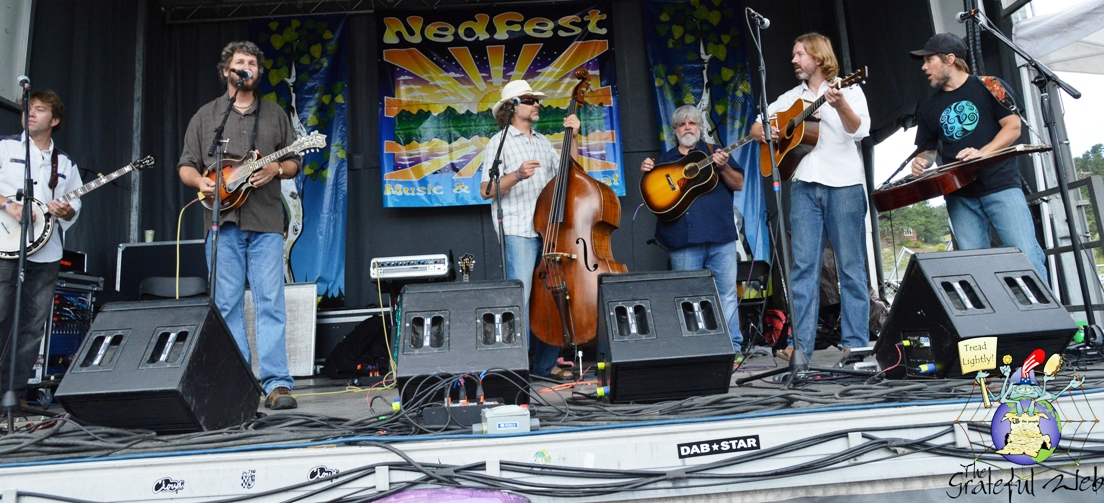 Drew Emmitt Band was later that day- always a good time, and not just because of Drew's good looks. He and the rest of the crew that graced us with their presence last Sunday are all just the exact type of classic Colorado jam celebrity I like to see up in the hills. Andy Hall (Infamous Stringdusters) is angelic, Tyler Grant (Grant Farm) is just heat, and with Keith Moseley (String Cheese Incident) sitting in for "Deep Elem Blues" it was like a super-charged reunion.
Speaking of super-charged, Jeff Austin was vivacious as ever, calling upon Allie Kral (Cornmeal) to star-stud the stage. But the good doctor made his way to the stage as the night closed in around us and showed us what some good ol' time picking and an immaculate fresh pressed sparkle suit can do for bluegrass music. Dr. Ralph Stanley and the Clinch Mountain Boys are the real deal- from the Jesus ties to Ralph's legendary croon (featured on Oh Brother Where Art Thou soundtrack). Ralph's grandson on guitar sang an ode to Ralph as the idol from 1920's Virginia sat back, frail and legendary, crinkled and pressed in the stoicism saved for only the most genuine brand of music celebrity, sipping his sweet tea. Then he cleared his throat and graced us with a chilling 'O Death'. The Clinch Mountain Boys followed, ending the enchanting weekend with a little gospel. Now us Neder-heads may not be the most god-fearing of folk, but we sure do recognize spirit when we come across it in our own backyard….