Just announced additions to the already stellar Noise Pop 2010 lineup include Har Mar Superstar making a special appearance at the Diesel/ Live 105 Happy Hour at Benders on February 23rd, Thao Nguyen will join Mirah on stage at the Swedish American Hall for a first ever collaborative performance, Citay joins Scout Niblett at Cafe du Nord and a second screening of Blood into Wine has been added by popular demand.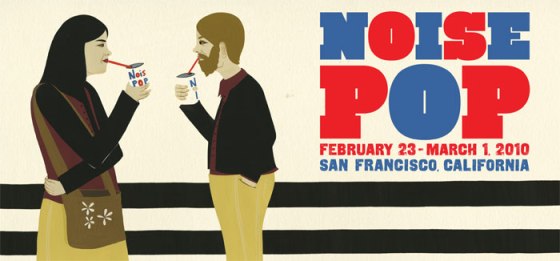 These events join Noise Pop's already impressive list of music that includes Edward Sharpe & The Magnetic Zeros, Magnetic Fields, !!!, ROGUE WAVE, Harlem, John Vanderslice, Foreign Born, Four Tet, ATLAS SOUND, We Were Promised Jetpacks and many more.
The film events include "Blood Into Wine" featuring Tool frontman, Maynard James Keenan as he makes his way as a pioneer winemaker. "Downtown Calling", featuring Fab 5 Freddy, Mos Def, TV On The Radio, Debbie Harry and many more. Christopher Pomerenke's "The Heart Is A Drum Machine" featuring MTV's Kurt Loder, KCRW's Nic Harcourt, Elijah Wood and Jason Schwartzman.
Along with it's music, film, Industry Noise and Pop N' Shop, Noise Pop Festival is hosting a laundry list of other exciting (and many free!) events throughout San Francisco. There is a pre-party, happy hours, and art shows. Noise Pop truly does take over San Francisco the last week of February.
The Art of Noise 2010 celebrates artists who are inspired to create work that traverses the two timeless muses of Art and Music: Lionel Deluy captures contemporary music creators in-camera and morphs them to new artistic highs, Jillian Kogan incorporates elements associated with music (CDs, drugs, lyrics) into institutional declarations of patriotism, Russell Young's lauded Pig Portraits transform iconic mugshots of musicians into silk-screened symbols of status, award-winning photographer Scott McDermott shares a selection from his Mandela Day series, each image gently pursuing meaning from the eyes and hands of renowned musicians, while Ted Riederer transforms musical performances into permanent pieces of art.
Noise Pop Festival Badges are onsale NOW for $150.  Tickets to individual shows  are also onsale NOW.