Are you a fan of Delta Blues, Rock, or Jam?  Do you have an affinity for Hendrix, Led Zeppelin, and a good live show?  If by now you haven't heard of the North Mississippi All-Stars, please emerge from your cave this instant.
Perhaps one of the hottest bands (in this writer's opinion) to emerge from the South, more specifically Mississippi, they have been exploding in recent years due to the sheer power and talent behind their music.  Brothers Cody and Luther Dickenson along with Chris Chew have all learned from the greats and their music is no exception.
I was able to catch them last month in Falls Church, VA.  No stranger to loud rock, they blew the doors of the State Theater.  Playing cuts from their latest album "Hernando" as well as some of their older material, the All-Stars kept the crowd on their feet.
Although Hill Country Revue (Cody and Chris's side project) opened, it really felt like one flowing show.  The  All-Star's show proper started with "Write Me A Few Lines" and went right into "Drop Down Mama."   From there it was a power set of at least 25 songs stretching far into the night.  Highlights for me included "Shake 'em On Down,"  "Poor Black Maddie," and "Joyful Sounds" the instrumental from the supergroup The Word (NMAS, Robert Randolph and John Medeski).
About halfway through the show, the remaining members of Hill Country Revue rejoined the All-Stars and continued to jam.  Fact: Luther isn't the only Dickenson brother who knows how to rip great guitar solos.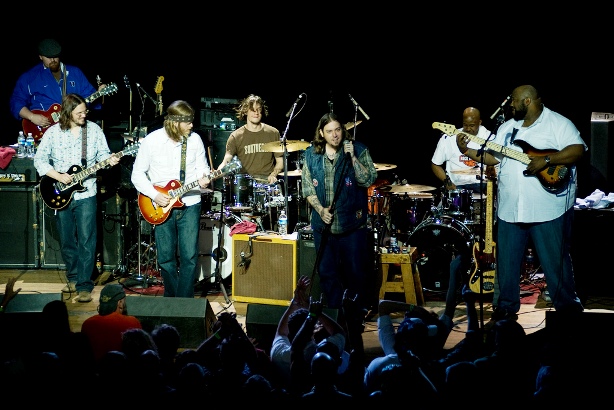 There's not much I can write that can do justice to a live NMAS show, I suggest you check into the Internet Archive and find one to listen to.  Then find out when they're coming to a music hall near you and go see them.  This show is perfect for anyone who wants to see some good blues, or good rock, or both.  Be prepared for a late night whenever NMAS comes to town.