Tinnitus: the perception of sound in the ears or head where no external source is present. Someone with tinnitus often describes it as "ringing in the ears," but people report hearing all kinds of sounds: crickets, whooshing, pulsing, ocean waves, buzzing, even music.
If you're wondering why I started my review this way, it's because I had to look this up two days after the show because my ears literally did not stop ringing yet. I've been to plenty of loud shows where my ears rang afterwards and sometimes the next morning, but I never heard ringing for two days! This can all be attributed to an awesome live experience. I could have gone to the bar for ear plugs, but the music was too good, and I didn't even want to leave for one second.
This show was great! To see a band that's the caliber of Rose Hill Drive in my favorite bar in Philly, which just happens to be a block away from my house was an incredible experience. The Khyber is a dark bar with cheap beers that seems like somebody's basement. It's a great place to see a show because it's never really that crowded either. I made sure to get to the show early to see if the boys could sign some pictures that I took of them at Wakarusa (see photo gallery), and I'm glad I did because I was fortunate enough to converse with power trio from my old home place…Boulder, CO. After recommending a quaint Italian restaurant to them, the first band of the night took the stage.
Morning Electra's bio claims that they "sound like Skin Yard playing Black Sabbath, Iron Maiden, with a twist of Blue Oyster Cult." This is an accurate description of the band. It was a lot of fun to attend a real hard rock show. It's been a while since I saw small bands like these two openers of this genre of music. Upon ending their short but sweet set the guitar player jumped into the drum kit taking the drummer out with him. Then he got up and said good night. It was an amusing and memorable conclusion to a decent set of music.
Birds of Maya came on next commencing with a large dose of feedback melting into their opening song. By far the best aspect of this band to me was the vocalist and bass player, Jason Killinger's voice. He sounded like Jack White singing with Black Sabbath, a great combination of sound if you ask me.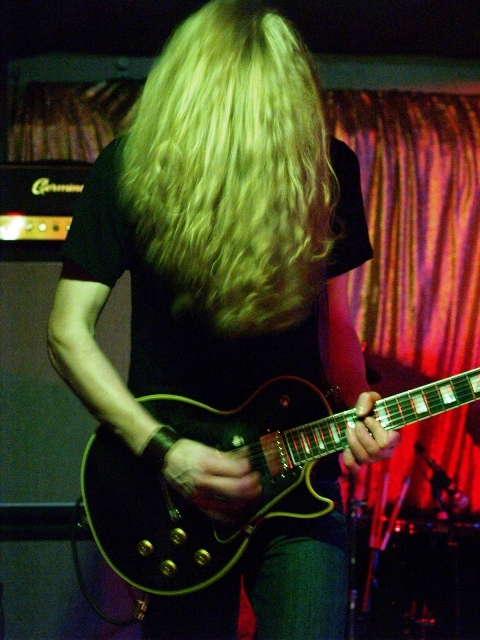 Then came the main event. In its infant stage this band that has already played at major festivals like Bonnaroo and Warp Tour, opened for Van Halen, and even rocked Leeds with The Who. Pete Townshend's new favorite band took the small stage. As soon as Rose Hill Drive walked on, it looked like the paparazzi rushed to the stage. There was an influx of balding men snapping pictures, with their flash on, which is concert photo taboo number one. Although the crowd was held to about 40 people, vocalist-bassist Jake Sproul was pleased to see more people show up then the last time they were in Philly. Without fail they came out running. After the intro, "Rollercoaster" was so powerful that I could feel the speaker blowing on my face. "The room was filled with electricity," Jake screamed as the epic heavy "Guru" was playing through the crowd. Throughout "Yonder's Wall," and "Reptilian Blues," one could not help but make faces and rock at the almighty guitar solos of brother Daniel Sproul's screaming weapon.
It is absolutely impossible for this band not to succeed. They have come in and saved rock n' roll just in time. In an age where fancy indie bands are starting to take over the music scene, I can't tell you how refreshing it was to see the hard rock of old. Even the old school beats and constant cymbals of Nate "The Foot" Barnes help round out this band's sound of invincibility. Next came the new song "Sneak Out," where at the conclusion we got a little clue about another future album when Jake Sproul said, "I don't know when we're recording, but when it's time we'll record those mother fuckers." The soon to be classics "Cool Cody" and "Raise Your Hands," blasted the small bar next, while fans were staring wide mouthed and amazed. After a few more mind benders, came the larger than life encore, "Off to the Games." The guitar solos are religious in this song. If you've never heard this song, then go to myspace music right now and give it a quick listen free. It will blow you away!
Finally, I know I'm not the first to say this, but I'm not afraid to say that with longevity, and they are young, this band will be the next Led Zeppelin. This was sixth time I've seen them, and even though I've seen many of the songs repeated, they are progressing into a powerhouse. The ringing in my ears eventually faded away, so if you haven't seen them yet, here is a list of their future tour dates. Don't miss them!