This past week, central Colorado continued its reign as the live musical mecca that locals and pilgrims have come to know as a true constant. With so many multi-night performances within a 150-mile drive of the Mile High City, it was difficult to decide what to do. From the smaller stages occupied by the likes of Grace Potter and Circles Around The Sun to the mid-level locales with Orebolo and Yonder Mountain String Band to the revered site of Red Rocks with King Gizzard and The Lizard Wizard, miraculously and strangely, the Rocky Mountains were the place to be more than usual and that's saying a lot. With the veritable choices reaching dizzying proportions, it only seemed appropriate that the celestial powers that be would throw in one more unmissable musical opportunity into the great cosmic joke just to mess with us all. This final addition came in the form of the newest incarnation from Trey Anastasio. Billed as the Trey Anastasio Trio, the guitar wizard dialed in six sets of debuts, bust outs, and originals alongside drum deity Jon Fishman and the latest addition to the Trey Anastasio Band (TAB), bass extraordinaire Dezron Douglas. Producing three nights at the acclaimed Mission Ballroom, those who showed up left each performance smiling, scratching their heads, and filled with a whole lot of new music to talk about.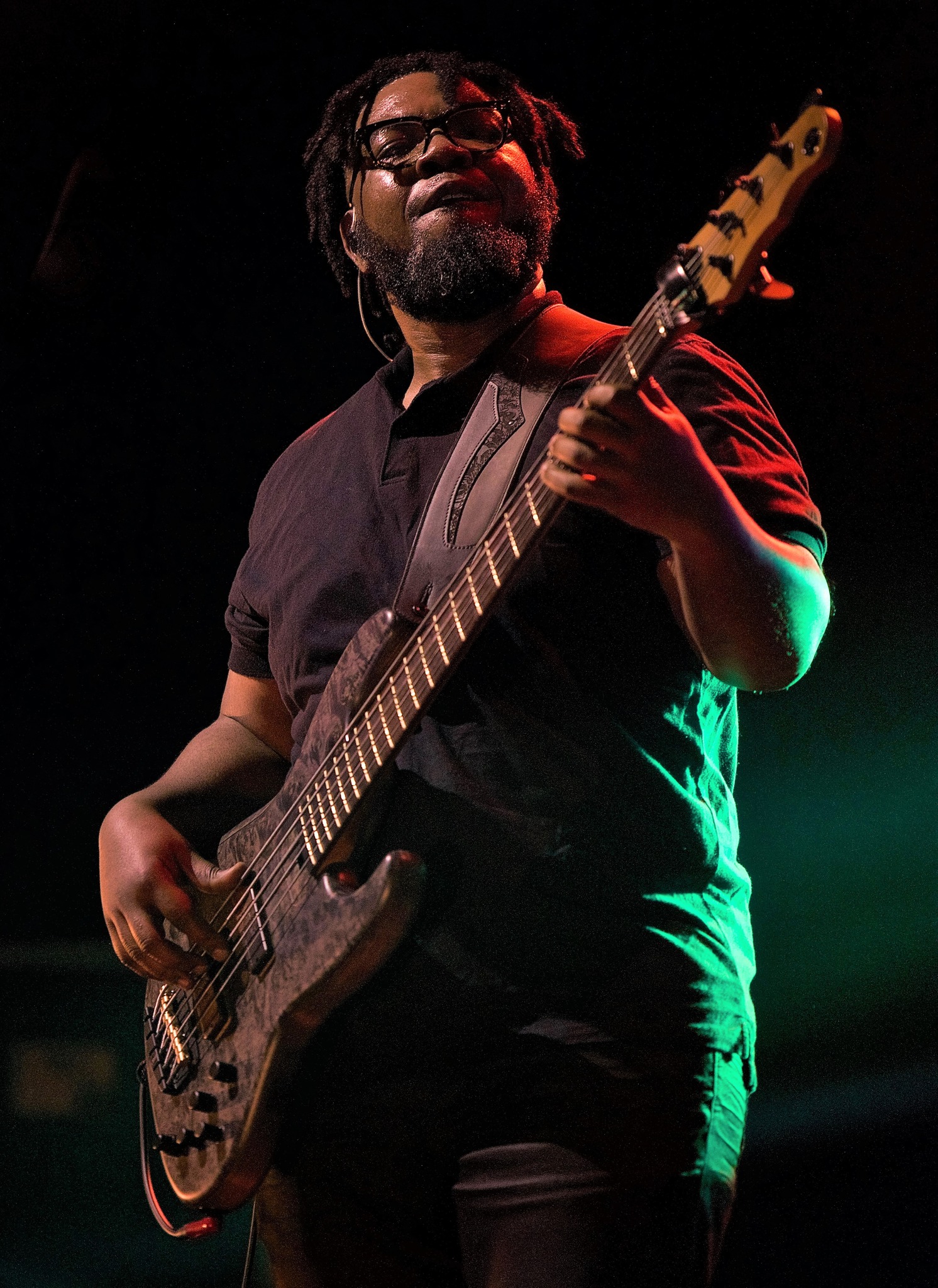 With an advertised door time of seven and kick-off at eight, getting on-site at four in the afternoon on day one of the three-night run, the line was thankfully only about fifty deep, and as to be expected, it was filled with all the usual suspects full of smiles and color, sharing in conversation of speculation, expectation, and anticipation of what the hose master of endless creativity would bestow on those showing up to take part in history once again. Over the next three hours, the line eventually grew from its humble beginnings to the point where no one could see the end, but everyone could feel the electricity of excitement grow even before the first note was played.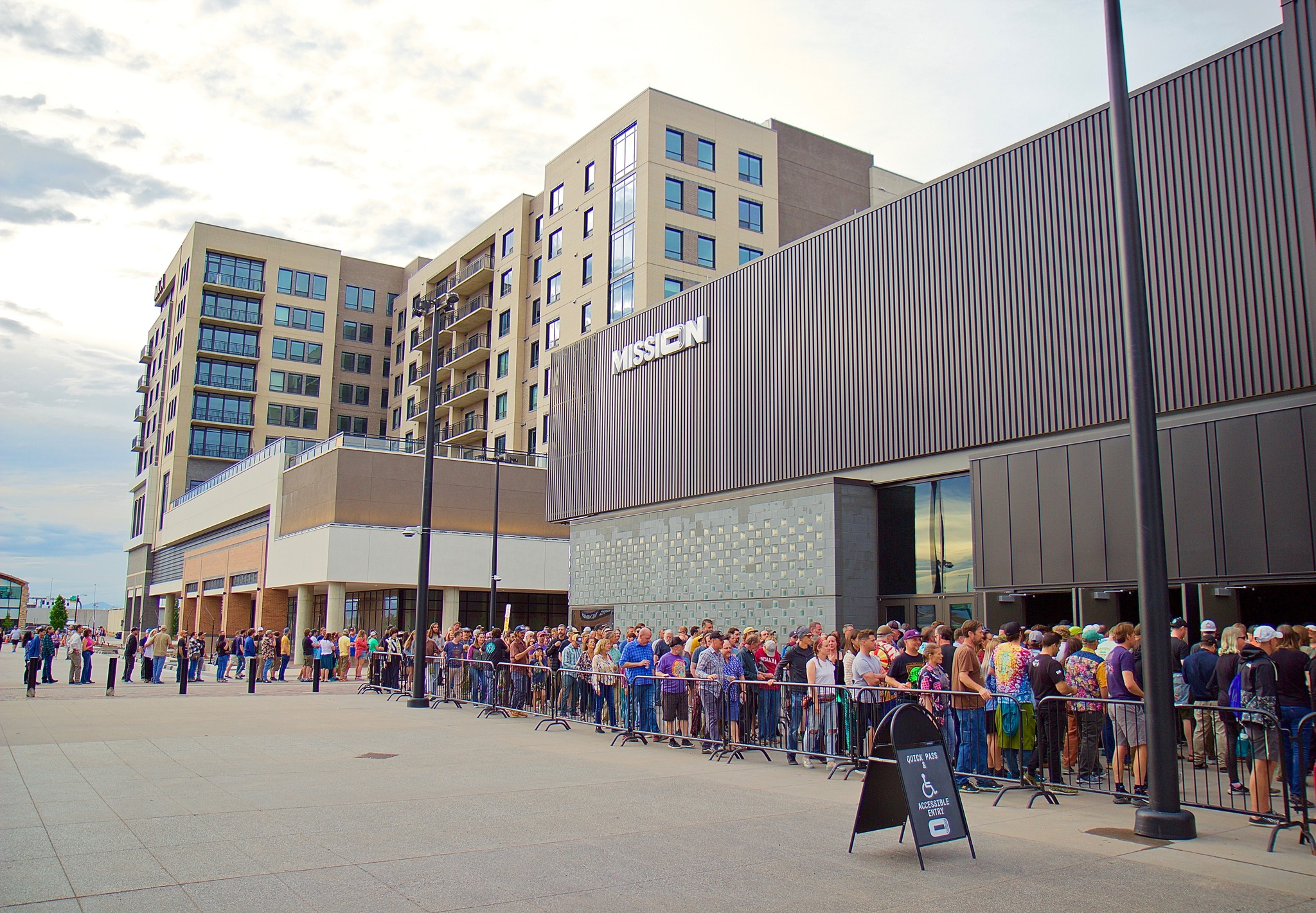 When game time finally arrived a little before 8:30, The Mission was filled, but pleasantly not oversold, allowing enough distance for everyone to have adequate space to move between sections, dance, and accommodate those showing up at the last minute to take part in the festivities. The stage was draped in purple light and when the trio walked on, they were welcomed with a healthy and loud reception from the crowd, the audience informing these gentlemen that they were up for anything they had in store.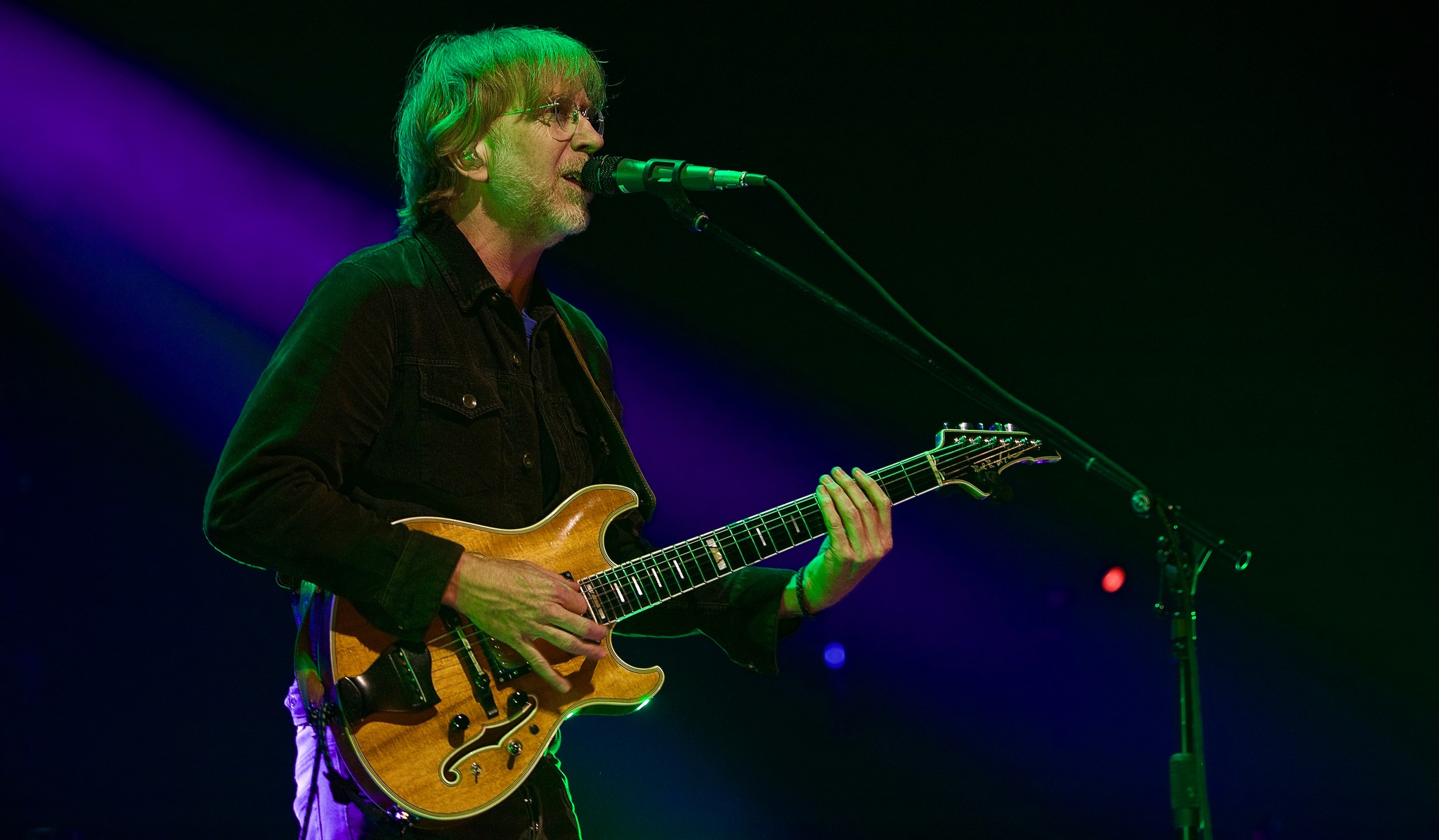 Smiling and surveying the hall, Anastasio took a moment to take it all in, nodding at those faces familiar to him, and when he felt it all ready to go, he turned to the rhythm and initiated the countdown. Opening set one with the bust out "Air Said To Me", this original from the 2005 Shine album was a regular in the TAB rotation of the same year but had lay dormant since New Year's Eve 2006. Although on the shelf for seventeen years, one would not have been able to tell, as the group came out with a strong start on this straight-ahead rocker. Douglas' tone was thick, solid, and forward-moving the whole time, and as expected, Fishman carried the rhythm like a German timepiece. The two also delivered on the backup harmonies and with a great multi-minute jam in the middle, everyone in the room felt we were all off to a good and proper start.
Grinning and chuckling, Trey let out, "Thanks everybody. Thank you for being here!", before getting back to it. Originally debuted at The Beacon Jams and off Trey's pandemic album Lonely Trip, "...And Flew Away" blew up next, and with its introductory hook of positivity and lively pop feel, this one got many boarding the dance train. Again, the harmonies here sounded great and well-rehearsed. The second part of this one took the audience on a wild ride, increasing the speed and tilting off the rails at multiple turns and bends, as Anastasio got dark and sinister, hitting full rock star mode. Clocking in at nearly thirteen minutes, the fanfare displayed at the end of this selection prompted the frontman to address the audience again, "Thank you so much for being with us tonight. This is really special. Dezron Douglas, Jon Fishman."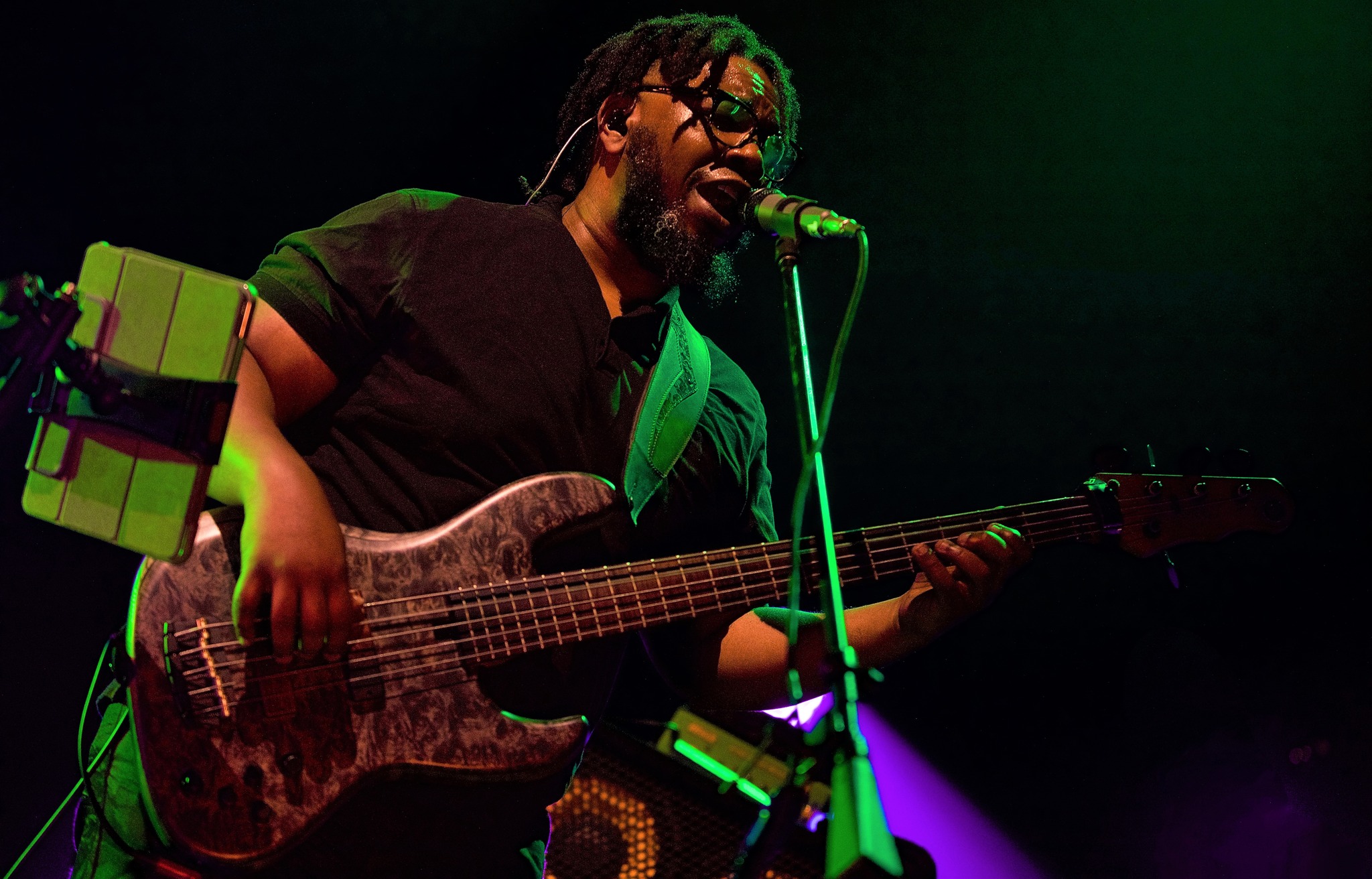 For the first debut of the night, the reggae-infused, "Where They'll Find Us", lightened the spirit, bobbing along with airy lyrics full of vivid snapshots and a warm musical embrace. With tom fills, snare pops, and wood block rolls, Fishman slid around the kit as Douglas wrapped the whole piece in oozy goodness.
Turning back to the dependable canon, old faithful "Steam" blew its top to the pleasure of the onlookers. Although devoid of the smoky stage effect often employed when Phish performs this piece, this one got everyone going where they wanted to be. Fishman employed a few samples early on and once the lyrics were out of the way, things got gritty. Laden in feedback and reverb, Anastasio laid on the effect as Douglas rolled out unending line after unending line on the low end, Fishman stoking the furnace all the way through. Although the midsection cut short a bit preemptively, what was produced was tight and strong.
The band transitioned without a pause from staple into the new with the first public performance of "The Greater Good". Another pandemic-penned piece, this one was also performed during The Beacon Jams and released on the Lonely Trip album. Coming in at just under ten minutes, the trio took its time with this one. Four minutes through the lyrical portion, the rest was a slow burn to a fiery end and had some great interplay between Douglas and Anastasio. What was great to see and hear was that something new got more set time than a standard, insinuating and reinforcing Anastasio's typical posit for those dynamics that push him towards growth and creativity, a fact demonstrated once again in his newest ensemble.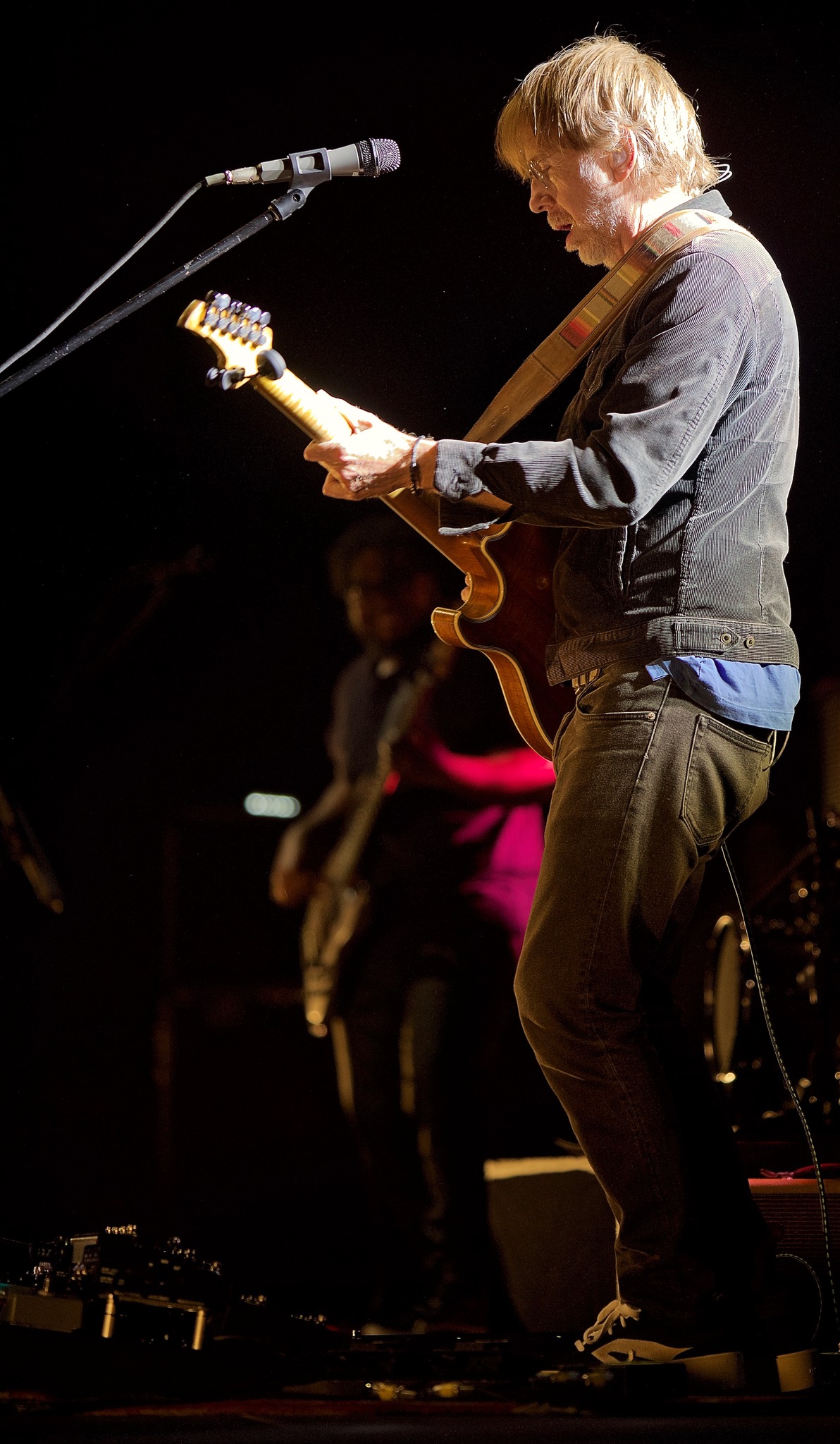 Heading into the opposite direction of the inspirational "The Greater Good", the band shifted into the ominous and bleak "I Never Left Home". Heavy with a driving, mesmerizing, repeating bass line, Anastasio got into his Hendrixsonian ways early on, slipping tonally backward as Fishman and Douglas put the room into vertigo. At the end, Trey shared, "That's a blues song from the pandemic. Singing the blues in my man cave. True story." Trey continued, "Ok. Speaking of that, Dezron Douglas (applause). Jon Fishman (rim shot and applause)." Trey giggled, "Like is that funny, like as a rimshot? Jon Fishman (rimshot, more applause). Guy walks into a bar...Jon Fishman (rimshot)." Laughing at the interplay, Trey progressed his intent, "These guys don't know what we're going to play because I don't know what we're going to play, but I do want to play this since we just played a blues song from the pandemic. I want to try this song that I've never tried before. I want to tell you this story, but before I start, this song is called 'Perseid' which is like the meteor shower and this was something that I was tooling around with during the pandemic. I had a lot of time on my hands, as we all did. What happened was, with these songs, like they get written and they get put in the phone and they get written and they get put in the phone and then they get expanded on, then they get forgotten, and then I go back to them. I was putting stuff online during COVID, and this was the last one of that whole era that went up online. I had a lot of friends in the music industry, musical friends, who had not worked, you know, for like years, especially in the New York area, and actually, there were people…even one guy played on it in Europe, but people I knew, and so I kept building on this thing and building on it and by the time it was done, it was seventeen minutes long, it had three different drummers and five keyboard players, and a full orchestra and horns and eight million lyrics. Anyway, recently I was going back through my phone and found this version of this tune before it became what I put online. It was in the middle of the development, it was ten minutes shorter and there were fewer lyrics, but it was originally called 'Perseid', some of you might recognize it, like one of you or something like that (laughter), when you hear it. We're going to try it. Thank you for letting us try it. Make sure I'm in tuuuune for this one."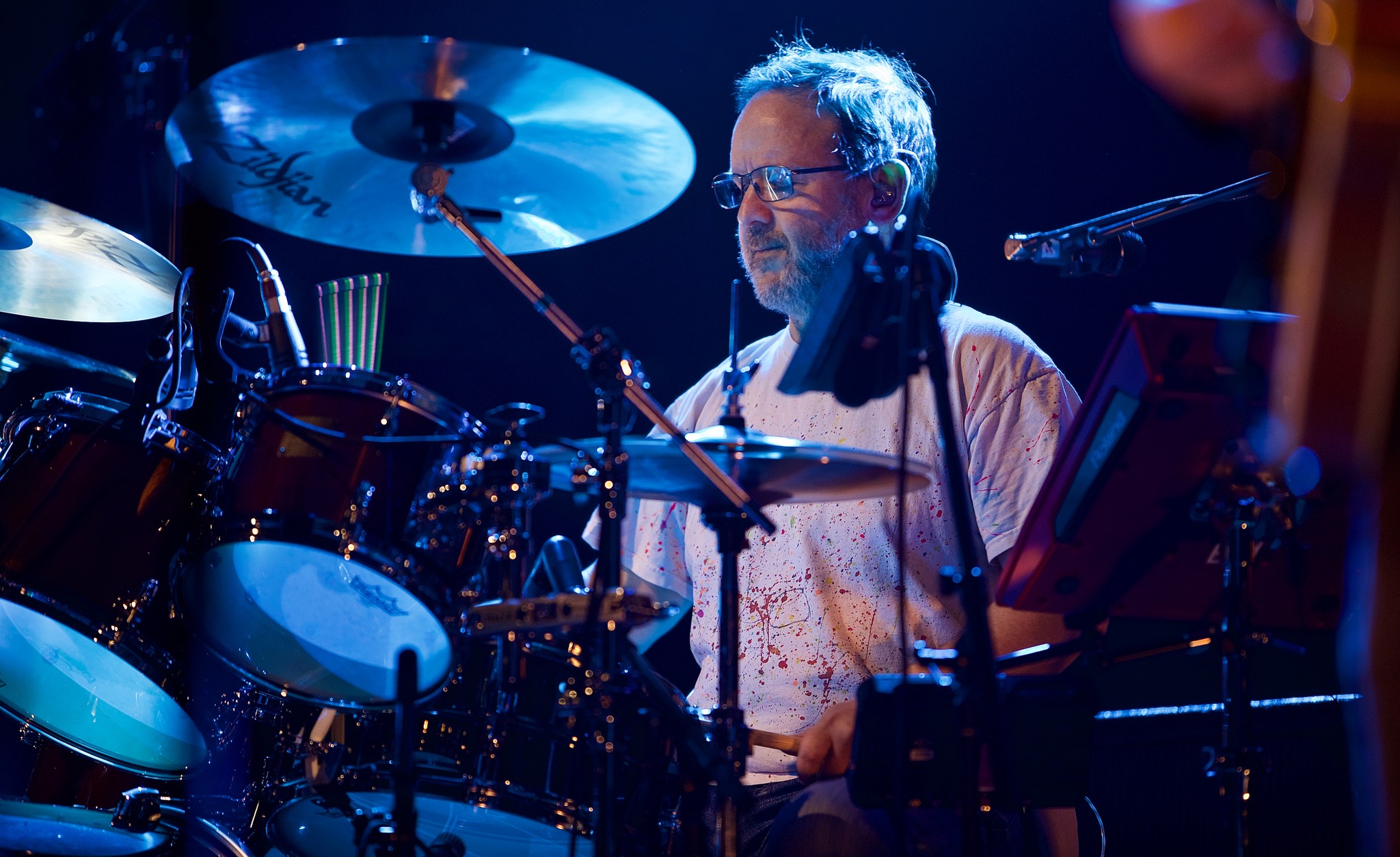 Under a wave of laughter and applause, the aforementioned "Perseid" began. Set within the context of the preceding descriptor, many were imagining the opening instrumental exercise within the parameters of a full orchestra. "Perseid" contained many facets of Anastasio trademark when it comes to composition and timing and for those devoted to his creations, this new piece had many smiling. Around the five-minute mark and a shift in mood of the construct, Anastasio started having technical difficulties, dropping out of the music all together, while Douglas and Fishman moved through several measures alone. After being harkened by Anastasio to come out, a guitar tech ran out and eventually changed out guitars and after a minute or so, the guitarist was back on board. Overcoming the bump in the road, the group hit the first round of lyrics and everything seemed to be moving forward, until Anastasio fell out once again, "Alright, that's it. I can't take any more of that. Ladies and gentlemen, Justin Stabler, my guitar tech will now fix this f*#king shit." Providing a little comic relief while the rhythm section kept the structure going, Anastasio called out, "John Fishman", and with a rim shot, everyone laughed and made light of the situation. After a minute or so, without resolution, the frontman addressed everyone one more time, "Ok, you know what, Let's just stop, let's just end. This is going to be our first f*#king set break here 'cause I just can't deal. Justin is going to fix this. We will be right back. We are so heartbroken to have not gotten through that tune with you, but Justin is going to fix this and we will be back." As Fishman threw in one final rimshot to accentuate the moment, Anastasio frustratingly threw his guitar onto the stand and plodded off stage, visibly irked by the outcome of the meteoric debut that had burned out too quickly as the set closer.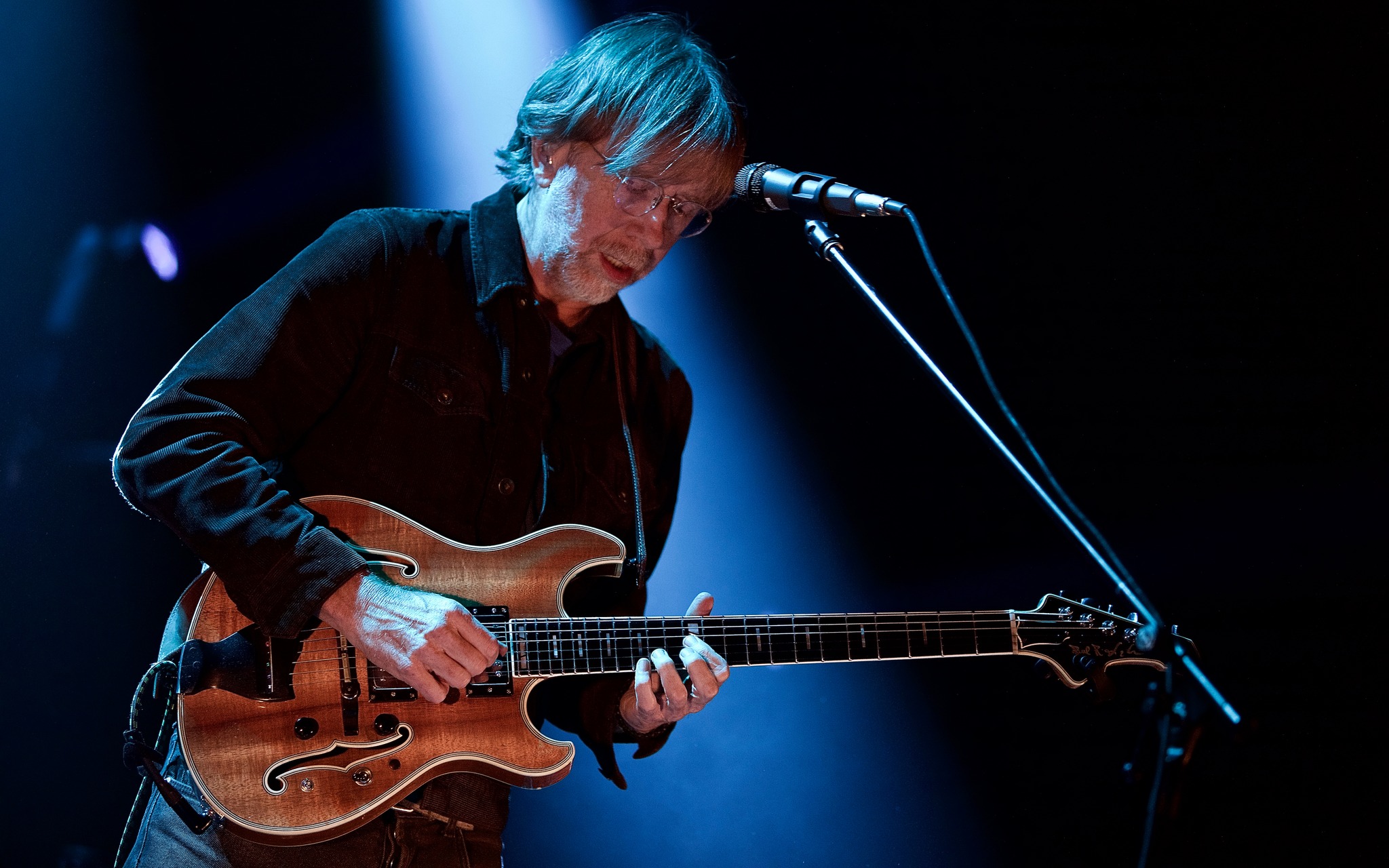 With a short break and an overhaul of Trey's rig, everyone, including the band, was ready to resume their opening night in Denver. As everyone got their business straight, Fishman tapped out a few rounds of the first tune's drum line before hitting the June Ward sample, "Gonna be awfully hard on The Beaver, I'm afraid." This move had some speculating that this was a jab at either Anastasio's perfectionist self or the wrath the guitar tech had incurred during the break. Getting it all going once again, round two opened with the reliable "Sand" and the dance party was back on. With a steadfast Douglas plotting the course and Fishman trudging through the waves, Anastasio was free to accent and elaborate over the carefully concerted theme. Determined to make up for the derailed set one closer, Anastasio made his way through the lyrics succinctly and proceeded to begin the face melting process. Recharged and ready, the audience gave themselves over and the errors of the past faded quickly into the distance.
The Ghosts of The Forest original "Halfway Home" got second place under rousing acceptance and made its debut outside of its original format. This Bowie-esque piece certainly delivered and was solid from start to finish. With a vibrant bass scale at its heart, Douglas kept it interesting playing on, around, and through the theme as Fishman filled every second with odd timings and flashes of smack. Topped off with great distorted interplay by Anastasio, this one was a bit short-lived coming in under six minutes in length, but certainly showed promise as a vehicle for future outings.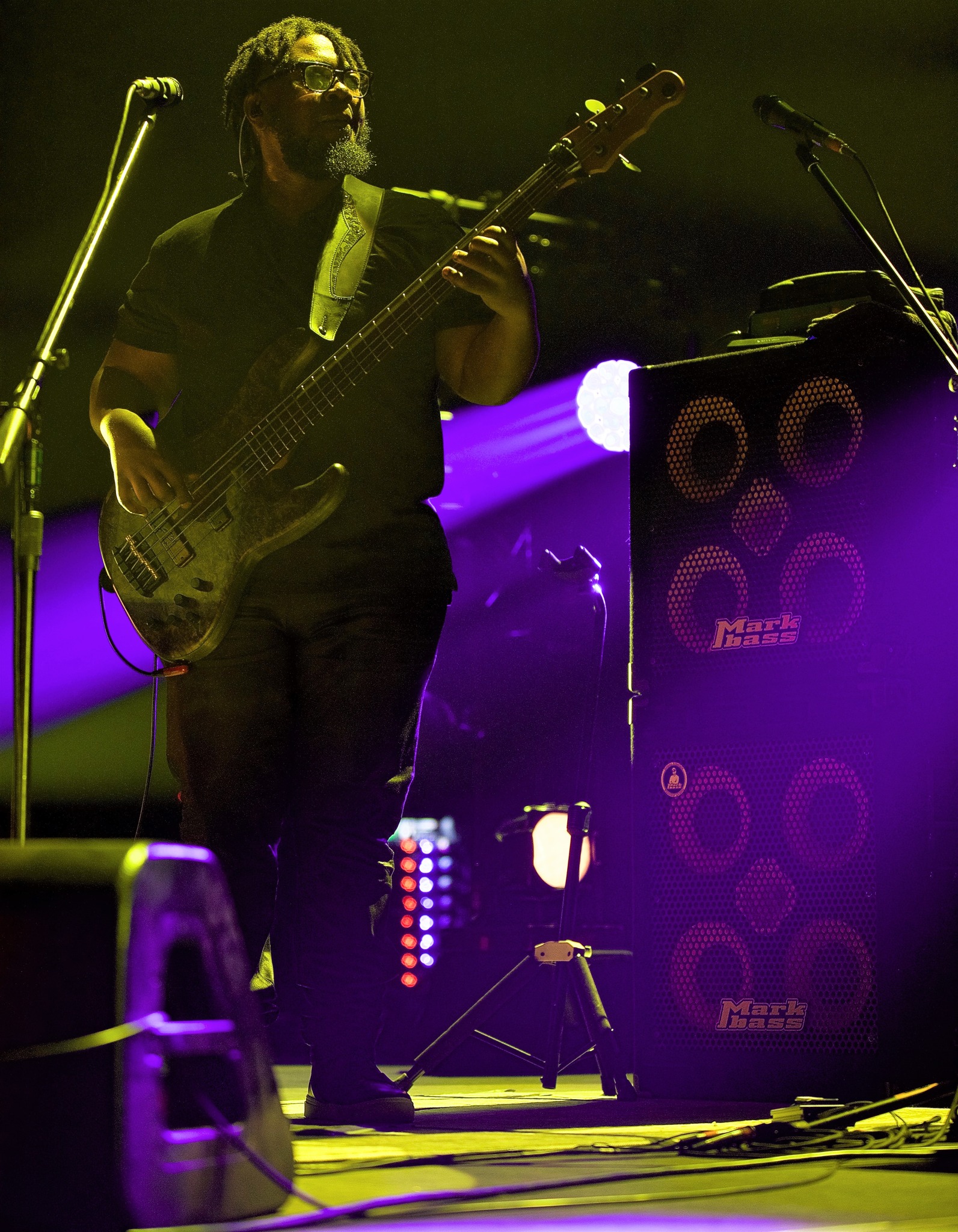 Adding to the list of debuts, the original "Monsters" was up next. With foreboding lyrical content, the narrator tries to reassure himself, this dark one permeated with dread and ended in shred. Dripping with distortion, the power trio pushed this one well over the top and had those in the hall considering themselves lucky to have witnessed its original incarnation.
The Tom Marshall penned "Oblivion" fell out next and with a funky dress, this one wiggled and waved, grooving and moving. The lyric I crash through shale and splash in oil, Oblivion awaits echoed throughout the tune. Four minutes in, the jam ensued, Fishman shuffled while Douglas bubbled, Anastasio pivoting on chords and scales, the end getting all kinds of weird before the lead man brought it back down to earth.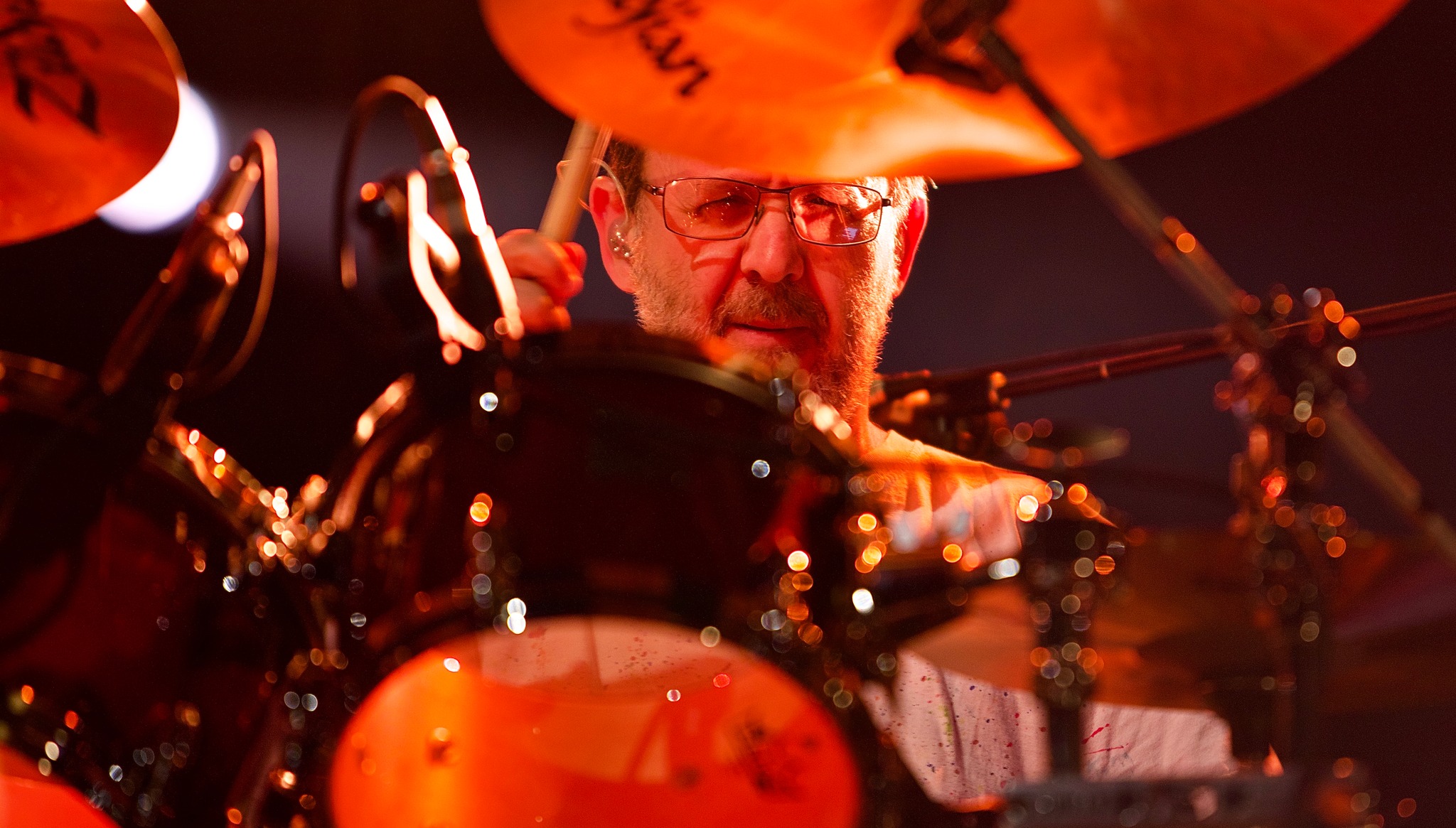 Taking another turn on the blues wheel and giving fans another bust out, "What's Done" from the 2006 release Bar 17 got air time for the first time since February of 2010. Although given a strong delivery, it was brief but got the crowd excited nonetheless with its rare appearance.
Swinging the spectrum from rarity to regular and shrouded in a "NICU" flavored opening, "Plasma" started out laid back, Anastasio playing with different effects, Fishman dolling it out on the toms, Douglas playing quiet and in the pocket. The middle got some interesting jazz qualities, peppered with transitory themes and interspersed with call-and-response dynamics between all three players that had the band smiling and nodding at each other. Although this one usually closes out with a bang, this version ended succinctly and subdued, Anastasio running through the head just twice before hitting the final notes.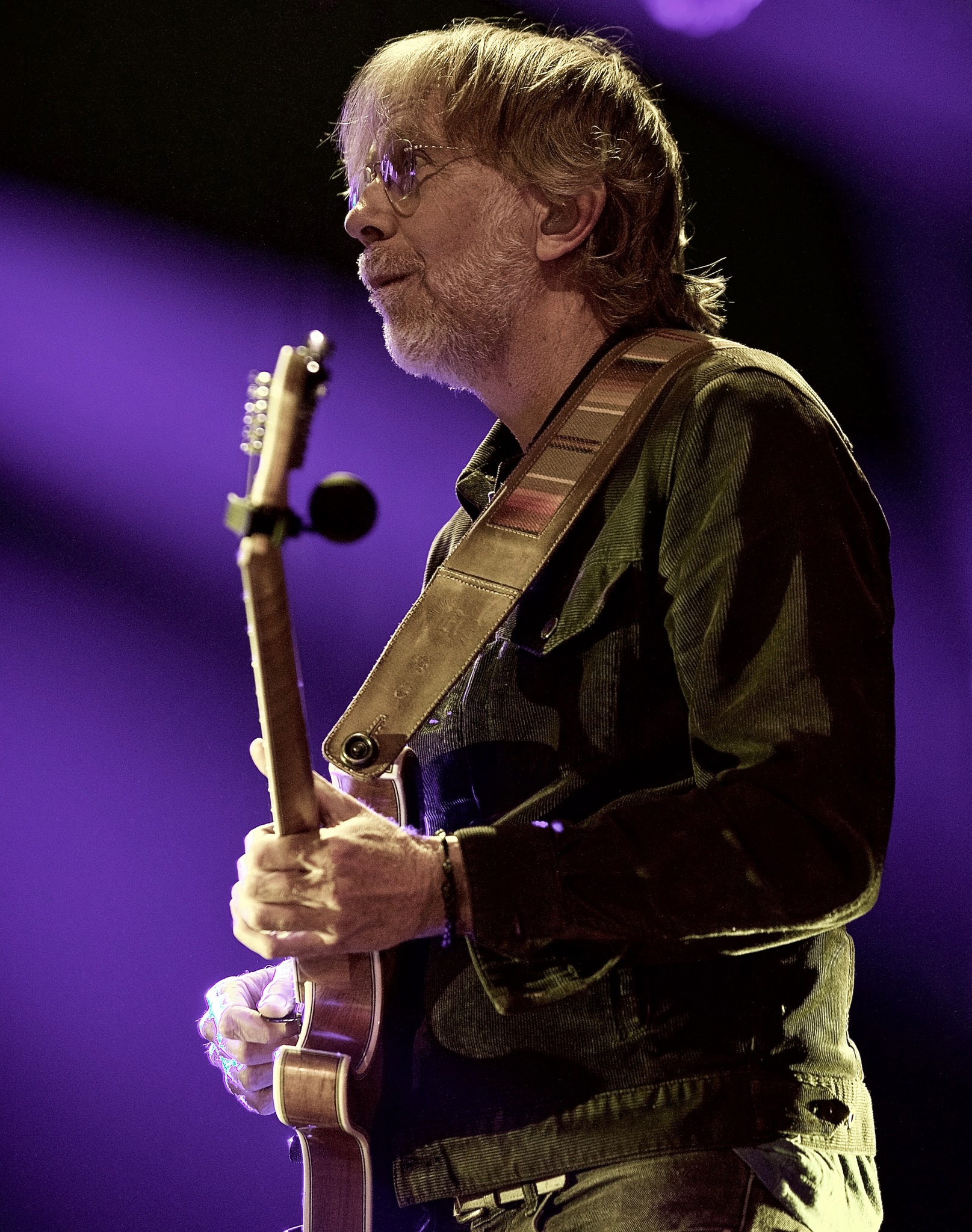 Beginning in the clouds, new kid on the block "The Well" continued to reflect the creative positivity that is the Marshall / Anastasio connection. With lyrics speaking to the silver lining and perspective through analogy and a simple construct that just breathes a smile, it was easy to hear from the start that this one will likely become a regular in the rotation and will probably get a turn in the Phish wheelhouse at some point. The big surprise came at almost six minutes in when the day in the park turned dark, Douglas' morphing his tone into evil alongside Anastasio's black tone as Fishman and the frontman called out over and over "From The Bottom of The Well", belting it out with punk-metal inflection, scaring the children of the hall the way they like it. Tapping out at nine minutes, this one was a keeper!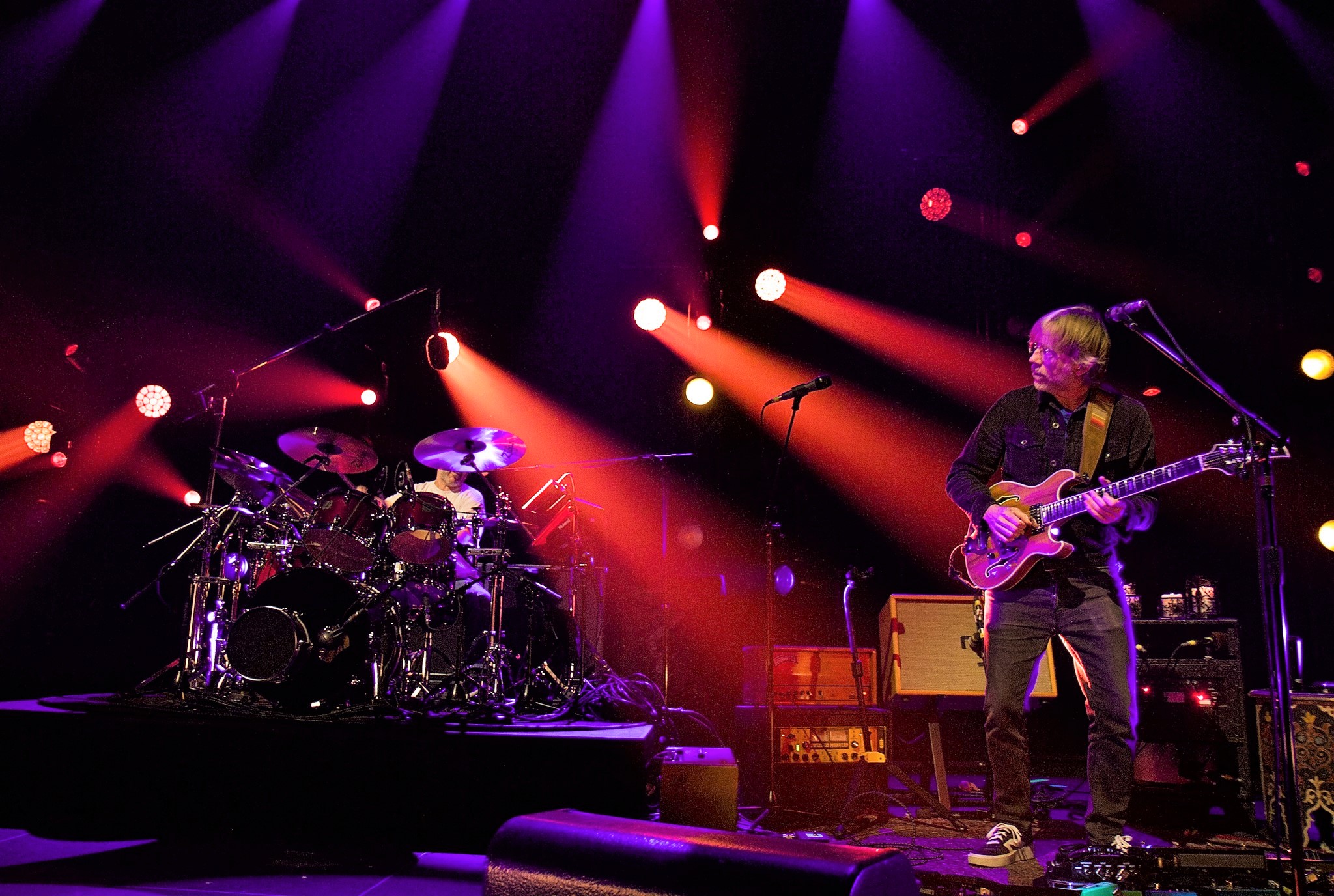 Laughing among themselves at the finish, Anastasio kept the band on task and started up a tight version of "Get Back on the Train". Chugging right along, this one picked up the twang of the countryside and had everyone dancing and singing along. The ending had Anastasio fanning at the bridge of the Languedoc with a smile as big as those in the front row.
Pulling into the station and feeling good, the band kept the surprises coming with another debut with "Ether Edge". Adorned with nature's imagery and characters in pursuit of serenity, this one oscillated from watery wide-spaced sections to straight-ahead pop portions, giving those listening another opportunity to appreciate the unique creative style that often defines Anastasio or him defining it, however, you might see it.
Taking a moment to set up the frame closer, Anastasio remarked, chuckling intermittently: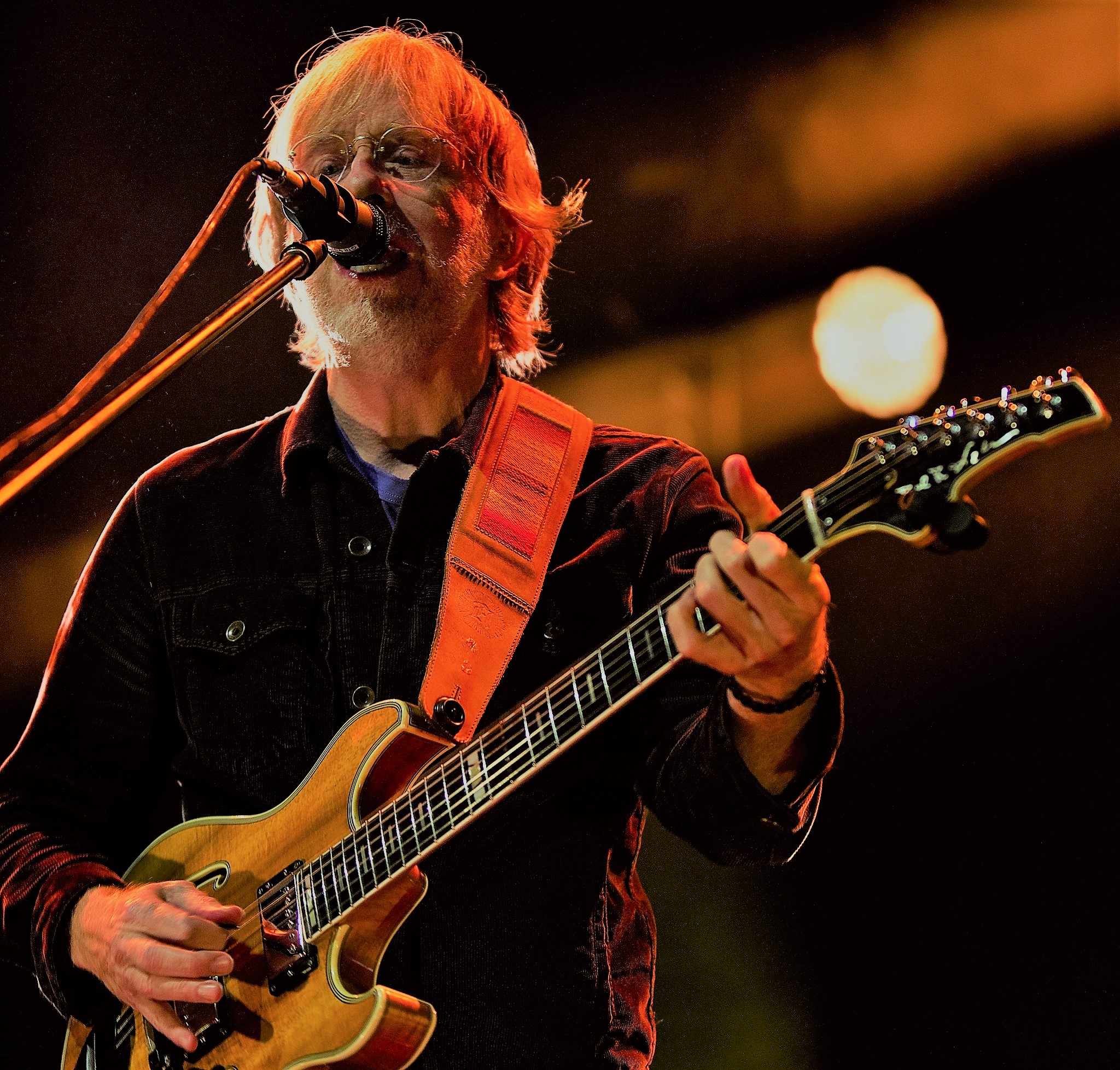 Thank you. You guys aren't tired, are you? I'm not and I'm on East Coast time. We escaped the smoke apocalypse just in time to come out to beautiful Colorado. I think I'd like to try a little song now that I wrote during the pandemic which started out as a very long song and then became a shorter song with a different name. Some of you may have heard half of this song once in your life….and three of us may have never made it through this song in our life. We're gonna give it the old college try!
With the ballroom laughing, knowing full well to what piece Anastasio was referring to, the band moved promptly into "Perseid" one final time. This one is broken into two distinct pieces, the first, instrumental composition in form, slipping in and out of changes in theme and time signatures, while the second being straight fire rocker, the clear break hitting around five minutes into this version. The lyrical portion felt as if it could have been pulled from a Broadway musical, solidifying on Anastasio's first set descriptions of orchestral accompaniment as well as his historic love for the genre. Clocking in at over twelve minutes in total, the final crescendo was worth the price of admission alone and made good on the set closing spot.
With the final notes echoing out, Anastasio wished everyone well before walking off stage, "Thank you so much, everybody. We will be right back here tomorrow night. We hope to see you."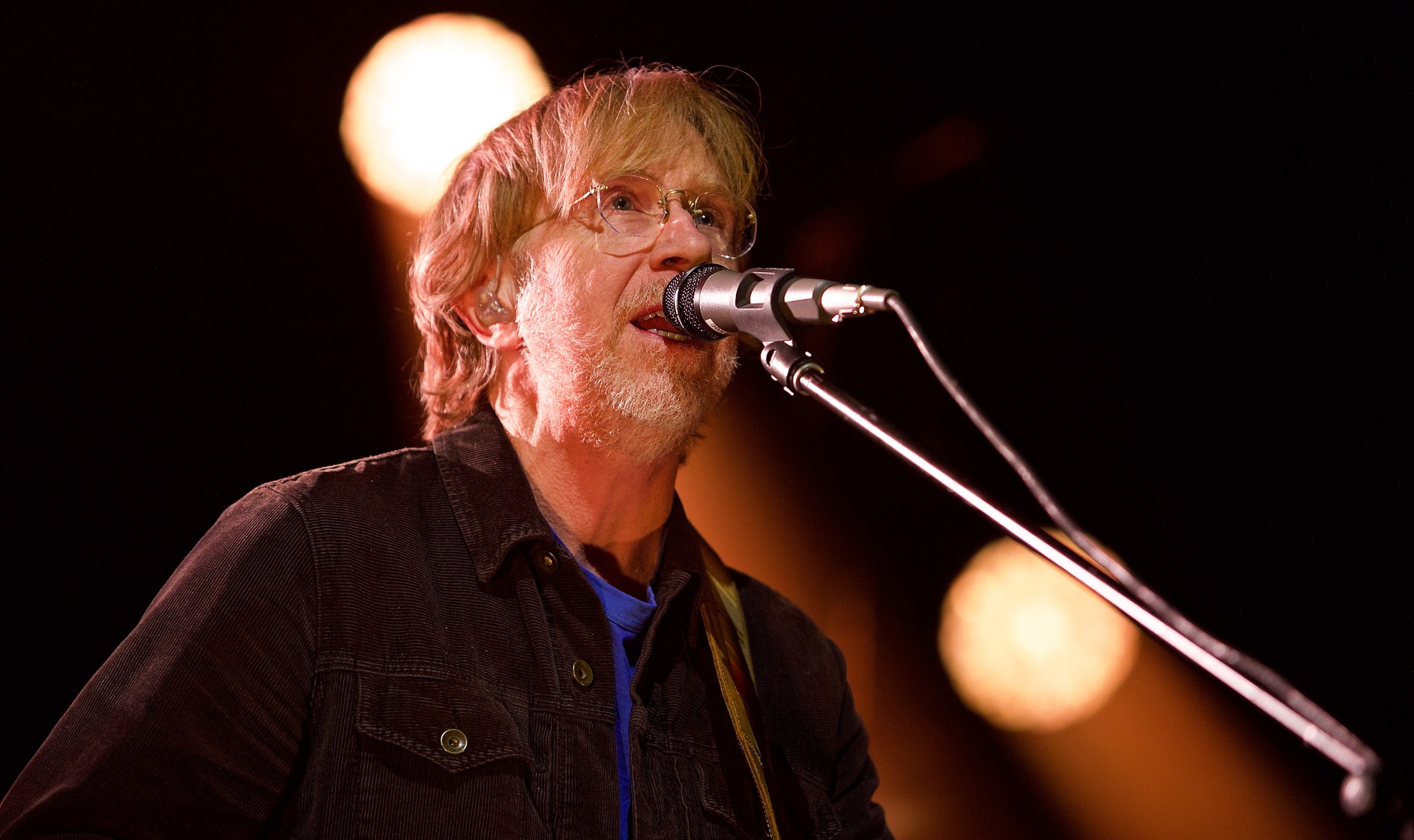 Keeping the fans at bay for a couple of minutes, the gang returned to the stage for a little banter, storytelling, and comedy before giving up the encore:
Anastasio: You know I want to thank my old friend Don and everybody at Mission Ballroom for having us. This is such a cool venue, I love it. Don and I have been friends since, I may get this wrong, but I think Don was at the '92 um Phish um Colorado um Pike's Peak or something...
Fishman: We were in the Fox Theater, right?
Anastasio: But before that, the outdoor one, it was like Halloween?
Fish: Oh, I don't remember anything before that? Was I there?!?!
Anastasio: I think he was at um ...Don, I don't know if you were actually at this… at Telluride at…um when we played at The Roma. It'd be 1988. Actually, I don't know if you knew this, Fish. but there's only two people on earth that have been to every Phish concert. Two people on Earth that have been to every single Phish concert.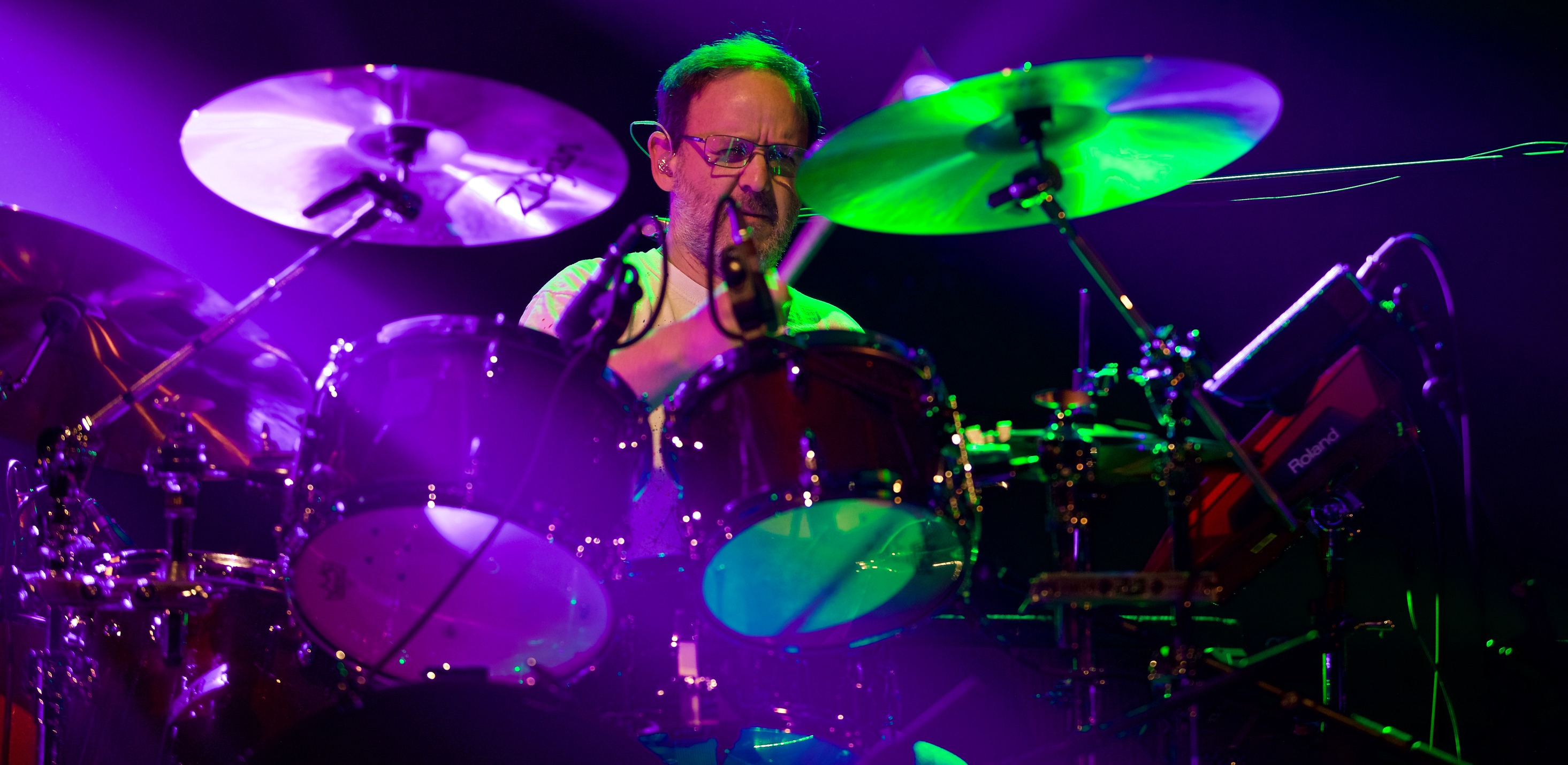 Fish: And I'm not one of them.
Anastasio: And he's not one of them. It's me and Mike. There you go. Factoid. Factoid for tonight. Some of you may have been to many shows, but not as many as me and Mike. And Fish, why did you miss that one show?
Fish: With a sigh, "I took LSD and I got lost in the mountains. That's the truth. The kids are going to find out somehow anyway, might as well tell them the truth.
Anastasio: Fish, and then you thought it was a good idea to climb up that mountain in Telluride and see what was on the other side.
Fish: Actually we got lost on the mountain and we took the acid because we thought it would give us energy to go back up to the top to find the correct path back AND we were right! It did, it totally worked!
Anastasio: Luckily, the other three of us had some tricks up our sleeve and we played the show without you.
Fish: Jazz Odyssey.
Anastasio: And It was the greatest Phish show of all time! You should have heard it. It was incredible! It was amazing!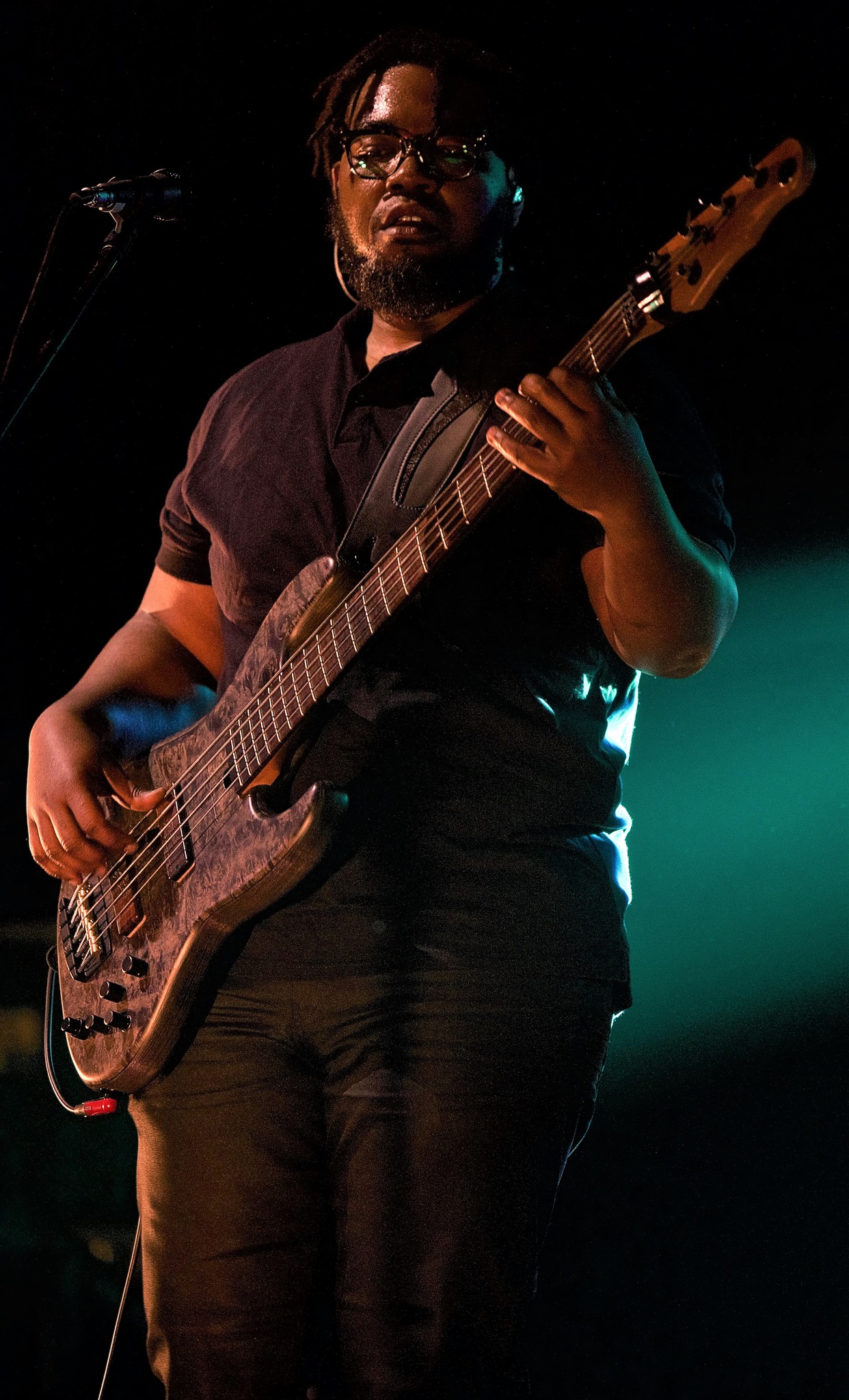 Anastasio: Ladies and gentlemen, can we please have a warm hand for my dear friend, the sickest bass player in the universe, Mister Dezron Douglas, right here. Rocket ship to Mars, man! And on the drums, that's Mr. Jon Fishman (rimshot).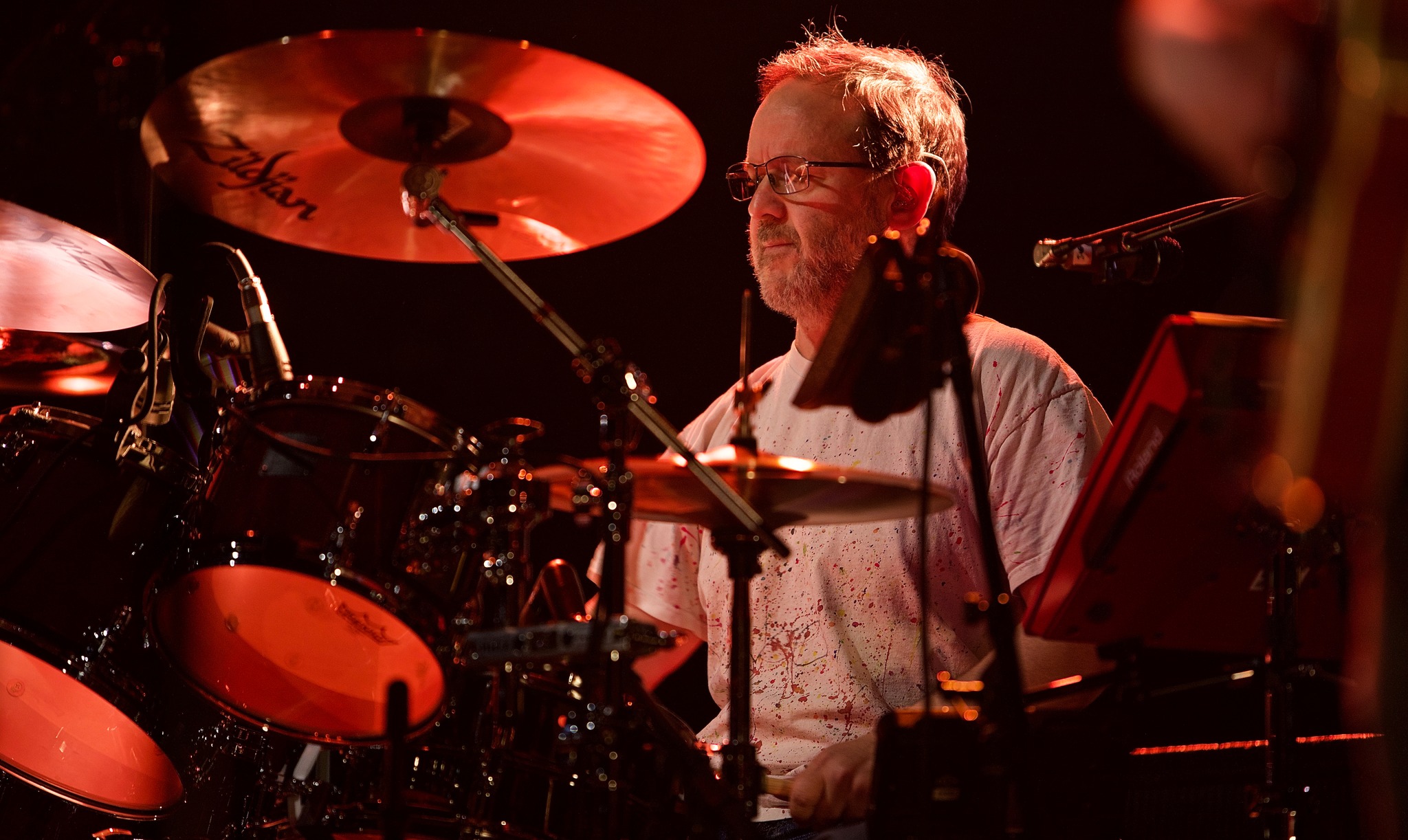 High on nostalgia and glee, Anastasio jumped right into "Story of the Ghost" with Douglas and Fishman getting right in line behind him. This eleven-minute gem closed opening night with a bang. Continuing the comedy, this one got the lyrical change "I feel I never told you, the story of Fish in Telluride" before entering jam land. Getting the treatment for nearly seven minutes, Fishman shuffled and snaked, Douglas laid out the cosmic morse code, while Anastasio bebopped, the ending coming to a frenetic end that kept moving skyward until there was nowhere left to go, the shattered pieces falling back to earth, pleasantly destroyed.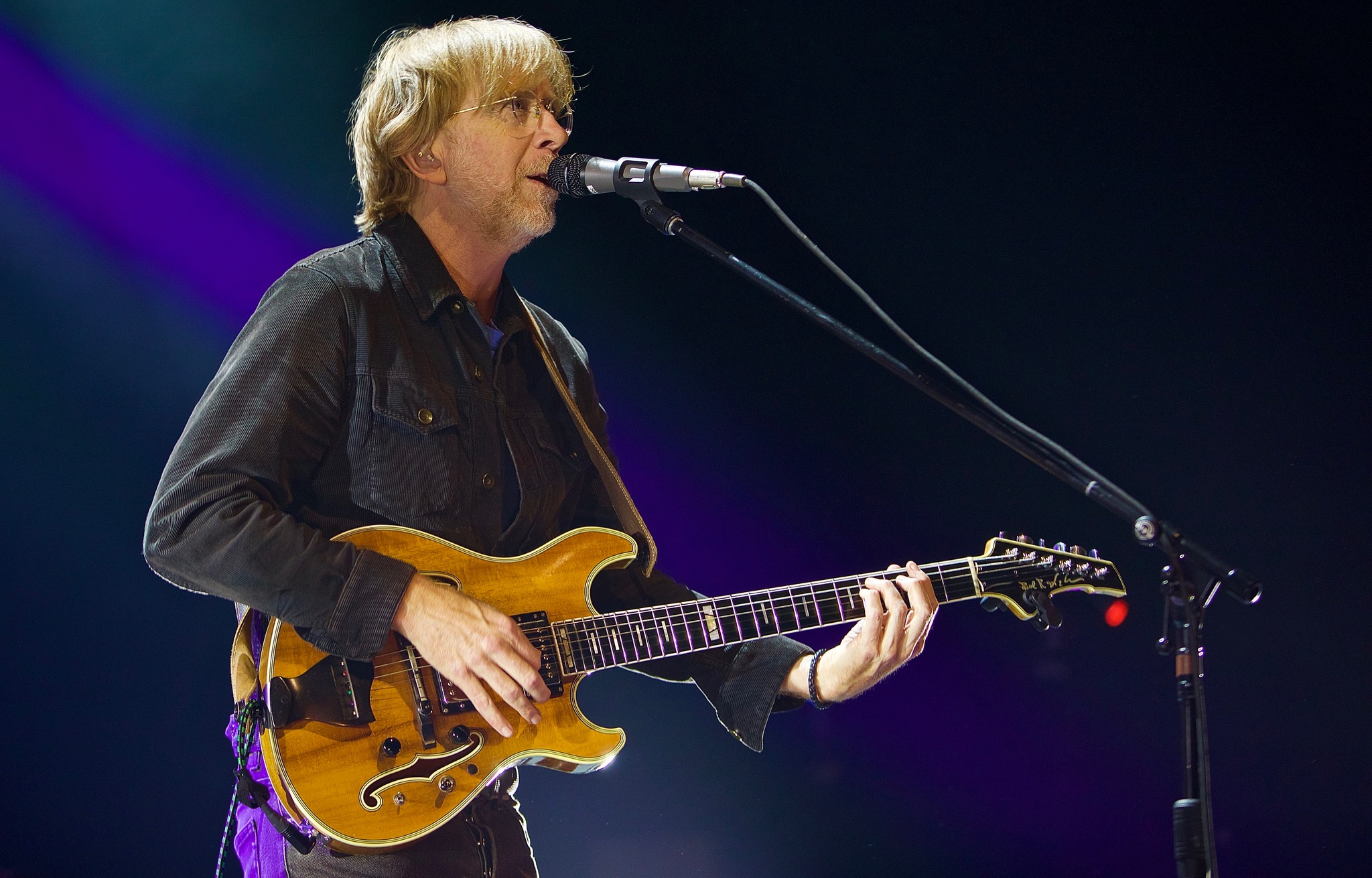 In light of the latest lineup and a slew of new material, many who attended the inaugural night of the Trey Anastasio Trio walked out into the damp streets of the RiNo district of Denver happily surprised and very glad they came to see the start of something new. With little to no expectation, it was great to catch so many originals in lieu of a rehashing of TAB. Although the pared-down sound sans the horns probably had some wishing for more, the power of the trio held its own throughout. The takeaways from night one was that these three gentlemen were well rehearsed and having a visibly great time on stage and one couldn't help thinking of the great Band of Gypsys when seeing this electric threesome crushing the house with their sound and swinging through multiple genres, including the blues, jazz, rock and roll, and classical. Thank you to the good people who support Trey and his creative endeavor, giving us all something unique to chase and catch, even if, like life, it ain't perfect.