After listening to my friends rave about Twiddle shows they've seen all over the country, whether it was a Phish after party or just a small show at a bar, I decided to drive down to Fort Collins from my home in Boulder, catch the $5 show and see what all the buzz was about. Hodi's Half Note is a small bar venue in the middle of one of the main streets in Fort Collins. The crowd was mostly young college-aged people who had either already seen Twiddle and loved them, or were in a similar word-of-mouth situation as me. Twiddle came on around 11:30 or so after a super entertaining opener from the Easy Rders who spun us a mix of the Dead and The Allman Brothers, with an closing Whipping Post that had the whole vienue ecstatically cheering, including Mihali, guitarist of Twiddle.
The band opened up with a reggae sounding jam called Hein Hod's Hoddle that immediately roused the crowd, which had almost packed the small venue full. I remember thinking that it felt really good to finally hear guitar player and lead vocalist, Mihali Savoulidis' voice after watching a bunch of YouTube videos that didn't really manage to capture the full effect. They transitioned Hein into Country Roads by John Denver, which for me, came out of nowhere, but was a pleasant surprise. Country Roads ended and the guys leapt into a super funky jam they call Latin Tang. During Tang, each member of the group showed their chops with some intense break and fill sections. As Savoulidis continued to tease Voodoo Child, keys player, Ryan Dempsey embarked on a synthy, Balkan-sounding solo that lead the groove into a bass and drum section where bassist, Zdenek Gubb carried the rhythm and the melody with his acute slap technique. Another Highlight from early in the show was my now favorite Twiddle song, Doinkinbonk! This extremely versatile jam written by bassist, Gubb, featured a Claypool inspired bass line, harmonious a capella inserts, intense tension building melodic sections, and finally sweet release that blasts into a gratifying, danceable chorus in which the band shouts, "everybody Doinkinbonk!" I have practically no notes on this song because I absolutely had to dance.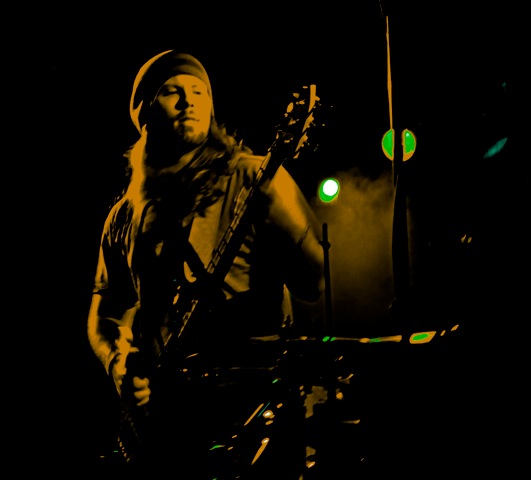 The latter half of the show contained a very well received rendition of Keller Williams and the String Cheese Incident's, "Best Feeling". Savoulidis managed to hit the Keller voice perfectly while Gubb murdered the bass line with a huge smile. An under-water-space-invader synth solo from Dempsey during the reggae breakdown was the cherry on top of that tasty cake. Best Feeling led into what I believe was the Friends Theme, but I can't be entirely sure because the set list I got from the show was very different from the one they posted on Facebook. Anyways, this song may have been my favorite of the night. The band once again showed their incredibly musical diversity by executing smooth transitions from a super technical, Zappa-like melody, to a swing pattern filled with lively breaks and fills. As I leaned against the wall to check out some of the pictures I had taken, the band launched into a groove that seemed all too familiar. I began asking my friends around me, "What is this? I know this song!" When the melody began I realized that yes, in fact I did know the song, and it just happened to be the very same song I had been playing on my guitar the past three weeks, John Scofield's A Go Go. I was so excited I ran to the front of the room to dance and give praise and almost didn't notice when they progressed into yet another favorite of mine, Medeski Martin and Wood's, Bubblehouse. These songs were such a contrast to the heavily lyrical tunes that I was expecting to hear from my experience with the Internet Twiddle search, I was immensely impressed with both their musicianship and the staggering amount of diversity they had already displayed in less than a full set.
Another mentionable tune was Gatsby The Great in which the group yet again displayed their impeccable use of break and fill sections that scream rock and roll. The guys launched straight from Gatsby into the end of Phish's Divided Sky, which they had teased much earlier in the show. By this point, I was overjoyed. A Hattie's Jam->When It Rains It Pours->Over The Rainbow->When It Rains It Pours encore conveyed the feelings of tragedy, helplessness, and hope for the future all in a one-song sequence. Just as I'm beginning to think that the crowd energy takes a big detriment during heavy lyrical parts, the band kicked back in, and the bouncy, bluegrassy melody of When It Rains It Pours carried the energy into another level of excitement.
This band, having just signed with Madison House is on their way up to burst through the surface of the genre. Most people were directed by word of mouth to their first Twiddle show, and the buzz is only getting bigger. I think after years of being together, they have finally solidified a sound they can call their own. As I watched during a jam, Dempsey and Gubb throw hand signals back and forth across opposite ends of the stage, and Savoulidis hover above the groove, shifting and shaping it into something that drummer, Brook Jordan can connect; I could tell by the smiles on their faces that they're in a good place. They're in a place of exponential growth, both in the sense of fans, as well as musical skill. Don't let people tell you they're the next Phish, because, like Savoulidis told me in our interview, there is no next Phish, just like Phish wasn't the next Grateful Dead. If you've gathered anything from this review I would hope it is the urgency to get out and see these guys do their thing on a small stage, in some small bar, before you have to start paying the equal price of the talent that you're actually getting.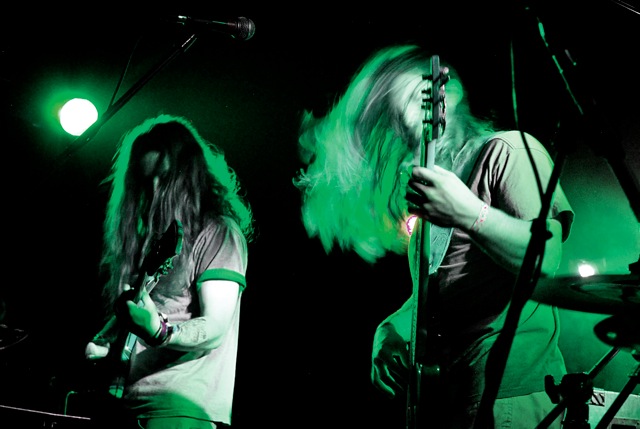 Also, be sure to check out our recent interview with Twiddle.