The drum circle on Sunday morning at Wakarusa remains one of my favorite events of the festival. The energy there is just unbelievable and joyous. People who have no clue who one another are and might not ever get together to form some great sounds, but that's the inherent nature of a drum circle, right?  I do like that it's on Sunday morning though; it's almost like going to a really good church service where the message is left up to the individual and what happens to be speaking to them most at the moment, both on the side of the drummers/dancers and the spectators.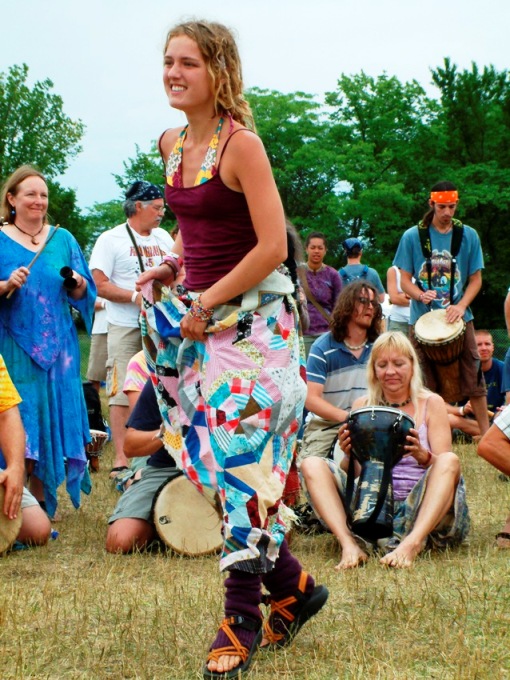 Critter was showing me around camp when we rolled up next to the campground stage.  I hadn't been there yet that weekend but it was packed just then. Critter told me That 1 Guy was playing. I had meant to catch that set since I had heard it'd be a pretty interesting show, so we pulled over for a few.  I was amazed. I mean this guy was crazy.  Then let's combine some outwardly nonsensical Phish-type lyrics with a bit of a Les Claypool sound and throw in a voice reminiscent of Trent Reznor… finally notice him rocking out playing this odd-looking contraption that he calls his "Magic Pipe" and you've got yourself That 1 Guy aka. Mike Silverman from Berkeley, California.  Now, you're more than welcome to disagree with me. Lord knows, my friends have, but that's how I hear it. Regardless, this guy rocks with some funky, danceable music. Check. Him. Out!
They opened with "Hanuman" which is one of my current favorites.  "Coconut Boogaloo" swerved into a cool bluesy number that I didn't recognize as anything in particular and there was a pretty rockin' drum solo followed by "Cat Creeps."
Overall, MMW was on point for this set and the crowd knew it.
I did not expect to be shocked during this show by anything. You expect the usual…politically minded but always fun Franti.  This show however was a tad different. Franti somewhat frantically covered Sublime's "What I Got" and I swear there was a bit of the Sesame Street theme tossed in there too along with "The Rainbow Connection" and the Cookie Monster's  "C Is for Cookie."  Upon perusal of recent setlists, this combo seems like it's a current favorite for both Franti and his fans.  "Light Up Ya Lighter" brought more of them out than I've ever seen at a show before. The sea of lighters and a few cells was pretty cool.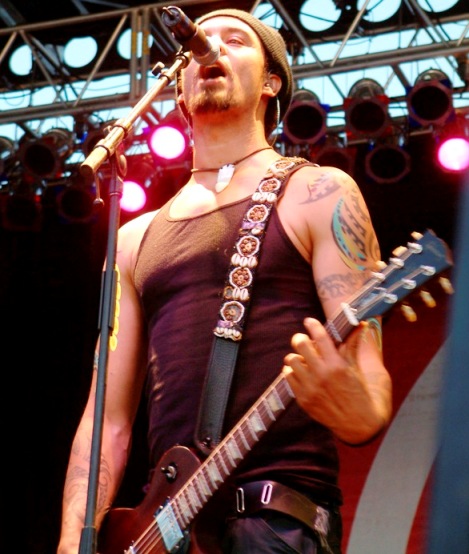 Ok, now for the true craziness. It's almost dark, we're done with our photo ops,  and I'm sitting near the edge of the photo pit looking through my pics and watching the rest of the show.  This girl in VIP comes up to me and leans over the fence to get my attention. She has a dark pair of glasses on her head, a sign that says "Free Hugs" and a blind person's white cane. I go over and she explains that her blind friend needs to meet Franti and gives me some crazy story to which I only paid a bit of attention.  I explain to her that there's no way I can make this happen but she's tenacious and won't give it up. She's trying to jump the fence and, I'm sorry, but I'm not going to get in trouble for just watching her do it.  I called over my media liaison, Heather, and we talked to this girl again (I can't remember if her name was Lisa or if that was the name of her "blind friend") and explained to her that she could jump the fence but security is standing right there…already watching her and we really wouldn't advise it.  Next thing I know, it's a few later and I see a lot of movement to my left. One of the other photogs is helping her over the fence.  I've never seen a human being scramble over a fence and a bunch of speakers so fast in my entire life…and I've seen some stage crashers in my time.  I was shocked, but no more so than Franti. I couldn't get my camera back out fast enough! The look on his face was crazy. Security and the stage crew guys were right on it, but Franti shook his head and told them to let her stay.  It probably helped her cause she was cute and had on a bikini top and short shorts.  At this point, she had the glasses down and the cane and sign out again.  She looked like she was blind, but in reality, it was her "friend" who was blind. Who knows if that person even existed or if the whole thing was just a ploy to make it easier for her to stay on stage? Either way, it was totally nuts and completely entertaining.  She got to stay up there for a long time.  They tried several times to take her away, but she clung to Franti for dear life, even once jumping up into his arms!  They finally carried her off amid her flailing arms and legs. I've not laughed so hard in a very long time.  So, whoever you were, thanks for the entertainment.
We can't possibly forget the finale when Franti brought out about a dozen of the bare, yet painted, breasted girls we'd all seen around the venue that weekend.  Again, couldn't get the camera out fast enough, but I finally got some decent shots. Should have made a point to get some of the slack-jawed males in the audience. Crazy stage crashing "blind" girls and bare-breasted women… Seriously, what more could you ask for in a show?  In terms of impromptu craziness, this one gets a 10!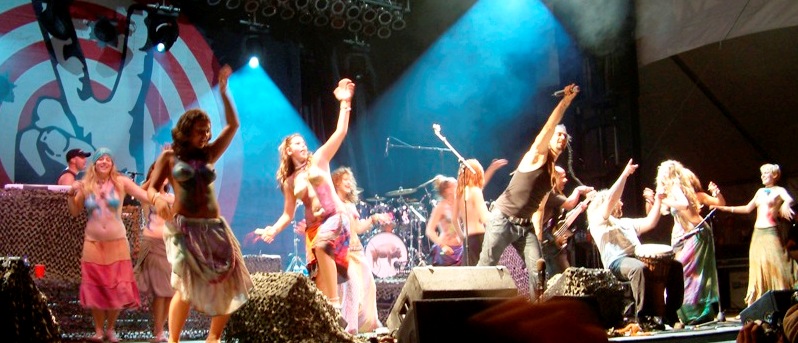 So he comes out in his hat and his green light-up glasses and gets to groovin' right away on "One Better."  What's not to like about Les? Nothing! He's talented, he's entertaining, he's unusual. Then you've got Gabby LaLa who is a total trip in and of herself.
Even though he started late and ended early, he packed as much into this show as possible and fans were happy! The upright came out and the pig mask went on.  Let's see, what else did he play?  "Long in the Tooth" was a fav as well as the story of "Vernon the Company Man" and "Of Whales and Woe."  He even brought out some "D's Diner" though it seemed quite abbreviated...
People were disappointed that the set was cut short…as in there were "boos" while he explained that the whole thing was supposed to have been shut down about five minutes ago.  Though he never directly said the reason was Franti's encore which included topless, painted girls dancing onstage…the Franti set ran over and Les informed us that there would be none of that at this show since his wife would not appreciate that much at all.  Regardless of the shorter set, this was a highlight of my weekend for sure.