12/6/97 LivePhish Limited Release At Dry Goods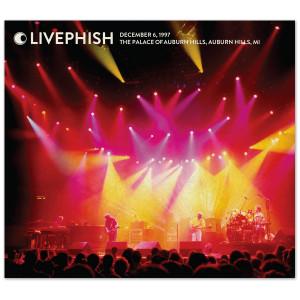 Phish's third show at The Palace on December 6, 1997 was yet another defining fall '97 gig, with an under-recognized set I and a renowned set II that must be heard in one sitting, preferably loud with headphones. Set I highlights include an intense second-song Run Like An Antelope, alien landscapes of Train Song and seamless pairings of Bathtub Gin > Foam and Fee > Maze.
Set II was a unified, non-stop affair: Tweezer > Izabella > Twist > Piper > Sleeping Monkey > Tweezer Reprise. As they rounded the bend into the final week of this storied fall tour, the band had a confident swagger that exploded in The Palace with a flood of combined energy that flows through on the tapes. The Palace is deep in the suburbs but this Saturday night show in the home of The Pistons was a slam dunk that reverberated throughout Detroit Rock City and beyond.