This year's annual Memorial Day weekend and Red Rocks Amphitheater opener, Bisco Inferno was a smashing success that left Biscuits fans very pleased and longing for more. The lineup consisted of NICOS GUN, Emancipator, BoomBox, Big Boi, Rusko, and of course, the Disco Biscuits.
First off, the Disco Biscuits love Colorado, and recently they have been showing their love and appreciation with several visits for their super large fan base in this state. They have shown their love so much so that they are not even staying away a month barely before coming back to headline the Eco Music Festival in Snowmass (Aspen) on the next holiday weekend in July.
The weather was absolutely perfect, which is always essential for a long day at Red Rocks, and the music was even more perfect. I got there in the beginning of Big Boi, which I was not ready to miss. I am a huge Outkast fan, and as Big Boi is half of the unit, I needed to see him perform. He did not disappoint me at all. He played several classics such as: "Ms. Jackson," "So Fresh, So Clean," and "I Like the Way You Move." But they also played, two of my all-time favorite Outkast songs "B.O.B." and "Ghetto Music" very well, even without my favorite rapper of all time Andre 3000. After being named the artist and label promoter for Crown Royal's new Black line of whiskey, Big Boi embarked on an enormous tour, which has him hitting most of the major festivals this summer including Bonnaroo and Glastonbury.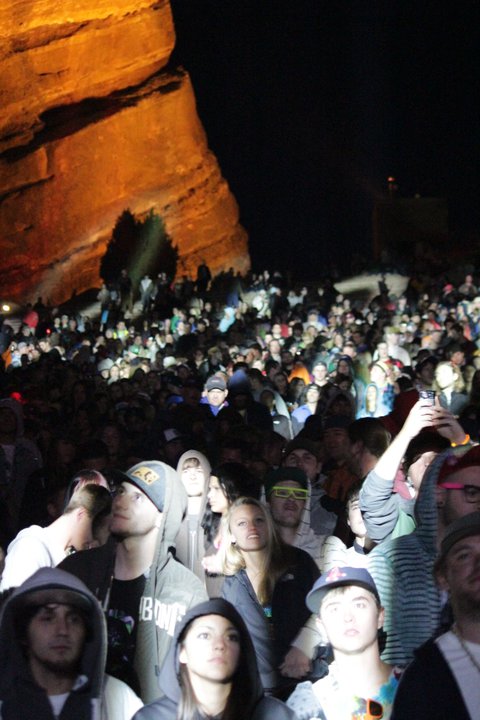 The Biscuits started right where they left off in January at the Boulder Theater with a super fast rendition of "Highwire." Drummer Allen Aucoin and guitarist Jon "the Barber" Gutwillig clearly did not need any time to warm-up, as both of them were flying and killing it in this opener. After the song ended Gutwillig informed the crowd that they were going to do something very special and gave props to the next song's writer Mike Lancer, the Chancellor. They then surprised the crowd with "Spraypaint," which has Colorado roots. It debuted here in 2002 and has been played four times at tiny Mishawaka Amphitheater amongst other venues in the state. This song so smoothly and inverted went into a twenty one minute "Digital Buddha." As a reminder from my last Biscuits review, an inverted song in this case, is when they jam out of "Spraypaint" and segue into the end of "Digital Buddha." Then, at the exact point of the ending of "Digital Buddha," they play the beginning of "Digital Buddha" and segue into "Cyclone." All of this was excellent timing because as soon as they went into JM2's "Cyclone," the rain started coming down lightly in spirals. This spun the crowd right into an inverted "Confrontation." This spacey first set ended with the conclusion of "Spraypaint."
At set break, Rusko played for a mixed emotion crowd. This was my first experience with Rusko, but many of the serious music fans that I know were very turned off when he came onto the stage. Christopher Mercer (Rusko) is an English dubstep record producer and DJ. He played during the set break, and the song the crowd seemed to get into the most was "Woo Boost." There was no shortage of samples of famous Nintendo and other video game sounds either.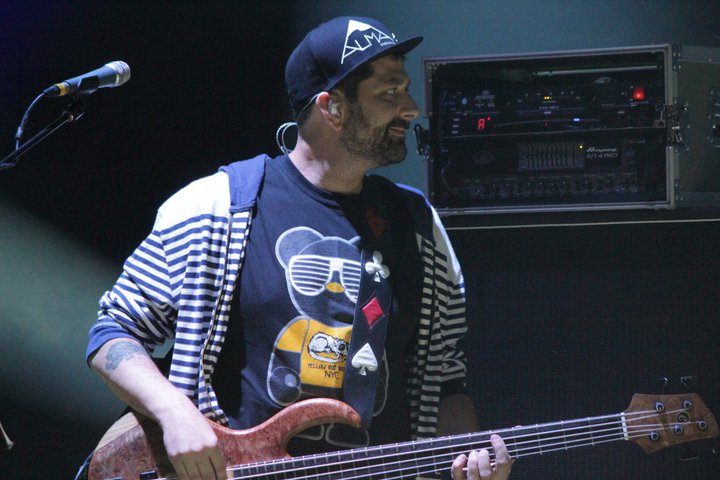 The second set was electric, just as it seems like it has been through the Ogden shows as well. Bassist Marc Brownstein thanked Rusko and welcomed the crowd back. He mentioned that they haven't played a lot of shows this year, but they made sure to get there seven in Colorado. Just then, Aucoin counted out the cymbal intro to "King of the World." Johnny R. Goode, lighting director, did an amazing job with the screens that flashed images of Muhammad Ali during the beginning of the song as well as the array of colors provided throughout the show. The energetic "King of the World" came to an abrupt halt. The next song "Story of the World" kept the crowd dancing as the thoughtful setlist was just starting to build steam.
The night's second sandwich was about to start next as "Helicopters" came gyrating in dropping "Bombs," a fairly new song with a sick baseline and guitar build up. This is the song that they said went out to Mike Lancer in the first set. This was a major highlight for me. This song always gets me going, and it was about to get even better. Keyboard player Aron Magner started playing teases of "Run Like Hell" by Pink Floyd towards the end of "Bombs" and sure enough, a twenty one minute "Run Like Hell" was upon us. The crowd went crazy, and Gutwillig ripped this cover like it was his own. They flew into "Spacebirdmatingcall" and then finished the second set back with slow starting hum of "Helicopters" that revved up to a thunderous finish. This set was an inhibition forsaken dance party at Red Rocks for sure.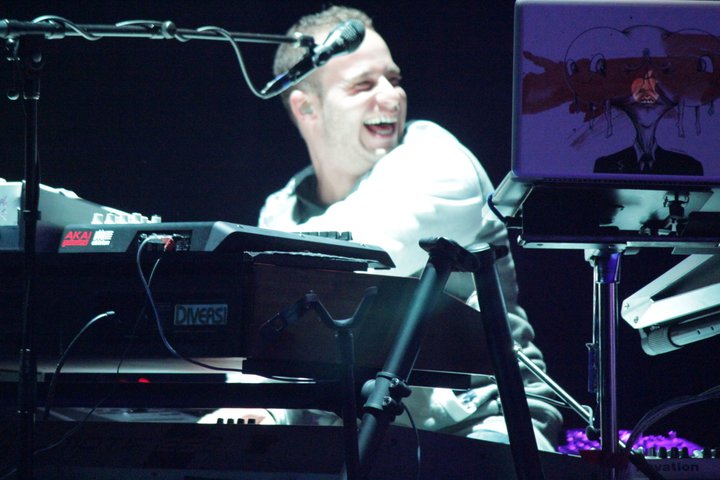 The encore was the last song sandwich of the night. It was "Jigsaw Earth" into "Catalyst" and back into "Jigsaw Earth." "Jigsaw Earth" always sounds like an old school Biscuits song that includes so much jazz influenced pieces that are composed into an uplifting, bass thumping journey that seems to elevate the crowd into a spinning frenzy towards the middle to later parts. "Catalyst" started with Brownstein doing a little dance on stage that was reminiscent of something that Jay or Silent Bob would do. He was feeling it! Finally, they jammed back into "Jigsaw Earth" to conclude the show with some crazy drums by Allen Aucoin, who I think is one of the best drummers that I have ever seen in my life. I have never seen someone play with that much speed and intensity for so long. I don't know how he does it. Another successful and inspiring opening to the summer Red Rocks season, and I cannot wait to see the Biscuits again in Aspen in a month.
Check out more photos from Bisco Inferno -- Thanks, as always, to Drew for his hospitality.