ABOVE & BEYOND TO RETURN TO NORTH AMERICA
Submitted by mike on Thu, 10/15/2009 - 04:36
British electronica act ABOVE & BEYOND—Jono Grant, Tony McGuinness and Paavo Siljamaki—is set to return to North America for a fall club tour in support of their new compilation AnjunaBEATS VOLUME 7, released October 6 via ULTRA Records.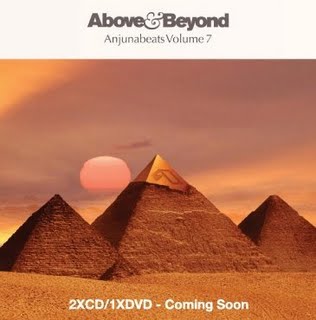 Kicking off Halloween evening at Roseland Ballroom in New York City with an album launch event where the guys will also be doing an album signing at the merch table after their set, the month-long trek will take the trio to Atlanta, Detroit, and St. Louis prior to hitting Glow @ Fur in Washington, DC. They'll continue on through Indianapolis, Columbus, Denver, and Minneapolis before stopping at Vision in Chicago and Moon in Las Vegas. Sacramento, Seattle, and Vancouver come next, and the tour wraps with two Texas shows in El Paso (November 27) and Austin (November 28).
ANJUNABEATS Volume 7 is a double-disc set with 28 tracks showcasing the best music from their respected Anjunabeats imprint, one of the world's premiere trance and progressive house labels.  In addition, the set also includes a bonus DVD featuring the film "A Dog With a Smile" with a look at life on tour with Above & Beyond. Longstanding ANJUNABEATS producers Oliver Smith, Super8 & Tab, Jaytech, and new talent represented by 19-year-old Mat Zo and Cold Blue contribute to the collection with three productions each. Album highlights include A&B's new track "Anjunabeach" and a remix of Dirty Vegas' "Tonight," created in just 24 hours at Ibiza's International Music Summit and heavily supported by Pete Tong on Radio 1.
In other news, Above & Beyond has launched 'A&B Connect v1.0' on October 7, a brand new iPhone and iPod Touch app enabling fans to stay in direct contact with the band, wherever they are. The app, which is free and can be downloaded from the iTunes store, gives fans access to latest news, music, tweets, pictures, podcasts, A&B TV videos, tour info, and using the app's push notification system, Above & Beyond also plan to send personal messages to app users' iPhones. According to Paavo Siljamaki, "This is really just the beginning of our plans for the app--future updates will really focus on direct contact with our fans, as well as giving fans the chance to interact with like-minded souls all over the globe via a new community-based platform that we're cooking up."
Catch ABOVE & BEYOND in North America on the following dates:
Date                              City                                          Venue
Sat       10/31               New York, NY                          Roseland Ballroom
Wed    11/11               Atlanta, GA                              Opera
Thu      11/12               Detroit, MI                                Crofoot
Fri        11/13               St. Louis, MO                          Lure
Sat       11/14               Washington, DC                     Glow @ Fur
Mon     11/16               Indianapolis, IN                        Talbott St
Wed    11/18               Columbus, OH                        BoMa
Thu      11/19               Denver, CO                             BETA
Fri        11/20               Minneapolis, MN                      Epic
Sat       11/21               Chicago, IL                              Vision
Sun      11/22               Las Vegas, NV                        Moon
Tue      11/24               Sacramento, CA                     Barcode
Wed    11/25               Seattle, WA                             Last Supper Club (Anniversary)
Thu      11/26               Vancouver, BC                        Celebrities
Fri        11/27               El Paso, TX                             Club 101
Sat       11/28               Austin, TX                                Travis County Expo Center