Adrian Belew Power Trio ft. members of King Crimson at Boulder Theater
Submitted by mike on Fri, 06/24/2011 - 17:25
Boulder Weekly is proud to present Adrian Belew Power Trio with Stickmen featuring Tony Levin and Pat Mastelotto from King Crimson at the Boulder Theater on Tuesday, October 11th, 2011.  Tickets go on sale Friday, June 24th for $25 General Admission, $30 Reserved and $40 Gold Circle.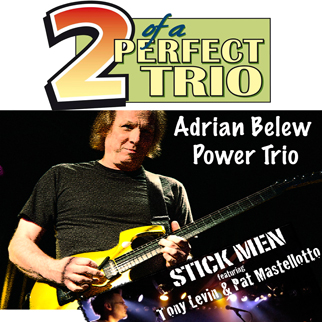 "2 of a Perfect Trio" Tour
King Crimson players Adrian Belew, Tony Levin and Pat Mastelotto keep very busy individually when Crimson's not active, but now, a historic joint tour: Adrian Belew Power Trio will headline the bill, with Stick Men (featuring Tony and Pat) opening.
And of course, how could they resist joining together for a Crim-centric extended encore - after their respective sets we'll see them reconfigure as Ade/Tony/Pat trio, morphing into the double trio lineup like King Crimson featured in the 90's.
The tour name, 2 of a Perfect Trio, harkens to the King Crimson song "3 of a Perfect Pair"
Adrian Belew's trio features the amazing bassist Julie Slick, and NYC drummer Tobias Ralph - perfect complements to Belew's extraordinary guitar playing and singing.
Stick Men presents Tony Levin's virtuosic playing on the Chapman Stick, with Pat Mastelotto giving his unique progressive drumming on both acoustic and electronic drums. Markus Reuter rounds out the band, playing his self-designed touch style guitar.
For more information please visit www.adrianbelew.net

-
Adrian Belew Power Trio
with Stickmen ft. Tony Levin & Pat Mastelotto from King Crimson
Boulder Theater
Tuesday, October 11th, 2011
Doors:  6:30 pm
Show Time:  7:30 pm