"Boulder, CO, Fox Theatre. Giant Panda at 9. JBB at 10. TK at 11:30. Bring your dancing attire, dr." Not the most clear posting on Twitter, perhaps, but for fans of Toubab Krewe--the "TK" in the tweet--the message was rather plain. Thursday's show was going to be one with jams so moving, you had better come ready to dance. And they were right.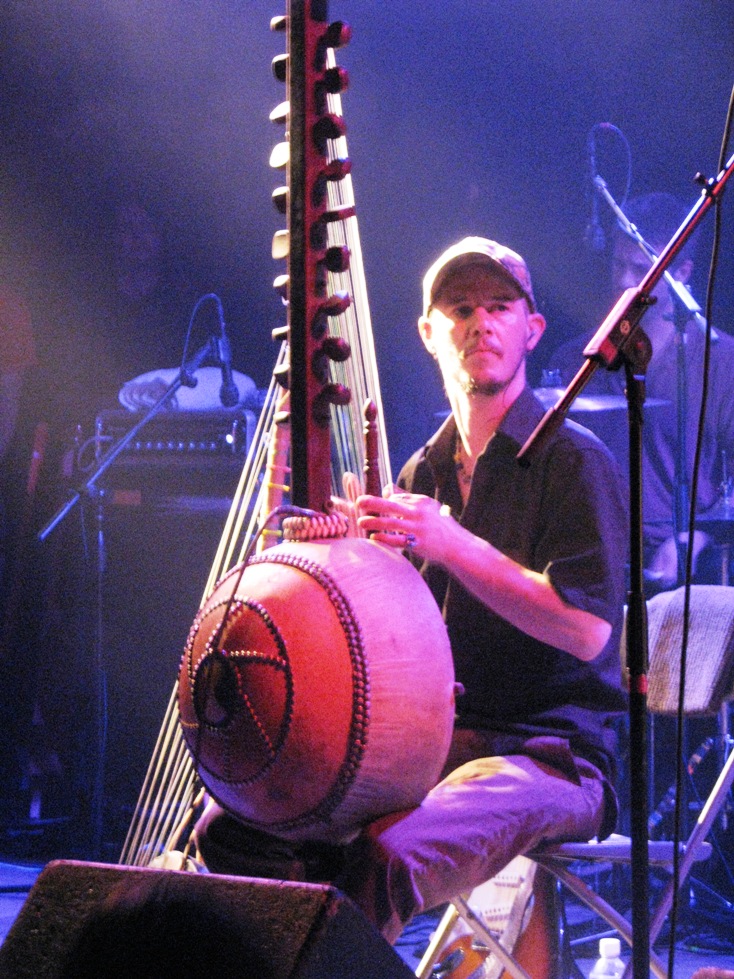 Toubab Krewe's eclectic mixture of music and en-trapping sound, bringing to together aspects of driving African rhythms and Southern classic rock, tapped into every body at the Fox that night.
Nearly an hour on stage with a two-song encore, Toubab's set included only one song with vocals. A reflection of the band members' Asheville, North Carolina roots, the song had a more southern folk sound. Kamel ngoni, kora and electric guitar player Justin Perkins's subtle drawl, accented with the occasional whoop and holler from electric bassist David Pransky, no doubt gave the song a southern timbre.
The tin-like sound produced by the kamel ngoni also added to this atmosphere, while at the same time giving off a vibe of the African, Mali culture from which it comes. Then add in the jamming quality of Pransky on bass, Teal Brown on the drumset, Drew Heller on electric guitar and Luke Quaranta on percussion, and yet another face is added to the music--that of the 60s and 70s rock era.
Densely layered into individual artistic songs, it becomes clear that such a package of musical backgrounds, in their nature and origins, incites dancing. Numerous trips to Mali, Guinea and Ivory Coast helped the band develop this unique sound, says Toubab's website.
"They immersed themselves in the local culture and studied and performed with luminaries," says the band's biography. And this, in performance, has translated itself into a care-free, fun atmosphere full of movement.
Aside from songs off of the band's self titled 2005 record, released on indie label Upstream Records, Toubab's set included multiple synchronized drum and percussion solos. The first of these featured drummer Teal Brown and percussionist Luke Quaranta, while the second featured both these two with the addition of Justin Perkins.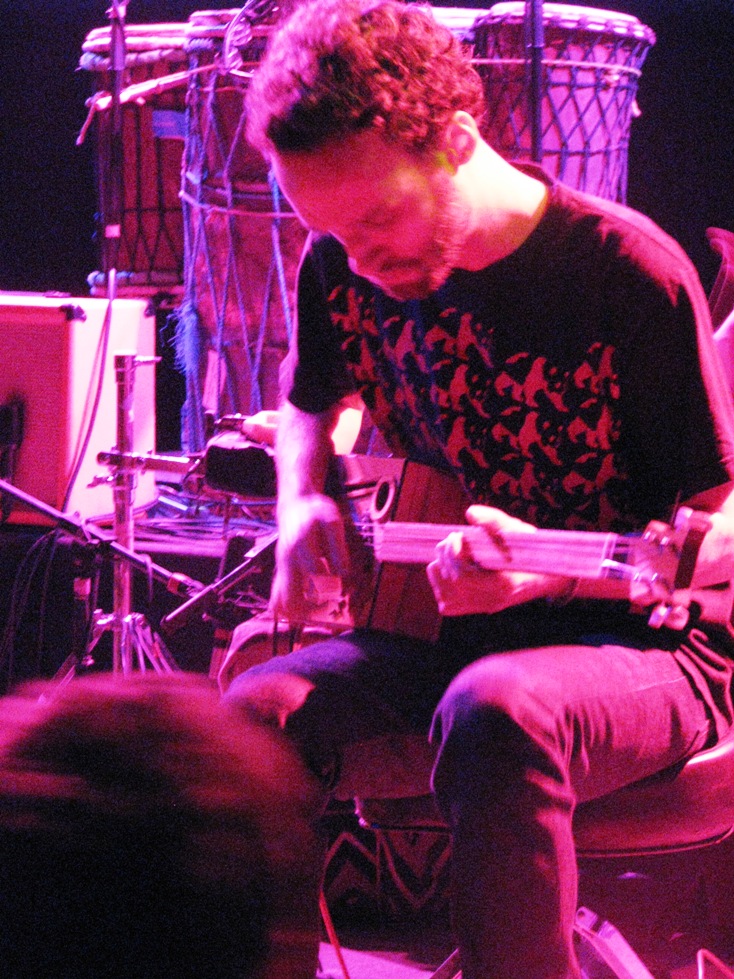 Later songs in the set had Heller behind a set of keyboards and off of the guitar, while Perkins put down the the kamel ngoni and, for only a few songs, picked up the comparatively larger kora. As for their encore, Pransky, Perkins and Heller all sat in chairs along the front of the stage for their final songs. And, in case there weren't enough diverse instruments on the stage as it was, Pransky and Heller played on bass and guitar instruments, respectively, made out of wooden cigar boxes.
It was a quarter after one in the morning when the theatre finally emptied onto the streets of CU Boulder's campus Hill. As Toubab kept throwing out the tunes, however, the audience slowly began to trickle out and thin before the show came to its final end. Surely, dancing out the full night since reggae band Giant Panda Guerilla Dub Squad opened at 9 p.m. makes for a tiring outing.
The fifth stop on their 15 city tour, it would be no surprise to find the quintet themselves also physically exhausted. Yet, while it may be so, there were no such signs of the late hour and touring weighing down on the guys. From start to finish, Toubab Krewe filled the Fox with their blend of American and West African music, offering a new presentation of African instruments and, living up to their Twitter post, ensured that everyone be ready to dance.
John Brown's Body co-headlined the show alongside Toubab with a set of soulful vocals, in the sense of the power and drive behind them, and free reggae grooves. Anybody that enjoys the rapping and Jamaican influence of Matisyahu's music would benefit from checking out John Brown's Body, similar in their vocal presentation but with more outright reggae instrumentals.
Toubab fans will have to wait months yet for the band's next album to be released, but in the mean time can hear their song "Hang Tan" featured on Surfing Medicine Volume II.
John Brown's Body also has a song on the compilation disk, the proceeds of which benefit Surfing Medicine International, dedicated to the education of sustainable medicinal plants and their provision free of charge to people with cancer and HIV/AIDS, says Toubab's website.
Live at the Orange Peel, released in January 2009, is also available on Upstream Records.