Akron/Family plays Oriental Theatre | 3/17/09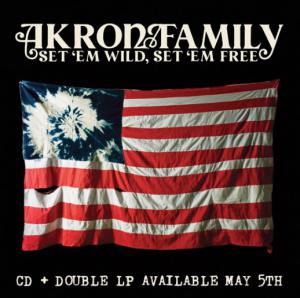 Set 'Em Wild, Set 'Em Free is Akron/Family's most psychedelic, compelling and focused work yet, and its a treat to see them preview this new material at such an early date. Whether it's the three members of Akron/Family, Seth Olinsky, Miles Seaton and Dana Janssen – communicating, interacting and creating with one another onstage with something like the visceral language of the classic John Coltrane or Albert Ayler ensembles – or upwards of a dozen guest musicians joining them, their live shows are becoming a thing of legend. They are a band boiling over with ideas and over the last year that has become especially apparent in a live setting -- the ever-evolving Akron/Family live ensemble has become bigger, wilder, more powerful and communal.
Set 'Em Wild, Set 'Em Free marks Akron/Family's first album recorded as a trio; Akron/Family became a three piece in 2007 after original member Ryan Vanderhoof left the band that fall. This is also the first time Akron/Family have self-produced an album, as well as their first recording since parting ways with their original label, Young God Records. These changes could not be more significant, and all are at the core of Akron/Family's transformation on Set 'Em Wild, Set 'Em Free. With limited outside assistance, this trio has made a focused, powerful and unified work. The album maintains the communal spirit of the big band that has been consistently winning audiences over throughout the world with their live shows, but it showcases Akron/Family at its core – three musicians, equals, creating music from deep within.