Amelia's Mechanics Announces Plans for New Album + Tour Dates
Submitted by mike on Mon, 04/05/2010 - 18:11
Amelia's Mechanics is fronted by Greensboro, NC singer-songwriter's Molly McGinn and Molly Miller and backed by a talented group of musicians out of Nashville, TN. Despite what the oil-and-iron name might suggest, the women of Amelia's Mechanics swap that toughness for a more urban, sophisticated take on Americana music, using luxuriating harmonies and classical swells to temper their lyrical frustrations with love and life. The instrumentation and vocal harmonies of Amelia's Mechanics result in a genre-busting sound best described as "vintage country with a moonshine concerto."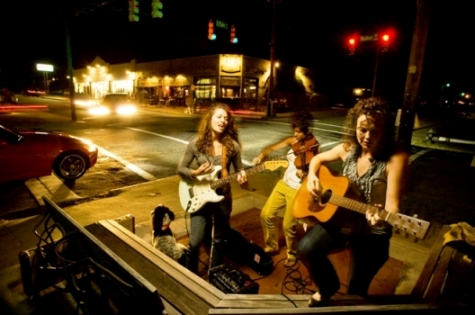 The band released their debut album "North, South," produced by
Jim Avett
(father,
The Avett Brothers
,) in February of 2010 to critical acclaim and embarked on an inaugural tour pleasing audiences from Florida to West Virginia. Select performances in May will feature support from guitarist
Daryl Hance
(guitarist,
J.J. Grey & Mofro
.)
Amelia's Mechanics will begin recording a follow-up album this summer in Asheville, NC at the wonderful Echo Mountain Studios (Smashing Pumpkins, The Avett Brothers, Band of Horses) with three-time Grammy-winner Steven Heller (producer, David Holt's Stellaluna, Doc Watson's Legacy) and fellow Greensboro, NC singer-songwriter Laurelyn Dossett (songwriter, Ana Lee) at the helm. A release date has not been set for the new album.
REMAINING PERFORMANCES - SPRING 2010:

Acoustic Coffeehouse - April 8 (Johnson City, TN)
Canyons - April 9 (Blowing Rock, NC)
Pisgah Brewing Co. - April 10 (Black Mountain, NC)
Five Spot - April 21 (Atlanta, GA)
Carrboro Arts Center - April 24 (Chapel Hill, NC)
Carolina Theatre - April 25 (Greensboro, NC)
Preservation Pub - April 28 (Knoxville, TN)
Garage - April 29 (Winston-Salem, NC)
Tipsy Teapot - April 30 (Greenville, NC)
MerleFest - May 2 (Wilkesboro, NC) - Molly McGinn PA
Purple Fiddle - May 5 (Petersberg, WV)
Ashland Coffee and Tea House - May 6 (Ashland, VA)
Center City Park - May 7 (Greensboro, NC)

Pour House Music Hall - May 12 (Raleigh, NC)

Stillwater Taproom - May 14 (Augusta, GA)

NC Potato Festival - May 15 (Elizabeth City, NC)

3rd & Lindsley -May 18 (Nashville, TN)

FemmeFest - May 22 (Charlotte, NC)
White Mule Music Pub - May 27 (Columbia, SC)

Home Team BBQ - May 28 (Charleston, SC)

Music in the Woods - May 29 (Paris Mnt. State Park)
Maguire Theater - June 3 (Elizabeth, City, NC)