American Babies Announce U.S. Tour + New EP "Stark & Red"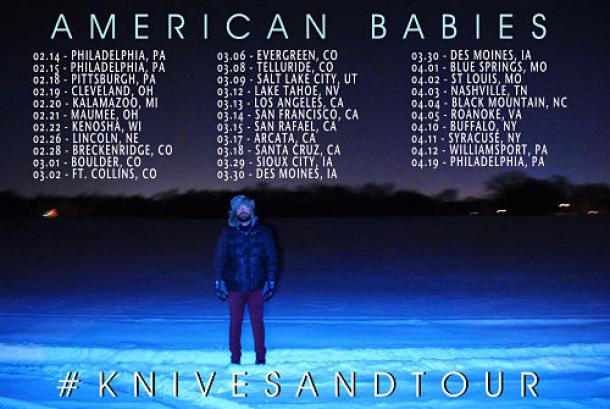 American Babies are set to launch a cross-country U.S. tour this weekend. The Philadelphia-based band, fronted by Tom Hamilton, kick-off a 32-date run with two hometown shows at Union Transfer followed by headline performances throughout the Midwest and Colorado. The Babies then join TL3 (featuring members of Tea Leaf Green) for a stretch of West Coast dates. A highlight along the way is a performance at Grateful Dead bassist Phil Lesh's Terrapin Crossroads in San Rafael, CA at his birthday celebration. The trek concludes back home in Philadelphia at Underground Arts in April. The tour also marks the maiden voyage for the band's new bassist Marc Friedman, best known for his work with The Slip.
American Babies are touring in support of their latest studio album, Knives & Teeth, released in Fall 2013 by The Royal Potato Family. Relix Magazine praised the effort "as one of the better rock records of the year." On April 1, American Babies will also drop a new EP, Stark & Red, via RPF. The seven track collection is comprised of stripped-down, acoustic versions of five songs released on previous albums, including stand-outs "Streets of Brooklyn," "Winter War Games" and "Swimming At Night." In addition, the set features two reworked, acoustic renderings of "Old Fashioned" and "Goddamn" from Knives & Teeth.
"In the middle of recording Knives and Teeth, I booked a few solo acoustic shows to get myself out of the studio. It gave me a chance to change my ears by having to arrange songs for just one guitar. I had recently started hanging with a fellow Philly musician, Ginger Coyle and thought it would be cool to get her voice involved with my music. She learned some tunes and as soon as we sang together I knew I wanted to document it," explains Hamilton. "We set up in a room with two microphones, hit record, and blew through a bunch of Babies' songs. The music on Stark & Red is all first or second takes. The result is a loose and lovely collection of music that came together with a few friends trying to keep busy and warm in the winter months."
American Babies tour dates are:
February 14 & 15 - Philadelphia, PA - Union Transfer *
February 18 - Pittsburgh, PA - Club Cafe
February 19 - Cleveland, OH - Beachland Tavern
February 20 - Kalamazoo, MI - Bell's Brewery
February 21 – Maumee, OH – The Village Idiot
February 22 - Kenosha, WI - Public Craft Brewing Co.
February 26 - Lincoln, NE - Zoo Bar
February 28 - Breckenridge, CO - Three20 South
March 1 - Boulder, CO - The Fox Theatre
March 2 – Fort Collins, CO – Avogadro's Number
March 6 - Evergreen, CO - Little Bear Saloon
March 8 - Telluride, CO - Fly Me To The Moon Saloon
March 9 - Salt Lake City, UT - Kilby Court
March 12 - Lake Tahoe, NV - Crystal Bay Club Casino **
March 13 - Los Angeles, CA - The Mint **
March 14 - San Francisco, CA - Boom Boom Room **
March 15 - San Rafael, CA - Terrapin Crossroads ^
March 17 - Arcata, CA - Humboldt Brews **
March 18 - Santa Cruz, CA - Moe's Alley **
March 29 – Sioux City, IA – Vangarde Arts
March 30 – Des Moines, IA – Gas Lamp
April 1 – Blue Springs, MO – Trouser Mouse
Apri 2 - St. Louis, MO - The Demo
April 3 - Nashville, TN – FooBAR
April 4 - Black Mountain, NC - Pisgah Brewing Company
April 5 - Roanoke, VA - Martin's Downtown
April 10 - Buffalo, NY – Nietzsche's
April 11- Syracuse, NY – Lost Horizon
April 12 - Williamsport, PA - Bullfrog Brewery
April 19 - Philadelphia, PA - Underground Arts
* w/ Railroad Earth
** w/ TL3