Andrew Belle live on the Lennon Bus in Austin
Submitted by mike on Sat, 04/30/2011 - 01:37
At
SXSW
this year,
Andrew Belle
was invited aboard the
Lennon Bus
to perform the track that won the John Lennon Songwriting Award for excellence in their pop category. On the Lennon Bus, Andrew recorded an intimate, live version of "The Ladder," which premieres today on
Paste
.
.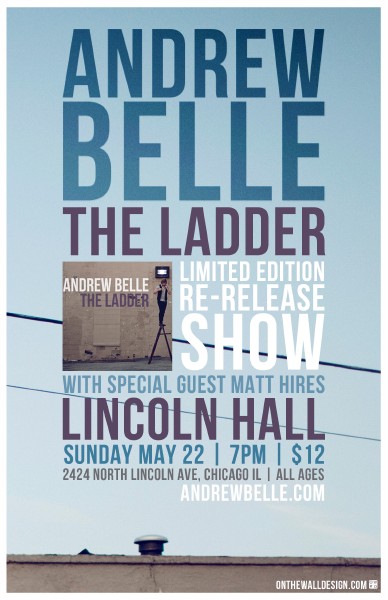 After his performances at
SXSW
and the
South Beach Food & Wine Festival
. 
Andrew Belle
has returned to hometown Chicago to prepare the limited edition re-release of debut LP The Ladder featuring new music and new artwork and has planned a celebration around the release with his biggest Chicago show to date.
Andrew Belle
is a new artist on the pop singer/songwriter scene. Residing in both Chicago and Nashville, he is currently touring clubs and universities across the country, and is also a member of the critically acclaimed national tour Ten Out Of Tenn.
Andrew
released his debut EP
All Those Pretty Lights
in 2008, containing songs featured in hit TV shows including "90210", "The Real World", "Ghost Whisperer" and "Keeping Up With The Kardashians".
His debut full-length album The Ladder was released in February 2010 on 1L Music. The Ladder reached #1 on iTunes Singer/Songwriter charts, scored a spot in the Top 100 chart on iTunes and charted in the Top 25 on the Billboard Heatseakers Chart.  His songs have garnered nationwide airplay including Chicago's WXRT, Nashville's WRLT, and Los Angeles' KCRW. Andrew recently was named "Best Breakout Artist, Chicago" by MTV. Recently, Andrew was awarded with the John Lennon Songwriting Award for excellence in their Pop category for the title song off The Ladder. Fans and critics often refer to his songs as "smart pop"—nuanced melodies and sophisticated, contemplative lyrics coupled with bold, infectious hooks.
2009 saw Nashville / Chicago resident
Andrew Belle
invited out on the second generation Ten out of Tenn Tour and after an overwhelming response on the road, invited out for the Ten out of Tenn Holiday Tour.  Ten Out of Tenn is a diverse and unique community of artists making organic pop music in the shadows of Nashville's slick commercial country music industry on the road supporting each other every night!  The original Ten out of Tenn debuted in 05 with ten musicians who were at the forefront of the vibrant Nashville pop music scene with over thirty albums released between them.