ANR Get Remixed by Memory Tapes, Release Stay Kids Deluxe Edition
Submitted by mike on Mon, 07/25/2011 - 18:50
Miami duo ANR will release the deluxe edition of their post-apocalyptic pop album Stay Kids on September 13th through 10K Islands. In the meantime the prolific group will be releasing videos, remixes, and other goodies. Most recently, they enlisted Memory Tapes to remix "Stay Kids," their blissed-out, nostalgic anthem about growing older. Click HERE to stream/download Memory Tapes' take on the track, and click HERE to watch the video for ANR's original version of the song.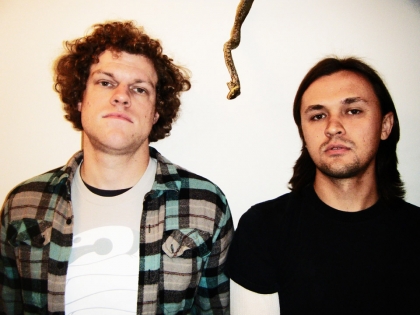 ANR consists of merely two members – Brian Robertson (Keys, Vocals) and Michael-John Hanock (Vocals, Drums) – but they create a powerful sound filled with layered melodies and bountiful hooks. It has already earned the duo praise from RCRD LBL, The Fader, and Nylon, among others, and have landed them shows with bands like Animal Collective, Neon Indian, No Age, and Fucked Up.
Stay Kids is a rhythmically propulsive, psychedelic trip that was inspired largely by recent floods, earthquakes, tornadoes, and other environmental disasters. Much of the album's lyrics meditate on how such 'natural' disasters affect individuals and humanity at large. However, sonically-speaking the album is by no means morose. Instead, the synth-heavy and often danceable material feels triumphant. Each song is a journey through carefully sculpted, dream-pop soundscapes with frequent, unexpected and exciting detours
ANR's live show highlights a different aspect of the band, bringing out their punk influences as well as their penchant for German progressive acts of the 70's. The group will tour throughout the US this Fall, with dates to be announced soon.
--
Click HERE to Watch the Video for "Stay Kids"
Click HERE for Memory Tapes' Remix of "Stay Kids"
--
Tour Dates:
8/29: Philadelphia, PA Kung-Fu Necktie
8/30: New York, NY Milk Studios
8/31: New York, NY Mercury Lounge
9/1: Boston, MA Brighton Music Hall
9/2: Montreal, QC Casa Del Popolo
9/3: Toronto, ONT The Drake
9/5: Detroit, MI Lager House
9/6: Grand Rapids, MI Pyramid Scheme
9/7: Chicago, IL Empty Bottle
9/9: Urbana, IL Canopy Club
9/10: Minneapolis, MN 7th Street Entry
9/12: Seattle, WA Crocodile Lounge
9/13: Portland, OR Doug Fir
9/15: San Francisco, CA Bottom Of The Hill
9/16: Fresno, CA Audie's Olympic
9/17: Los Angeles, CA The Satellite
9/20: San Diego, CA Soda Bar