This was my first time in the old fashioned Theatre of the Living Arts since it has turned into the Fillmore at the TLA, and it was a very interesting bill for me. I am very familiar with the current afrobeat champions from Brooklyn, on the other hand, I've never heard of State Radio so I was interested in seeing a new band. To my chagrin, Antibalas was up first and they had a shorter time slot. They came on like army of missionaries on their way to save the world. This band is powerful! They are in my top five bands to see live by a long stretch. One of my favorite musicians in the world is the late Fela Kuti, and they capture the influence of Kuti in a masterful way. The strength of 12 members on stage all sweating with funk and afro beat pouring out of the veins is astounding to watch as an audience. You are either captivated into watching or feeling a motion in your soul that you don't recognize. It can be compared to speaking in tongues or participating in the native dances where one loses all grasp of where they are and simply move through instinct and spirit. Amayo does a great job as the front man of this ultra talented band. The horn section is probably one of the most forceful cadences that can be heard. They demand attention. The crowd feels the need to dance and move whether they are familiar with the band or not. Victor Axelrod adds the perfect sound on his electric piano, organ, or clavinet. The sounds that he creates are unique to say the least. My only wish is that Antibalas toured more often. I feel very lucky when they come to my town. Often they are busy touring the world spreading their politically charged messages of love, injustice, and the horrendous administration running this country as well as many others. This is the spirit of Fela Kuti.
The only downside of the night was the fact that State Radio was headlining. After an incredible emotion filled set of afro beat funk, a lame three piece college rock band took the stage. One of the members of Antibalas joked with the crowd before they went off stage by saying that, "Tonight America has done something that they haven't done in years. Did you hear? They instilled the draft, and most of you will now be in danger of fighting for a senseless war." The crowd was so immature that they were quiet in disbelief. Then they started booing when they said that they were only kidding, but they should stay conscious on issues regarding our country because that is maybe something that could come to fruition. When Antibalas finished their amazing set, the white hat wearing college crowd started chanting, "State Radio, State Radio…" At this point, I was interested to see what this band had to offer. If all of these people who just witnessed Antibalas have the gall to scream for another band the minute they went off stage then they must be really good, right?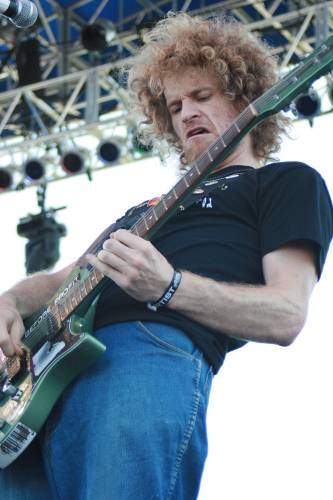 No! State Radio came on stage as the crowd went crazy, and they sounded like every other modern rock radio standard. They are a three piece lead by former leader of Dispatch, Chad Urmston. They have also worked with producer Tchad Blake on some roots, reggae, rock material all written by Blake, which is the only reason why I stayed as long as I did. Blake has worked with some amazing musicians over the years such as: Phish, Peter Gabriel, Tom Waits, Pearl Jam, Al Green, and the list goes on. I figured if Blake has written their new album, it must be good. Needless to say, my wife Laura and I stayed until we could take no more boredom. Everyone one of State Radio's songs sounded the same. The only glimpses of hope that I heard were a few songs that had a Sublime type vibe to them. Those were probably the songs written by Blake. We left the set early and angry that they were the headliner that night. On our way out, I asked a security guard, an old deadhead, if Antibalas was going to come back out. He said, "No, but they should." When I asked him why State Radio headlined, he said, "They both fought for the spot and for some reason State Radio won the toss." To me, that ruined the show.
On a good note, please make sure that you go and see Antibalas Afrobeat Orchestra the very next time they come to your town. They will not disappoint. I give you my word on that. They are tough to catch, which is why when they come to your town, do not miss them. They are currently on a world tour which looks like this.