Arc & Stones Announce New EP As You Were - Out June 10th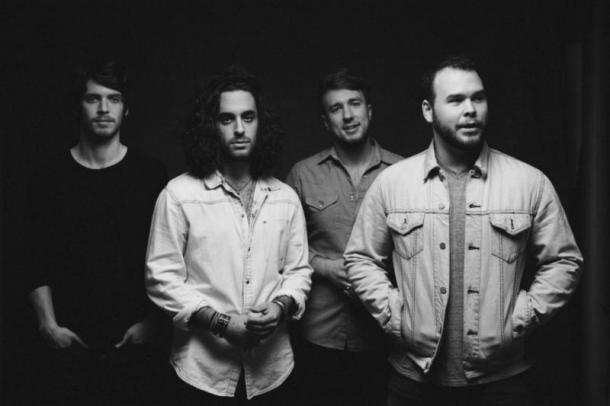 The soulful blues-rock 4-piece Arc & Stones announce today they will release their sophomore EP As You Were on June 10th.While only their second release since forming, this young Nashville-by-way-of-Brooklyn band has already been touring in direct support of the legendary rock band,KANSAS. For more information on the band and their new EP, visit: http://www.arcandstones.com.
Arc & Stones is Dan Pellarin (vocals, guitar), Ben Cramer (guitar), Eddy Bayes (bass), and Joe Doino (drums). When embarking on this new EP, the band aimed to draw from elements of their initial self-titled EP while also bringing those ideas the next level, creating a singular work to reflect the band's previous year of growth and development. As Pellarin explains, "These songs came about through the past year. We felt that these six songs were an experience in itself, and with very different personalities, they mark very different but special times in a year that has been incredibly memorable for us."
The band blends seamless harmonies, soulful lyrics, and heavy, yet technically impressive instrumentals, to bring a sound that fans of Queens of the Stone Age, The Black Keys, and Kings of Leon are already getting behind.
The EP's strength and power is rooted in the stories behind the lyrics. Arc & Stones set out to create six individual tracks with lyrics that could lead listeners through a real journey, showcasing the band's impressive storytelling songwriting style. Tracks like "Walkin' In" and "Sweet & Vicious" paint vivid love and heartbreak stories - avoiding cliché lyrics and creating stories that feel as real to the listener as the experiences were to the band.
While the tracks stand out distinctly from each other, the underlying theme of perseverance is central to the record and seen throughout. The theme kicks-off the EP in the initial track, "Control," a song Pellarin describes as "basically a f*** you to the people who only want to believe in you when you're successful." The message of perseverance comes up sporadically throughout the EP and culminates in the ode to never giving up "Caught on Fire," - an anthem for anyone who has been told not to take their dreams seriously. Pellarin explains, "This is a song for those people who, just like us, were told they couldn't do it, they couldn't break through, who couldn't catch fire, beat the odds, and despite it all... did. The dream is meant to be a reality."
Arc & Stones' recent momentum can also be attributed to their range of appeal. The band creates a live show that young audiences adore - from the Brooklyn hipsters to Preppie college crowds, their tunes are infectious. Their two "hometown" venues cater perfectly to both - often playing to packed audiences in their original hometown of New York City, at the Bowery's Mercury Lounge and similarly in Nashville at The Basement. The band will celebrate their EP release on May 31st at Mercury Lounge in New York City.
Formed in 2012, Pellarin and Cramer took their early ideas of playing music together in a band full-time from a post-grad dream into a reality. After graduating college in Miami, the duo moved back to their hometown of New York City to take advantage of their clear musical chemistry and began recording the songs what would later become their debut EP. In NYC, the duo quickly added their friend and bassist, Bayes, to the mix and completed the lineup landing an internet-ad-discovered, solid drummer Doino. The band remained in New York City and noticed the local buzz was growing rapidly as they were, promoting the debut EP and gigging along the East Coast. This gradual progession took a turn for the better when in 2013 the band was offered an opening slot to tour with KANSAS. That relationship paired with the band's southern rock vibe naturally led the four-piece to relocate to Nashville and there's been no turning back since.
Arc & Stones will release As You Were on June 10th. For more information, visit: www.arcandstones.com.
Track Listing:
01. Control
02. Walkin' In
03. Wanted
04. Sweet & Vicious
05. Too Late
06. Caught On Fire
Tour Dates:
May 29 - Westbury, NY @ Theatre at Westbury w/KANSAS
May 30 - Englewood, NJ @ Bergan PAC w/KANSAS
May 31 - New York, NY @ Mercury Lounge (EP Release Party)
Jun 6 - Nashville, TN @ Schermerhorn Hall w/KANSAS
Jun 7 - Fayetteville, GA @ Southern Ground Amphitheatre w/KANSAS
June 10 - Jacksonville, FL @ Burro Bar
Jun 19 - Charlotte, NC @ Crown Station Pub
Jun 21 - Hopewell, VA @ Beacon Theatre w/KANSAS
Jul 5 - San Antonio, TX @ Aztec Theatre w/KANSAS
Aug 2 - Bethlehem, PA @ Musikfest
Oct 9 - Salisbury, MA @ Blue Ocean Music Hall w/KANSAS