With just about two months to go, Colorado's best music festival experience is only warming up, and even in their warm-ups, they go hard. The venue was an unusual one, but the Apex Movement facility in Boulder, was the perfect place to throw a mini festival. There was meditation, reiki, dancing, gymnastics, upper level pools, amazing drinks from Zoe at StarWater, photo booths, fire dancers, activists, really amazing music (I don't care if you saw the lineup and didn't recognize the bands), beautiful painters and artists, and even a wheel to get spun. Not surprisingly, there was so much to do and take in at the pre party, and if more people knew how much fun ARISE events were, they would all sell out in seconds. It is not going to take long because the secret is out. Just like Michael Franti said last year at the end of his uplifting set, "Next year and in other future years when there are many more people attending, you can say that you were at the first annual ARISE Music Festival." Second tier pricing and West Side camping are nearly sold out, and there are more announcements to follow still regarding a couple more surprises, so keep checking the website.
The comment I made earlier in parenthesis regarding being unfamiliar with some of the artists listed used to pertain to me as well, and that is why I bring it up. I have heard so many individuals say that the lineup was this or the lineup was that without even the individual knowing more than half of the bands. I have two jobs in the music industry, and there were just as many names that I did not recognize at first glance, but I learned so many new incredible artists from this pre party and last year's festival itself.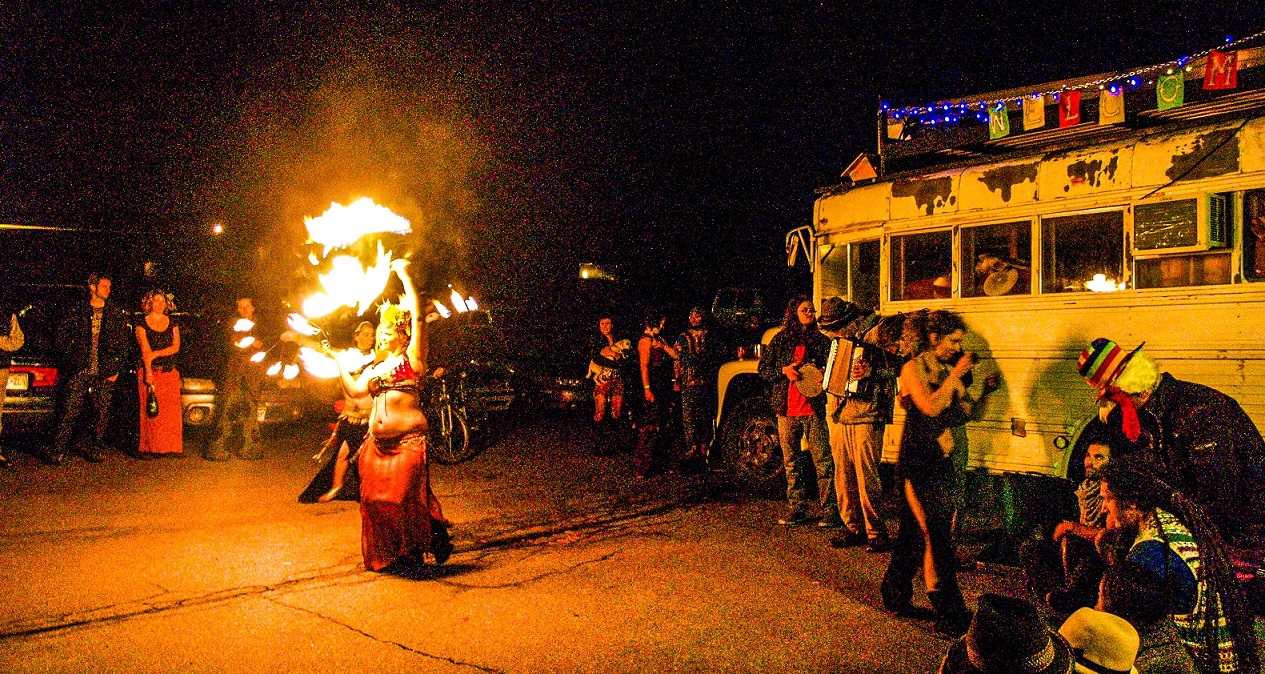 When I entered the building the Wandering Monks were just finishing up their set, and We Are Change was motivating the crowd to become involved in the world. After getting acquainted with the Apex Movement facility, I settled in the crowd just in time for the enchanting sounds of percussion by the beautiful couple that calls themselves, Lil' Sumn' Sumn'. They started connecting their energy through these island percussion instruments and their love. The crowd was lapping it up. The duo then moved onto full drum kits and more exotic percussion instruments until the end of their mindfully intentional set.
The DisEmbodied poetry carried the vibe through the set changes in a mystical cabaret style, and next up was my friend and one of the area's greatest drummers, Jonny Jyemo's band Tierro. These guys ripped as usual. I just keep getting more and more impressed every time I see them. Guitarist Tierro Lee was magnificent. His solos still having me wanting more. These tribal beats backed by Jyemo in addition to the guitar and bass's mystical trance sounds adds an element of magic and wonder to the dance party.
Sadly, I did not stay til nearly 3am to see Doubl' Dragon's late set, but I did catch all of Buddha Bomb's, and I could not believe my eyes and ears. This DJ must be in his sixties, and not that age matters at all, but only because he dropped beats better than every DJ that I saw at the Snowball Music Festival. The diversity of his sound made dancers jump and twirl for hours on end. The uniqueness of the mixes and the spirituality of the sound generated an incredibly positive vibe to the already positive feeling that ARISE induces. I do not know how any music lover in Colorado can miss ARISE events anymore. They are major highlights of my musical year, and I see a ton of live music weekly. In other words, get your tickets now while they are still discounted for a trip to Sunrise Ranch in Loveland, CO on August 8-10, and get ready to embark on the journey that you have always dreamed of...