Arlo Guthrie In Times Like These
To some purists, hearing Arlo Guthrie's, In Times Like These, released last summer, they might figure the live album was overproduced because of the symphony orchestra that backs up Guthrie's acoustic guitar and piano work. The result, however, is a recording that showcases Guthrie's singular storytelling voice and the nakedness of his instruments, while providing a theatrical swell behind his songs. As a listener, you almost anticipate seeing a movie unfold with the next note.
Folksinger, master storyteller, and all-round genuine human being, Arlo Guthrie has been entertaining for over four decades. In 2006, I had an opportunity to interview this folk legend while he was on the Alice's Restaurant 40th Anniversary Massacre Tour, where he recreated the insanely-funny 18-minute monologue that made him famous. My husband and I shared that experience with our twenty-something son at a local university concert that Guthrie did here in North Dakota.  It was our pleasure to pass along the humor and social consciousness renderings that Guthrie was know for.
When I interviewed Guthrie that year, he had just come from Lexington, KY, where he had recorded this album with the University of Kentucky Symphony Orchestra, under the direction of John Nardolillo. "We've done shows with about thirty different orchestras, over the last five years," he said two years ago. "This is, I think, the first time we're working with a young orchestra. It's really great, working with young people."  The orchestra did slip in thirteen guest artists who were friends of the university, of which five were faculty. But still the large orchestra was composed of university music students. Nardolillo has the infamous distinction of breaking into Guthrie's dressing room at the Lincoln Center during a performance. He did manage to make a plea for doing work with orchestras before he was hauled off by security!
This experiment with making music with orchestras is not just using a symphony to back whatever Guthrie does up front on stage. Instead, it is creating something new and fresh that is crossing genres. "The trick," Guthrie said, "is to try to do something that is not just something you could do with a synthesizer, but to create orchestral arrangements in the symphonic tradition rather than make them sit there playing chords." He insisted that he wanted to use the talent that was present in the orchestra. "We've done that, I think," he continued. "We've got some great charts that were written by a friend of mine who is new to the kind of music I play."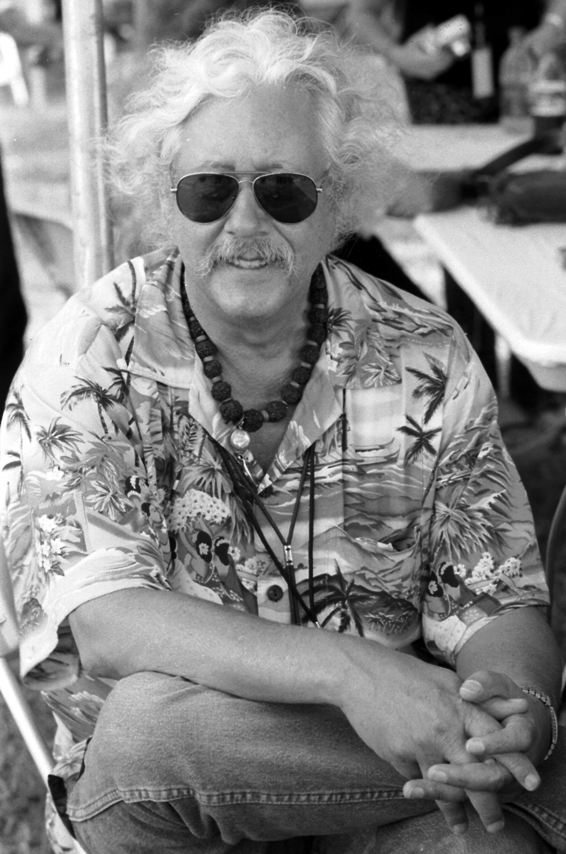 What has happened and is very present in this new CD is a synthesis of musical traditions. "There's a great classical tradition that most people are probably not as familiar with as they could be," Guthrie added. "It's a situation where our audience will probably come to see us even if we're playing with a herd of elephants. And there are a lot of symphony people who would go to hear the orchestra, regardless of who is playing with them. So you get a wonderfully mixed audience of people for whom the whole thing is new."
While at UK, Guthrie also taught his first university course. "There is a lot of interest in the part that music plays in different aspects of the culture, certainly for somebody from the sixties when music was really important, when music was the only vehicle for popular dissent,' he said. "And so it can play an important part in creating the soundtrack for social change. That's one aspect they're looking at.
"Others may be looking at more technical takes on this:  how do you make a record or those kinds of things," he says. "Everything from the simplest mechanical information to the business of doing music within and without the entertainment industry."
In 1983, Arlo left a major record company and started his own label, Rising Son Records, and quickly advised young musicians to go the do-it- yourself route. "I've done both. I've worked 15 years with Warners and then the last 20 years, we've done it on our own. We were really one of the first people to strike out from the stable of the major labels and do it ourselves. 'Course a lot of people are doing it now."
Certainly, a lot of independent bands are doing that and even some bands that were signed are becoming independent mainly because of the nature of control. What people forget is that you may get a big advance, but you've got to pay it back. Guthrie added, "Not only that. They have the best creative accounting in the world. Even for purely financial reasons, it really doesn't make sense to sell yourself to a corporation that is basically owned by a different corporation, as they are both own by another corporation. By the time that you get done looking at the big picture, the music part of the company you're working with is a very small part of a large company that has a lot of different interests. So, their interest in you as a single artist becomes minuscule compared to what they are doing.
"If you do it yourself and you're actually interested in yourself, not only do you have no one looking over your shoulder, but you stand to make a living, which I guarantee that you will not do when you are the minuscule focus of some global network."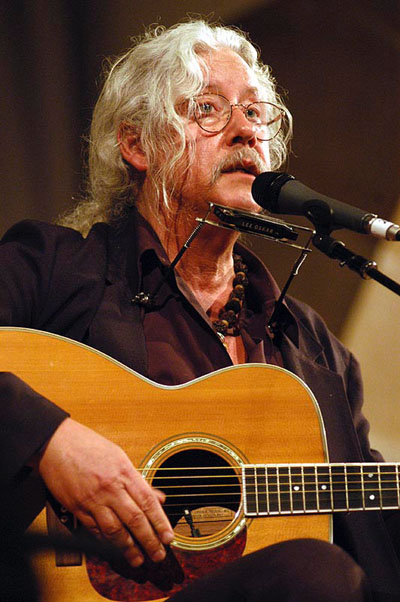 Unfortunately, musicians still believe in the magic of a record deal.  "The reality has not flowed to the general public," Guthrie said. "You would have to have worked in it for a little while before you realize that not only will you not be somebody, but you will be poor. There are all kinds of drawbacks of getting caught up in the entertainment industry."
Rising Son Records not only produces Guthrie's music but his children's recordings and some by other artists. "We're beginning to branch out," he said. "For me, this was not an easy thing to do. The only thing we had was the ability to make music. I didn't know anything about the business of it so it took many years to get to the point where we actually knew what we were doing.... But the bottom line is that when we make a record and somebody likes it and purchases it, we do the accounting. We know how it works. We know that we can actually make a living doing this."
Guthrie continues to make his own kind of music. In Times Like These proves that he can still make a significant mark on the music scene. Of special note is Guthrie's arrangement of "St. James Infirmary." With careful addition of horns, Klezmer clarinet, and stride piano, the simple folk classic takes on a significant musical reawakening. The orchestra also breathes life into his tender "If You Would Just Drop By," which was one of my all-time favorites. This version is fresh and will be eye-opening to old folkies like me, as well attract new fans. Though some of Guthrie's songs become pop songs. Others retain their folk roots and the orchestra just supports that effort. "In Times Like These," the title cut, is left as a solo voice and guitar piece.
Even Steve Goodman's song, "City of New Orleans," that Guthrie made famous is enhanced by the orchestra. It is always a crowd favorite. But there are unexpected touches, such as horns and drums that peek out from the strings.
Also, included in the mix are three other songs that Guthrie didn't write.  Glen Anthony's ballad, "You Are the Song," may have been a bit of a stretch for Guthrie vocally, but it works, and will appeal to the symphony/pop crowd. Huddie Ledbetter's "Good Night Irene," unfortunately, is treated as a theatrical musical number. There is no way to make it less so with an orchestra. In contrast, Luigi Creatore's "Can't Help Falling in Love" does work both for the orchestra and for Guthrie.
All in all, In Times Like These is a bold melding of the folk experience and symphony structure. I can understand why Guthrie keeps working with orchestras, encouraging new talent, and drawing new fans. Check it out.