Audio Fidelity Set to Release Phil Collins & Genesis Albums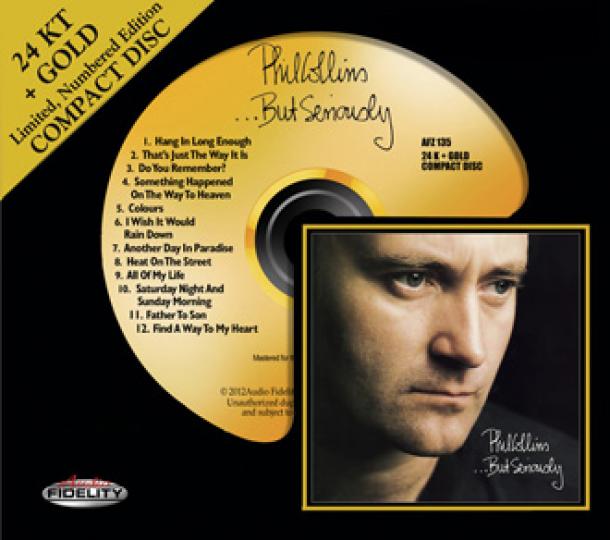 Marshall Blonstein, president of Audio Fidelity, has announced April 24 as the release date for the reissue of two classic rock albums. Phil Collins' chart-topping 1989 solo set BUT SERIOUSLY will be released as a 24-Karat Gold CD, and Ten Years After's 1971 A SPACE IN TIME, released in 24-Karat Gold format last year, will return in a 180-gram vinyl LP edition. Both recordings will be available as numbered, limited editions that will be sold through online and brick-and-mortar retailers alike.
Additionally, on April 21, in support of the fifth annual "Record Store Day," Audio Fidelity will reissue Genesis' rare 1977 EP SPOT THE PIGEON. This rare recording will be available only from the some 700 independent music retailers participating in the annual event.
BUT SERIOUSLY
was
Phil Collins
' fourth album, and one of his most successful, topping Billboard's chart for three weeks, eventually going four-times-Platinum. It became the best-selling album of 1990 in Britain, where it spent 15 weeks in the No. 1 position. The record was
Collins
' second chart-topper, following 1985's
NO JACKET REQUIRED
.  Produced by Hugh Padgham (Genesis, The Police, Paul McCartney),
BUT SERIOUSLY
boasted no less than five charting singles, among them the Top 10 titles "Another Day in Paradise," "Do You Remember," "Something Happened on the Way to Heaven" and "I Wish It Would Rain Down," which featured
Eric Clapton
on guitar.  Other supporting artists on the album include
Graham Nash
,
David Crosby
,
Stephen Bishop
(vocals),
Steve Winwood
(organ) and
Leland Sklar
(bass).
Ten Year's After's A SPACE IN TIME, first released in August of 1971 (and issued by Audio Fidelity as a Gold CD last July), was guitarist Alvin Lee and company's best-selling album, earning Platinum certification.  The band's seventh long-player, it peaked at No. 17 on Billboard's chart and yielded the group's only Top 40 entry, "I'd Love to Change the World," which also became a staple of classic rock FM radio.  A SPACE IN TIME marked the quartet's maturation from the hard-driving boogie kings of "I'm Going Home" into a subtler, more broadly appealing band with pop strengths.  Rockers like "One of These Days" and "Hard Monkeys" dominated, but the album featured Lee on acoustic as well as electric guitar, and "Over the Hill" utilized the talents of string arranger Del Newman (Tea for the Tillerman, Goodbye Yellow Brick Road).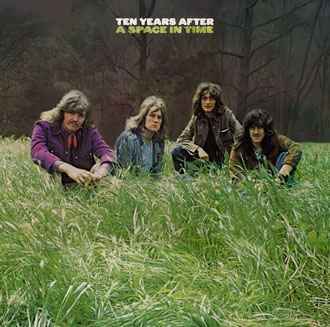 On April 21, in celebration of Record Store Day-the annual national event that salutes more than 700 independent music retailers-Audio Fidelity will issue Genesis' rare 1977 EP SPOT THE PIGEON, comprised of three tracks recorded for but left off the band's WIND & WUTHERING album:  "Match the Day," "Pigeons" and "Inside and Out."  The band's final release before guitarist Steve Hackett departed, SPOT THE PIGEON, which rose to No. 14 on the U.K. charts, has only sporadically been available (on Genesis anthologies) since it was first issued.  Audio Fidelity's reissue is poised to stir interest within both the collector and audiophile communities because it will feature all three songs on both sides, but one side will play at 45 rpm, the other at 33 1/3.  It will also be pressed on the same blue vinyl as its original incarnation.  The SPOT THE PIGEON EP will only be available from independent record retailers participating in "Record Store Day" nationwide.