On an evening in which summer still ruled in North-Central California, the compelling and charismatic Avett Brothers visibly pleased 5,000 or so souls with their lilting musical storytelling on Sept. 16. The unbridled, rootsy, folk-rock stomp took place at Thunder Valley Casino Resort's outdoor venue in Lincoln, near Sacramento, California.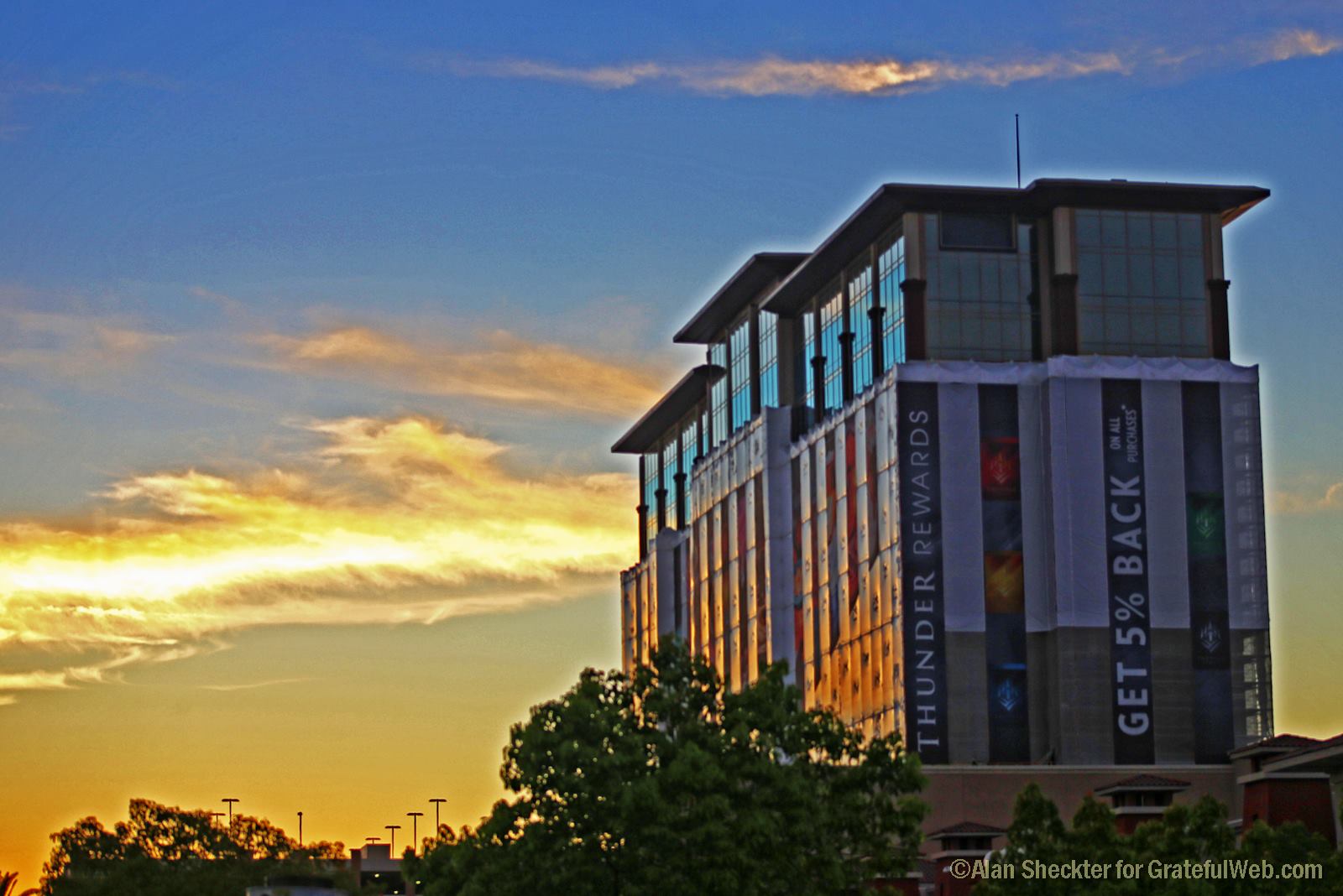 And just as the cooling, ocean-fed Delta Breeze swept over and refreshed the scene, so did Scott Avett, Seth Avett, and the rest of the band refresh the assemblage with a music outpouring of life's tales, backed with song-appropriate ebbs and flows of dynamic instrumental layers and textures.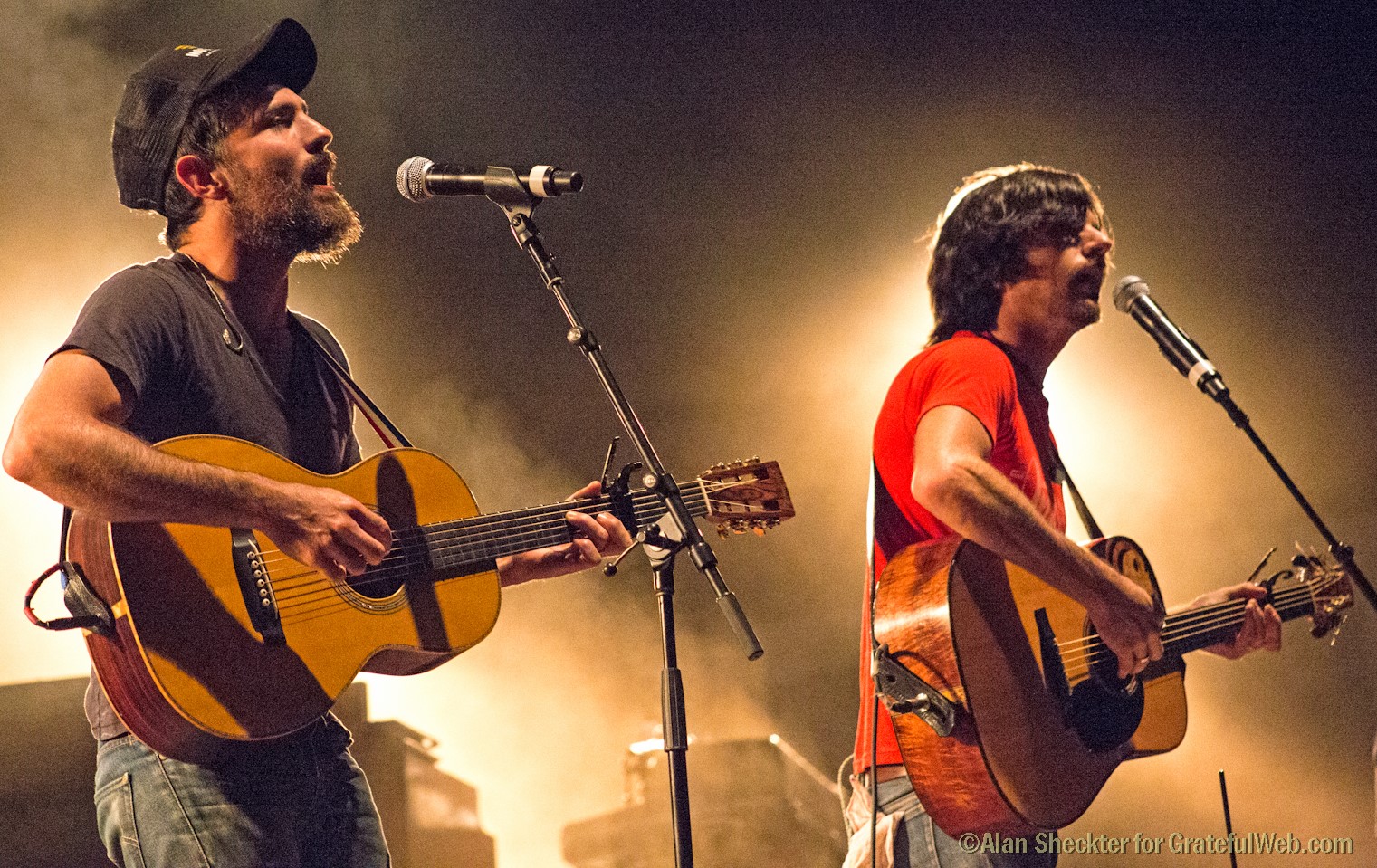 The North Carolina-based band, whose touring unit has numbered seven for the past several tours, were on point throughout the two-hour set and double encore, presiding over declarations and odes of love, joy, sorrow, and wisdom; all delivered with Seth's and Scott's endearing folky Southern drawl.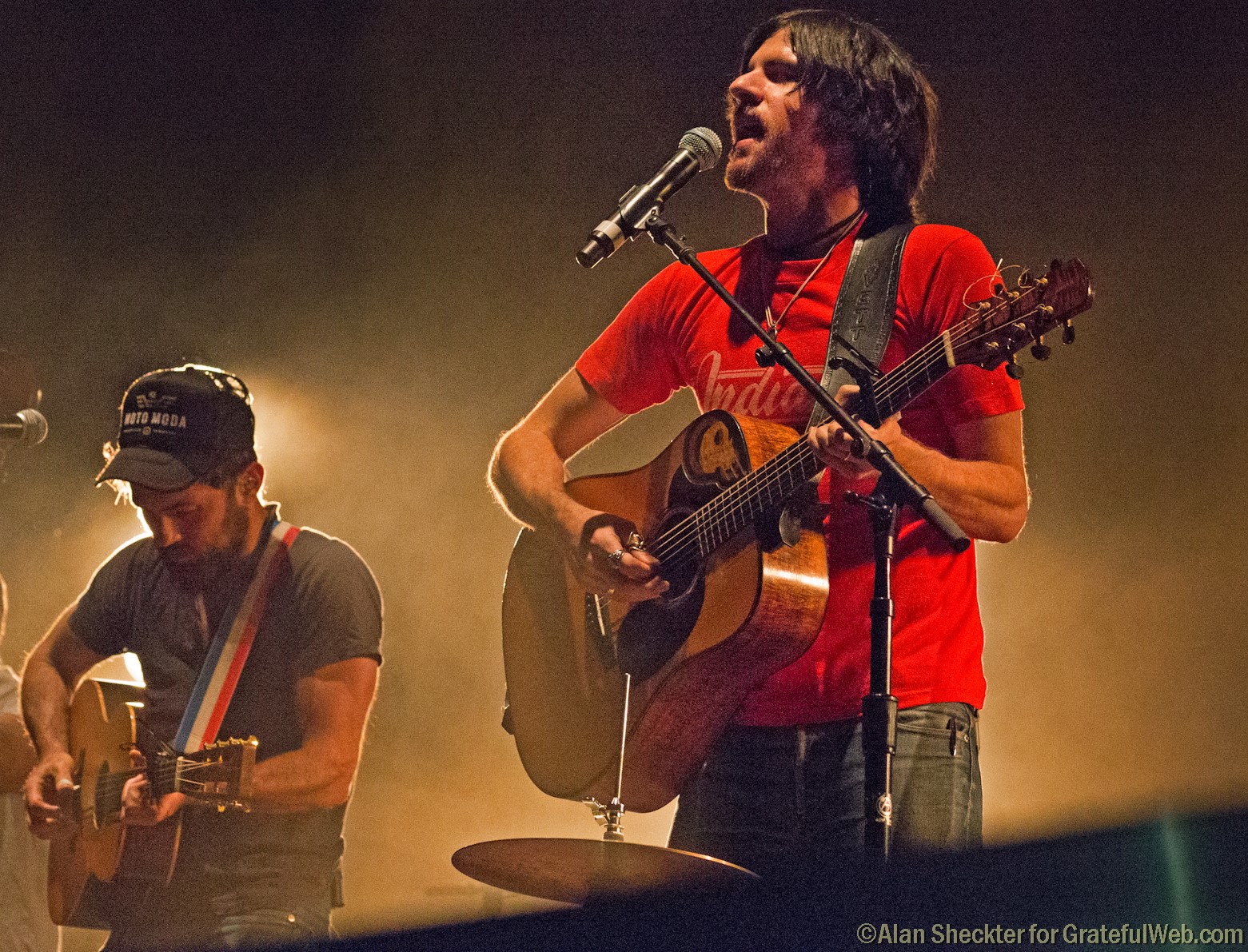 Seth Avett (guitar, vocals, keyboards, more) and Scott Avett (banjo, vocals, keyboards, more), the non-rock-starry stars of the band, alternately stayed at their center-stage mics – mostly while singing, -- and tramped about the stage during jam passages, adding to the party vibe. Bob Crawford stood motionless at most times, letting his profoundly mighty bass tones (electric and stand-up) put forth a wide range of bottom-end emotions.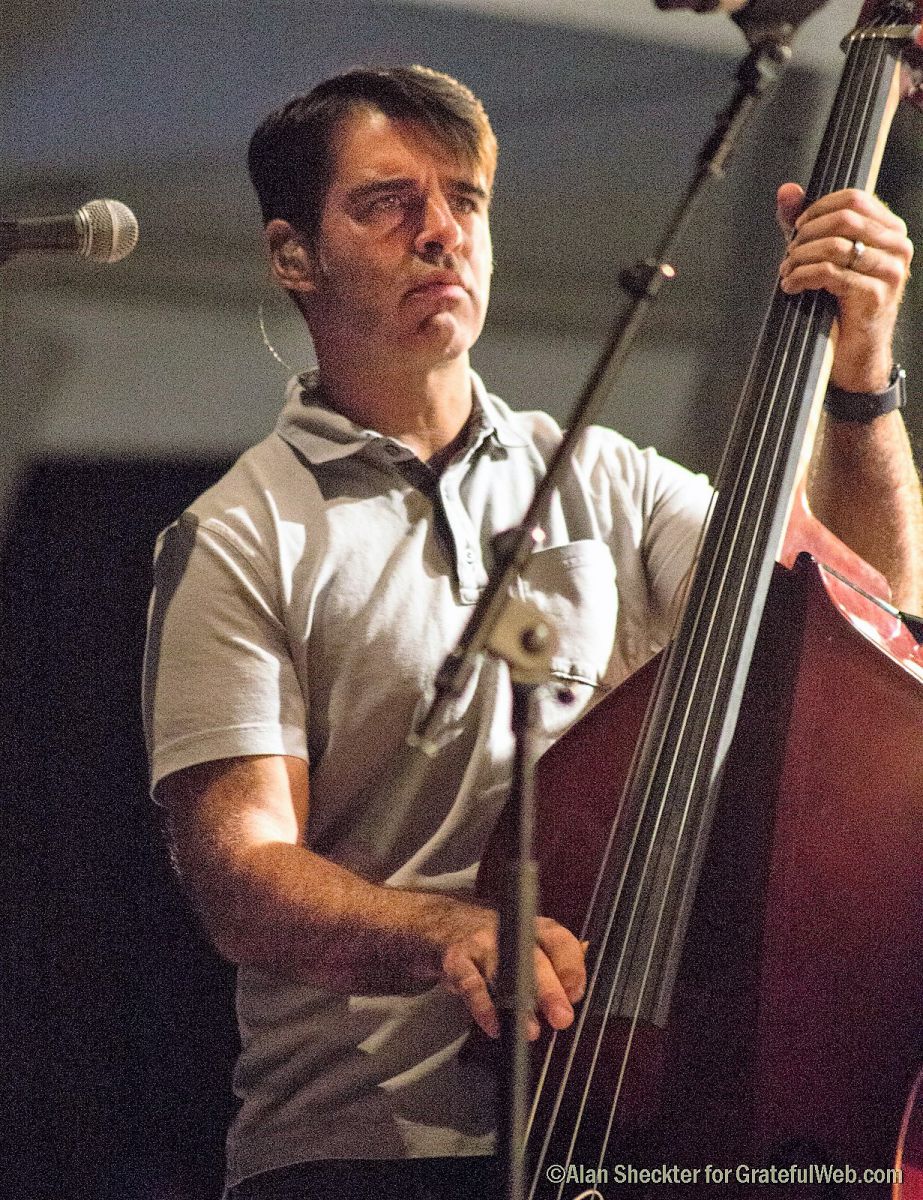 The delightfully unorthodox Joe Kwon, who played and moved about with his cello as much as it was anchored on the ground, and dynamic fiddler Tania Elizabeth, were an in-synch string duo throughout, while keyboardist Paul DeFiglia and drummer Mike Marsh provided top-notch supporting roles.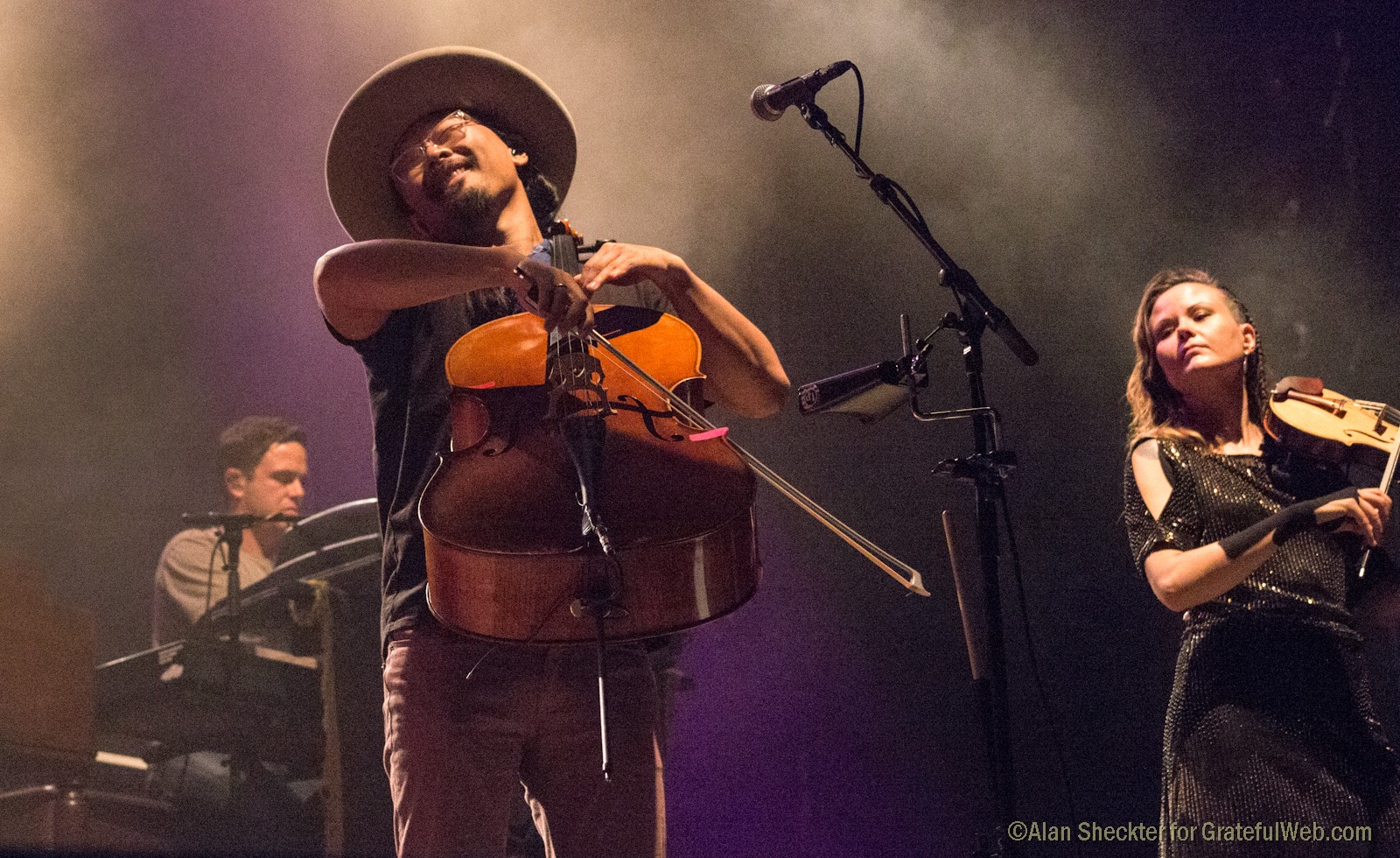 The set opened with the upbeat, novelty bluegrass ditty, "D-Bag Rag," with Seth and Scott contributing kazoo jams, followed by the title track of the recently released, Rick Rubin-produced, "True Sadness," In all, The Avetts performed eight of the new album's 12 tracks, all of which melded nicely with the band's extensive catalog. New-material highlights included the popular and insanely catchy bass-fueled hit, "Ain't No Man"; raucous revival-like rocker, "Satan Pulls the Strings," highlighted by an exciting fiddle/cello collaboration; and the folk-lively "Smithsonian."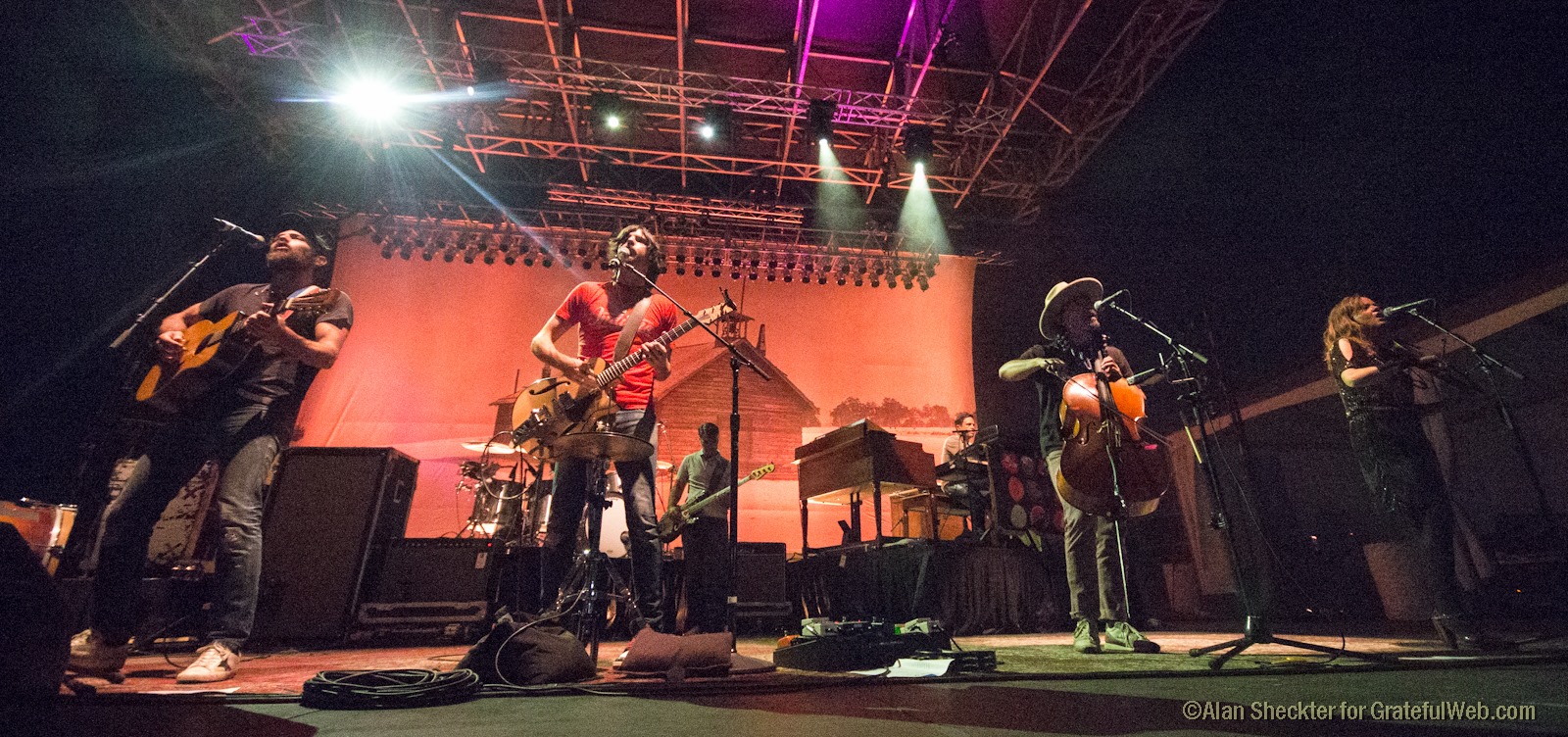 Of course the band mixes it up from show to show, and indeed, only 15 of 26 songs were performed on the previous evening. Most unusual, and simultaneously crowd pleasing was the solid, second-ever performance of Bob Dylan's classic, "Tangled Up in Blue," led by Seth's vocals and jangly guitar, Scott's harmonica, Crawford's steady bass, and Kwon's cello. Also fairly rarely played were the touching ballad, "Famous Flower of Manhattan," and "Pretty Girl from Michigan," actually part of a career-spanning series that includes "Pretty Girl from Matthews," "Annapolis," "Cedar Lane," etc.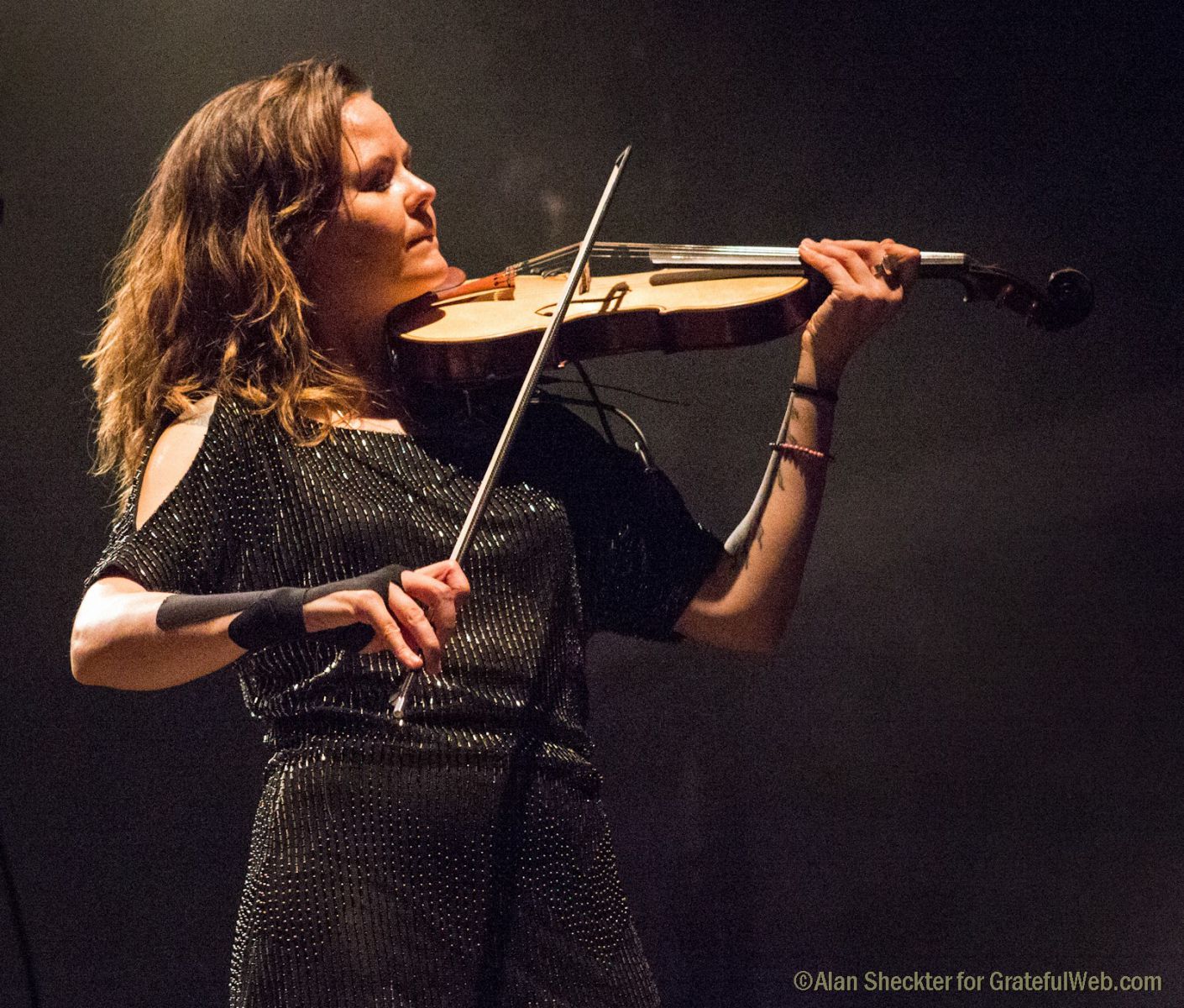 Other crowd pleasers along the way included, "Live and Die," "I and Love and You," and "Kick Drum Heart," with the audience rapidly clapping and air-drumming at the appropriate moments. The set also included the anthemic "Head Full of Doubt/Road Full of Promise" (during which a keen ear noticed that the lyric, "your life doesn't change by the man that's elected," was changed to "the person that's elected"); and "Divorce Separation Blues," which Seth singing what could've been the actual long-form title, "The tough education, no celebration, bad communication, worse interpretation, love deprivation, pain allocation, soul devastation, cold desolation, life complication, resuscitation, divorce separation blues."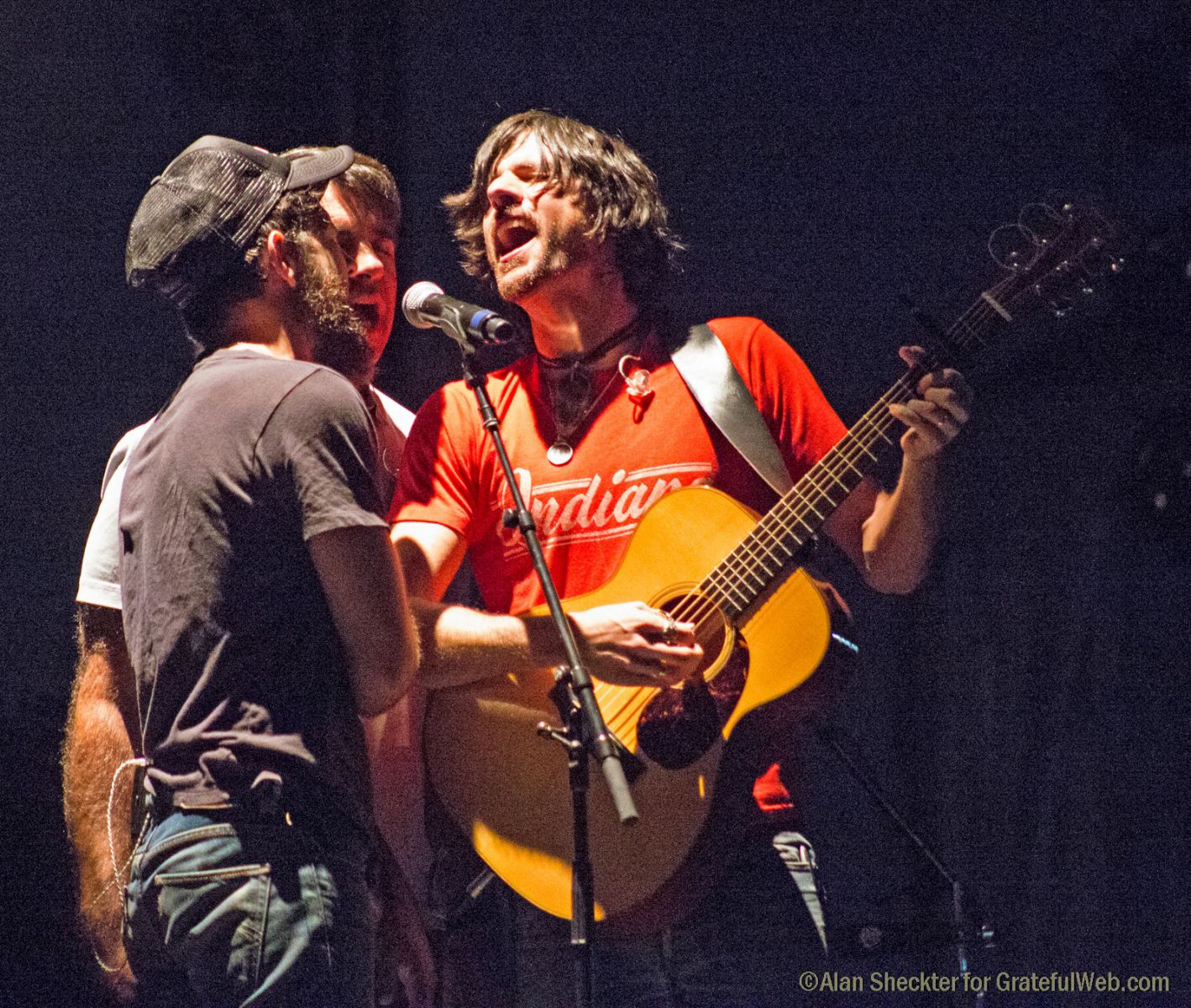 The band also performed three scaled-down acoustic songs with Seth, Scott, and Crawford gathered around one mic, including the hundred-year-old gospel ditty, "In the Garden."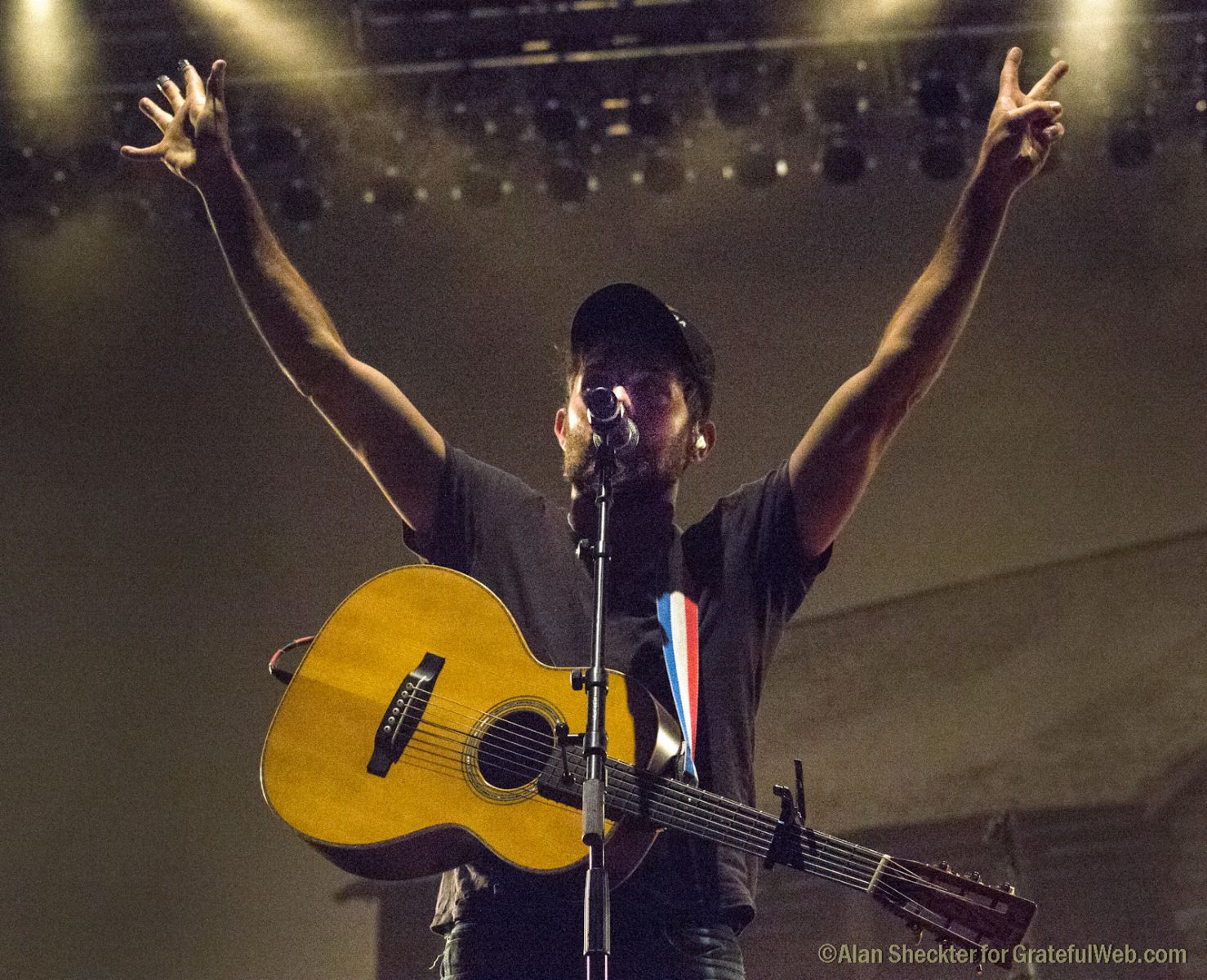 "Hard Feelings," also on the new project, was excellent in its final encore slot with the Avetts vocally offering words to exit and ruminate on: "I'm finally learning why; It matters for me and you; To say it and mean it too; For life and its loveliness; And all of its ugliness; Good as it's been to me; I have no enemies; I have no enemies; I have no enemies; I have no enemies;."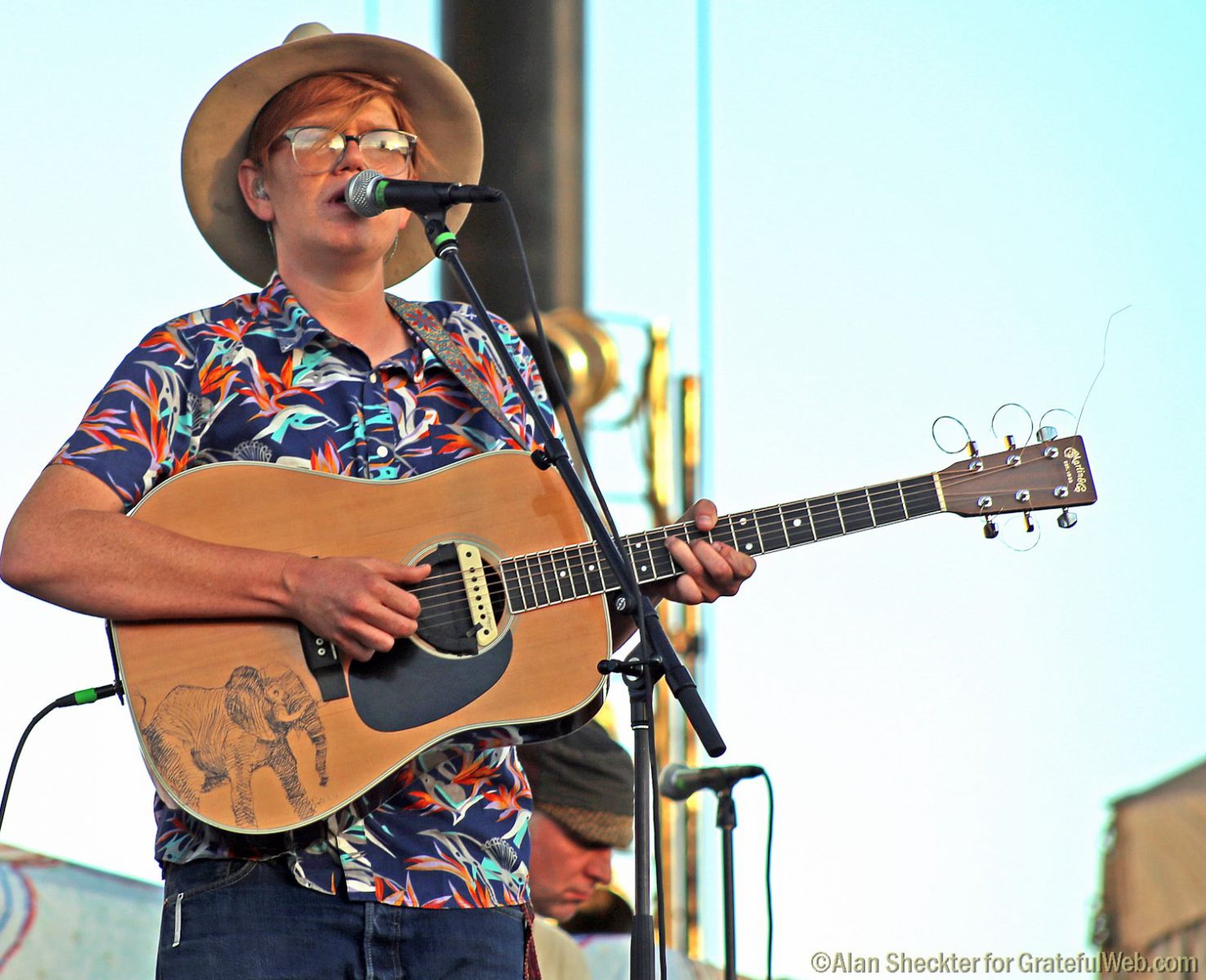 Opening the show, was the uniquely voiced singer/songwriter Brett Dennen, backed by a drummer and bass player. Better served is a smaller venue, Dennen delivered a nice set of tunes, but they were almost an afterthought once the concert was said and done.