The Band of Heathens Nominated for Americana Honor/Award
Submitted by mike on Thu, 05/13/2010 - 22:45
The guys in the Band of Heathens are fond of saying they became a unit by accident. But one might argue that a kind of destiny was involved in the merger of singer/songwriters/multi-instrumentalists Ed Jurdi, Gordy Quist and Colin Brooks with bassist Seth Whitney and drummer John Chipman, all of whom came from various solo careers and groups. Their new album, One Foot in the Ether, offers irrefutable evidence that they were meant to be together — and have evolved into a solid entity worthy of the comparisons they receive to the Black Crowes, the Band and Little Feat.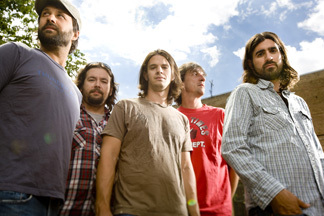 Maverick magazine called One Foot in the Ether album "a quality album from a quality group," adding, "If you haven't caught up with this group, why not?" The Wall Street Journal reviewer pronounced their live show at SXSW 2009 the "best set I came across during my five nights in town." Blurt noted: "An album that echoes their down-home resolve, One Foot in the Ether finds them putting their best foot forward."
The Americana Honors & Awards ceremony will be held Thursday, September 9 at Nashville's Ryman Auditorium. Other nominees in the "Best Duo or Group" category include the Avett Brothers, Carolina Chocolate Drops and the Dave Rawlings Machine.
According to band member Gordy Quist, "We're really pleased to be nominated for this award by the Americana Music Association and to be named along with such amazing artists.  The AMA has supported us from the very start and it's a real honor to be embraced by the Americana community."
SUMMER U.S. TOUR DATES
Fri., May 14  WICHITA FALLS, TX  Iron Horse Pub
Sat., May 15  AMARILLO, TX  Homer's Backyard Ball
Sun., May 16  NEW BRAUNFELS, TX  Gruene Hall
Thurs., May 20  BELTON, TX  Schoepf's Backyard
Fri., May 21  AUSTIN, TX  Antone's
Sat., May 22   GREENVILLE, TX  Municipal Auditorium
Fri., May 28  NEW BRAUNFELS, TX  Whitewater Amphitheatre
Sat., May 29  HOUSTON, TX  McGonigel's Mucky Duck
Thurs., June 3  OZARK, AR  Wakarusa Music & Camping Festival
Fri., June 4  ARLINGTON, TX  Levitt Pavillion
Thurs., June 10  NEW BRAUNFELS, TX  Whitewater Amphitheatre
Fri., June 11  KERRVILLE, TX  Kerrville Folk Festival
Fri., June 18  LAKE CONROE, TX  TBA Free Music Series
Wed., June 23  FORT WORTH, TX  Ranch Radio Free TX Music Series
Thurs., June 24  LITTLE ROCK, AR  Sticky Fingerz
Fri., June 25  FORT SMITH, AR  Riverfront Blues Festival, Harry E. Kelley Riverfront Park
Sat., June 26  OKLAHOMA CITY, OK  Wormy Dog Saloon
Sun., June 27  PLANO, TX  Love and War in Texas
Thurs., July 1  AUSTIN, TX  Unplugged at the Grove
Fri., July 2  SEGUIN, TX  Freedom Fiesta
Sat., July 3  FULTON, TX  Charlie Robinson Bay Bash
Sun., July 4  NEW BRAUNFELS, TX  Whitewater Amphitheatre
Fri., July 9  FREDERICKSBURG, TX  Crossroads Saloon
Sat., July 10  EL CAMPO, TX  Greek Brothers Oyster Bar and Grill
Fri., July 23  TELLURIDE, CO  Telluride Americana Music Weekend
Thurs., July 29  DRIGGS, ID  Main Street Park
Fri., July 30  KETCHUM, ID  Whiskey Jacques