B.B. King at the Boulder Theater - Jan. 22nd
Submitted by mike on Mon, 09/27/2010 - 17:19
Since the 1950's, there has been only one King of the Blues – Riley B. King, affectionately known as B.B. King.  Since B.B. started recording in the late 1940's, he has released over 50 albums many of them considered blues classics, like 1965's definitive live blues album "Live At The Regal," and 1976's collaboration with Bobby "Blue" Bland, "Together For The First Time." In 2008, B.B. King released his Grammy winning "One Kind Favor" featuring one of his personal favorites, "See That My Grave Is Kept Clean" with Lemon Jefferson.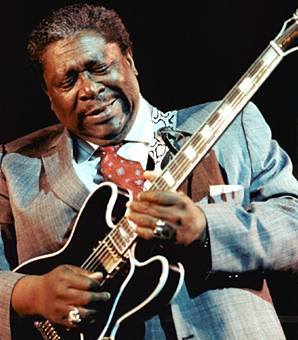 B.B. has mixed traditional blues, jazz, swing, mainstream pop and jump into a unique sound.  His singing is richly melodic, both vocally and in the "singing" that comes from his guitar.  In B.B.'s words, "When I sing, I play in my mind; the minute I stop singing orally, I start to sing by playing Lucille."

Riley B. King was born on September 16, 1925, on a cotton plantation in Itta Bene, Mississippi outside the Mississippi delta town of Indianola.  He used to play on the corner of Church and Second Street for dimes and would play in as many as four towns on a Saturday night.  With his guitar and $2.50, he hitchhiked north to Memphis, Tennessee, in 1947 to pursue his musical career.  Memphis was the city where every important musician of the South gravitated and which supported a large, competitive musical community where virtually every black musical style was heard.
--
B.B. King at the Boulder Theater | January 22nd, 2011
Tickets are on sale at Boulder Theater Box Office. Call (303) 786-7030 for tickets by phone.
Tickets are also available through our website @ www.bouldertheater.com.
Tickets are On Sale – 10.02.2010 @ 10:00 am.
Individual tickets are $77.50 GA / $96.50 Reserved / $124.50 Gold Circle.