Bear Creek Announces Benefit | Wednesday, November 13th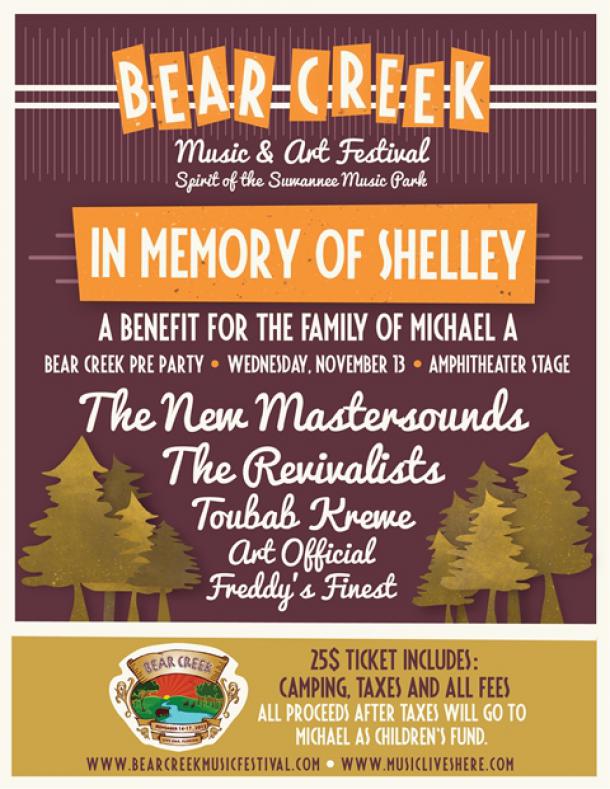 Bear Creek Music & Art Festival has announced a Benefit on Wednesday, November 13th featuring The New Mastersounds, The Revivalists, Toubab Krewe, ArtOfficial and Freddy's Finest, prior to the festival kick off the following day. Taking place at Bear Creek's home, Spirit of the Suwannee Music Park in Live Oak, FL, the event will celebrate the life of Shelley, the wife of longtime SOSMP production manager Michael Allegretto. Shelley passed away tragically earlier this spring, leaving behind Michael and their two children. The family faces many challenges ahead and the Bear Creek team is determined to do what they can to help this family move forward as stress free as possible. The $25 ticket includes camping, taxes, and all fees, and all proceeds will go to the Michael A Family Fund. If you cannot attend but would like to contribute there is a Virtual Ticket for $25 or you can choose the amount you'd like to donate.
Tickets for Bear Creek and the Benefit are available at www.BearCreekMusicFestival.com. To get on the cabin wait list, call SOSMP at 386.364.1683.
Bear Creek Music & Art Festival 2013 Artist Line Up: The Roots • Bootsy Collins and the Funk Unity Band • Galactic x2 • Karl Denson's Tiny Universe x2 • Lettuce x2 • Bonobo Live Band • Ivan Neville's Dumpstaphunk x2 • The New Mastersounds x2 • Antibalas • Lee Fields & The Expressions • Zach Deputy x2 • Toubab Krewe  x2 • George Porter Jr's Runnin Pardners • The Motet x 2 • Jennifer Hartswick Band x2 • Mike Dillon Band • Pimps of Joytime x2 • Robert Walter's 20th Congress x2 • Bernie Worrell Orchestra • Roosevelt Collier Band • The Revivalists • Kung Fu x2 • The Werks • The Malah x2 • Space Capone x2 • The Nth Power • Flow Tribe • Dopapod • The Legendary JC's • Ron Haynes Game Changers x2 • Brownout x2 • Johnny Sketch & the Dirty Notes x2 • Jaime McLean Band • The Monophonics • Ghost Owl • Greenhouse Lounge • Cope • Chris McCarty & the Underground Movement • The Resolvers • Profit • Suenalo • Lucky Costello • SOUNDUO
Artists at Large: Oteil Burbridge • Karl Denson • George Porter Jr. • Pee Wee Ellis Skerik • Mike Dillon • Roosevelt Collier • Jennifer Hartswick • Natalie Cressman • Dave Watts • Joey Porter • Jans Ingber • Clay Watson • Ron Haynes