Attending a live show by Beats Antique takes the listener on a multifaceted ride through world beat instrumentation melded with bass heavy electronica and impressively choreographed dance routines. Anchored by the drum beats of Tommy Cappel and the electronic orchestration of multi-instrumentalist David Satori, a trio of curvy belly dancing sirens led by Zoe Jakes captivated the eyes and ears of a sold out crowd at the Boulder Theater on Saturday night.
Photographers likely clicked their shutters twice as often as they do at an average performance. Jakes and her heavily ornamented dance partners provided provocative routines and exotic, at times animalistic dance that seduced the audience, making it nearly impossible to look away. Against a sonic backdrop containing elements of jazz, electronic music, and string instrumentation from the far sides of the globe, it wouldn't have been surprising to see straw baskets up on stage with cobras swaying to the grooves.
Taking the stage in a one piece leopard print leotard complimented by dark, heavy mascara, red lipstick and large, heavy gage hoop earrings, Jakes beat on a bass drum mounted to her hip, taking forays from her original position between Cappel and Satori to strut left and right across the front of the stage, teasing a writhing crowd of adoring out-stretched hands. Satori busied himself with an array of stringed and percussion instruments, a Mac laptop and various synths and beat processors while Cappel kept things organic with notable chops behind the drum kit. A special guest filled in on clarinet and other brass weapons.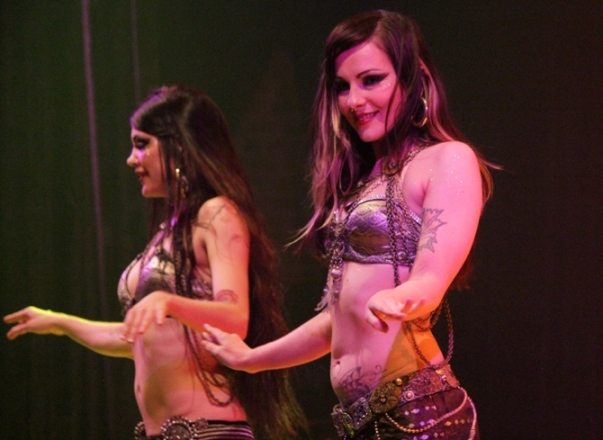 The tattooed dance trio changed costumes several times throughout the evening, donning everything from gypsy-like bikinis with fishnets to glittery head bands, sashes and veils; navels remained exposed, and physically, not much was left to the imagination. The rhythms of "Roustabout," "Beauty Beats" and "Dope Krunk" came to visual life through the bodies of the dancers, and sensory overload was at no point in the evening out of the question. The audience was even graced with several brand new, well received songs in addition to a run through the usual repertoire. At one point Jakes took to the stage donning an antler crown and two large, feathered wings at her sides that eventually separated from her body and revealed the other dancers.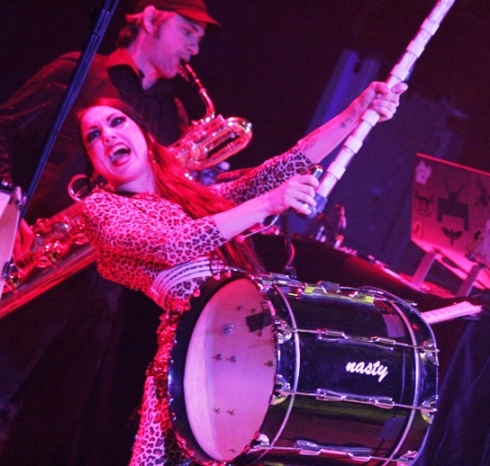 This show was less of a musical showcase and more of full-fledged performance of sight and sound. Whether a seasoned fan or a first time attendee at a Beats Antique show, each audience member most likely left the theater in a mesmerized state of awe and satisfaction. While the intimate venue so gloriously housed Saturday's presentation, Beats Antique will return this summer to perform at Red Rocks Amphitheater with Bassnectar.
Check out more photos from the show.
Thanks to Tell All Your Friends PR for their hospitality.