Ben Harper 2011 Summer Tour + Webcast
Submitted by mike on Mon, 05/09/2011 - 17:14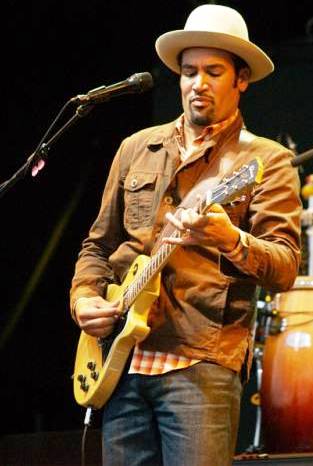 We are pleased to announce the 2011 North American tour! Ben Harper will be playing headlining shows on both coasts, Canada, and a few in between. Pre-sale tickets will be available at Ben Harper Ticketing using password "GIVE" starting Tueday, May 10 at 10am local time. General on sales times are listed on venue websites. Click here to see the complete list of North American and International tour dates!
--
Live Webcast Tonight!
Watch Ben Harper play new songs from "Give Till It's Gone" live from Paris, Monday, May 9 at 9:00pm Paris time (Noon in Los Angeles) at SFR LiveConcerts.
--
Tour Dates:
| | | | | |
| --- | --- | --- | --- | --- |
| Jun 4 | Wakarusa Festival | Ozark, AR | Tickets | On Sale Now |
| Jun 5 | Crossroads | Kansas City, MO | Tickets | On Sale Now |
| Jun 6 | Ogden Theatre | Denver, CO | Tickets | Sold Out |
| Jun 7 | Ogden Theatre | Denver, CO | Tickets | On Sale Now |
| Jun 30 | Vic Theatre | Chicago, IL | Tickets | Sold Out |
| Jul 1 | Vic Theatre | Chicago, IL | Tickets | Sold Out |
| Jul 2 | Saturday in the Park | Sioux City, IA | - | Free Show |
| Jul 3 | Summerfest | Milwaukee, WI | Tickets | On Sale Now |
| Jul 5 | The Sound Academy | Toronto, ON, Canada | Tickets | On Sale Now |
| Jul 6 | Cisco Ottawa Bluesfest | Ottawa, ON, Canada | Tickets | On Sale Now |
| Jul 8 | Quebec City Int'l Summer Festival | Quebec, QC, Canada | Tickets | On Sale Now |
| Aug 25 | Warfield Theatre | San Francisco, CA | Tickets | Pre Sale 5/10 |
| Aug 26 | Les Schwab Amphitheatre | Bend, OR | Tickets | Pre Sale 5/10 |
| Aug 27 | Marymoor Amphitheatre | Redmond, WA | Tickets | Pre Sale 5/10 |
| Aug 28 | Malkin Bowl | Vancouver, BC, Canada | Tickets | Pre Sale 5/10 |
| Sep 3 | The Blvd Pool @ the Cosmopolitan | Las Vegas, NV | Tickets | Pre Sale 5/10 |
| Sep 4 | Del Mar Racetrack | Del Mar, CA | Tickets | On Sale 5/9 |
| Sep 27 | Metropolis | Montreal, QC, Canada | Tickets | Pre Sale 5/10 |
| Sep 29 | Electric Factory | Philadelphia, PA | Tickets | Pre Sale 5/10 |
| Sep 30 | House of Blues | Boston, MA | Tickets | Pre Sale 5/10 |
| Oct 1 | Terminal 5 | New York, NY | Tickets | Pre Sale 5/10 |
| Oct 4 | 9:30 Club | Washington, DC | Tickets | Pre Sale 5/10 |
--
 
| | | | | |
| --- | --- | --- | --- | --- |
| Jun 12 | Festival de Fes | Fes, Morocco | Tickets | On Sale Now |
| Jul 16 | Festival Musilac | Aix-les-Bains, France | Tickets | On Sale Now |
| Jul 18 | Piazza Napoleone | Lucca, Italy | Tickets | On Sale Now |
| Jul 19 | Fiesta Ippodromo delle Capannelle | Rome, Italy | Tickets | On Sale Now |
| Jul 20 | Arena Civica | Milan, Italy | Tickets | On Sale Now |
| Jul 22 | Festival de Nimes | Nimes, France | Tickets | On Sale Now |
| Jul 23 | Festival de Carcassonne | Carcassonne, France | Tickets | On Sale Now |
| Jul 25 | Festival de Poupet | Saint-Malo-du-Bois, France | Tickets | On Sale Now |
| Jul 28 | Blue Balls Festival | Lucerne, Switzerland | Tickets | On Sale Now |
| Jul 29 | Piazza Unita | Tarvisio, Italy | Tickets | On Sale Now |
| Jul 30 | Castello Scaligero Di Villafranca | Verona, Italy | Tickets | On Sale Now |
| Aug 1 | Sporting Summer Festival | Monte-Carlo, Monaco | Tickets | On Sale Now |
| Aug 3 | Festival Porto Latino | Saint Florent, France | Tickets | On Sale Now |
| Aug 5 | Festival Rock Oz'Arenes | Avenches, Switzerland | Tickets | On Sale Now |
| Aug 6 | Festival Foire aux Vins d'Alsace | Colmar, France | Tickets | On Sale Now |
| Aug 7 | Festival Dranouter | Dranouter, Belgium | Tickets | On Sale Now |